Artists
Keith Haring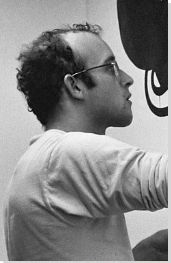 Keith Haring
American Graffiti Artist, Sculptor, and Muralist
Movements and Styles: Street and Graffiti Art, Neo Pop Art
Born: May 4, 1958 - Reading, Pennsylvania
Died: February 16, 1990 - New York, New York

"In all my work there is some degree of content that is more obvious, communicating a specific or a general idea that people will get. But a lot of times the work is ambiguous enough that it can interpreted by whoever."

Summary of Keith Haring
Keith Haring joined a long but sporadic lineage of 20th-century artists who brought elements of popular culture, "low art" and non-art elements into the formerly exclusive "high art" spaces of museums and galleries. He drew on the techniques and locales of street-based art such as graffiti and murals, employed bright and artificial colors, and kept imagery accessible in order to grab the eyes and minds of viewers and get them both to enjoy themselves and to engage with important concerns. Along with his artist contemporaries Jean-Michel Basquiat and Kenny Scharf, Haring opened the field of possibility for how seemingly simple and even cartoony elements by self-taught or less-schooled artists might be appreciated.
Key Ideas
Haring's deceptively simple imagery and text provided poignant and cutting cultural commentary on issues including AIDS, drug addiction, illicit love, and apartheid. As both an artist and an activist he established that depicting serious issues could be fun or at least lively when communicated through highly cartoony images and fresh and vivid choices of colors.
Haring's commitment to clean lines and simple images gave new life to figuration in painting, in contrast to the more abstract and conceptual approaches of the previous generation, and the more expressionistic gestural painting of his contemporaries.
Haring provided proof of the possibilities of using public sites that were not usually dedicated to art to share artistic and political messages to multiple audiences. He lent street art credibility and legitimacy and took it into fine art galleries and museums, inspiring a new generation of street-to-gallery artists.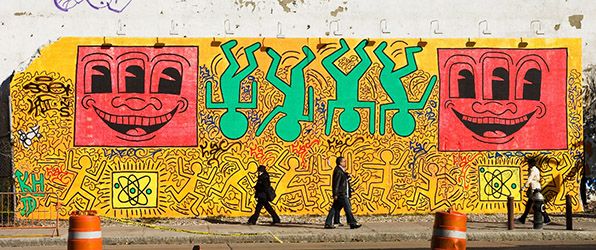 Keith Haring mural on the Northwest corner of Houston and Bowery in New York City
Saying, "The public has a right to art... Art is for everybody," Keith Haring created bold public art that packed a political punch. He intended, as he said, to "[break] down the barriers between high and low art."
Important Art by Keith Haring

The below artworks are the most important by Keith Haring - that both overview the major creative periods, and highlight the greatest achievements by the artist.


Artwork Images

Untitled (1982)

Artwork description & Analysis: One of his early works, this radiant heart-love motif would show up in many paintings and drawings throughout the rest of his career. This innocent yet controversial image of two men in love is mild in comparison with Haring's later sexually explicit images., but the boldness of representing homosexual love at this point in time was already a significant statement and a marked achievement in the larger cultural realm. As his art career unfolded, and his confidence grew, it gave him the courage to generate more sexually explicit images of gay figures and scenes. In the above image, two people are depicted in love, with Haring's often-used lines of energy emphasizing this euphoric state as much as the kinetic movement of these figures' bodies in space. This image in many ways distills the optimistic attitude of Haring, who was, at heart, in many ways a Romantic, believing in humanity and the power of love.

Visually, the image is classic Haring in its flat, two-dimensional surface, cartoon-like simplicity and the use of vibrant, saturated colors. He often outlined his characters and scenes with thick black lines reminiscent of many earlier modern artists (such as Picasso), as well as from the Pop art movement (Warhol), in addition to Haring's contemporaries the 1980s New York City graffiti artists. Haring used vibrant lines in and around his subjects to convey energy, both positive and negative. Some attribute his adoption of this visual sign to the influence of Hip Hop music, where the visual imagery of dark lines was used to represent the impact of sound on listeners.

Acrylic on Vinyl - Brooklyn Museum Exhibit 2012


Artwork Images

Untitled (1984)

Artwork description & Analysis: A more graphic appreciation of the male form, this distorted rendering of a single large male figure gripping his own enormous, life-engendering penis suggests as much ambivalence as affirmation. The seemingly full-grown "offspring" of smaller figures spurt out of the phallic shape and fall precariously to earth, while the head of the main figure with its almost cubistically offset features is curled behind its own back to snap fiercely, mouth open, at that backside. The large size (114 x 157 inches) carries forward Haring's approach to the spectacular, immersive, larger-than-life outdoor mural into the wall-hung interior medium of drawing on paper. This sort of portrayal by Haring of not male nudity and sexuality helped usher in an era where previously taboo subjects could be brought forcefully to viewer's attention in both bold and nuanced ways. Haring's artistic productions called for radical new cultural possibilities and greatly expanded social understanding.

Acrylic On Paper


Artwork Images

Free South Africa (1985)

Artwork description & Analysis: Free South Africa was a political response to the conditions of apartheid that still existed in South Africa. The black figure is intentionally much larger than the white figure to express the irony of a post-colonial era where a white minority continued to suppress the majority native black population. The use of black lines makes for a sense of dynamic movement of the figures. Black outlines also express a heightened awareness of more psychologically charged elements - like the aura hovering around the restraining collar around the neck of the black figure.

Popular protest poster campaigns by artists such as Haring, using accessible images that lent themselves to circulation in posters, t-shirts and postcards. combined with world-wide public pressure from celebrities, politicians, and citizens, to raise awareness and influence change in South Africa. This wave of protests eventually led to Nelson Mandela - the lawyer/activist and 30-year prisoner of the South African Government - to be released from jail and elected president. Almost a decade later President Mandela ended apartheid for good in 1994.

Editions Poster
More Keith Haring Artwork and Analysis:
Influences and Connections
Influences on Artist
Artists, Friends, Movements
Influenced by Artist
Artists, Friends, Movements

Interactive chart with Keith Haring's main influences, and the people and ideas that the artist influenced in turn.
View Influences Chart


Influences on Artist

Keith Haring
Years Worked: Late 1970s-1990
Influenced by Artist

Artists

| | |
| --- | --- |
| | Kenny Scharf |
| | Matt Groening |
| | Shepard Fairey |
| | Banksy |
| | Swoon |

Personal Contacts

| | |
| --- | --- |
| | Jeffrey Deitch |
| | Kenny Scharf |

Movements
If you see an error or typo, please:
tell us
Cite this page

Content compiled and written by The Art Story Contributors
Edited and published by The Art Story Contributors
" Artist Overview and Analysis". [Internet]. . TheArtStory.org
Content compiled and written by The Art Story Contributors
Edited and published by The Art Story Contributors
Available from:
First published on 07 Dec 2015. Updated and modified regularly.


[Accessed ]