Artists
Anselm Kiefer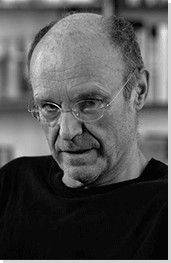 Born: March 8, 1945 - Donaueschingen, Baden-Wurttemburg, Germany

"I believe art has to take responsibility but it should not give up being art."

Summary of Anselm Kiefer
Anselm Kiefer's monumental, often confrontational canvases were groundbreaking at a time when painting was considered all but dead as a medium. The artist is most known for his subject matter dealing with German history and myth, particularly as it relates to the Holocaust. These works forced his contemporaries to deal with Germany's past in an era when acknowledgment of Nazism was taboo. Kiefer incorporates heavy impasto and uncommon materials into his pieces, such as lead, glass shards, dried flowers, and strands of hay, many of which reference various aspects of history and myth, German and otherwise. Influenced by his contemporaries Joseph Beuys and Georg Baselitz, as well as by postwar tendencies in Abstract Expressionism and Conceptual art, Kiefer is considered part of the Neo-Expressionist movement, which diverged from Minimalism and abstraction to develop new representational and symbolic languages.
Key Ideas
Kiefer is a history painter in the traditional sense that his art often deals with themes related to German history and national identity, including Norse legend, Wagnerian opera, and the Holocaust. The latter was an attempt to bring the Nazi period to the forefront of national conversations, often causing controversy.
Kiefer's repertoire of imagery is wide ranging, incorporating representational and symbolic motifs, including sigils, occult icons, architectural interiors, and landscape elements to provoke an emotional and psychological effect on the viewer. Many of these make direct references to aspects of Germany's past, such as the forests that evoke famous battles or the fairytales of the Grimm Brothers.
Kiefer is drawn to various and often unusual media for their symbolic potency. Natural materials such as straw, earth, and tree roots reference both time and patterns of life, death, and decay. Lead also has resonance for the artist both as a medium and a subject matter. It was the base material used in alchemy and he considers it the only material heavy enough to bear the burden of history.
Derived from his interest in mythology, history, and knowledge, Kiefer often uses books as subject matter representing knowledge and civilization. Similarly, he frequently incorporates text into his paintings, including excerpts from poems, novels, and nationalist slogans as well as names of seminal figures, written in a scrawling script.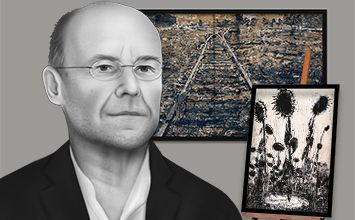 Kiefer was born on March 8, 1945 during the final months of World War II. The son of an art teacher, Kiefer was drawn to art and saw himself as an artist. He was raised in a Catholic home in the Black Forest near the eastern bank of the Rhine, an environment that would play a formative role in his development as an artist and would provide imagery and symbolism for his work. His family moved to Ottersdorf in 1951 and Kiefer attended grammar school in Rastatt.
Important Art by Anselm Kiefer

The below artworks are the most important by Anselm Kiefer - that both overview the major creative periods, and highlight the greatest achievements by the artist.


Artwork Images

Occupations (1969)

Artwork description & Analysis: For his notorious first body of work, Kiefer created a series of photographic self-portraits that confronted, head on, the history of Nazi Germany. Dressing in his father's military uniform and posing in the Hitlergruss salute, Kiefer had his photograph taken in various politically significant locations in Switzerland, France, and Italy, including national monuments and classical ruins. This photograph shows the artist with his back to the viewer, facing the sea in a Romantic posture inspired by the German artist David Caspar Friedrich. As in Friedrich's painting Wanderer Above the Sea of Fog (1818), Kiefer's image depicts a man with his gaze turned outward, simultaneously dominating the landscape before him while being engulfed by it. By posing in a traditionally Romantic stance and extending his arm in the Nazi salute, Kiefer connects these two seemingly disparate periods of German history to suggest that Germany's love of country has been an enduring part of their history at least since the early-19th century. The imperialist and nationalistic attitudes of the Romantic era, instigated by Napoleonic invasions, were manipulated by the leaders of the Third Reich, leading to the tragedies of the Holocaust. While this work is stylistically very different from his later work, this series introduced themes that would become central to Kiefer's explorations of Germany's legacy and national trauma. Kiefer presented Occupations in his first solo exhibition at the Galerie am Kaiserplatz in Karlsruhe, Germany in 1969. Although his mentor, the artist Rainer Kuchenmeister, praised the work, the exhibition received negative criticism from Kiefer's colleagues and from the wider German public.

Photograph - Private Collection


Artwork Images

Deutschlands Geisteshelden (German Spiritual Heroes) (1973)

Artwork description & Analysis: Exhibited at the German Pavilion at the 1980 Venice Biennale, this monumental painting created controversy and was met with widely conflicting opinions. The painting depicts a cavernous, empty wooden room reminiscent of medieval architecture with tapers burning at intervals along the wall. The barren space leaves the existence of the German heroes mentioned in the title in question, perhaps implying instead that national identity must be rebuilt from scratch after the catastrophic events of the Holocaust. Some critics missed the irony of the title, German Spiritual Heroes, and thought the work encouraged a pervasive fascination with German culture, while omitting the legacy of the nation's brutality. Others saw it as a meditative reflection on German history and the country's reaction to its recent past.

This motif of the interior was a recurring subject throughout Kiefer's work of the 1970s, as in his series of Attic Paintings. Much like Vincent van Gogh's portraits of his bedroom, these interiors reflect the psyche of the artist and the nation, imbuing the spectator with a distinct emotional response. Through the ominous depiction of the empty room, the painting engenders an unsettling feeling in the viewer, suggesting that something is amiss.

As with the Occupations series, Kiefer sought to break the silence regarding the Holocaust to encourage regeneration and growth beyond it, thus the presentation here of an empty room waiting to be filled with new heroes. While Kiefer is considered one of the most important artists to deal with this taboo subject matter, he belonged to a wider milieu of postwar German intellectuals who struggled to transcend their country's shameful past. Kiefer's practice of directly appropriating Nazi themes, philosophies, and slogans, however, was contentious. As scholar Andreas Huyssen notes, for German critics, "Kiefer's deliberate strategy of opening a Pandora's box of fascist and nationalistic imagery amounted to a kind of original sin of the post-Auschwitz era." As such, the work was often misinterpreted as endorsing Nazi ideologies, rather than questioning them, provoking aversion and disdain from his audiences.

Oil and charcoal on burlap mounted on canvas - Barbara and Eugene Schwartz


Artwork Images

Varus (1976)

Artwork description & Analysis: Kiefer has stated that "our stories begin in the forest," so it is not surprising that forests are a recurring subject matter in his work. The theme is rich with meaning for the artist, particularly as a representation of German national identity as far back as the Teutonic era. It is this period that Varus references: the battle in the Teutoburg Forest, where in the year 9 BCE Hermann (Arminius), a deserter from the Roman army, in alliance with his native Germanic peoples, wiped out the Romans under the command of Varus, who fell on his sword after watching his men be massacred. The humiliating defeat was described by Tacitus in Annales, whose Germanica was rediscovered in the 15th century and came to form a bedrock of German identity as a people of superior virtue with an almost mythical bond to their land, a people who defeat those corrupted by cosmopolitanism.

The names of some of those involved in the battle are written on the canvas, including Arminius and his wife Thusnelda, along with other names from German history and literature, all of whom played a role in the development of German national identity. The names of Friedrich Holderlin, Friedrich Klopstock, Johann Gottlieb Fichte, and Friedrich Schleiermacher are written in the branches of the trees as if to create a hall of fame. Martin Luther, Otto von Bismarck, Adolf Hitler, and others had looked to the ancient Hermann as a role model.

The red in the snow represents the blood of the Romans as well as others massacred by Germans in the forest through the centuries. The path through the forest leads to a dead end, implying that a new, less violent way must be sought. The composition was based on a painting by Friedrich, The Chasseur in the Forest from 1814, in which a Napoleonic soldier wanders into the German woods towards his doom, again celebrating a military victory tied to the forest. In addition to the Roman and Romantic periods, forests played a major role in many of the German fairytales recorded by the Grimm Brothers such as "Hansel and Gretel." They were also resonant for Kiefer on a personal level; he grew up in the shadow of the Black Forest and his family would often hide there during periods of Allied bombing.
More Anselm Kiefer Artwork and Analysis:
Influences and Connections
Influences on Artist
Artists, Friends, Movements
Influenced by Artist
Artists, Friends, Movements

Interactive chart with Anselm Kiefer's main influences, and the people and ideas that the artist influenced in turn.
View Influences Chart

| | | | | |
| --- | --- | --- | --- | --- |
| Artists | | Personal Contacts | | Movements |

Influences on Artist

Anselm Kiefer
Years Worked: 1969 - Present
Influenced by Artist

| | | | | |
| --- | --- | --- | --- | --- |
| Artists | | Personal Contacts | | Movements |
If you see an error or typo, please:
tell us
Cite this page

Content compiled and written by The Art Story Contributors
Edited and published by The Art Story Contributors
" Artist Overview and Analysis". [Internet]. . TheArtStory.org
Content compiled and written by The Art Story Contributors
Edited and published by The Art Story Contributors
Available from:
First published on 08 May 2015. Updated and modified regularly.


[Accessed ]