Artists
Gerhard Richter
Born: February 9, 1932 - Dresden, Germany

"What I'm attempting in each picture is nothing other than this...to bring together in a living and viable way, the most different and the most contradictory elements in the greatest possible freedom."

Summary of Gerhard Richter
Gerhard Richter is a German painter who originally trained in a realist style and later developed an appreciation for the more progressive work of his American and European contemporaries. Richter increasingly employed his own painting as a means for exploring how images that appear to capture "truth" often prove, on extended viewing, far less objective, or unsure in meaning, than originally assumed. The other common themes in his work are the elements of chance, and the play between realism and abstraction. Working alongside but never fully embracing a quick succession of late-20th-century art movements, such as Abstract Expressionism, American/British Pop art, Minimalism, and Conceptualism, Richter has absorbed many of their ideas while remaining skeptical of all grand artistic and philosophical credos.
Key Ideas
Richter has maintained a lifelong fascination for the power of images and painting's long, uneasy relationship with photography: while either medium may claim to reflect or express reality truthfully, either ultimately suggests only a partial, or incomplete view of a subject.
Richter borrows much of his painted imagery from newspapers, or even his own family albums. Often he begins by mechanically projecting such an image onto the canvas, a technique for thinking about how images often seem to have a life of their own, like mysterious ghosts haunting our psyche. This act of visual compression, in which photography, projection, and painting merge to make a finished art work, suggests that all vision is a kind of conversion of the "real" into the "imaginary."
Richter would often blur his subjects and embrace chance effects in his own painting process in order to show the impossibility of any artist conveying the full truth of a subject in its original condition. Such means for suggesting that something essential to the model has been "lost in translation" often leads a viewer's attention to the oil pigment's dense, material nature, thereby demonstrating both its expressive strengths and shortcomings.
In Richter's completely abstract canvases, personal emotion and all traces of the painter's autobiography seem missing. The painting's many layers, strokes, and scrapes of color may thus appear as "beautiful" as anything found in nature that came into existence partly according to a predetermined structure (such as DNA), as well as by way of unpredictable occasions of pure chance and the action of outside forces.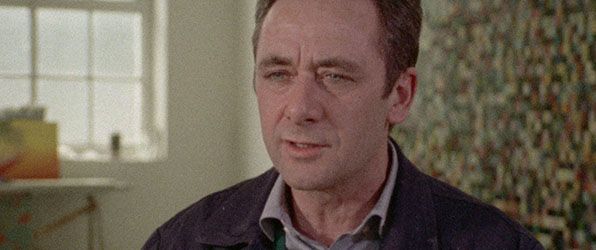 Gerhard Richter was born in 1932 in Dresden, Germany, during the rise of the National Socialist German Workers' Party, or the Nazi Third Reich. Notably, some of Richter's relatives were directly involved in the Nazi movement, namely his father, a schoolteacher, and an uncle. Richter's mother, the daughter of a concert pianist, encouraged her son's early talent for draftsmanship. In 1948, at the age of 16, Richter quit his formal education and took up an apprenticeship as a set painter for the theater. The wake of war proved traumatic for Richter: two of his uncles had been killed in action, and his father had lost his employment. This family turmoil, coupled with the artist's early artistic training under postwar communist-driven ideology, eventually led Richter to seek his creative inspiration in nature over any political or religious affairs or philosophies.
Important Art by Gerhard Richter

The below artworks are the most important by Gerhard Richter - that both overview the major creative periods, and highlight the greatest achievements by the artist.


Artwork Images

Mund(Mouth)(Brigitte Bardot's Lips) (1963)

Artwork description & Analysis: Mund is one of Richter's first paintings completed from a photograph. The painting is sexually suggestive, depicting Brigitte Bardot's open mouth adorned with red lipstick. Blurred flesh tones hint at Richter's painting process, beginning with a realist rendering and incorporating rollers, squeegees, and dry brush techniques to mask the surface. The work suggests the artist viewing reality from a detached perspective, as he resists any moment of clear focus on the overall image.

Oil on canvas - Private collection


Artwork Images

Farbschlieren (Color Streaks) (1968)

Artwork description & Analysis: In this example of one of his early grey paintings, Richter allows structure and color to compose the "picture." The painting is void of figuration and recognizable imagery, revealing Richter's indifference toward any "model" as serving as his subject matter. Richter employs thick brushstrokes and monochromatic color, thus sweeping across the canvas in a fluid, entirely fused motion. This powerful gesture suggests a consideration of how abstract forms may well serve as a painter's subject just as effectively, for their visual or optical interest, as any photographic or "realistic" scene derived from nature, or the "everyday world" around us.

Oil on canvas


Artwork Images

1024 Farben(1024 Colors) (1973)

Artwork description & Analysis: Richter employs a systematic approach to the canvas in his color-chart-based painting 1024 Farben (1024 Colors). Superficially reminiscent of the neo-Dadaist, 1950s "Hard Edge" abstraction of Ellsworth Kelly, Richter chooses here to systematically paint squares of colors based on the predetermined structure of the color wheel. The only intervention of the artist in an otherwise mechanical process seems to be his control of the scale of the canvas itself, the artist's having arranged the color combinations via reference to an apparently logical, predetermined schema.

Enamel on canvas - Daros Collection, Zurich, Switzerland
More Gerhard Richter Artwork and Analysis:
Influences and Connections
Influences on Artist
Artists, Friends, Movements
Influenced by Artist
Artists, Friends, Movements

Interactive chart with Gerhard Richter's main influences, and the people and ideas that the artist influenced in turn.
View Influences Chart


Influences on Artist

Gerhard Richter
Years Worked: 1951 - Present
Influenced by Artist

| | | | | |
| --- | --- | --- | --- | --- |
| Artists | | Personal Contacts | | Movements |
If you see an error or typo, please:
tell us
Cite this page

Content compiled and written by Larissa Borteh
Edited and published by The Art Story Contributors
" Artist Overview and Analysis". [Internet]. . TheArtStory.org
Content compiled and written by Larissa Borteh
Edited and published by The Art Story Contributors
Available from:
First published on 22 Jan 2012. Updated and modified regularly.


[Accessed ]