Artists
Andy Warhol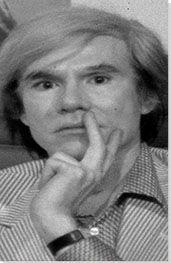 Born: August 6, 1928 - Pittsburgh, Pennsylvania
Died: February 22, 1987 - New York City

"How can you say one style is better than another? You ought to be able to be an Abstract Expressionist next week, or a Pop artist, or a realist, without feeling you've given up something. I think that would be so great, to be able to change styles. And I think that's what's going to happen, that's going to be the whole new scene."

Summary of Andy Warhol
Andy Warhol was the most successful and highly paid commercial illustrator in New York even before he began to make art destined for galleries. Nevertheless, his screenprinted images of Marilyn Monroe, soup cans, and sensational newspaper stories, quickly became synonymous with Pop art. He emerged from the poverty and obscurity of an Eastern European immigrant family in Pittsburgh, to become a charismatic magnet for bohemian New York, and to ultimately find a place in the circles of High Society. For many his ascent echoes one of Pop art's ambitions, to bring popular styles and subjects into the exclusive salons of high art. His crowning achievement was the elevation of his own persona to the level of a popular icon, representing a new kind of fame and celebrity for a fine artist.
Key Ideas
Warhol's early commercial illustration has recently been acclaimed as the arena in which he first learned to manipulate popular tastes. His drawings were often comic, decorative, and whimsical, and their tone is entirely different from the cold and impersonal mood of his Pop art.
Much debate still surrounds the iconic screenprinted images with which Warhol established his reputation as a Pop artist in the early 1960s. Some view his Death and Disaster series, and his Marilyn pictures, as frank expressions of his sorrow at public events. Others view them as some of the first expressions of 'compassion fatigue' - the way the public loses the ability to sympathize with events from which they feel removed. Still others think of his pictures as screens - placed between us and horrifying events - which attempt to register and process shock.
Although artists had drawn on popular culture throughout the 20th century, Pop art marked an important new stage in the breakdown between high and low art forms. Warhol's paintings from the early 1960s were important in pioneering these developments, but it is arguable that the diverse activities of his later years were just as influential in expanding the implications of Pop art into other spheres, and further eroding the borders between the worlds of high art and popular culture.
Although Warhol would continue to create paintings intermittently throughout his career, in 1965 he "retired" from the medium to concentrate on making experimental films. Despite years of neglect, these films have recently attracted widespread interest, and Warhol is now seen as one of the most important filmmakers of the period, a forefather of independent film.
Critics have traditionally seen Warhol's career as going into decline in 1968, after he was shot by Valerie Solanas. Valuing his early paintings above all, they have ignored the activities that absorbed his attention in later years - parties, collecting, publishing, and painting commissioned portraits. Yet some have begun to think that all these ventures make up Warhol's most important legacy because they prefigure the diverse interests, activities, and interventions that occupy artists today.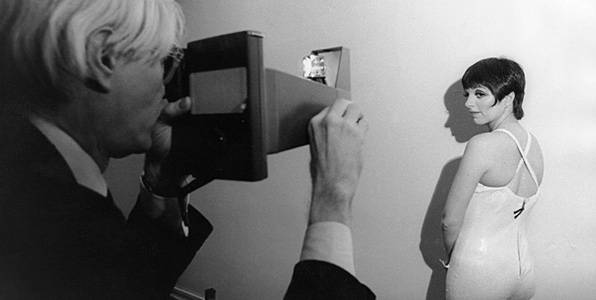 Andy Warhol photographing the actress Lisa Minnelli. The two were good friends, and Warhol made a number of screenprints of Mannelli.
Warhol famously said that "business art is the step that comes after Art. I started as a commercial artist, and I want to finish as a business artist." He became one of the world most successful artists, and made screen prints, sculptures, films, managed a band, and even designed wallpaper - projects that were often highly lucrative (and always built his brand).
| | | |
| --- | --- | --- |
| Warhol's humble beginnings and multi-year search for the commercial and the iconic | | Read Andy Warhol's Biography |
Important Art by Andy Warhol

The below artworks are the most important by Andy Warhol - that both overview the major creative periods, and highlight the greatest achievements by the artist.

Campbell's Soup I (1968)

Artwork description & Analysis: By the 1960s, the New York art world was in a rut, the very original and popular canvases of the Abstract Expressionists of the 1940s and '50s had become cliche. Warhol was one of the artists that felt the need to bring back imagery into his work. The gallery owner and interior designer Muriel Latow gave Warhol the idea of painting soup cans, when she suggested to him that he should paint objects that people use every day (it is rumored that Warhol ate the soup for lunch every single day). He painted Campbell's soup cans, Brillo boxes, and Coca-Cola bottles from 1962, onward.

Warhol started his career and became an extremely successful consumer ad designer. Here, he used the techniques of his trade to create an image that is both easily recognizable, but also visually stimulating. Consumer goods and ad imagery were flooding the lives of Americans with the prosperity of that age and Warhol set out to subtly recreate that abundance, via images found in advertising. He recreated on canvas the experience of being in a supermarket. So, Warhol is credited with envisioning a new type of art that glorified (and also criticized) the consumption habits of his contemporaries and consumers today.

Screenprint - Multiple museums, galleries, and collections


Artwork Images

Coca-Cola (3) (1962)

Artwork description & Analysis: "I just paint things I always thought were beautiful, things you use every day and never think about." Warhol's statement epitomizes his ethos; his works put ordinary items front and center. This idea applies to the hand-painted portrait of a Coca-Cola bottle. Another challenge to the domination of Abstract Expressionism, Warhol's Coca-Cola is equal in size to many of the popular canvases of the time (6ft x 5ft) but is devoid of their abstractions. However, there are some other similarities here. As in Robert Motherwell's popular Stations of the Cross series of works, Coca-Cola is comprised of a large, black mass on a white background. The bottle jumps out at the viewer; demanding the kind of attention Motherwell's profound canvases received - yet now the sense of irony reigns.

Casein on cotton - Private Collection

Gold Marilyn Monroe (1962)

Artwork description & Analysis: After her sudden death from an overdose of sleeping pills in August 1962, superstar Marilyn Monroe's life, career, and tragedy became a worldwide obsession. Warhol, being infatuated with fame and pop culture, obtained a black-and-white publicity photo of her (from her 1953 film Niagara) and used the photo to create several series of images. A common idea to all the Marilyn works was that her image was reproduced over and over again as one would find it reprinted in newspapers and magazines at the time. After viewing dozens, or hundreds of such images, a viewer stops seeing a person depicted, but is left with an icon of popular, consumer culture. The image (and the person) become another cereal box on the supermarket shelf, one of hundreds of boxes - which are all exactly the same.

In Gold Marilyn Monroe, Warhol further plays on the idea iconography, placing Marilyn's face on a very large golden-colored background. The background is remeniscent of Byzantine religious icons that are the central focus in Orthodox faiths to this day. Only instead of a god, we are looking at an image (that becomes a bit garish upon closer inspection) of a woman that rose to fame and died in horrible tragedy. Warhol subtly comments on our society, and its glorification of celebrities to the level of the divine. Here again the Pop artist uses common objects and images to make very pointed insights into the values and surroundings of his contemporaries.

Silkscreen - Museum of Modern Art, New York
More Andy Warhol Artwork and Analysis:
Influences and Connections
Influences on Artist
Artists, Friends, Movements
Influenced by Artist
Artists, Friends, Movements

Interactive chart with Andy Warhol's main influences, and the people and ideas that the artist influenced in turn.
View Influences Chart


Influences on Artist

Andy Warhol
Years Worked: 1952 - 1987
Influenced by Artist

Artists

| | |
| --- | --- |
| | Damien Hirst |
| | Jeff Koons |
| | Stella Vine |
| | Christopher Wool |
| | Gilbert and George |

Personal Contacts

| | |
| --- | --- |
| | Lawrence Alloway |
| | Jean-Michel Basquiat |
| | Francesco Clemente |
| | Keith Haring |
| | Stephen Shore |

Movements
If you see an error or typo, please:
tell us
Cite this page

Content compiled and written by The Art Story Contributors
Edited and published by The Art Story Contributors
" Artist Overview and Analysis". [Internet]. . TheArtStory.org
Content compiled and written by The Art Story Contributors
Edited and published by The Art Story Contributors
Available from:
First published on 01 Jun 2010. Updated and modified regularly.


[Accessed ]