Artists
Jackson Pollock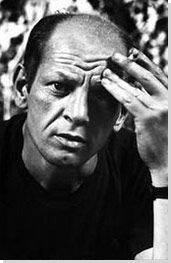 Born: January 28, 1912 - Cody, Wyoming
Died: August 11, 1956 - East Hampton, New York

"It doesn't make much difference how the paint is put on as long as something has been said. Technique is just a means of arriving at a statement."

Summary of Jackson Pollock
In its edition of August 8th, 1949, Life magazine ran a feature article about Jackson Pollock that bore this question in the headline: "Is he the greatest living painter in the United States?" Could a painter who flung paint at canvases with a stick, who poured and hurled it to create roiling vortexes of color and line, possibly be considered "great"? New York's critics certainly thought so, and Pollock's pre-eminence among the Abstract Expressionists has endured, cemented by the legend of his alcoholism and his early death. The famous 'drip paintings' that he began to produce in the late 1940s represent one of the most original bodies of work of the century. At times they could suggest the life-force in nature itself, at others they could evoke man's entrapment - in the body, in the anxious mind, and in the newly frightening modern world.
Key Ideas
Pollock's tough and unsettled early life growing up in the American West shaped him into the bullish character he would become. Later, a series of influences came together to guide Pollock to his mature style: years spent painting realist murals in the 1930s showed him the power of painting on a large scale;
Surrealism
suggested ways to describe the unconscious; and
Cubism
guided his understanding of picture space.
In 1939, Pollock began visiting a Jungian analyst to treat his alcoholism, and his analyst encouraged him to create drawings. These would later feed his paintings, and they shaped Pollock's understanding of his pictures not only as outpourings of his own mind, but expressions that might stand for the terror of all modern humanity living in the shadow of nuclear war.
Pollock's greatness lies in developing one of the most radical abstract styles in the history of modern art, detaching line from color, redefining the categories of drawing and painting, and finding new means to describe pictorial space.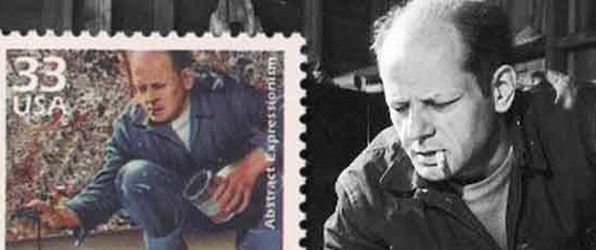 Pollock was represented on a number of US Postage Stamps over the last 50 years
Pollock lived the reclusive and passionate artistic life that ended in tragedy - at the source he had this self-described impulse: "Today painters do not have to go to a subject matter outside of themselves. Most modern painters work from a different source. They work from within."
Important Art by Jackson Pollock

The below artworks are the most important by Jackson Pollock - that both overview the major creative periods, and highlight the greatest achievements by the artist.


Artwork Images

Going West (1934-35)

Artwork description & Analysis: Going West exemplifies many aspects of Pollock's early interests. During the 1930s, he was strongly influenced by the American Regionalism of his mentor Thomas Hart Benton, yet Going West is characterized by a dark, almost mystical quality similar to another American visionary painter Pollock admired, Albert Pinkham Ryder. The swirling forms which structure the image evoke the emotional intensity of El Greco and Van Gogh. This image of a pioneer journeying West connects Pollock's emerging style to his own origins. While the scene evokes a sort of gothic mystery, it has been suggested that it comes from a family photo of a bridge in Cody, Wyoming, where Pollock was born.

Oil on gesso on composition board - National Museum of American Art, Washington, D.C.


Artwork Images

Guardians of the Secret (1943)

Artwork description & Analysis: Guardians of the Secret, often interpreted as a metaphor for the emergence of unconscious impulses into conscious thought, represents a synthesis of Pollock's sources. The imagery draws on African, Native American, as well as prehistoric art, yet there are also touches of Miró and Picasso. The abstract male and female 'guardians' have been interpreted in myriad ways: as Northwest Indian totems; Egyptian gods; even as conflations of playing cards and chess pieces wearing African masks. They flank the sides, while along the bottom is a dog reminiscent of Anubis, the jackal-god of the ancient Egyptian underworld. An African mask, a scarab-like embryo, and a rooster, all line up like relics across the top. The rooster is a symbol of fertility, but it may also recall the time Pollock lost the tip of his finger as a child when he put his hand in the way of an axe meant to kill a chicken. In the center of the composition is a tablet, covered in an hieroglyphic inscription reminiscent of ancient tombs. When the canvas is turned upside down, stick figures in various poses emerge.

Oil on canvas - San Francisco Museum of Art


Artwork Images

Mural (1943)

Artwork description & Analysis: Mural is an early tour de force in Pollock's career, a transition between his easel paintings and his signature drip canvases. This 'all over' painting technique was assimilated from a variety of sources: Picasso, Benton and Siqueiros, as well as Native American sand painting. Measuring nearly 8 x 20 ft, this was Pollock's first large-scale work, and was commissioned for Peggy Guggenheim's apartment. Although influenced by his earlier work in this format, Pollock struggled to control the composition. He incorporated decorative patterns in thinly brushed paint to achieve an intimate pattern within the grand scale. An apocryphal story exists that it was painted in one day and one night, though this is impossible given the quantity of layers in the picture.

Oil on canvas - University of Iowa Museum of Art, Iowa City
More Jackson Pollock Artwork and Analysis:
Influences and Connections
Influences on Artist
Artists, Friends, Movements
Influenced by Artist
Artists, Friends, Movements
Interactive chart with Jackson Pollock's main influences, and the people and ideas that the artist influenced in turn.
View Influences Chart


Influences on Artist
Jackson Pollock
Years Worked: 1930 - 1954
Influenced by Artist

| | | | | |
| --- | --- | --- | --- | --- |
| Artists | | Personal Contacts | | Movements |
If you see an error or typo, please:
tell us
Cite this page

Content compiled and written by Ashley Remer
Edited and published by The Art Story Contributors
" Artist Overview and Analysis". [Internet]. . TheArtStory.org
Content compiled and written by Ashley Remer
Edited and published by The Art Story Contributors
Available from:
First published on 01 Jul 2009. Updated and modified regularly.


[Accessed ]