Art Influencers
Peggy Guggenheim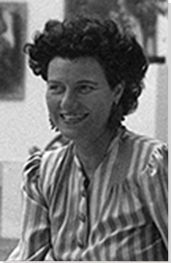 Peggy Guggenheim
American Collector and Gallerist
Born: August 26, 1898 - New York
Died: December 23, 1979 - Venice, Italy

"I dedicated myself to my collection. I made it my life's work. I am not an art collector. I am a museum."
Summary of Peggy Guggenheim
Born into relative wealth and into a well-known and powerful family, Peggy Guggenheim harbored an independent streak that led her to create one of the most important collections of modern European and American art. Relying on advisors, including the Dadaist Marcel Duchamp and the anarchist poet and critic Herbert Read, Guggenheim quickly amassed paintings by the most avant-garde European artists before the outbreak of World War II. Her collecting habits continued in the U.S. when she gave the burgeoning Abstract Expressionists the opportunity to exhibit in her Art of This Century Gallery alongside their European precursors.

Her love of art and creativity bolstered her own eccentric lifestyle in New York and later in Venice, where her collection is permanently housed. Her dedicated patronage of particular artists, including Jackson Pollock, stood in sharp contrast to later collectors who were looking mostly for investment opportunities. Guggenheim was one of a handful of women, including Betty Parsons and Katherine Dreier, who helped turn the art world's attention to modern art and, more specifically, Abstract Expressionism.
Key Ideas
While armed with the help of knowledgeable advisors, Guggenheim's collecting was based on her felt reaction to the work. She bought what she loved, what drew her in, what was provocative. A bohemian at heart, Guggenheim saw her collection as a creative endeavor and one she wanted to share with the larger public.
A fast learner, Guggenheim was forward thinking with the exhibitions staged at her various galleries. Giving
Wassily Kandinsky
his first one person show in London, she broadened the appeal of Modern art in Britain, and she was daring enough to give the young Abstract Expressionists some of their first high-level exposure in New York and subsequently in Italy.
Her New York gallery,
The Art of This Century
, was one of a kind with its innovative exhibition practices and gallery spaces. It became a sort of laboratory not only for new, avant-garde art but also for how the viewer physically interacted with works of art and created relationships with them.
In many ways, Guggenheim, like Museum of Modern Art director
Alfred Barr
, was pivotal in getting so-called "degenerate" art safely out of Europe on the eve of World War II as well as encouraging European artists to wait the war out in the United States.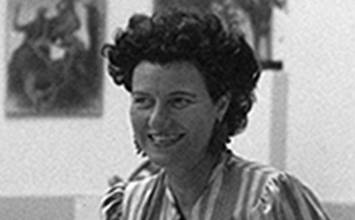 When Peggy Guggenheim opened New York's Art of This Century Gallery, a groundbreaking space filled with work rescued from pre-War Europe, she wanted to declare her loyalty to both the European avant-garde and her talented friends in America that were taking the art world by storm. Her gallery was to be the place where the two worlds would exhibit together for the first time, and at the opening she wore one earring made by Alexander Calder and another by Yves Tanguy, to express her allegiance to both schools of art.
Analysis

The below artworks are the most important and connected to Peggy Guggenheim. Here we both overview Peggy Guggenheim's approach and connections to this art, and highlight ideas on the greatest achievements by the artists and artworks below.

The Red Tower (1913)

Artist: Giorgio De Chirico

Artwork description & Analysis: This enigmatic painting depicts a view of a sunlit crenellated tower, its fortress-like circular shape dominating the horizon. In the lower third of the canvas, a shadowed square between two looming semi-classical walls frames the tower, the strong lines of perspective creating the sense that the viewer is walking through a dark corridor toward its ominous shape. At center right, an equestrian statue on a white rectangular plinth is depicted in black shadow, casting a long shadow across the plane of sunlit ground. The work is reminiscent of an Italian landscape, yet it also evokes a dreamlike feeling. The objects become hallucinatory, as the statue's shadow at first glance can seem like a nightmarish creature looming in wait for the viewer to emerge from the square. The scene is remarkably empty of figures and of movement, while the discordant perspective and irrational light source create a sense of anxiety. Exemplifying the artist's metaphysical style, in this work, as the artist wrote, "every object has two appearances: one, the current one, which we nearly always see and which is seen by people in general; the other, a spectral or metaphysical appearance beheld only by some individuals in moments of clairvoyance and metaphysical abstraction."

When Guggenheim began collecting art, she trusted her advisors Marcel Duchamp, Howard Putzel, and Herbert Read to teach and guide her on her new quest. Her biographer Anton Gill explains, "Peggy had to be shown the difference between what was Abstract and what was Surrealist and between the 'dream' Surrealism of, for example, Dalí or de Chirico and the 'abstract' Surrealism of, say, André Masson. She was an eager and quick learner, showing a natural affinity and sympathy for what she saw." Guggenheim's early adoption of Surrealism and her exhibition of both abstract and dream Surrealism played an important role in New York City for young artists clamoring to see European art.

Oil on canvas - Peggy Guggenheim Collection

White Cross (1922)

Artist: Wassily Kandinsky

Artwork description & Analysis: In this painting, regular and irregular geometric shapes, as well as more organic forms, depicted in primary colors, are juxtaposed against an off-white trapezoidal plane, which itself sits in a field of inky black. The shapes seem to both float above the plane and to be grounded within it, creating a dynamic spatial relationship. Some of the abstract shapes evoke symbols, like the number 3, whereas others evoke naturalistic associations - a boat, a lance, a piano keyboard, a checkerboard - but are abstracted to non-referentiality and deployed like colored elemental forms to create visual rhythm. The title refers to the white cross within the checkerboard in the upper right, and the shape is echoed throughout the canvas - in two black crosses in the lower center and the cross handle of the lancet shape intersecting a circle at center left - creating a kind of musical point and counterpoint, as the evocative symbol is treated as an abstract shape.

The artist called this work reflective of his "cool period" in the early 1920s; here he began to emphasize geometric forms, reflecting both the influence of Malevich's Suprematicism and the Bauhaus where he began teaching in 1922. In 1938, the Guggenheim Jeune held the first solo exhibition of Kandinsky's work in London, largely organized by Kandinsky himself, and White Cross featured prominently in Guggenheim's collection in the following decades.

Marcel Duchamp had sent Guggenheim to meet Kandinsky, and she found the artist "so jolly and charming." According to Guggenheim, when she visited, Kandinsky talked to her about how he felt another artist, Rudolph Bauer, had supplanted him in the eyes of her uncle Solomon, and he begged her to try to convince her uncle to stop patronizing Bauer and start buying his paintings again. When Guggenheim brought the matter to the attention of her uncle's art advisor, Hilla Rebay, Rebay, who was Bauer's lover, rebuked Guggenheim and said they would never buy a painting from her gallery.

Oil on canvas - Peggy Guggenheim Collection

Bird in Space (1928)

Artist: Constantin Brancusi

Artwork description & Analysis: This sculpture is a sleek aerodynamic form, evoking a bird in flight, yet devoid of representative details. An embodied arc of light soaring upward, from a slender base conveys unfettered movement. The highly polished surface is luminous, as the artist felt that such attention to the material and its surfaces made the works seem to proceed "out from the mass into some perfect and complete existence." Brancusi insisted that the elemental form was not abstract but revealed "the being that is within matter."

Brancusi showed in the 1913 Armory Show, where he became close friends with Marcel Duchamp, who became a lifelong advocate for his work. John Quinn became an early leading patron of the artists, and the artist later said, "Without the Americans, I could never have produced all that, nor even perhaps have existed."

When Guggenheim visited Brancusi in Paris, she hoped to purchase this work, already famous for the 1927-28 legal debate when the U.S. Customs office refused to classify it as an artwork. She later acknowledged that she had a brief affair with the sculptor, whom she described as "half-God, half-peasant," because she thought he would then sell her the work for less. On the day that the Germans invaded Paris, she visited his studio, where he carried it out in his arms and gave it to her with tears in his eyes, though she said later that she did not know whether they were in response to parting with her or parting with his artwork.

Polished Brass - Peggy Guggenheim Collection
More Peggy Guggenheim Artwork and Analysis:
Influences and Connections
Influences on Artist
Artists, Friends, Movements
Influenced by Artist
Artists, Friends, Movements

Interactive chart with Peggy Guggenheim's main influences, and the people and ideas that the artist influenced in turn.
View Influences Chart


Influences on Artist

Peggy Guggenheim
Years Worked: 1938 - 1975
Influenced by Artist

| | | | | |
| --- | --- | --- | --- | --- |
| Artists | | Personal Contacts | | Movements |
If you see an error or typo, please:
tell us
Cite this page

Content compiled and written by Rebecca Seiferle
Edited and published by The Art Story Contributors
" Influencer Overview and Analysis". [Internet]. . TheArtStory.org
Content compiled and written by Rebecca Seiferle
Edited and published by The Art Story Contributors
Available from:
First published on 26 Dec 2018. Updated and modified regularly.


[Accessed ]