Artists
Diane Arbus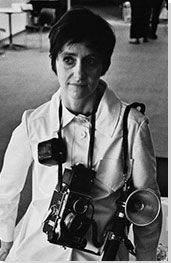 Born: March 14, 1923 - New York City, New York
Died: July 26, 1971 - New York City, New York

"They are the proof that something was there and no longer is. Like a stain. And the stillness of them is boggling. You can turn away but when you come back they'll still be there looking at you."
Summary of Diane Arbus
Diane Arbus is an American photographer known for her hand-held black and white images of marginalized people such as midgets, circus freaks, giants, gender non-conforming people, as well as more normalized subjects of suburban families, celebrities, and nudists. Arbus' work can be understood as bizarre, fantastical, and psychologically complex all at once - either way, she took documentary photography a step further. One might feel as though they are violating a social contract with the subject for it often evokes a sense of "othering" through the intense gaze her photography offers. Through Arbus, humans (even the most mundane and neutral) become visual spectacles. Arbus became internationally known for her provocative imagery, and remains one of the most unique Post-Modern American photographers. Although she is often criticized for objectifying her subjects, the power of her images remains.
Key Ideas
Arbus employed the techniques of documentary or photojournalistic photography to represent real life subjects in their natural environments. However, she made the resulting works uniquely her own, as her personal journey was always embedded in the imagery she photographed. There is a multiplicity of the subject, for you can't think of the image without thinking of the set of qualities that made the image possible; which is to say, it is difficult to imagine the photograph taking place without the thought of Arbus present.
Arbus found intrigue and conjured beauty in unlikely subjects, and made remarkable portraits of people that were not often deemed "fit" to be in front of the lens of a camera. She sought out unique characters on the fringes of society for her work, and said to this, "I really believe there are things nobody would see if I didn't photograph them." This went a long way from the art that is often thought to be reserved only for the aesthetically pleasing, as opposed to showing the "real" or "true" world.
The idea of personal identity as socially constructed is one that Arbus came back to, whether it be performers, women and men wearing makeup, or a literal mask obstructing one's face. Critics have speculated that the choices in her subjects were a reflection of her own identity issues, for she said that the only thing she suffered from as a child was never having felt adversity. This evolved into a longing for things that money couldn't buy such as experiences in the underground social world. She is often praised for her sympathy for these subjects, a quality which is not immediately understood through the images themselves, but through her writing and the testimonies of the men and women she portrayed.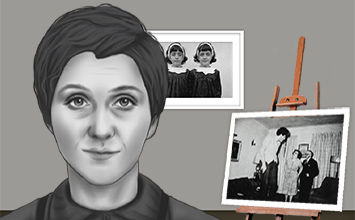 Diane Nemerov grew up in New York City in a wealthy Jewish family who owned a successful fur company named Russeks. She was the second of three children who all grew-up to be creatives. (Howard, the eldest, grew up to be a Pulitzer Prize winning poet and the younger, Renee became an artist). Raised in a series of lavish homes in Upper East Side of New York City, her childhood consisted of maids and governesses helping raise her and her siblings. Diane's mother, Gertrude, struggled with bouts of depression preventing her from intellectually supporting Diane while her father, David, stayed busy with work. The rest of her life, she would try separating herself from her family and upbringing. Many have thought that she did this through her work, as an extension of her personal suffering, for she felt oppressed in her own community and felt akin to her subjects as a social outcast.
Important Art by Diane Arbus

The below artworks are the most important by Diane Arbus - that both overview the major creative periods, and highlight the greatest achievements by the artist.


Artwork Images

42nd Street movie theater audience, N.Y.C. 1958 (1958)

Artwork description & Analysis: Photographing movie theaters and audiences kicked-off Arbus's initial fascination with photography. In this early photo, Arbus captures a number of hunched-over bodies siting underneath a flared projector light. This photograph reveals the complicated social process of taking pictures and Arbus's humble beginnings as a timorous photographer. The grainy film constructs a dreamlike image of minute dots accentuating the dusty light. Arbus admired the textured look, "I'd be fascinated by what the grain did because it would make a kind of tapestry of all these little dots and everything would be translated into this medium of dots..." The grainy print attests to her amateur technical skills that she improved with the help of Allan Arbus. The photo flips the script, capturing the gaze of the audience lost in a collective stare towards the movie screen. As Arbus wrote "It always seemed to me that photography tends to deal with facts whereas film tends to deal with fiction."

She started her photography career shy and avoiding actual human interaction and chose pre-constructed scenes like wax museums or unbeknownst audiences such as this image. She would often wait for the opportune moment in parks and city sidewalks, often photographing people from behind or without their consent or knowledge. She obliged the grip of the photographic excellence as the search for the perfect moment became dire. She gave up shooting movie theaters when she changed from her 35mm camera to a more professional, albeit bulkier, medium format camera. Shortly after this image was taken she started using a 2 ? inch twin-lens reflex Rolleiflex, then later a Mamiya C33, which are harder to use with discretion. The medium format camera produces a square negative, which came to be one of Arbus' compositional signatures. Shortly after this image was taken her distinctive style began to take shape as she took more risks and found out how to relate to people she sought to capture.

Gelatin silver print - Fraenkel Gallery, San Francisco


Artwork Images

Miss Venice Beach, Cal (1962)

Artwork description & Analysis: Photographing as a spectator in a crowd of (mostly) male onlookers, Arbus successfully exposes the voyeuristic male gaze projected onto the contestants' bodies. Instead of exclusively focusing on the parading females in their bathing suits, she captures the audience as well as the women. Through framing, she transforms the subject of the image from the pageant itself, to the wider idea of pageantry following the theme of voyeurism in her work.

Arbus engages with the event with a critical lens into the otherwise superficial meaning of ceremonies that make up our everyday existence. Her portrayal of judgment requires of us to ask ourselves if there is any one true meaning of the conventions of physical female beauty. Arbus wrote, "It took about ten hours of interviews, sashaying, and performing what they called their talent and the poor girls looked so exhausted by the effort to be themselves that they continually made the fatal mistakes which were in fact themselves..."

Her photo crystallized the moral issues traditionally plaguing women in American society: objectification through the male gaze. This topic was addressed with both sexes by Arbus. Analysis of this photograph is similar to her portraits of drag queens, burlesque performers, strippers, cross dressers, and some would argue even the hyper-masculine body builders. What all of the images have in common, is the portrayal of the subjects within understanding of the man's point of view.

Gelatin Silver Print - Museum of Modern Art, New York City, New York


Artwork Images

Child with a toy hand grenade in Central Park, N.Y.C (1962)

Artwork description & Analysis: Instead of presenting the young boy as playful and angelic, this boy is captured in a tense moment of frustration and confusion. His wiry limbs and clenched teeth promote the idea of a young boy filled with rage and nerves. His right hand tightly clamps a toy grenade - that looks very real - while his left hand looks like a claw. Completely alone, the empty space exemplifies the boy's isolation from others. Balancing his edgy nature, Arbus carefully positioned him at a bend in the path where a tree acts as a visual line from his legs. The setting in Central Park adds an element of innocence aided by the idyllic-looking family in the background.

Child with a toy hand grenade in Central Park, N.Y.C is considered to be one of the most important and influential images of the 20th-century's art and post-modernist art theory. Nothing is medically wrong with the boy, but his momentary reaction to the event of being photographed has come to exemplify more than a portrait. The child embodies awkward tensions between childhood games, not-so-childlike violence, and greater sociopolitical turmoil that defined the late 1960s and early 1970s, a time when the county was at war. While her contact sheet shows her subject, Colin Wood, modeled in various "typical" child-like poses of smiling and hamming it up for the camera; she chose to print the most unusual shot of Wood.

This image is often criticized as being disturbing to viewers. Arbus sought to expose the underbelly of society, which is often overlooked or ignored. What becomes apparent is the more insistent, larger narrative of American sensibility, lost in the social upheavals of the 1960s. Critic Susan Sontag wrote about Arbus' aesthetic insensibilities in her book, On Photography, which is a very influential piece of critique questioning the legitimacy of photography as an art form, written in 1977. She categorized Child with a toy hand grenade in Central Park, N.Y.C, among Arbus' work as a whole, as picturing people who are "pathetic, pitiable, as well as repulsive." This image remains an icon despite Sontag's scathing review, and has continued to grow in fame as the visual impact of the image is haunting and timeless.

Gelatin Silver Print - The Metropolitan Museum of Modern Art, New York City, New York
More Diane Arbus Artwork and Analysis:
Influences and Connections
Influences on Artist
Artists, Friends, Movements
Influenced by Artist
Artists, Friends, Movements

Interactive chart with Diane Arbus's main influences, and the people and ideas that the artist influenced in turn.
View Influences Chart

Artists

Personal Contacts

| | |
| --- | --- |
| | Carlotta Marshall |
| | Peter Crookston |
| | Allan Arbus |
| | Mariclare Costello |
| | Davis Pratt |

Movements

Influences on Artist

Diane Arbus
Years Worked: 1941 - 1971
Influenced by Artist

If you see an error or typo, please:
tell us
Cite this page

Content compiled and written by The Art Story Contributors
Edited and published by The Art Story Contributors
" Artist Overview and Analysis". [Internet]. . TheArtStory.org
Content compiled and written by The Art Story Contributors
Edited and published by The Art Story Contributors
Available from:
First published on 21 Jan 2017. Updated and modified regularly.


[Accessed ]