Artists
Annie Leibovitz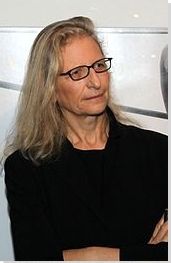 Born: October 2,1949 - Waterbury, CT

"You don't have to sort of enhance reality. There is nothing stranger than truth."

Summary of Annie Leibovitz
Possessing a selective eye that can transition between pop stars, politicians, and royalty Annie Leibovitz has the ability to both critique and celebrate celebrity culture in equal measure, and has created some of the most controversial and popular images of the last 40 years. Inspired by the documentary tradition, but equally comfortable with theatrical staging, Leibovitz's photographs bridge commercial and fine art. She has documented countercultural figures and musicians for experimental publications since the late 1960s, and continued the creative artistic photographic legacy of established magazines such as Vanity Fair.
Key Ideas
Annie Leibovitz's is best known for her portraiture and her unique ability to exaggerate and enhance the characteristics of her subjects. Iconic figures spanning celebrity, creative, and intellectual circles have sought to work with Leibovitz in admiration of her interpretive perspective.
Leibovitz was an active participant in the creative communities she documented. Inserting herself in the scene and amongst the subjects she photographed resulted in close personal connections, sometimes at the risk of her own health and safety.
Leibovitz has a distinctive ability to capture the essence of a moment, to perceive details otherwise neglected that communicate an alternative vision of a scene, event, or person.
Leibovitz has shown in international museum exhibitions, and received numerous photographic awards, yet most of her work is accessible and was originally published in commercial venues. The blending of fine art and popular contexts lends her work a unique cultural cachet.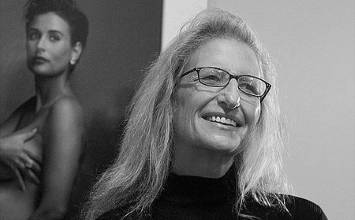 Born Anna-Lou Leibovitz in Waterbury, Connecticut in 1949, Annie, as she has become known, grew up in an idyllic middle-class family. The third eldest of six children, she was raised by parents of eastern European and Jewish descent. Her mother, Marilyn, was a modern dance instructor who instilled in Leibovitz a passion for art, including dance, music, and painting. Her father, Sam, was a lieutenant colonel in the US Air Force and, as a result, the family moved around frequently during Leibovitz's childhood. Her family credits her success as a photographer to growing up seeing the world through a car window.
Important Art by Annie Leibovitz

The below artworks are the most important by Annie Leibovitz - that both overview the major creative periods, and highlight the greatest achievements by the artist.


Artwork Images

Untitled (Guards rolling up carpet after Nixon) (1974)

Artwork description & Analysis: Working on assignment for Rolling Stone with the legendary journalist Hunter S. Thompson, Leibovitz captured the moment when, after resigning as president, Nixon left the White House for the last time. Three stooped guards in the foreground of the image roll up the carpet, fighting against the wind from the whirling blades as Nixon's helicopter hovers behind them. The magazine intended to publish the image alongside Thompson's piece but when he failed to submit, the editor published Leibovitz's images alone. The expressive photos captured an extraordinary, and highly-documented event in American history in a novel way. Here Leibovitz brilliantly highlights that the relevance of a work of art is not in what it reveals about the subject, but in what it shows about the cultural moment in which it was created.

Leibovitz had an uncanny ability to instill seemingly mundane moments with subtle meaning. She attributed this to her ability to capture moments either before or after "the moment." In this image, it was the moment after the helicopter carrying Nixon had taken off. The grounds are vacant, the Washington monument is visible at left, and the three men are packing up the last vestiges of ceremony, the carpet where Nixon would appear as president for the last time. It is both mundane and theatrical - the guards could be stagehands or porters, but the presence of the carpet and the White House setting evokes the pageantry of the State. Leibovitz remembers being "out there with the White House press squad, and after his helicopter took off, and the carpet rolled up, [everyone was done.] This wasn't a photograph that others were taking, but I continued to take pictures." This ability to convey a powerful moment that isn't immediately obvious to others sets Leibovitz's photographic style apart.

Bromide print - Rolling Stone Archive


Artwork Images

Mick Jagger, Buffalo, NY (1975)

Artwork description & Analysis: After having worked at Rolling Stone magazine for five years and building her reputation as a skillful rock and roll photographer, Leibovitz was asked by Mick Jagger to be the tour photographer for The Rolling Stones' 1975 tour. Determined to follow in the footsteps of her idol, Robert Frank, who travelled with and filmed the band on tour in 1972, Leibovitz eagerly spent the year traveling across the country capturing the band during very candid and typically unseen moments. Untitled (Mick Jagger, Buffalo, NY) captures one of these moments and has become an emblematic image from the historic tour. Taken immediately after one of the last performances, the black and white photo depicts Jagger standing in an elevator wearing a white robe and turbaned towel on his head. The rocker stares directly at the camera with a haggard expression, reflecting the exhaustion that comes with performing and partying every night. The neutral white robe and towel lend him the quality of a Bedouin nomad cast in the high contrast lighting of a renaissance portrait, thus separating Jagger from his familiar flamboyant stage persona and casting him in a new light.

This photograph along with others from the tour has come to represent how Leibovitz approached her subjects. Early in her career, she would spend days, weeks, or in this case, a year with her subject in order to get intimate and revealing shots. She once remarked that "in order to get the best possible image, one had to become part of what was going on." Leibovitz was so successful at ingratiating herself into new environments that subjects eventually became comfortable with her presence, even forgetting she was there. Unfortunately, the result of these immersive interactions led to drug abuse problems for her.

Bromide print - National Portrait Gallery, London and Rolling Stone Archive


Artwork Images

Yoko Ono; John Lennon (Rolling Stone cover, 1981) (1980)

Artwork description & Analysis: In the mid 1970s Rolling Stone started using color photography so Leibovitz did the same. She had photographed John Lennon several times for the magazine in both black and white and color, but her most well known image of the musician was taken with his wife, conceptual artist, Yoko Ono. Untitled (Yoko Ono; John Lennon) depicts the couple in an intimate embrace with a naked Lennon curled around a fully clothed Ono, lovingly kissing her cheek. Leibovitz had originally hoped to just photograph Lennon, but he insisted Ono be included. Hoping to reflect the sentiment of their Double Fantasy album cover, which showed the lovers kissing, Leibovitz requested they pose nude together. Ono refused to remove her clothes but Lennon disrobed. Leibovitz has always encouraged her subjects to have input, and in this instance the clash between clothed woman and naked man subverts the conventional art historical canon which so often fetishizes the nude female form. Ono's refusal to disrobe juxtaposes her husband's display of affection and vulnerability.

The image was taken only a few hours before Lennon was shot and killed outside his Upper West Side apartment by crazed fan, Mark David Chapman. It was first published on the cover of Rolling Stone and would quickly become iconic for its timing and the manner in which it immortalized the couple's devotion towards each other. Leibovitz understands that the photo's special status is a result of the musician's tragic death occurring immediately after the shoot. "It's actually an excellent example of how circumstances change a picture. Suddenly, that photograph has a story. You're looking at it and thinking it's their last kiss, or they're saying goodbye. You can make up all sorts of things about it. I think it's amazing when there's a lot of levels to a photograph." In 2005 the American Society of Magazine Editors voted the image the best magazine cover of the last 40 years.

C-type color print - National Portrait Gallery, London
More Annie Leibovitz Artwork and Analysis:
Influences and Connections
Influences on Artist
Artists, Friends, Movements
Influenced by Artist
Artists, Friends, Movements

Interactive chart with Annie Leibovitz's main influences, and the people and ideas that the artist influenced in turn.
View Influences Chart

| | | | | |
| --- | --- | --- | --- | --- |
| Artists | | Personal Contacts | | Movements |

Influences on Artist

Annie Leibovitz
Years Worked: 1970 - present
Influenced by Artist

Artists

| | |
| --- | --- |
| | Jill Furmanovsky |
| | Mario Testino |

Personal Contacts

Movements
If you see an error or typo, please:
tell us
Cite this page

Content compiled and written by Katelyn Davis
Edited and published by The Art Story Contributors
" Artist Overview and Analysis". [Internet]. . TheArtStory.org
Content compiled and written by Katelyn Davis
Edited and published by The Art Story Contributors
Available from:
First published on 12 Jul 2017. Updated and modified regularly.


[Accessed ]