".. there is always something dramatic about the job of permanently recording the features of a human being, it is the theatre bought to everyday life; the ordinary routine of existence is broken and the tension is heightened .."
"Photography has provided me with a passport into many fields of interest which would otherwise have remained unknown. It has enabled me to meet, even if only once, a large number of famous people. Many an afternoon I have enjoyed in isolated intimacy with some personage whose path, but for my profession, I might never have crossed. Sometimes I was never to see them again; but photography has also been the means of discovering lifelong friends"
"I was able to bring out many of my familiar tricks, and also deciphered how easy, in comparison to photographing beautiful women of the world, it is to photograph men. The photographer of men has chosen an easy life."
"My attitude to women is this - I adore to dance with them and take them to theatres and private views and talk about dresses and plays and women, but I'm really much more fond of men. My friendships with men are much more wonderful than with women. I've never been in love with women and I don't think I ever shall in the way that I have been in love with men"
"[Greta Garbo] is the only person with glamour. She is flattered and pleased that she is an amazing success but she does not want to meet her fans. Women send orchids to her every day, men telephone on long distance calls to try and hear her voice. She is so casual and dreamy. She doesn't give a damn and the fact that she doesn't give a damn and will not come out of hiding only increases the frenzy and as with me they are almost driven insane with desire to see her and incidentally she gets more publicity in this way than if she were at everyone's beck and call"
"I soon found I had fallen so much under Picasso's influence that I was seeing the world with eyes other than my own, with Picasso's eyes in fact. I began to realize that many ordinary objects, pieces of cork, metal and paper, even ordinary boxes of matches - yellow, blue and black - which one sees every day, when seen in his company, look as if they are the creation of the master himself"
Summary of Cecil Beaton
Beaton was one of the foremost photographers of the twentieth century, best known for his elegant and unusual shots of celebrities and royalty. His fascination with glamour and high society continued throughout his life and he was considered a style leader in his own right, known for his easy charm and wit as well as his flamboyance of dress and waspish comments on celebrity figures, a trait that prompted the writer Jean Cocteau to dub him "Malice in Wonderland". He was also a prominent innovator in the relatively new field of fashion photography, an accomplished photojournalist, the winner of two Oscars for his costume design, and a prolific writer publishing numerous texts, including six volumes of his own diaries. Extremely ambitious, Beaton's superb aesthetic eye and flair for the theatrical allowed him to remain relevant over a 50-year career during which he regularly reinvented himself and his style.
Accomplishments
Beaton excelled at capturing the individual personality of his sitters, presenting them in new ways that brought out elements of their character not seen in other portraits. In doing so, he made them accessible and sympathetic to the wider public, helping to create or reinforce their status as iconic social figures.
His fashion photographs were characterized by their decorative appearance and interesting compositions and his earlier images often contained elements of Surrealism. He was particularly known for his use of unusual backgrounds including cellophane, silver foil and papier mâché and these complex sets are clearly rooted in theatrical practice.
Beaton utilized his photographic talents during the Second World War to document the British war effort, photographing the lives of normal people as well as the key political players of the era. His images depict a country doing its best to carry on as normal and are infused with a sense of national pride, consequently many were utilized as propaganda to keep morale high during the conflict.
Although Beaton dated a number of women including Greta Garbo, he preferred men and he had several prominent gay relationships. This gave him a sense of guilt and shame throughout much of his life and this was a significant driving force in his desire for high achievement, proving his abilities to himself and others. It has also been suggested that Beaton's interpretation of female glamour and male muscularity may have been informed by his sexuality and that this, along with his photo colleges, subsequently influenced the queer visual culture of Pop Art in the 1960s, including artists such as Andy Warhol and David Hockney.
Important Art by Cecil Beaton
Progression of Art
1928
Miss Nancy Beaton as a shooting star
Beaton had a penchant for the theatrical and this can be seen in this photograph of his sister Nancy who models her fancy dress costume for the Galaxy Ball at London's Park Lane Hotel. The dramatic backlighting focuses attention on her face and torso, whilst the sheer, jagged backdrop, alluding to the rocky surface of a star, merges with the skirt of her costume making her part of the star itself. The use of cellophane in the backdrop produces intricate patterns of reflection, allowing her to also embody the luminosity of a star. In his early portraits, Beaton often utilized this technique of wrapping his sitters in beautiful or interesting backdrops and this enabled Beaton to distance them from their real selves and immerse them completely in the photographic world that he had created. Here, Beaton's depiction of a character is so convincing that, without context, Nancy Beaton does not simply adopt a fantasy role, she actually becomes the fantasy character.
Gelatin silver print - The Cecil Beaton studio archive, Sotheby's
1934
White Panama hat, Vogue
In 1934, Beaton was commissioned by Vogue to shoot an image of this hat by Suzy. Beaton fulfilled the request in his trademark style with an image that exudes playfulness. The hat box is positioned centrally within the photograph and out of it emerges a model's disembodied head wearing the hat. By including an incomplete portion of a woman's body Beaton references one of the tropes of the Surrealist Movement and, in doing so, makes his photograph visually distinct from the average fashion image. This differentiation is enhanced by the model's unusually sad expression. In the work, Beaton utilizes the documentary realism of the photographic medium to normalize the inclusion of the surreal elements, creating a new and convincing reality.

In 2009, the image was chosen by Rankin, the British portrait and fashion photographer, as one of seven photographs that changed fashion photography. Rankin stated that Beaton helped "to set the template for fashion photography. Packaging a world of decadent beauty and above all selling a dream" and that he brought to this photograph "his typical wit and elegance so that what she is wearing is secondary to the beauty of the image."
1935
Marlene Dietrich
Here, Beaton depicts Marlene Dietrich in a manner which was in direct contrast to the masculine clothing and androgynous style for which she was known. The delicate lace backdrop, flowers, and Dietrich's feather boa, can all be seen as sensual symbols of traditional femininity. Dietrich's exaggerated body language and the use of theatrical props, jewellery and clothing also make reference to her role as a performer. Mirrors and reflections were a reoccurring theme in Beaton's work and here he plays with the idea, placing Dietrich's face alongside that of a mannequin with a similar hairstyle and eyebrows. The comparison between the two highlights Dietrich's famously pale complexion as well as creating a sense of displacement in the viewer, as unlike a reflection, the two faces look in different directions.

The overall combination of unusual set pieces along with the use of soft focus give a dreamlike effect to the image and this depiction, at once both real and fantastical, corresponds with Beaton's description of Dietrich in his memoir Persona Grata, "From the flat screen Dietrich stormed the senses, looking always tangible, and at the same time untouchable". The combination of beauty and Surrealism showcased in the work can be compared to some of the photographs produced by Man Ray, particularly those depicting Kiki de Montparnasse.
Gelatin silver print - The Cecil Beaton studio archive, Sotheby's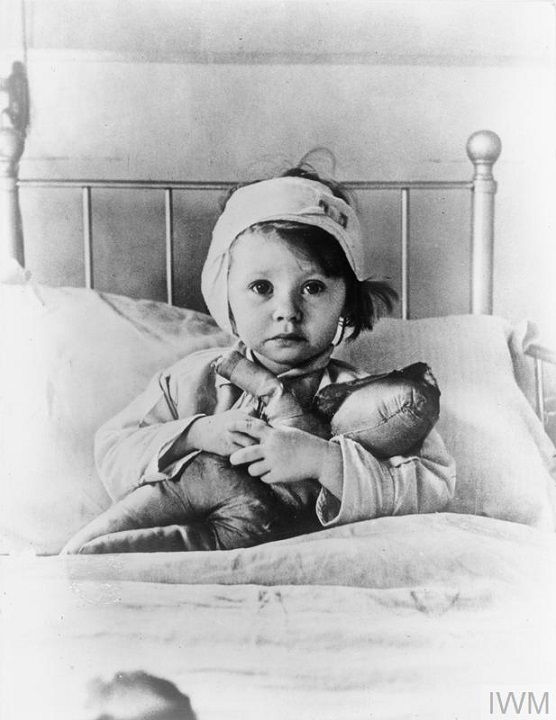 1940
Eileen Dunne, aged three, sits in bed with her doll at Great Ormond Street Hospital for Sick Children, after being injured during an air raid on London in September 1940
As a photojournalist for the Ministry of Information, Beaton covered many aspects of the Second World War. This photograph depicts the charmingly wide-eyed Eileen Dunne after she was injured during the Blitz. In his diaries, Beaton documented the moment he took the photograph, stating: "The small girl, with bomb terror in her eyes, was sitting in her bed in hospital, clinging to a rag doll which had survived with her. Her face, so baby-like, had suddenly grown old and pale; and as I approached her bed she looked at me in a trance of trustful misery".

Beaton's composition places a strong focus on the young child's face as opposed to highlighting her injuries. In doing so, he forces the viewer to register the emotional status of the victim and consequently sympathize with her. Beaton's choice to capture the scene from the foot of the bed creates a foreshortening effect so that the bed surrounds the girl, threatening to overwhelm her with its size. This contrast in proportion reminds the observer that this victim is a small child as well as hinting at her fragility and innocence. The photograph was published on the front cover of American LIFE Magazine and its wide distribution and the emotional impact of the image helped to gain American support for the British during the war.
Gelatin silver print - Imperial War Museum collection, London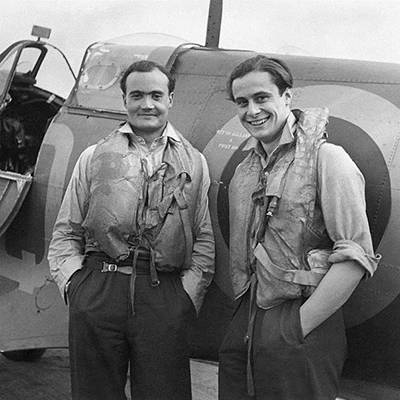 1941
Two Battle of Britain fighter pilots, Flight Lieutenant Brian Kingcome (left), commanding officer of No. 92 Squadron Royal Air Force and his wingman, Flying Officer Geoffrey Wellum, next to a Supermarine Spitfire at RAF Biggin Hill, Kent
This image of two fighter pilots posing in front of their plane stands out against many other documentary photographs of the period, in that it shows a fleeting moment of normality amongst the horrors of the Second World War. The close framing of the image connects the viewer directly with the men and their relaxed poses and cheerful smiles reinforce their humanity. Beaton often avoided documenting the gory aspect of the war and in this photograph he displays a sense of hope as well as reinforcing the idea of the British stiff upper lip; despite their dangerous and difficult job fighting for their country these young men have remained happy and positive. Images such as this were printed in newspapers and magazines and helped to maintain morale amongst the general public. This particular image also played a role in recruiting men into the Royal Air Force by glamourizing the pilots and placing an emphasis on their friendliness and comradery.
Gelatin silver print - Imperial War Museum collection, London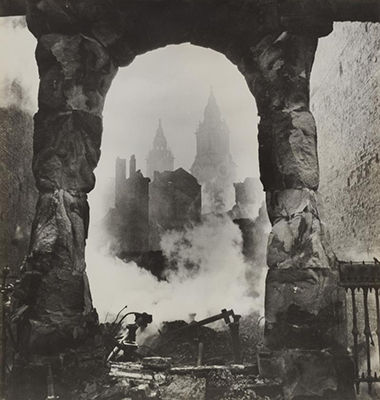 1940
The western bell towers of St. Paul's Cathedral in London seen through an archway after the heavy incendiary raid of 29 December 1940
During the Second World War, London was the victim of significant and prolonged bombing, known as the Blitz. This photograph shows the aftermath of a raid and depicts St. Paul's Cathedral framed by the remains of a destroyed shop frontage. In his diaries, Beaton discussed the moment that he took the photograph: "It was necessary to squat to get the archway framing the picture. I squatted. A press photographer watched me and, when I gave him a surly look, slunk away. When I returned from photographing another church, he was back squatting and clicking in the same spot I had been. Returning from lunch with my publisher, my morning's pictures still undeveloped in my overcoat pocket, I found the press photographer's picture was already on the front page of the Evening News."

Beaton has taken his typically theatrical approach to this composition and the result feels more like a film set than real life. The arch of the shop frontage draws the eye inward to the center of the image in which St. Paul's Cathedral stands tall and triumphant amidst the billowing smoke, undamaged by the raid. In presenting St Paul's in this manner, the iconic building becomes a symbol of resistance and a reminder that hope and faith can triumph over adversity. The work consequently takes on a role of visual propaganda, aligning itself with the idea that the British people should carry on living their lives as normally as possible during the conflict.
Gelatin silver print - Imperial War Museum collection, London
1951
American Fashion: The New Soft Look
One of many of Beaton's American Vogue commissions, this image forms part of a fashion spread juxtaposing Jackson Pollock paintings with evening gowns by Irene and Henri Bendel. The pictures were taken in the Betty Parson Gallery in New York, famous for promoting the work of abstract artists and the Pollock used as a backdrop in this photographs is Lavender Mist (1950).

Whilst the drapery and ostrich feathers of the dress echo the swirling lines and colors of the painting, the photograph is also full of contradictions. Most prominently, there is conflict between the action and aggressive masculinity of Pollock's work and the softness and femininity of the evening dress. This tension is mediated by the captions, which integrate the two by describing the paintings as though they were high fashion items, "Jackson Pollock encrusts his interwinding skeins of paint to give that extraordinary effect known as Pollock". The captions then go on to praise Pollock's style, placing him within the upper-class intellectual context of the magazine's target readership, cleverly merging commercial fashion and avant-garde art.

There is also tension between the American painting and European design on display. This, in turn, echoes the conflicted focus of the magazine as an American publication with an emphasis on European lifestyles and fashions. In the post-war period, Paris reasserted its dominance as the fashion capital of the world, but it did not recover its place as the center of the art world. Instead, America became a new center for art going forward. Here, Beaton highlights American innovation alongside the more established French fashion, positioning Pollock and America as the rising talent.

Although this is the first example of Pollock being linked to fashion, his dynamic canvasses have continued to influence haute couture including the more-recent designs of Dolce and Gabbana (2008), Thom Browne (2013), and Raf Simons and Sterling Ruby (2014).
Dye-bleach print
1956
Marilyn Monroe
As Monroe was typically portrayed in a cinematic and glamorous fashion, in this image Beaton sought to reveal a more human side to her. Photographed in a suite at the Ambassador Hotel, New York, Beaton described the shoot: "She romps, she squeals with delight, she leaps on the sofa. She puts a flower stem in her mouth, puffing on a daisy as though it were a cigarette. It is an artless impromptu, high-spirited, infectiously gay performance. It will probably end in tears". The flowers in the background and the loosely clasped carnation in her hand reinforce Monroe's femininity and the fabric of her white dress mirrors the bed sheets around her.

Instead of the trademark smile and sultry poses of many of Monroe's images, here, Beaton presents her on a bed, her shoulders exposed, she gazes at the camera with wide-eyes and parted lips. Both her expression and her attire convey a sense of vulnerability and this is juxtaposed with her perfectly curled hair and precisely applied makeup. The contrast of the two reinforces her separate personas, behind the visual façade and superficiality of Marilyn Monroe, Beaton also manages to capture the fragility of Norma Jean.
Gelatin silver print - The Cecil Beaton studio archive, Sotheby's
1967
Twiggy, Vogue
One of the most iconic models of the 1960s, Twiggy is pictured in Beaton's own house, 8 Pelham Place, London. She stands on top of a plinth, clad in a fashionable orange mini dress designed by John Bates. The color of the dress contrasts with the wall behind and its textured and luxurious appearance is enhanced by the gold highlights on the doors and frames to either side of her. The strong vertical lines of the doorways also mirror and amplify Twiggy's slim form. Beaton has captured the image from below the level of the plinth, meaning the viewer looks up at her, emphasizing her significance within the photograph whilst playing with the idea of size and scale. Her positioning also serves as a literal embodiment of the metaphor to 'put on a pedestal', plinths are traditionally used for the display and appreciation of art, and by placing Twiggy on top of it, this draws parallels between her beauty and that of art.
Vogue © Condé Nast Publications Ltd / Courtesy Sotheby's
1968
Queen Elizabeth II, Buckingham Palace
Beaton took his first photograph of the Queen when she was only 16, and over the years he frequently photographed her and other royals, establishing a collective vision of their lives as a normal family. This helped to rehabilitate the monarchy in the aftermath of the abdication scandal in 1936, making them seem increasingly accessible to the public. Partially inspired by Pietro Angiono's painting of the Queen in 1954, in this image, Beaton depicts her against a plain blue backdrop, wearing a dark Admiral's boat cloak. The backdrop injects contemporaneity into the photograph, and through its simplicity, it draws the eye to the Queen. Her stance and cloak create an image of strength and power and this is contrasted with her thoughtful expressions as she gazes into the distance. Beaton eliminates the regalia of most royal portraits and this lack of ceremonial trappings within the photograph presents the Queen as human, connecting her with her viewer.
C-Type print - Victoria &Albert Museum collections, London
Biography of Cecil Beaton
Childhood
Sir Cecil Walter Hardy Beaton was born in Hampstead, England to Ernest Beaton, a timber merchant, and Esther Sisson. He was one of four children. The family were middle class and Beaton's interest in the arts was encouraged from a young age. In his biography, Photobiography (1951) Beaton discusses the moment when he first developed an interest in photography, pinpointing an occasion when he was three years old and saw some postcards depicting Lily Elsie, an Edwardian singer and actress. He subsequently made visits to his local stationers to spend his pocket money on postcards of as many famous actresses as he could. His father also brought him theatre magazines and illustrated theatre programmes from America when he travelled on business. Beaton was given his first camera, a Box-Brownie, at the age of 11. His nurse, Alice Collard, (known as 'Ninnie'), a keen amateur photographer, initially helped him to polish his technique and with this assistance, Beaton started to take photographs of his family, often posing his sisters and mother in a manner that emulated Hollywood starlets.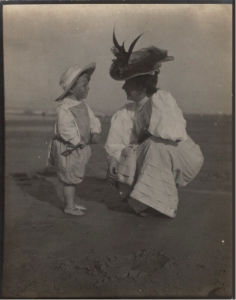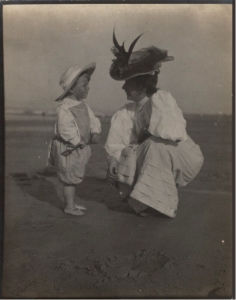 Beaton began his education at Heath Mount School, where in Photobiography he recalls his time as being particularly unpleasant as a result of being bullied by fellow schoolmate Evelyn Waugh (who became the hugely famous writer), who, he claimed, once bent his arms back to front. Beaton later studied at St. Cyprians School alongside author George Orwell, and then at the prestigious Harrow School. Looking back at his time at Harrow, Beaton stated that: "I was quiet and weak and rather effeminate at Harrow. I never played football or did anything like that. I dressed nicely and wanted to look nice because it pleased me". Beaton found his time at Harrow tedious and would amuse himself by venturing out with a friend dressed in theatrical garments to capture photographs.
Early Training and Work
In 1922, Beaton started at the University of Cambridge but spent much of his time involved with the ADC (Amateur Dramatic Club) instead of studying. Beaton also continued his interest in photography, frequently submitting his photographs to various publications. After many attempts, Beaton had a portrait depicting The Duchess of Malfi accepted to Vogue in 1924, this was actually an image of fellow student George Rylands dressed in drag. In 1925, Beaton left Cambridge without a degree, but with a clear desire to work as a photographer. His father, who was adamant that he should start earning money as soon as possible, offered him a role at his workplace. While Beaton initially complied, he felt that the job was not for him, and informed his father that he would be setting off for Venice to explore photography and the arts.
Beaton was left disappointed with his trip, stating that "I so hoped Venice would bring something big to me. I'd be able to repay all the money I owed and help in many other ways. How silly of me to have said, and said not only once but often to Nancy [his sister], 'what fun it will be when I get lots of money and am rich to show off in front of Daddy and be thoroughly extravagant and overtip taxi-drivers'". With such expectations, Beaton left Venice feeling depressed. Returning to England, Beaton worked his social connections and this enabled him to meet the Bright Young Things, a group of Bohemian socialites including Stephen Tennant and Edith Sitwell, whose lives Beaton began to document. Through Edith, Beaton also met her brother Osbert Sitwell, who assisted him in the production of his first exhibition at the Cooling Galleries. Beaton's lively photographs of the Bright Young Things in association with this exhibition helped to build his reputation and gave him the entrance into high society that he craved.
In 1928, Beaton travelled to New York, he initially found living costs expensive, and he became frustrated with frequently being asked if he was related to the famous cook, Mrs Beeton. Beaton, however, soon got a job with Vogue, where he worked as a photographer for the next ten years. His time at the magazine was exceptionally productive and he was given the opportunity to travel all over the world, photographing celebrities and becoming acquainted with people including the Vanderbilts, one of the wealthiest families in America. In the early 1930s, he became acquainted with George Hoyningen-Huene and Horst P. Horst and their exchange of ideas created the unique style of 1930s fashion photography that emerged during the decade. Whilst in this role, the publisher, Condé Nast, requested that Beaton replace his snapshot camera with a professional photographic apparatus. At first, he resisted, having never really had an interest in the technicalities of photography, but after some convincing, Beaton bought a camera which improved the quality of his photographs.
Whilst in Vienna, he met Peter Watson, an English art collector with whom he became infatuated; the love was unrequited. Beaton was, once again, in Austria when he received the news that his father had died. Beaton had often commented on his somewhat strained relationship with his father, who was much closer to his brother Reginald than to him, a fact Beaton attributed to his own penchant for dressing in drag as well as his choice of career. Years later, however, Beaton reflected on the relationship, writing in his diary that "I like him so much more now that I look back on him".
In 1937 Beaton was appointed Court Photographer to the British Royal Family. Beaton's time with Vogue came to an abrupt end in 1938 as a result of a controversy regarding an anti-Semitic slur inserted into a collage of New York society figures. The issue containing it was withdrawn and reprinted at great cost and Beaton was forced to issue a statement of apology. Beaton commented on the matter in his diaries, noting that he was not anti-Jewish, and that he was so exhausted it was practically a subconscious accident. He was subsequently asked to resign his post at Vogue and, given the extent of the public backlash against him, he was advised that he should leave New York; Beaton complied, and returned to England. Beaton, perhaps, did not realize the magnitude of the incident, and he felt frustrated when, even a year later, he was struggling to find work, unable to shake his association with anti-Semitism.
Mature Period
His career was saved by the outbreak of war in 1939, when he was offered a post with the Ministry of Information working as a photojournalist. In this role he photographed a huge range of people from soldiers and workers to senior political figures and the Queen. He also travelled to locations including the Middle East and China. Beaton remembered his time in China as particularly dangerous, writing in Photobiography that on one occasion he was caught in the middle of crossfire. During this period Beaton took some of his most powerful photographs and these established him as a versatile photographer, whose practice expanded beyond the realm of fashion. His images of popular figures also helped to rekindle his relationship with Vogue and by the 1940s Beaton's photographs, once again, appeared in both British and American Vogue.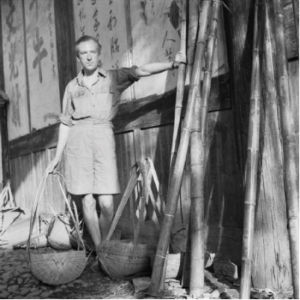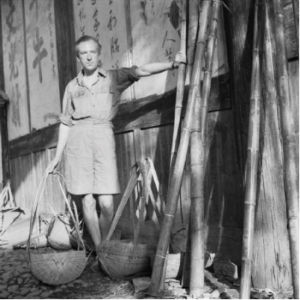 Towards the end of the war, Vogue commissioned Beaton to photograph a number of celebrities including Lily Elsie, Lady Diana Cooper and Greta Garbo. Beaton had always admired Garbo, having first met her a decade earlier, but it wasn't until the mid-1940s that their relationship became romantic. Beaton had always wanted to photograph Garbo, and in 1946 he was given this chance. After the photoshoot in the Plaza Hotel in New York, Garbo requested that only one of the photographs was published. Beaton, however, submitted enough photos to cover a double spread, which caused a significant rift in their relationship. Beaton had dated many men and women over the years, but it was Garbo who had a particular impact on him, and he always remained fond of her, keeping in contact with her for the rest of his life.
Beaton remained in high demand as a photographer and was offered a number of highly prized commissions during this time, including photographing the day of the birth of Prince Charles in 1948. Having had much success as a photographer, Beaton was keen to expand his practice beyond, and he also began to work as a costume and set designer on projects such as The Grass Harp (1952). A year later, Beaton enrolled on a course at the Slade School of Fine Art which allowed him to improve his painting and drawing. By the mid-1950s Beaton had firmly established himself within the field and in 1958 he worked on the stage production of My Fair Lady with Julie Andrews. The show met with a positive response and was regarded as the best musical of the season.
Late Period
In 1963 Beaton met Kin (Kinmoit Hoitsma), a former Olympic fencer and a man thirty years his junior with whom he became romantically involved. Following on from his success with the stage show, Beaton was given the opportunity to design the costumes for the film production of My Fair Lady (1964). This was one of his best-known projects and he won an Oscar for the designs. While working on set, Beaton met Audrey Hepburn who he particularly admired, claiming in his diaries that she was "remarkably disciplined: her memory never at fault, she appears on the set word perfect, and she can give exactly the same performance over and over again".
In the summer of 1965 Kin ended their relationship, devastating Beaton. Although Beaton had numerous relationships with men, homosexuality was only fully legalized in 1967, and Beaton often found himself experiencing a sense of shame for his feelings. Discussing the matter in his diary in 1966, he wrote: "Of recent years the tolerance towards the subject has made a nonsense of many of the prejudices from which I myself suffered acutely as a young man. Even now I can only vaguely realize that it was only comparatively late in life that I would go into a room full of people without a feeling of guilt. To go into a room full of men, or to a lavatory in the Savoy, needed quite an effort. With success in my work this situation became easier."
Beaton also began to fill his diary with assessments (some of which he publicly expressed) of the stars that he met and many of these comments have since become notorious. In 1965, Beaton photographed Grace Kelly, noting that, "If she did not photograph well, we would scarcely stop to look at her on the street... If both sides of her face were the same as the right half she wouldn't be on the screen. That side is very heavy, like a bull calf, but the left side is intensely feminine and creates the counter-point." Beaton met Katharine Hepburn whilst working as the designer on the Broadway musical Coco (1969) and wrote "Katharine Hepburn creates a bad first impression...Her strident voice is like a blade of new grass and she looks as if she had jumped into a stream for her morning bath".
Perhaps the biggest victim of Beaton's disapproval, however, was Elizabeth Taylor. Beaton photographed her and her husband, Richard Burton for the Proust Ball in 1971. He immortalized the interaction with the couple, commenting that: "I have always loathed the Burtons for their vulgarity, commonness and crass bad taste, she combining the worst of U.S. and English taste.. I treated her with authority, told her not to powder her nose, to come in front of the cameras with it shining. She wanted compliments. She got none. 'Don't touch me like that,' she whined! Her breasts, hanging and huge, were like those of a peasant woman suckling her young in Peru. On her fat, coarse hands more of the biggest diamonds and emeralds... And this was the woman who is the greatest 'draw'. In comparison everyone else looked ladylike."
Despite his increasingly catty public persona, Beaton's work was highly celebrated during the late-1960s and 70s, exhibitions devoted to him were held at the National Portrait Gallery and the Victoria and Albert Museum and in 1972, Beaton was knighted. Two years later in 1974, Beaton suffered a stroke that robbed him of the use of his right hand, affecting his ability to draw, paint, and use a camera. In his final years, Beaton recovered, learning how to work with his left hand. This allowed him to fulfil projects for Vogue, photographing figures including Olympia de Rothschild and Jane Birkin. Beaton's last commission was in 1979, photographing the young Princess Michael of Kent. On January 17th 1980, Beaton passed away peacefully at Reddish House, Broad Chalke.
The Legacy of Cecil Beaton
Beaton left behind a legacy that influenced fashion photographers, portrait photographers and photojournalists alike. It was courtesy of Beaton that the glamorous image of the Hollywood starlet was established, a style dubbed "The Beaton woman" by Irving Penn. Beaton's images were not just about beauty, however, through his creativity and keen eye, Beaton established a powerful image of his sitters, giving a sense of their character through his photographs and this playful aesthetic replaced the more staid traditions of earlier portraitists. He also incorporated a unique theatricality into his fashion work and, along with photographers such as Horst P. Horst, revolutionized the medium, adding dramatic backdrops and sets and wider artistic references into his images whilst still portraying the elegance of the clothing.
Beaton had a more concentrated impact on photographers such as Angus McBean and David Bailey. The influence of Beaton's use of Surrealist imagery can be seen in the similarities between specific works of Beaton and McBean - for instance Baba with Glass Dome (1926) and Beatrice Lillie (1940). David Bailey directed a film on Beaton entitled Beaton by Bailey (1971), which provides insights into Beaton as a person and photographer from his contemporaries and sitters, including Mick Jagger, Jean Shrimpton, Twiggy, and David Hockney. The film serves as a testament to the range of people that Beaton affected, suggesting the level of his significance to the arts at the time.
Beaton was not only influential to his contemporaries, but to his successors. Many of his photographs exude a timeless quality that could still grace a magazine cover today. Elements of Beaton's aesthetic can be pinpointed in the works of Annie Leibovitz, who particularly admired his portraits of the royals and of Greta Garbo. Similarities can be seen between Leibovitz's photograph of the Queen, and Beaton's Queen Elizabeth II, Buckingham Palace (1968), particularly with regards to her stance and the inclusion of the Admiral's cloak.
Influences and Connections
Influences on Artist

Influenced by Artist
Artists
Baron Adolph de Meyer

EO Hoppé
Friends & Personal Connections
Stephen Tennant
Artists
Rankin

Nick Knight

Tim Walker
Friends & Personal Connections
Angus McBean
Movements & Ideas
Portrait photography
Useful Resources on Cecil Beaton
Similar Art