Artists
El Greco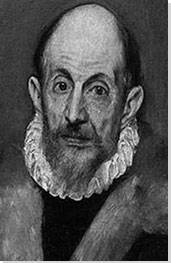 El Greco
Greek-Spanish Painter, Sculptor, and Architect
Movement: Mannerism
Born: October 1, 1541 - Crete, Greece
Died: April 7, 1614 - Toledo, Spain

"You must study the Masters but guard the original style that beats within your soul and put to sword those who would try to steal it."

Summary of El Greco
El Greco's life and work were marked by a deep underlying devotion to God. Compelled as a young man to become an artist, he mastered a longstanding tradition of Byzantine icon art, yet by the time he eventually settled in Spain his inspiration was largely drawn from the burgeoning Italian and Spanish Renaissances. Although his early ambitions were to become a court painter, his individual style that began to emerge in Spain quickly catapulted him from the confines of any conventional school. He became vastly interested in the new Mannerist movement, a group who disavowed the mere imitation of nature in art, and instead sought to express the underlying psychological aspects of a work beyond its mythological or religious themes. These concepts informed a body of work that is deeply evocative of the Divine and universally noted for manifesting the spirituality that lay beneath all being.
Key Ideas
El Greco is best known for his tortuously elongated figures painted in phantasmagorical pigmentation, which almost resembled chalk with its blunt vividness. Drawing upon Byzantine tradition while incorporating a Mannerist's veer from reality, these abstracted, expressionist forms established a new visual dialogue that broke away from traditional modes of representation in
Classical art
.
The importance of imagination and intuition over subjective characterization was a fundamental principle in El Greco's style, allowing him the freedom to discard such classical criteria as measure and proportion. Instead, he employed techniques such as radical foreshortening to challenge perceptions of the norm.
A tendency to dramatize rather than describe marks the painter's work, articulated through bold, unreal choices in color, and the juxtaposition of highlights next to dark, thick outlines. These jarring contrasts result in an emotional transference from painting to viewer.
El Greco's work has also been cited as a precursor to
Expressionism
for its presentation of the emotional in ways that had not been articulated before. He is also said to have had an influence on the
Cubists
, most notably
Pablo Picasso
, because of the way his paintings reconsidered form and figure beyond literal reality.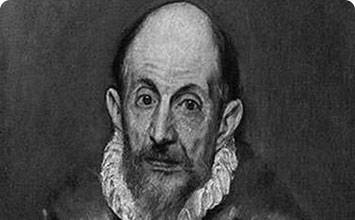 Doménikos Theotokópoulos was born in 1541 in Crete, a Greek island that was part of the thriving Republic of Venice. Little is known of his childhood, other than the fact that he chose to be an artist at a very young age.
Important Art by El Greco

The below artworks are the most important by El Greco - that both overview the major creative periods, and highlight the greatest achievements by the artist.

The Holy Trinity (1577-1579)

Artwork description & Analysis: The Holy Trinity, painted between 1577 and 1579, depicts God holding a dying Christ in his arms, as they float amidst clouds in heaven, with the dove of the Holy Spirit flying over their heads. Surrounding them are six angels in colored robes, and behind them, coming from above is a bright golden light. The painting is part of El Greco's first major commission for the Church Santo Domingo in Toledo, and, as soon as it was completed it established him within the community as a revered artist. Today it is considered one of his masterpieces, and noted as one of Édouard Manet's favorite paintings.

This early example of El Greco's work presents a synthesis of the two major influences that define him: the Renaissance masters and the Byzantine iconic tradition. Although the composition shows affinities with the works of Michelangelo and Dürer, and both artists are believed to have been a profound inspiration for this painting, the work also already shows various unique attributes that defined El Greco's body of work and composed his signature language. Art historian Keith Christiansen claims that, "He made elongated, twisting forms, radical foreshortening, and unreal colors the very basis of his art." All of these aspects are present in The Holy Trinity: the brilliant and expressive use of color in the robes, the continuity between forms and substance in the intertwining of the bodies of the figures, the elongation of the figures, especially in Christ's body, and the imaginative dream like quality that defines the overall feeling of the painting. One of his main characteristic techniques is also already used in the work profusely, which is the use of highlights next to dark and thick outlines to create a profoundly dramatic effect.

A specific interpretation can be found in the colors employed, where the gloomy aspect of the clouds can be seen to represent death, opposing the golden rays above that symbolize the eternal; the two emphasize the duality between life and the ever after. Overall, this is the main interpretation of the work: an embodiment of the eternal as a reality thereby instilling a new sense of hope and devotion in the faithful.

Oil on canvas - Museo del Prado, Madrid

The Nobleman With his Hand on his Chest (El caballero de la mano en el pecho) (c. 1580)

Artwork description & Analysis: This painting is a portrait of a nobleman or knight around the age of 30, whose real name is unknown. He is dressed in traditional Spanish clothing holding a sword in one hand while the other is poised over his heart. Staring intensely at the viewer, he is portrayed in a manner that is profoundly realistic yet also imaginative. With an aspect deeply characteristic of El Greco's work, the depiction possesses specific technically accurate features such as the beard, combined with stylized elements, such as the elongated fingers and torso. The muted, dark colors and tones contrast greatly with the white of the ruffles. The dramatic use of contrast and light greatly enhances the emotional and psychological depths that define the subject.

Although El Greco was mostly known for his religious themes, he was also a prolific portraitist, known for capturing the character and personality of his subjects in an intuitive way. This painting is considered to be his most famous portrait. It is also an example of his breaking away from the traditional Renaissance style and his Byzantine background through a more Mannerist, imaginative mode. El Greco was known to claim that an artist "must study the Masters but guard the original style that beats within your soul," emphasizing the importance of establishing and being true to his own vision and individual artistic language.

This portrait can be seen as a direct influence on the portraiture works later developed by other art movements such as Expressionism. In a broader way, El Greco's ability to transform reality to expose an inner vision or inner world, can be seen as a precursor of Modern Art.

In this context, it is also of reference to Picasso's painting entitled Portrait of a Painter, after El Greco, from 1950, that can be seen as a tribute to El Greco's way of envisioning and understanding art, which established a great influence on Picasso from the very beginning of his artistic career. In the work, Picasso combined El Greco's use of dark browns and ochres with his signature Cubist language, echoing centuries later, El Greco's ever-present iconography.

The painting is featured in the cover of a Vangelis album entitled El Greco from 1998.

Oil on canvas - Museo del Prado, Madrid

The Burial of the Count of Orgaz (El entierro del conde de Orgaz) (1586 - 1588)

Artwork description & Analysis: This large painting, three and half meters wide by almost five meters high, is universally regarded as El Greco's greatest masterpiece and most famous work. It was commissioned by the parish priest of Santo Tomé in Toledo, and is considered to be a prime example of Mannerism. Along with Tintoretto, Agnolo Bronzino, Jacopo da Pontormo, and others, El Greco is considered one of the main Mannerist artists. His contribution to the development of the movement is marked by visual compositions that moved away from an idealized perfection into a world charged with tension and emotional complexity through form, imagination, and expression.

El Greco referred to this painting as his 'sublime work.' The Burial of Count of Orgaz is a popular legend in Toledo of a pious and charitable man who left a large sum of money to the church after his death and was subsequently buried and escorted to heaven by Saint Stephen and Saint Augustine. The funerary scene is portrayed at the bottom of the painting, with the Count surrounded by the two saints, followed by other noble men and clergyman of the time in 16th century clothing, captured in a static way. It is contrasted with the celestial kingdom in heaven that includes Mary, Christ, God, John the Baptist, and the angels, who all observe the scene, depicted in a more organic free flowing way, so as to represent the intangibility and immateriality of spirit. The young boy at the left is said to be Jorge Manuel, the artist's son.

One possible interpretation that is in the juxtaposition of the worlds: the physical world of earth and the spiritual world of heaven, each portrayed in their own ways. Earth is captured in normal scale with more proportional figures, whereas heaven is composed of swirling clouds and abstract shapes, with a more intangible quality to the figures. This clear distinction greatly allows for two ideas: on the one hand a union between both worlds is proposed, on the other, the separation of the worlds is enhanced. Another interpretation is brought forth by art Historian Dr. Vida Hull who claims the painting represents "a visionary experience." In her view, the amorphous character and the elongation of the bodies all convey a profound otherworldliness, as it is the soul of the Count that is being brought up to heaven.

Burial scenes were often depicted as a main religious theme in art. Other notorious works of burials, painted after El Greco's, include the Burial At Ornans (1849) by Gustave Coubert, The Burial of the Sardine (c. 1812-1819) by Francisco Goya, and the Burial of St. Lucy (1608) by Caravaggio.

Oil on canvas - Iglesia de Santo Tomé, Toledo
More El Greco Artwork and Analysis:
Influences and Connections
Influences on Artist
Artists, Friends, Movements
Influenced by Artist
Artists, Friends, Movements

Interactive chart with El Greco's main influences, and the people and ideas that the artist influenced in turn.
View Influences Chart


Influences on Artist

El Greco
Years Worked: 1563 - 1614
Influenced by Artist

| | | | | |
| --- | --- | --- | --- | --- |
| Artists | | Personal Contacts | | Movements |
If you see an error or typo, please:
tell us
Cite this page

Content compiled and written by Sarah Frances Dias
Edited and revised, with Synopsis and Key Ideas added by Kimberly Nichols
" Artist Overview and Analysis". [Internet]. . TheArtStory.org
Content compiled and written by Sarah Frances Dias
Edited and revised, with Synopsis and Key Ideas added by Kimberly Nichols
Available from:
First published on 10 Jan 2018. Updated and modified regularly.


[Accessed ]