Artists
Edvard Munch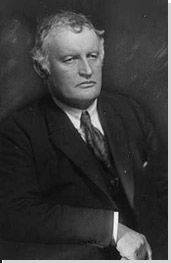 Born: December 12, 1863 - Loten, Norway
Died: January 23, 1944 - Oslo, Norway

"I do not believe in the art which is not the compulsive result of man's urge to open his heart."

Summary of Edvard Munch
Edvard Munch was a prolific yet perpetually troubled artist preoccupied with matters of human mortality such as chronic illness, sexual liberation, and religious aspiration. He expressed these obsessions through works of intense color, semi-abstraction, and mysterious subject matter. Following the great triumph of French Impressionism, Munch took up the more graphic, symbolist sensibility of the influential Paul Gauguin, and in turn became one of the most controversial and eventually renowned artists among a new generation of continental Expressionist and Symbolist painters. Munch came of age in the first decade of the 20th century, during the peak of the Art Nouveau movement and its characteristic focus on all things organic, evolutionary and mysteriously instinctual. In keeping with these motifs, but moving decidedly away from their decorative applications, Munch came to treat the visible as though it were a window into a not fully formed, if not fundamentally disturbing, human psychology.
Key Ideas
Edvard Munch grew up in a household periodically beset by life-threatening illnesses and the premature deaths of his mother and sister, all of which was explained by Munch's father, a Christian fundamentalist, as acts of divine punishment. This powerful matrix of chance tragic events and their fatalistic interpretation left a lifelong impression on the young artist, and contributed decisively to his eventual preoccupation with themes of anxiety, emotional suffering, and human vulnerability.
Munch intended for his intense colors, semi-abstraction and mysterious, often open-ended themes to function as symbols of universal significance. Thus his drawings, paintings, and prints take on the quality of psychological talismans: having originated in Munch's personal experiences, they nonetheless bear the power to express, and perhaps alleviate, any viewer's own emotional or psychological condition.
The frequent preoccupation in Munch's work with sexual subject matter issues from both the artist's bohemian valuation of sex as a tool for emotional and physical liberation from social conformity as well as his contemporaries' fascination with sexual experience as a window onto the subliminal, sometimes darker facets of human psychology.
In a sense similar to his near-contemporary,
Vincent van Gogh
, Munch strove to record a kind of marriage between the subject as observed in the world around him and his own psychological, emotional and/or spiritual perception.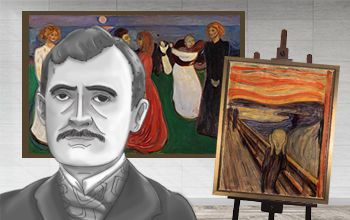 Edvard Munch was born in 1863 in a rustic farmhouse in the village of Adalsbruk, located in Loten, Norway. His father, Christian Munch, was a practicing physician, married to Laura Catherine Bjolstad. The family, including sisters Johanne Sophie, Laura Catherine Inger Marie, and brother Peter, relocated to Oslo in 1864, following Christian's appointment as medical officer at Akershus Fortress, a military area which at the time was in use as a prison. Munch's mother died of tuberculosis in 1868, the same year Inger Marie was born. Within a decade, Munch's favorite sister, Sophie, just one year his senior and a gifted young artist, also died of tuberculosis. Munch's father, a fundamentalist Christian, thereafter experienced fits of depression and anger as well as quasi-spiritual visions in which he interpreted the family's illnesses as punishment of divine origin.
Important Art by Edvard Munch

The below artworks are the most important by Edvard Munch - that both overview the major creative periods, and highlight the greatest achievements by the artist.

The Sick Child (1885-86, 1907)

Artwork description & Analysis: The Sick Child is one of Munch's earliest works, considered by the artist "a breakthrough" for setting the tone for his early career in which death, loss, anxiety, madness, and the preoccupations of a troubled soul were his chief subject matter. Devoted to his deceased sister, Johanne Sophie, the painting depicts the bedridden fifteen-year-old with a grieving woman beside her, the latter probably a representation of Munch's mother who had preceded Sophie in death, also from tuberculosis, eleven years prior. The rough brushstrokes, scratched surface and melancholic tones of this painting all reveal a highly personal memorial. The work was highly criticized for its "unfinished appearance" when first exhibited, but nonetheless championed by Munch's spiritual mentor, Hans Jæger, as a masterful achievement.

Oil on canvas - Tate Gallery, London

Night in St. Cloud (1890)

Artwork description & Analysis: If the Sick Child is a loving tribute to Munch's favorite sister, Johanne Sophie, Night in St. Cloud is a far more complex and darker memorial to the artist's father who had died the previous year. Created not long after Munch's arrival in Paris, Night in St. Cloud reveals the immediate influence of Post-Impressionists Van Gogh and Toulouse-Lautrec, whose many portraits of solitary figures or empty rooms inform this canvas. Munch's tribute to his father is composed of a darkened, seemingly hallowed room bathed in crepuscular light, indeed a space occupied only by shadows and stillness. The rendition is befitting of their tense relationship. In other paintings that focus on death, Munch made the subject physically present; however, in this instance, Munch's father's passing evokes only a sense of cool abandon. Notably, this work presages Pablo Picasso's Blue period.

Oil on canvas - The National Gallery, Oslo

The Scream (1893)

Artwork description & Analysis: The significance of Munch's The Scream within the annals of modern art cannot be overstated. It stands among an exclusive group, including Van Gogh's Starry Night, Picasso's Les Demoiselles d'Avignon, and Matisse's Red Studio, comprising the quintessential works of modernist experiment and lasting innovation. The fluidity of Munch's lateral and vertical brushwork echoes the sky and clouds in Starry Night, yet one may also find the aesthetic elements of Fauvism, Expressionism, and perhaps even Surrealism arising from this same surface.

The setting of The Scream was suggested to the artist by a walk along a road overlooking the city of Oslo, apparently upon Munch's arrival at, or departure from, a mental hospital where his sister, Laura Catherine, had been interned. It is unknown whether the artist observed an actual person in anguish, but this seems unlikely; as Munch later recalled, "I was walking down the road with two friends when the sun set; suddenly, the sky turned as red as blood. I stopped and leaned against the fence ... shivering with fear. Then I heard the enormous, infinite scream of nature."

This is one of two painted versions of The Scream that Munch rendered around the turn of the 20th century; the other (c. 1910) is currently in the collections of the Munch Museum, Oslo. In addition to these painted versions, there is a version in pastel and a lithograph.

Oil, tempera, and pastel on cardboard - The National Gallery, Oslo
More Edvard Munch Artwork and Analysis:
Influences and Connections
Influences on Artist
Artists, Friends, Movements
Influenced by Artist
Artists, Friends, Movements

Interactive chart with Edvard Munch's main influences, and the people and ideas that the artist influenced in turn.
View Influences Chart

| | | | | |
| --- | --- | --- | --- | --- |
| Artists | | Personal Contacts | | Movements |

Influences on Artist

Edvard Munch
Years Worked: 1880 - 1944
Influenced by Artist

If you see an error or typo, please:
tell us
Cite this page

Content compiled and written by Justin Wolf
Edited and published by The Art Story Contributors
" Artist Overview and Analysis". [Internet]. . TheArtStory.org
Content compiled and written by Justin Wolf
Edited and published by The Art Story Contributors
Available from:
First published on 01 Jun 2011. Updated and modified regularly.


[Accessed ]