Progression of Art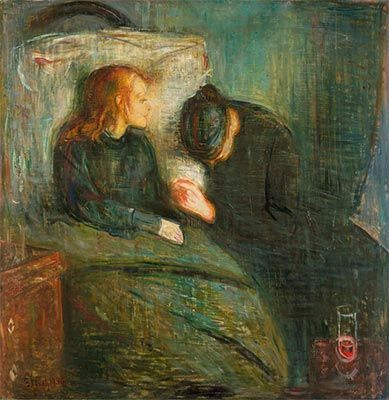 1885-86
The Sick Child
The Sick Child is one of Munch's earliest works, considered by the artist "a breakthrough" for setting the tone for his early career in which death, loss, anxiety, madness, and the preoccupations of a troubled soul were his chief subject matter. Devoted to his deceased sister, Johanne Sophie, the painting depicts the bedridden fifteen-year-old with a grieving woman beside her, the latter probably a representation of Munch's mother who had preceded Sophie in death, also from tuberculosis, eleven years prior. The rough brushstrokes, scratched surface, and melancholic tones of this painting all reveal a highly personal memorial. The work was highly criticized for its "unfinished appearance" when first exhibited, but nonetheless championed by Munch's spiritual mentor, Hans Jæger, as a masterful achievement.
Oil on canvas - Tate Gallery, London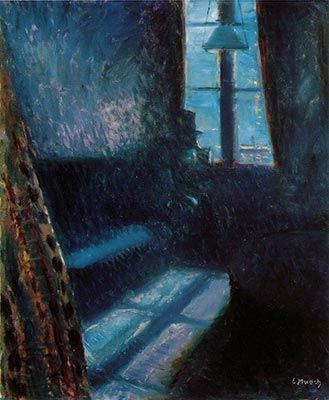 1890
Night in St. Cloud
If the Sick Child is a loving tribute to Munch's favorite sister, Johanne Sophie, Night in St. Cloud is a far more complex and darker memorial to the artist's father who had died the previous year. Created not long after Munch's arrival in Paris, Night in St. Cloud reveals the immediate influence of Post-Impressionists Van Gogh and Toulouse-Lautrec, whose many portraits of solitary figures or empty rooms inform this canvas. Munch's tribute to his father is composed of a darkened, seemingly hallowed room bathed in crepuscular light, indeed a space occupied only by shadows and stillness. The rendition is befitting of their tense relationship. In other paintings that focus on death, Munch made the subject physically present; however, in this instance, Munch's father's passing evokes only a sense of cool abandon. Notably, this work presages Pablo Picasso's Blue period.
Oil on canvas - The National Gallery, Oslo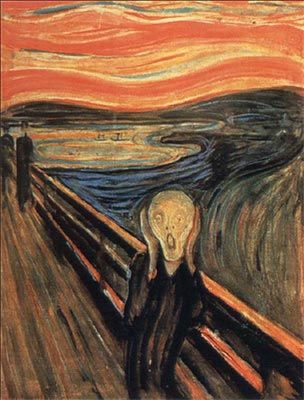 1893
The Scream
The significance of Munch's The Scream within the annals of modern art cannot be overstated. It stands among an exclusive group, including Van Gogh's Starry Night (1889), Picasso's Les Demoiselles d'Avignon (1907), and Matisse's Red Studio (1911), comprising the quintessential works of modernist experiment and lasting innovation. The fluidity of Munch's lateral and vertical brushwork echoes the sky and clouds in Starry Night, yet one may also find the aesthetic elements of Fauvism, Expressionism, and perhaps even Surrealism arising from this same surface.

The setting of The Scream was suggested to the artist by a walk along a road overlooking the city of Oslo, apparently upon Munch's arrival at, or departure from, a mental hospital where his sister, Laura Catherine, had been interned. It is unknown whether the artist observed an actual person in anguish, but this seems unlikely; as Munch later recalled, "I was walking down the road with two friends when the sun set; suddenly, the sky turned as red as blood. I stopped and leaned against the fence ... shivering with fear. Then I heard the enormous, infinite scream of nature."

This is one of two painted versions of The Scream that Munch rendered around the turn of the 20th century; the other (c. 1910) is currently in the collections of the Munch Museum, Oslo. In addition to these painted versions, there is a version in pastel and a lithograph.
Oil, tempera, and pastel on cardboard - The National Gallery, Oslo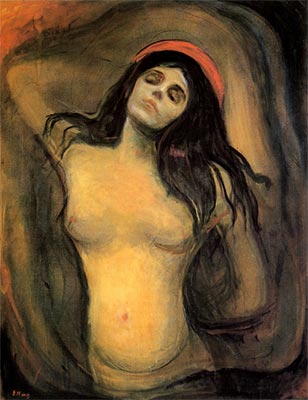 1894-95
Madonna
Contemporary with The Scream, Munch's Madonna is rendered with softer brushstrokes and comparatively subdued pigments. Munch depicts the Virgin Mary in a manner that defies all preceding "historical" representations - from Renaissance-era Naturalism to 19th-century Realism - of the chaste mother of Jesus Christ. With a sense of modesty conveyed only by her closed eyes, the nude appears to be in the act of lovemaking, her body subtly contorting and bending towards a nondescript light. Indeed, Munch's Madonna may very well be a modernist, if irreverent depiction of the Immaculate Conception. The red halo upon the Madonna's head, as opposed to the customary white or golden ring, indicates a ruling passion befitting Baroque-era renditions of the subject, minus any measure of religious discretion. While the artist himself never fully succumbed to his father's religious fervor and teachings, this work clearly suggests Munch's constant wrangling over the exact nature of his own spirituality.
Oil on canvas - The National Gallery, Oslo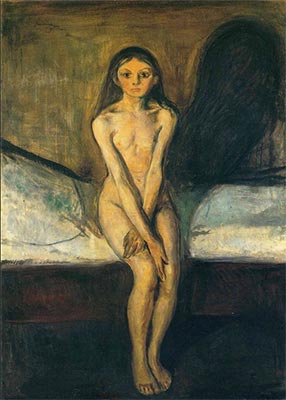 1894-95
Puberty
Agony, anxiety and loss are constant themes throughout Munch's oeuvre, yet perhaps nowhere do they come together as powerfully as in Munch's Puberty, a portrait of adolescence and isolation. The lone and guarded female figure symbolizes a state of sexual depression and frustration - both of which plagued the artist himself throughout his life while the girl, although apparently shy (to judge by her posture), indicates quite the opposite by way of her frank stare. The looming shadow behind the figure hints at the birth of an ominous and sentient creature, perhaps one haunting her room, if indeed it is not her own dawning persona. The aesthetic qualities of Post-Impressionism are still very much present in Munch's work at this time, but what sets his work apart is the powerful element of symbolism. Munch is painting not necessarily what he sees, but what he feels in front of him. Munch usually painted, in fact, from imagination rather than from life, but here the uncharacteristic detailing of the girl's body - in particular the collar bone is considered by many evidence that, at least in this instance, Munch resorted to the use of a live model.
Oil on canvas - National Gallery, Oslo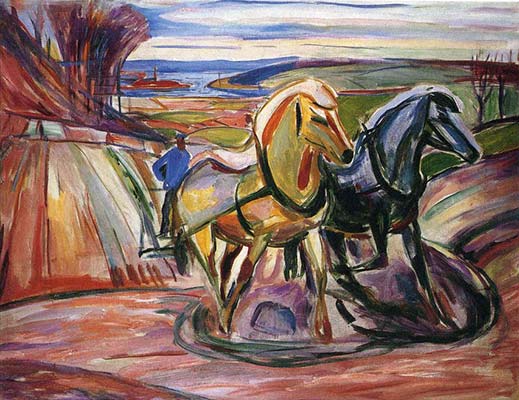 1918
Spring Ploughing
In the years following Munch's hospital stay the artist removed himself from the lifestyle of carousing and heavy drinking and devoted his days to his art and to the countryside of his homeland. While at one time the artist referred to his paintings as "my children," by this time he began referring to them as "my children with nature." This new-found inspiration, in the form of farm hands, animals, and the Norwegian landscape, took Munch's art in an entirely new direction, one celebrating life and work, rather than anxiety and loss. In Spring Ploughing, one can see the inspiration Munch took from the much younger Franz Marc - whose Expressionist paintings were originally inspired by Munch - who had a penchant for painting animals in their natural surroundings. Munch's period of creating truly original Symbolist-cum-Expressionist works had since passed, indicated by similar works of this time and their innocent subject matter. Nevertheless, the maturity of this painting's brushwork and palette clearly demonstrate the hand of a master.
Oil on canvas - Munch Museum, Oslo
Similar Art
Influences and Connections
Influences on Artist

Influenced by Artist
Friends & Personal Connections
Hans Jaeger

Christian Krohg
Friends & Personal Connections
August Strindberg

Max Linde
Useful Resources on Edvard Munch
Related Artists
Related Movements & Topics