Artists
Paul Klee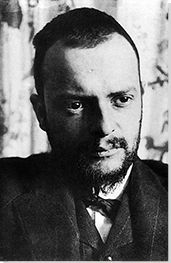 Born: December 18, 1879 - Munchenbuchsee, Switzerland
Died: June 29, 1940 - Locarno, Switzerland

"Art does not reproduce the visible; rather, it makes visible."

Summary of Paul Klee
Paul Klee, a Swiss-born painter, printmaker and draughtsman of German nationality, was originally associated with the German Expressionist group Der Blaue Reiter, and subsequently taught at the Bauhaus, the widely influential German art school of the interwar period. Klee's diverse body of work cannot, however, be categorized according to any single artistic movement, or "school." His paintings, which are at times fantastic, childlike, or otherwise witty, served as an inspiration to the New York School, as well as many other artists of the 20th century.
Key Ideas
Klee was fundamentally a transcendentalist who believed that the material world was only one among many realities open to human awareness. His use of design, pattern, color, and miniature sign systems all speak to his efforts to employ art as a window onto that philosophical principle.
Klee was a musician for most of his life, often practicing the violin as a warm-up for painting. He naturally saw analogies between music and visual art, such as in the transient nature of musical performance and the time-based processes of painting, or in the expressive power of color as being akin to that of musical sonority. In his lectures at the Bauhaus, Klee even compared the visual rhythm in drawings to the structural, percussive rhythms of a musical composition by the master of counterpoint,
Johann Sebastian Bach
.
Klee challenged traditional boundaries separating writing and visual art by exploring a new expressive, and largely abstract or poetic language of pictorial symbols and signs. Arrows, letters, musical notation, ancient hieroglyphs, or a few black lines standing in for a person or object frequently appear in his work, while rarely demanding a specific reading.
Klee greatly admired the art of children, who seemed to create free of models or previous examples. In his own work he often strove to achieve a similar untutored simplicity, often by employing intense colors inspired by an early trip to North Africa, and by line drawing in the unstudied manner of an everyday craftsman.
Klee constantly experimented with artistic techniques and the expressive power of color, in the process often breaking traditional or "academic" rules of painting in oils on canvas. Klee also applied paint in unusual ways, such as spraying and stamping during his years at the Bauhaus. Keeping his work within the realm of the "ordinary," Klee also painted on a variety of everyday materials, such as burlap, cardboard panel, and muslin.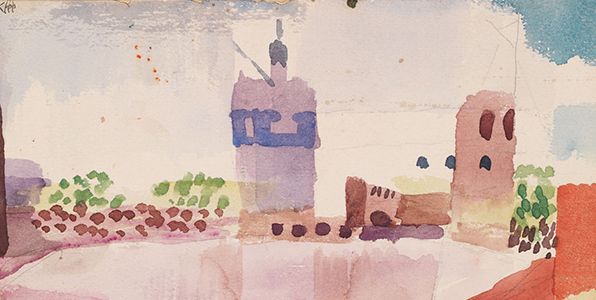 Detail of Hammamet With Mosque (1914) by Paul Klee
When the Swiss-born Paul Klee visited Tunisia in 1914, he was looking in part for his "oriental" roots. The walls of the city of Kairouan so impressed him that standing in front of them, he famously said, "color possesses me..the color and I are one." Shortening his visit, he quickly returned to Europe to paint the works for which he became celebrated.
Important Art by Paul Klee

The below artworks are the most important by Paul Klee - that both overview the major creative periods, and highlight the greatest achievements by the artist.

Winged Hero (Der Held mit dem Flugel) (1905)

Artwork description & Analysis: Klee was first a draughtsman before becoming a painter. The etchings in his early series, Inventions, demonstrate Klee's ability to manipulate line and tonal value to create a figure with strange and grotesque limbs. An artist's inscription in the bottom right corner of the picture explains the underlying concept: "Because this man was born with one wing, he believed he could fly. His attempts, of course, have only resulted in crashes and a broken left arm and leg." The strange creature could very well represent a kind of self-portrait of the typical progressive artist at the turn of the 20th century, perpetually pursuing his full potential while repeatedly struggling against public incomprehension or apathy.

Etching with drypoint on zinc - Museum of Modern Art, New York

Hammamet with Its Mosque (1914)

Artwork description & Analysis: The bright light of Tunisia inspired Klee to create pictures of colorful watercolor washes. The upper half of the painting is representational, while the composition of the lower half follows Robert Delaunay's proposal to use color and its contrasts to expressive purposes- here a juxtaposition of red and green patches in the manner of a folk textile, or other such popular craft tradition. Klee suggests that color, shape, and the faintest suggestion of a subject are enough to powerfully re-create in the eye of the viewer the actual feeling of repose that the artist experienced in the original landscape.

Watercolor and pencil on paper - Berggruen Klee Collection, New York

Affected Place [Betroffener Ort] (1922)

Artwork description & Analysis: Created in Klee's early Bauhaus years, this piece shows a scene of ambiguous signs and symbols over a background of modulated purples and oranges. The various strips of color hint at a horizon, their horizontal emphasis counteracted only by the boldly painted arrow, which abruptly suggests something as ordinary as a road sign. Like the many gradations of color, the arrow generates movement, compelling the viewer's eye to the center of the picture. The influence on Klee of Cubist still lifes, such as those of Picasso and Braque, is clearly apparent: Klee suggests a motif painted from nature while also cancelling it, as though to remind us that this is no window but a kind of abstract sign system.

Ink, pencil, and watercolor on paper; top and bottom strips with watercolor and ink, mounted on cardboard - Zentrum Paul Klee, Berne
More Paul Klee Artwork and Analysis:
Influences and Connections
Influences on Artist
Artists, Friends, Movements
Influenced by Artist
Artists, Friends, Movements

Interactive chart with Paul Klee's main influences, and the people and ideas that the artist influenced in turn.
View Influences Chart


Influences on Artist

Paul Klee
Years Worked: 1900 - 1940
Influenced by Artist

Artists

Personal Contacts

| | |
| --- | --- |
| | Will Grohmann |

Movements
If you see an error or typo, please:
tell us
Cite this page

Content compiled and written by Julia Brucker
Edited and published by The Art Story Contributors
" Artist Overview and Analysis". [Internet]. . TheArtStory.org
Content compiled and written by Julia Brucker
Edited and published by The Art Story Contributors
Available from:
First published on 21 Oct 2011. Updated and modified regularly.


[Accessed ]