Movements, Styles, and Tendencies
Color Field Painting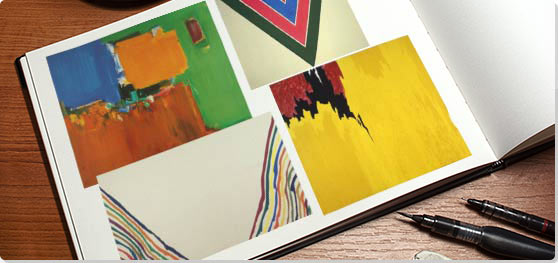 Color Field Painting
Started: Late 1940s
Ended: Mid 1960s

"We are creating images whose reality is self-evident and which are devoid of the props and crutches that evoke associations with outmoded images, both sublime and beautiful...The image we produce is the self-evident one of revelation, real and concrete, that can be understood by anyone who will look at it without the nostalgic glasses of history."

Summary of Color Field Painting
Color Field Painting is a tendency within Abstract Expressionism, distinct from gestural abstraction, or Action Painting. It was pioneered in the late 1940s by Mark Rothko, Barnett Newman, and Clyfford Still, who were all independently searching for a style of abstraction that might provide a modern, mythic art and express a yearning for transcendence and the infinite. To achieve this they abandoned all suggestions of figuration and instead exploited the expressive power of color by deploying it in large fields that might envelope the viewer when seen at close quarters. Their work inspired much Post-painterly abstraction, particularly that of Helen Frankenthaler, Morris Louis, Kenneth Noland, and Jules Olitski, though for later color field painters, matters of form tended to be more important than mythic content.
Key Ideas
Color Field Painting emerged out of the attempts of several artists in the late 1940s to devise a modern, mythic art. Seeking to connect with the primordial emotions locked in ancient myths, rather than the symbols themselves, they sought a new style that would do away with any suggestion of illustration.
The style was championed most enthusiastically by critic
Clement Greenberg
, who acclaimed the advances it achieved in the realm of form and composition. Bemoaning what he saw as the increasingly imitative, academic qualities of some action painters, he argued that Color Field Painting represented the way forward. His advocacy of the style proved highly influential.
Color Field Painting marks a major development in abstract painting, since it was the first style to resolutely avoid the suggestion of a form or mass standing out against a background. Instead, figure and ground are one, and the space of the picture, conceived as a field, seems to spread out beyond the edges of the canvas.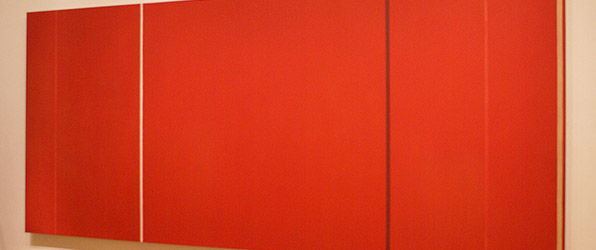 Barnett Newman's Vir Heroicus Sublimis at the Museum of Modern Art, New York City
Saying "A painter is a choreographer of space," Barnett Newman invented what he called the "zip," a band of vertical color. As a result, he added to the Color Field Painting movement a new way to experience space.
Important Art and Artists of Color Field Painting

The below artworks are the most important in Color Field Painting - that both overview the major ideas of the movement, and highlight the greatest achievements by each artist in Color Field Painting. Don't forget to visit the artist overview pages of the artists that interest you.

1957-D-No. 1 (1957)

Artist: Clyfford Still

Artwork description & Analysis: There used to be some disagreement over which artist had first arrived at the style of Color Field abstraction. Most now believe that it was Clyfford Still who first did so - and at some remove from those in New York, such as Barnett Newman and Mark Rothko, who were also finding their way to the approach in the late 1940s. In this examplary work Still applied thick portions of color with a palette knife to achieve an effect that evokes a violent sundering in nature. Typically, Still's canvases were covered in rich earthy colors, from edge to edge.

Oil on canvas - Albright-Knox Art Gallery, Buffalo, New York


Artwork Images

No. 2, Green, Red and Blue (1953)

Artist: Mark Rothko

Artwork description & Analysis: Although Rothko never considered himself a Color Field painter, his signature approach - balancing large portions of washed colors - matches up to critics' understanding of the style. Rothko considered color to be a mere instrument that served a greater purpose. He believed his fields of color were spiritual planes that could tap into our most basic human emotions. For Rothko, color evoked emotion. Therefore each of Rothko's works was intended to evoke different meanings depending on the viewer. In the time No. 2, Green, Red and Blue was made, Rothko was still using lighter tones, but as more years passed and Rothko's mental health increasingly declined, his Color Fields were constituted by somber blacks, blues, and grays.

Oil on canvas - Private collection

Mountains and Sea (1952)

Artist: Helen Frankenthaler

Artwork description & Analysis: Helen Frankenthaler played a crucial role in the evolution of Color Field Painting. Some time in or around 1952, Clement Greenberg invited Morris Louis and Kenneth Noland to pay a visit to Frankenthaler's studio in order to witness her technique of staining untreated canvas with paint. This seminal moment marked a turning point for Abstract Expressionism, and soon this new group of artists were simplifying the painting process by applying large bands (or waves, circles, lines, etc.) of uniform color to the canvas, and Color Field Painting advanced further.

Oil and Charcoal on unsized, unprimed canvas - Collection of Helen Frankenthaler Foundation, Inc. (on extended loan to the National Gallery of Art, Washington
More Color Field Painting Artwork and Analysis:
If you see an error or typo, please:
tell us
Cite this page

Content compiled and written by Justin Wolf
Edited and published by The Art Story Contributors
" Movement Overview and Analysis". [Internet]. . TheArtStory.org
Content compiled and written by Justin Wolf
Edited and published by The Art Story Contributors
Available from:
First published on 01 Jul 2009. Updated and modified regularly.


[Accessed ]