Movements, Styles, and Tendencies
Post-Painterly Abstraction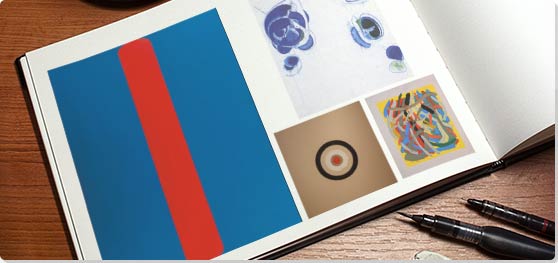 Post-Painterly Abstraction
Started: Early 1950s
Ended: Mid 1970s

Summary of Post-Painterly Abstraction
Post-painterly abstraction is a broad term that encompasses a variety of styles that evolved in reaction to the painterly, gestural approaches of some Abstract Expressionists. Coined by Clement Greenberg in 1964, it originally served as the title of an exhibition that included a large number of artists who were associated with various tendencies, including color field painting, hard-edge abstraction, and the Washington Color School.
Key Ideas
Greenberg believed that, during the early 1950s,
Abstract Expressionism
(or, as he preferred to call it, "Painterly Abstraction") had degenerated into a weak school, and, in the hands of less talented painters, its innovations had become nothing but empty devices. But he also believed that many artists were advancing in some of Abstract Expressionism's more fruitful directions - principally those allied to color field painting - and these were yielding to a range of new tendencies that he described as "post-painterly."
Greenberg characterized post-painterly abstraction as linear in design, bright in color, lacking in detail and incident, and open in composition (inclined to lead the eye beyond the limits of the canvas). Most importantly, however, it was anonymous in execution: this reflected the artists' desire to leave behind the grandiose drama and spirituality of Abstract Expressionism.
Some critics, including
Clement Greenberg
and
Barbara Rose
, remarked on the decorative character of some post-painterly abstraction. In the past,
Harold Rosenberg
had described failed Abstract Expressionist paintings as "apocalyptic wallpaper," suggesting that decorative qualities were to be avoided. The new tendency suggested a change in attitudes.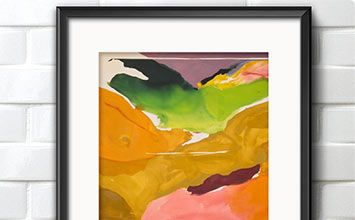 Beginnings:
In 1964, critic Clement Greenberg was recruited by the Los Angeles County Museum of Art (LACMA) to curate an exhibition devoted to young abstractionists. He was a natural choice to curate such a show, as by the late 1950s he had a prominent reputation as a defender of contemporary abstract art. Greenberg called the exhibition Post-Painterly Abstraction, although in the essay he wrote for the exhibition catalog he never actually referred to the style by name. Instead, he defined it by what it was not - "painterly abstraction," or the style of the Abstract Expressionists.
Important Art and Artists of Post-Painterly Abstraction

The below artworks are the most important in Post-Painterly Abstraction - that both overview the major ideas of the movement, and highlight the greatest achievements by each artist in Post-Painterly Abstraction. Don't forget to visit the artist overview pages of the artists that interest you.


Artwork Images

Blue Balls VII (1962)

Artist: Sam Francis

Artwork description & Analysis: The work of Sam Francis contains many visual indicators reminiscent of the "action painting" or art informel schools of Abstract Expressionism. What made Francis a unique painter was his technique of tachisme, in which heavy blotches of free-flowing oil paints were allowed to drip down and, in the process, create an accidental design. In Blue Balls VII, which was included in the 1964 Post-Painterly Abstraction exhibit, Francis used far less paint than he was accustomed to. The end result showcases razor-thin lines of blue paint that cascade down from the more prominent blotches applied throughout the canvas.

Oil on canvas - Museum of Contemporary Art, Los Angeles


Artwork Images

Dance (1962)

Artist: John Ferren

Artwork description & Analysis: California native John Ferren (who was actually older than most of the first-generation AbEx artists) retained elements of what Greenberg called the "Tenth-Street touch." He described this as when "The stroke left by a loaded brush or knife frays out, when the stroke is long enough, into streaks, ripples, and specks of paint. These create variations of light and dark by means of which juxtaposed strokes can be graded into one another without abrupt contrasts." Greenberg criticized the "touch" as a safety net of sorts for those artists having trouble creating a unified image on an abstract plane. However, he praised Ferren's Dance and other similar works for applying the "Tenth-Street touch" and at the same time "boxing it within a large framing area" and managing "to get a new expressiveness from it."

Oil on canvas - Katharina Rich Perlow Gallery, New York


Artwork Images

Red Blue (1963)

Artist: Ellsworth Kelly

Artwork description & Analysis: Kelly's Red Blue recalls in many ways Barnett Newman's signature "zip" paintings, with the single dividing line cutting through an otherwise unified field of color. What set Kelly's painting apart was the way in which he applied the pigment. Kelly allowed his diluted oil paints to soak into the canvas, rendering the surface a clean and utterly flat picture plane. His red divider is also much wider than Newman's "zips," and applied to create a cleaner, simpler hard-edged line. Another key characteristic of Kelly's hard-edge, Color Field paintings was his tendency to only use two opposing colors.

Oil on canvas - Oklahoma City Museum of Art
More Post-Painterly Abstraction Artwork and Analysis:
If you see an error or typo, please:
tell us
Cite this page

Content compiled and written by Justin Wolf
Edited and published by The Art Story Contributors
" Movement Overview and Analysis". [Internet]. . TheArtStory.org
Content compiled and written by Justin Wolf
Edited and published by The Art Story Contributors
Available from:
First published on 22 Jan 2012. Updated and modified regularly.


[Accessed ]