Movements, Styles, and Tendencies
Hard-edge Painting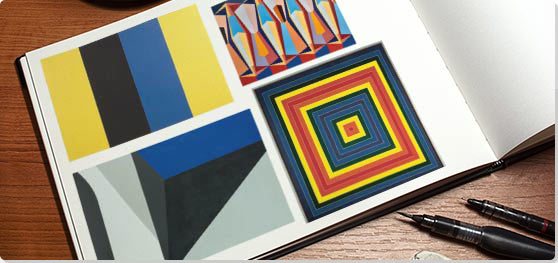 Hard-edge Painting
Started: 1959
Ended: Early 1970s

"Abstract Classicist painting is hard-edged painting. Forms are finite, flat, rimmed by a hard, clean edge. These forms are not intended to evoke in the spectator any recollections of specific shapes he may have encountered in some other connection. They are autonomous shapes, sufficient unto themselves as shapes."
Summary of Hard-edge Painting
Hard-edge painting is a tendency in late 1950s and 1960s art that is closely related to Post-painterly abstraction and Color Field Painting. It describes an abstract style that combines the clear composition of geometric abstraction with the intense color and bold, unitary forms of Color Field Painting. Although it was first identified with Californian artists, today the phrase is used to describe one of the most distinctive tendencies in abstract painting throughout the United States in the 1960s.
Key Ideas
Hard-edge abstraction was part of a general tendency to move away from the expressive qualities of gestural abstraction. Many painters also sought to avoid the shallow, post-Cubist space of
Willem de Kooning
's work, and instead adopted the open fields of color seen in the work of
Barnett Newman
.
Hard-edge painting is known for its economy of form, fullness of color, impersonal execution, and smooth surface planes.
The term "hard-edge abstraction" was devised by Californian art critic Jules Langsner, and was initially intended to title a 1959 exhibition that included four West Coast artists -
Karl Benjamin
,
John McLaughlin
,
Frederick Hammersley
and
Lorser Feitelson
. Although, later, the style was often referred to as "California hard-edge," and these four artists became synonymous with the movement, Langsner eventually decided to title the show
Four Abstract Classicists
(1959), as he felt that the style marked a classical turn away from the romanticism of
Abstract Expressionism
.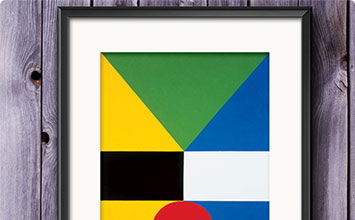 Beginnings:
In the late 1950s, the Californian art critic, poet and psychiatrist Jules Langsner began to observe an emerging trend in abstract art that stemmed from Color Field Painting, yet tended to employ clean lines and contrasting hues. He chose to highlight this by staging an exhibition at the Los Angeles County Museum of Art, in 1959, which included artists Frederick Hammersley, Karl Benjamin, John McLaughlin and Lorser Feitelson. It was titled Four Abstract Classicists.
Important Art and Artists of Hard-edge Painting

The below artworks are the most important in Hard-edge Painting - that both overview the major ideas of the movement, and highlight the greatest achievements by each artist in Hard-edge Painting. Don't forget to visit the artist overview pages of the artists that interest you.


Artwork Images

Black Pillars (1957)

Artist: Karl Benjamin

Artwork description & Analysis: Considered one of Benjamin's signature paintings, Black Pillars has won new renown after becoming a centerpiece of the recent traveling exhibition Birth of the Cool, organized by the Orange County Museum of Art. Benjamin's use of somber blues, his sleek forms and shadow play are now considered emblematic of post-war American style. Although some of Benjamin's color forms in Black Pillars recall the form of old television screens, the artist was doing nothing more than playing with opposing colors and forms to create a visually engaging picture.

Oil on canvas - Private collection


Artwork Images

Opposing #15 (1959)

Artist: Frederick Hammersley

Artwork description & Analysis: Hammersley's Opposing #15 contains the visual symmetry often associated with post-painterly abstraction and Color Field Painting, but it lacks any sort of color interaction or balance. Hammersley pitted contrasting colors (mainly primaries) against each other, along with basic geometric forms that seem to have no business interacting. The end result displays one of the defining characteristics of many hard-edge paintings, which was the presence of rich and saturated color, clean lines, and flat surface, and a disregard for relationships between the colors that comprise the painting. All this suggests the shift in interests that took place as Color Field Painting ceded to Post-painterly abstraction; preoccupation with the expressive power of color gave way to interest in optical phenomena.

Oil on linen - Collection of Jayne and Mark Murrel, Newport Beach, CA


Artwork Images

Dichotomic Organization (1959)

Artist: Lorser Feitelson

Artwork description & Analysis: Feitelson's Dichotomic Organization could be called a hard-edged interpretation of a Clyfford Still painting. The sharp color forms and hot-vs.-cold themes recall Still's own brand of Color Field Painting, while Feitelson's sense of dimension all make this a very unique work in the catalog of hard-edge paintings of the late 1950s and early 1960s. Jules Langsner once referred to Feitelson's work as containing "nothing ambiguous or fuzzily subjective." In other words, Langsner perceived Feitelson to be an artist with a stunningly clear vision, which was to create captivating art without any indication of the artist's perspective.

Oil on canvas - Nora Eccles Harrison Museum of Art, Logan, Utah
More Hard-edge Painting Artwork and Analysis:
If you see an error or typo, please:
tell us
Cite this page

Content compiled and written by Justin Wolf
Edited and published by The Art Story Contributors
" Movement Overview and Analysis". [Internet]. . TheArtStory.org
Content compiled and written by Justin Wolf
Edited and published by The Art Story Contributors
Available from:
First published on 21 Jan 2012. Updated and modified regularly.


[Accessed ]