Artworks and Artists of Color Field Painting
Progression of Art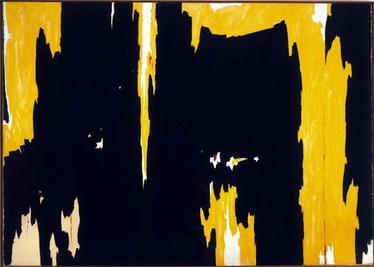 1957
1957-D-No. 1
There used to be some disagreement over which artist had first arrived at the style of Color Field abstraction. Most now believe that it was Clyfford Still who first did so - and at some remove from those in New York, such as Barnett Newman and Mark Rothko, who were also finding their way to the approach in the late 1940s. In this examplary work Still applied thick portions of color with a palette knife to achieve an effect that evokes a violent sundering in nature. Typically, Still's canvases were covered in rich earthy colors, from edge to edge.
Oil on canvas - Albright-Knox Art Gallery, Buffalo, New York
1953
No. 2, Green, Red and Blue
Although Rothko never considered himself a Color Field painter, his signature approach - balancing large portions of washed colors - matches up to critics' understanding of the style. Rothko considered color to be a mere instrument that served a greater purpose. He believed his fields of color were spiritual planes that could tap into our most basic human emotions. For Rothko, color evoked emotion. Therefore each of Rothko's works was intended to evoke different meanings depending on the viewer. In the time No. 2, Green, Red and Blue was made, Rothko was still using lighter tones, but as more years passed and Rothko's mental health increasingly declined, his Color Fields were constituted by somber blacks, blues, and grays.
Oil on canvas - Private Collection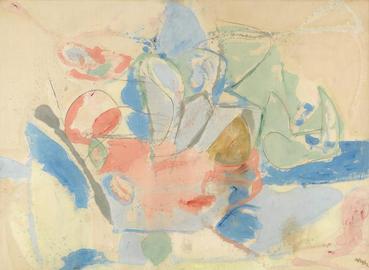 1952
Mountains and Sea
Helen Frankenthaler played a crucial role in the evolution of Color Field Painting. Some time in or around 1952, Clement Greenberg invited Morris Louis and Kenneth Noland to pay a visit to Frankenthaler's studio in order to witness her technique of staining untreated canvas with paint. This seminal moment marked a turning point for Abstract Expressionism, and soon this new group of artists were simplifying the painting process by applying large bands (or waves, circles, lines, etc.) of uniform color to the canvas, and Color Field Painting advanced further.
Oil and Charcoal on unsized, unprimed canvas - Collection of Helen Frankenthaler Foundation, Inc. (on extended loan to the National Gallery of Art, Washington
1963
East-West
Kenneth Noland is often known for his exacting symmetry. Throughout his career he shifted from targets to chevrons to stripes, and experimented with many other styles in between (most notably the shaped canvas), but he always maintained a visual balance to his work. In East-West, Noland exercised his signature chevron style, and it is one of the many paintings in which the artist sought to achieve effects by marrying colors to simple, geometric forms. As he matured, and his color vocabulary changed, Noland increasingly covered the entirety of his canvases with paint, to the point where his lines and colors seemed infinite, and achieved what Greenberg suggested when he wrote: "capable of repeating the picture beyond its frame into infinity."
Acrylic on canvas - Private Collection
1964
Advance of History
Mark Tobey is one of the lesser-known Abstract Expressionists. Upon first glance, Advance of History almost appears as a tightly wound version of a Pollock "drip" painting. Upon closer inspection, however, an almost decorative pattern emerges that was not prevalent in Pollock's work. Throughout his career, Tobey was renowned for his experimental nature, frequent travel, and fascination with Eastern art and philosophy. As a student of Haiku, Zen, and Japanese calligraphy, among other things, Tobey often took natural forms and elaborate script as his inspiration, and relied on patterns in his paintings as a way of channeling his communion with the natural world.
Gouache and watercolor on paper - The Solomon R. Guggenheim Museum, New York, New York
1970
The Metropolitan Museum of Art 1870-1970
By 1970, Color Field artists like Frank Stella, Kenneth Noland and the late Morris Louis had long established their style as the next phase in modern abstraction. Stella in particular was best known for his Color Field spectrums, in which bands of varying colors were situated in such a way as to render the canvas a three-dimensional field of pure color. What made these paintings unique, and thus a distinctive characteristic of most Color Field work, was the absence of any representation or figurative forms. In Metropolitan Museum of Art 1870-1970, commissioned by the museum for its 100th anniversary, Stella carefully balanced alternating color bands to create a visual plane and framed this plane within a field of primary blue.
Color offset lithograph poster - Fine Arts Museums of San Francisco
Similar Art