"These are not paintings in the usual sense; they are life and death merging in fearful union. As for me, they kindle a fire; through them I breathe again, hold a golden cord, find my own revelation."
"I'm not interested in illustrating my time. A man's 'time' limits him, it does not truly liberate him. Our age - it is of science - of mechanism - of power and death. I see no virtue in adding to its mammoth arrogance the compliment of graphic homage."
"I never wanted color to be color. I never wanted texture to be texture, or images to become shapes. I wanted them all to fuse into a living spirit."
"My work is not influenced by anybody."
"As before, the pictures are to be without titles of any kind. I want no allusions to interfere with or assist the spectator. Before them I want him to be on his own, and if he finds in them an imagery unkind or unpleasant or evil, let him look to the state of his own soul."
"You can turn the lights out. The paintings will carry their own fire."
"It's intolerable to be stopped by a frame's edge."
Summary of Clyfford Still
Although not as widely known as some of his New York School contemporaries, Clyfford Still was the first to break through to a new and radically abstract style devoid of obvious subject matter. His mature pictures employ great fields of color to evoke dramatic conflicts between man and nature taking place on a monumental scale. "These are not paintings in the usual sense," he once said, "they are life and death merging in fearful union.. they kindle a fire; through them I breathe again, hold a golden cord, find my own revelation." A believer in art's moral value in a disorienting modern world, Still would go on to influence a second generation of Color Field painters.
Accomplishments
Still's overriding theme is the existential struggle of the human spirit against the forces of nature, a notion that finds expression in the vertical forms that reach defiantly through the majority of his compositions, and a struggle he evoked in his phrase "the vertical necessity of life."
His expansive fields of color have sometimes been likened to caves or vast abysses momentarily illuminated by crackling flares of light.
Still's progression to purely abstract painting in the mid-1940s predated and influenced a similar move to non-representational art by his Abstract Expressionist contemporaries.
Still was a notoriously difficult character who often shunned the New York art world, resisted most critiques of his work and went to exceptional lengths to control how his paintings were sold, collected and exhibited.
Important Art by Clyfford Still
Progression of Art
1936
Untitled(Indian Houses, Nespelem)
Untitled (Indian Houses, Nespelem) is characteristic of the artist's work from the late 1920s to mid-1930s. It was executed in the town of Nespelem, on the Coleville Indian Reservation, where Still co-founded an artist's colony in 1937. In this work, Still synthesizes the influences of Gustave Courbet, Paul Cézanne, and American Regionalism, while also beginning to formulate his own individual artistic philosophy and style.
Oil on canvas - Collection Douglas Sandberg, San Francisco
c.1935
Untitled
An amalgam of body and landscape, Untitled is emblematic of the influence of Surrealism on Still's work of the mid-1930s. It also shows the development of a personal iconography and hints at the artist's lifelong interests in mythology, Native American shamanism, and totemic motifs. Art historian David Anfam has described the picture as a contradictory one, the grim-faced head suggesting sterility, whilst its apparent position, high above a landscape, evokes the soaring spirit.
Oil on canvas - Private Collection
1944
1944-N No.2 (also known as 'Red Flash on Black Field')
1944-N No.2 marks an essential turning point in Still's progression to completely non-representational painting. Along with its purely abstract subject matter, it also exhibits several other devices which he would employ throughout his career: a dynamic relationship between vertical and horizontal forms; a predominantly dark palette highlighted by areas of bright color; a highly textured surface resulting from the use of a palette knife; and the adoption of a non-referential naming system composed of numbers and dates. 1944-N No.2 is also notable in being one of the few replicas that Still produced throughout his career. Although Abstract Expressionists often produced pictures in series which were very similar in composition, their conception of the painterly act as an event, as an expression of emotion, discouraged them from producing replicas. Nevertheless, Still appears to have seen both this picture and its pair, 1944-N No.1, as identical in character and quality.
Oil on canvas - The Museum of Modern Art, New York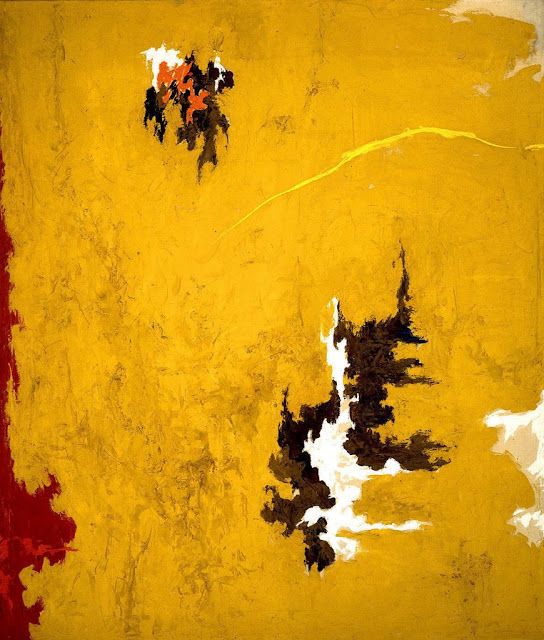 1948
1948-C
1948-C serves as a perfect example of Still's mature style as it appeared in the mid to late 1940s: figuration has disappeared entirely, to be replaced by nothing but a strange, crackling field of color. The work features characteristically dramatic relationships between compositional elements - foreground and background; light and dark - relationships that the artist thought of as "life and death merging in fearful union." It is also characteristic of Still's work from the late 1940s in being dominated by colors drawn from a palette at the extreme end of the spectrum - here, hot yellows.
Oil on canvas - Hirshhorn Museum and Sculpture Garden, Smithsonian Institution, Washington DC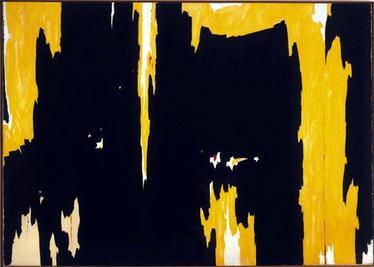 1957
1957-D-No. 1
Still began to move towards more vertically oriented canvases in the mid-1950s, a shift that is evident in 1957-D-No. 1. In this work, the fleeting flashes of color that interrupted the dark expanses of earlier paintings are now monumentally scaled vertical forms that rise and fall across an almost mural-like composition. Art historian David Anfam has observed how Still was drawn to compositions which evoke "enclosure and liberation, containment and precarious release;" here the dramatic tension of yellow and black suggests exactly that contrast.
Oil on canvas - Albright-Knox Art Gallery, Buffalo, New York
1974
Untitled
This work is a late-period piece typical of Still's output after his 1961 move to rural Maryland. It features a markedly lighter color palette than his earlier paintings, though it retains the sense of a loose, grid-like structure underlying the abstract motifs, a characteristic evident in some of this earlier work. The work is also notable for the large amounts of bare canvas that Still allowed to remain visible on the surface of the painting.
Oil on canvas - San Francisco Museum of Modern Art
Biography of Clyfford Still
Childhood
Born in Grandin, North Dakota, in 1904, Clyfford Still spent his formative years in Spokane, Washington and in Alberta, Canada, where his family maintained a wheat ranch in what was then the last outpost of the North American frontier. Though he later denied its significance, the vast, flat landscape and harsh lifestyle of the Canadian prairie would exert a lasting influence on his worldview and artistic practice.
Early Training
After a brief stint at the Art Students League in New York, Still returned to Washington in 1926 and enrolled in Spokane University. He studied painting, literature and philosophy throughout the next decade, graduating from Spokane in 1933 and receiving a Masters in Fine Arts from Washington State College in 1935. He would stay on to teach at Washington State for several years.
Still's paintings from this period range from brooding agrarian scenes reminiscent of American Regionalism, such as Untitled(Indian Houses, Nespelem)(1936), to more Surrealist-inspired works such as Untitled(1935) in which the human body is reduced to almost completely abstract forms. Yet the underlying theme of all these works seems to be man's attempt to survive in an unforgiving environment - a notion that is sometimes symbolized by vertical shapes rising in defiance against a horizontal landscape. During this period, we see the emergence of the color scheme (dark, earthy tones punctuated by flashes of bright colors) and technique (thick layers of paint applied with a palette knife) that would dominate the artist's entire oeuvre.
Mature Period
Still relocated several times in the early 1940s, first to California (where he befriended Mark Rothko), then to Virginia (where he taught at the Richmond Professional Institute), and finally to New York in 1945. This was the beginning of an exceptionally fruitful period for him and the paintings he exhibited at Peggy Guggenheim's Art of This Century Gallery, in 1946, evidenced by a unique and revolutionary style on the cusp of maturity. In these monumentally scaled works, all recognizably human forms have been discarded and replaced by flame-like shapes that rise vertically through dark and expansive fields. Along with his adoption of a non-representational style, Still also began to shy from the use of referential titles for his compositions, and would eventually settle on a nomenclature composed entirely of numbers and dates. 1944 -N No.2, from 1944, is typical of both his style and titling in this period.
In the context of American painting, Still's paintings from this period mark a highly original advance into abstraction, and they would prove very influential on the New York artists who would later become the chief exponents of Abstract Expressionism. Yet despite his association with these artists, Still bristled at the notion that he was part of any school or movement, and he remained a self-styled outsider. In fact, despite his activity in New York, Still spent a great deal of time on the West Coast during these years. He composed much of his work there and began an influential teaching tenure at the California School of Fine Arts in 1947.
Still returned to New York in 1950 and spent the majority of the next decade in the city. He continued to explore and expand upon his signature themes, refining his motifs and introducing new elements to his work. Most notably, he began to include areas of bare canvas in his paintings and started working on increasingly horizontal compositions. However, a notoriously cantankerous character, Still grew even more disillusioned with the New York art scene. He clashed with most of his contemporaries - resulting in the termination of long friendships with Rothko, Pollock and Newman - and severed ties to his galleries. In 1957, he even turned down an invitation to exhibit his work in the American Pavilion at the Venice Biennale. Around this time, Still also began to place severe restrictions on how institutions could lend and exhibit his paintings. In many instances, he even refused to allow any other artists to be shown alongside his work.
Later Years and Death
In 1961, Still relocated to a farm in Westminster, Maryland. He continued making art until his death in 1980, but never re-entered the New York art scene, which he saw as hopelessly frivolous and decadent. Instead, he worked in seclusion, showing his paintings only when he could exert complete control over the circumstances of their exhibition.
The Legacy of Clyfford Still
Because of the restrictions Still imposed on the collection and exhibition of his paintings, the majority of his work remained unseen until the city of Denver was able to build a museum devoted to Still in 2011. Historically, appraisals of his oeuvre have tended to revolve as much around the discussion of his difficult personality as they have around the critique of his life's work. However, considering the influence Still exerted over his New York School contemporaries, it is clear that his paintings were hugely important for the establishment of Abstract Expressionism. It is also clear that Still, both by teaching and through example, continued to be a powerful influence on countless artists in the years that followed.
Influences and Connections
Influences on Artist

Influenced by Artist
Friends & Personal Connections
Jane Ellen Harrison

Sir James Frazer

Friedrich Nietzsche
Friends & Personal Connections
Useful Resources on Clyfford Still
Books
The books and articles below constitute a bibliography of the sources used in the writing of this page. These also suggest some accessible resources for further research, especially ones that can be found and purchased via the internet.
artwork
Similar Art