Artists
Hans Hofmann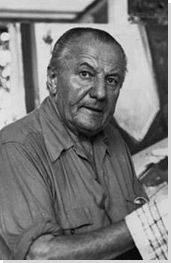 Born: March 21, 1880 - Weissenberg, Bavaria
Died: February 17, 1966 - New York City, NY

"Color is a plastic means of creating intervals... color harmonics produced by special relationships, or tensions. We differentiate now between formal tensions and color tensions, just as we differentiate in music between counterpoint and harmony."

Summary of Hans Hofmann
A pioneering artist and teacher, Hans Hofmann emigrated from Germany to the United States in 1930. He brought with him a deep knowledge of French art, gleaned from years spent in Paris before World War I, and this proved crucial in spreading European modernist styles and ideas in the United States. He taught Lee Krasner, Helen Frankenthaler, and Larry Rivers, and he formed a close relationship with Jackson Pollock. Hofmann's own style represented a fusion of various modes, and his later work made a powerful contribution to Abstract Expressionism.
Key Ideas
Hofmann believed fervently that a modern artist must remain faithful to the flatness of the canvas support. To suggest depth and movement in the picture - to create what he called "push and pull" in the image - artists should create contrasts of color, form, and texture.
Nature was the origin of art, Hofmann believed, and no matter how abstract his pictures seemed to become, he always sought to maintain in them a link to the world of objects. Even when his canvases seemed to be only collections of forms and colors, Hofmann argued that they still contained the suggestion of movement - and movement was the pulse of nature.
Although renowned for his ideas, Hofmann once said that "painters must speak through paint, not through words." And his own foremost medium of expression was color: "The whole world, as we experience it visually," he said, "comes to us through the mystic realm of color."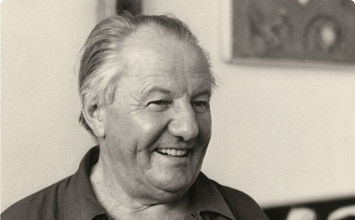 Born Johan Georg Albert in Weissenberg, Bavaria in 1880, Hofmann was a precocious child, showing early inclinations towards mathematics, music, science, literature, and art. When he was six years old, his family moved to Munich where his father had secured a job in the government bureaucracy. In time his father would use his position to help find a position for his son working for the Director of Public Works of the State of Bavaria, and it was here that Hofmann began his working life and where he patented several scientific inventions, including a radar device for ships, whilst still in his teenage years.
Important Art by Hans Hofmann

The below artworks are the most important by Hans Hofmann - that both overview the major creative periods, and highlight the greatest achievements by the artist.


Artwork Images

The Wind (c. 1944)

Artwork description & Analysis: Pictures such as The Wind have been at the center of a long controversy over whether Hofmann inspired Jackson Pollock's use of the drip technique. Some have claimed that Pollock saw pictures like this when he visited Hofmann's studio in 1942, and that this inspired his first use of poured paint in 1943.It was first thought that this work was produced in 1942, but now, professionals believe, that The Wind was produced around 1944, and that it was Pollock and Hofmann's twin interest in the work of André Masson, among others, that led both men to experiment with dripped paint at the same time.

Oil, duco, gouache and India ink on poster board - Collection University of California, Berkeley Art Museum


Artwork Images

Self-Portrait with Brushes (1942)

Artwork description & Analysis: Hofmann created many self-portrait drawings and paintings, usually depicting himself at work. Self-Portrait with Brushes is typical of his approach, yet it stands out in the way it combines styles to create an expressive character sketch. Using bold outlines to exaggerate his own features - creating a broad triangular nose and tousled hair - Hofmann projects a playful persona in a blue on yellow palette set within the interior space of his studio.

Casein on plywood - Andre Emmerich Gallery, New York


Artwork Images

Ecstasy (1947)

Artwork description & Analysis: In 1947, Hofmann abandoned painting on board and began to use canvas. He also began to explore a wider variety of styles, and Ecstasy reflects his experiments, showing his continued loyalty to European masters such as Joan Miro and Hans Arp at a time when many of Hofmann's American colleagues were trying to overcome European influences.

Oil on canvas - University of California, Berkeley Art Museum
More Hans Hofmann Artwork and Analysis:
Influences and Connections
Influences on Artist
Artists, Friends, Movements
Influenced by Artist
Artists, Friends, Movements

Interactive chart with Hans Hofmann's main influences, and the people and ideas that the artist influenced in turn.
View Influences Chart

| | | | | |
| --- | --- | --- | --- | --- |
| Artists | | Personal Contacts | | Movements |

Influences on Artist

Hans Hofmann
Years Worked: 1898 - 1966
Influenced by Artist

| | | | | |
| --- | --- | --- | --- | --- |
| Artists | | Personal Contacts | | Movements |
If you see an error or typo, please:
tell us
Cite this page

Content compiled and written by Justin Wolf
Edited and published by The Art Story Contributors
" Artist Overview and Analysis". [Internet]. . TheArtStory.org
Content compiled and written by Justin Wolf
Edited and published by The Art Story Contributors
Available from:
First published on 22 Jan 2012. Updated and modified regularly.


[Accessed ]