Artists
Louise Nevelson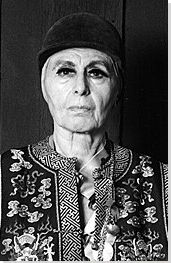 Born: September 23, 1899 - Kiev, Russian Empire
Died: April 17, 1988 - New York, New York

"Some of us come on earth seeing - some of us come on earth seeing color."
Summary of Louise Nevelson
Louise Nevelson emerged in the art world amidst the dominance of the Abstract Expressionist movement. In her most iconic works, she utilized wooden objects that she gathered from urban debris piles to create her monumental installations - a process clearly influenced by the precedent of Marcel Duchamp's found object sculptures and readymades. Nevelson carefully arranged the objects in order to historicize the debris within the new, narrative context of her wall sculptures. The stories embodied within her works resulted from her cumulative experiences - as a Jewish child relocated to America from Russia, as an artist training in New York City and Germany, and as a hard-working, successful woman. Her innovative sculptural environments and success within the male-dominated realm of the New York gallery system inspired many younger artists, primarily those involved in installation art and the Feminist art movements.
Key Ideas
Although Nevelson's artistic subject matter included her personal feelings about an uprooted childhood, clashing cultures, and nature's divinity, the common thread of feminine biography dominated her output.
Nevelson purposefully selected wooden objects for their evocative potential to call to mind the forms of the city, nature, and the celestial bodies. While the individual pieces had an intimate scale, they became monumental when viewed holistically within the combined environment of the assemblage.
Although Nevelson found her fame creating wooden structures, in the 1960s and 1970s she explored industrial materials like plexiglass, aluminum, and steel. These new materials allowed her to expand the scale and complexity of her works, while also moving the sculptures out of galleries and museums and into public spaces.
Nevelson's dramatic sculptures paved the way for the dialogues of the Feminist art movement of the 1970s by breaking the taboo that only men's artwork could be large-scale. Her works initiated an era in which women's life history became suitable subject matter for monumental artistic representation.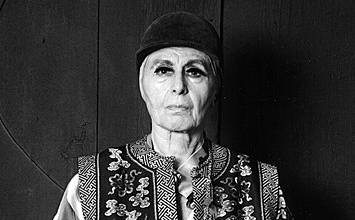 Louise Nevelson was born Leah Berliawsky in Pereiaslav-Khmelnytskyi, Russia (now Ukraine). In 1905, her family immigrated to Rockland, Maine, due to the terrible abuse inflicted by the Tsarist Russians on the Jewish community that she grew up in. Nevelson later recalled knowing that she would be an artist from the age of nine, having been drawn to the field after observing a plaster cast of a statue of Joan of Arc at the Rockland Public Library. She dreamed of escaping to New York to study art while she was still a high school student, and took a job as a stenographer while she continued her studies. Through her job, she met Bernard and Charles Nevelson. Louise married Charles in 1920, and the couple moved to New York City soon after.
Important Art by Louise Nevelson

The below artworks are the most important by Louise Nevelson - that both overview the major creative periods, and highlight the greatest achievements by the artist.


Artwork Images

Untitled (1950)

Artwork description & Analysis: This work is an example of Nevelson's early, small-scale abstract constructions that relied on found materials selected for their visual or emotional appeal. In her search for new materials Nevelson was drawn to wood, as opposed to bronze or marble. This choice reflected her past; her father was a woodcutter and lumberyard owner, and the organic material was a common presence throughout her childhood. The assembled rectilinear wooden blocks of this work present a unified exploration of vertical and horizontal axes, in a visual experiment with constructed forms that influenced her subsequent wall sculptures. However, the format of this work is still that of a conventional sculpture presented on a base, much like traditional, old master sculptures. While many of her later works were painted in monochromatic black, white, or gold because of the personal symbolism of these colors, Nevelson painted this work a bright green that she chose not to reprise in later sculptures.

Painted wood 31 x 12 x 11.5 in. - n.a.


Artwork Images

Sky Cathedral (1958)

Artwork description & Analysis: The larger than life-size Sky Cathedral is Nevelson's sculptural answer to the monumental Abstract Expressionist canvases of the predominantly male artists that commanded the attention of American art during the 1950s. To create this work, Nevelson salvaged small pieces of scrap wood from old buildings, then nailed and glued these pieces into box-like cubbies and arranged these into one of her earliest wall sculptures. While Sky Cathedral's rectangular, linear basis was informed by the innovations of the Cubists in the early-20th century, Nevelson formally balanced these with the curving forms of spindles, finials, and architectural moldings, in order to more accurately reflect the enormity and diversity of existence in New York City - her adopted home. She purposely chose wooden forms that were evocative of both the celestial realm as well as the architecture of the urban environment around her. The various boxes that make up the structure also work to contain the seeming chaos of the assemblage. The individual elements join together in the monumental composition to comprise a work that reflects Nevelson's experience in the world, as well as her beliefs in spirituality. Although she was raised in the Jewish faith, she studied a wide variety of religions at different times in her life, each affecting her overall spirituality - the compartments of the sculpture reflect her collection of religions. She purposely painted the entire sculpture black to obliterate the past histories of the pieces and unify the work in the black "silhouette, or essence, of the universe." Black was not a negation for Nevelson, but rather everything, a totality, as it contained all of the colors. Accordingly, she felt the black paint provided her works with an air of greatness and regal enormity. Both the palette and scale of the piece radically shifted the notion of what kind of work a woman artist could create. Sky Cathedral was part of the series of exhibitions in 1958 that marked Nevelson's rise to notoriety.

Painted wood 11' 3 1/2" x 10' 1/4" x 18"s - Museum of Modern Art, New York; Gift of Mr. and Mrs. Ben Mildwoff


Artwork Images

Bride and Disk and Groom and Disk (1959-67) from America-Dawn (1962) originally from Dawn's Wedding Feast (1959) (1959-67)

Artwork description & Analysis: Nevelson chose to focus on her artistic career rather than her family, and that decision directly informed the installation she titled Dawn's Wedding Feast. Bride and Disk and Groom and Disk were originally part of that installation and collectively represent nearly ten years of Nevelson's sculptural practice. She used a process similar to that of Sky Cathedral to create all of the elements that made up this final installation. However, rather than paint the various sculptures black, she chose an all-white palette for the wedding-themed installation. During this period in her career Nevelson actually kept two separate studios, one for the creation of black sculptures and the other for white works. This separation illustrates just how deeply she believed in the fundamental duality and power of the two opposing tones. For Nevelson, white signified the "emotional promise" and "summoned the early morning," making the hue perfect for a work that examined weddings, a life-event that is typically laden with emotional promise. The disks attached to the columnar bride and groom sculptures - both key figures in a nuptial celebration - represent the sun and moon, both also present at the allegorical wedding feast at dawn. These key figures, as well as the installation as a whole, reflected both Nevelson's own escape from the constraints of her failed marriage in her 40s as well as her unwavering commitment to her artistic career, a new and different marriage. With the exhibition of Dawn's Wedding Feast, Nevelson effectively pioneered the idea of installation art, a format that was pivotal to the various postmodern art movements of the following decades.

Painted wood - The Art Institute of Chicago, Grant J. Pick Purchase Fund
More Louise Nevelson Artwork and Analysis:
Influences and Connections
Influences on Artist
Artists, Friends, Movements
Influenced by Artist
Artists, Friends, Movements

Interactive chart with Louise Nevelson's main influences, and the people and ideas that the artist influenced in turn.
View Influences Chart

Artists

| | |
| --- | --- |
| | Hans Hofmann |
| | Diego Rivera |
| | Max Ernst |
| | André Masson |
| | Alexander Calder |

Personal Contacts

| | |
| --- | --- |
| | Linda Nochlin |
| | David Smith |
| | Mark Rothko |
| | Willem de Kooning |
| | Eduardo Paolozzi |

Movements

Influences on Artist

Louise Nevelson
Years Worked: 1940s - 1980s
Influenced by Artist

| | | | | |
| --- | --- | --- | --- | --- |
| Artists | | Personal Contacts | | Movements |
If you see an error or typo, please:
tell us
Cite this page

Content compiled and written by The Art Story Contributors
Edited and published by The Art Story Contributors
" Artist Overview and Analysis". [Internet]. . TheArtStory.org
Content compiled and written by The Art Story Contributors
Edited and published by The Art Story Contributors
Available from:
First published on 01 Jul 2013. Updated and modified regularly.


[Accessed ]