Artists
Rachel Whiteread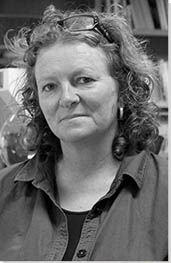 Born: April 20, 1963 - Ilford, United Kingdom

"I make all this stuff in the studio, but I also work on these white elephants - like House or Untitled Monument - things that are incredibly ambitious, take an awful long time to do, involve a lot of controversy, an awful lot of people, and don't make any money particularly, but it's just because I need to make them."

Summary of Rachel Whiteread
Before Rachel Whiteread, no artist had ever found a way of making the air that surrounds an object the subject of their work. Rather than pouring a liquid, such as molten metal, plastic, rubber, or fiberglass into a mold to make a replica of a regular, pre-existing work, she made a plaster cast of the negative or unseen space around an object. The air trapped inside a hot water bottle, the space underneath a bed and the interior of a three-storey house - Whiteread turned the traditional process of cast sculpture on its head. The first woman to win the Turner Prize, the most prestigious art award in the UK, Whiteread continues to make work that is remarkable for its ability to comment on themes of absence and loss in monumental and subtle ways.
Key Ideas
In making the air or space rather than the thing itself the focus of her work Whiteread singularly reinvented the traditional casting process. This was a remarkable achievement in that it helped to redefine the very nature of what a sculpture was.
Her approach broke new ground in the fact it was based on the conceptual idea of absence - a position that one could perhaps see as almost anti-sculptural.
Her sculptures deal with psychological space as well as physical space. Evoking themes of absence and memory, their sheer presence in specific sites - such as deprived areas of East London and the Holocaust Monument in Vienna's Judenplatz - provide an affecting social and political commentary.
Repetition is key to her work - as Whiteread herself noted in her remark that "I've done the same things over and over". However, even in her series of hot water bottles, mattresses, or translucent resin cubes, the slight imperfections and subtle color changes help create variety and a sense of time passing.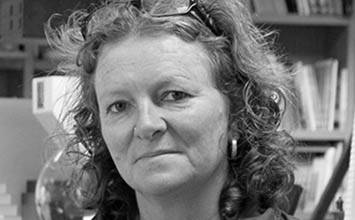 Born in Ilford in Essex, Rachel Whiteread moved to London when she was seven. Her mother, the artist Patricia Whiteread, was involved in important exhibitions of feminist art at London's Institute of Contemporary Arts in the 1980s. Consequently, Whiteread and her older twin sisters grew up surrounded by art and materials for art making. Her father Thomas, a geography teacher, supported his wife's artistic career, and converted part of their house into a studio, where Whiteread remembers helping to install a concrete floor as a child. The artist has frequently cited the importance of her upbringing to her later artistic practice, feeling a particular debt to her geographically minded father, "whose interest in industrial archaeology enabled me to look up" and appreciate concepts of architecture, spatiality, and memory.
Important Art by Rachel Whiteread

The below artworks are the most important by Rachel Whiteread - that both overview the major creative periods, and highlight the greatest achievements by the artist.


Artwork Images

Closet (1988)

Artwork description & Analysis: In both scale and ambition Closet (1988) - the inside of a wardrobe cast in plaster and covered in black felt - is a remarkably powerful work. Whiteread exhibited this piece along with four other cast plaster works in her first solo exhibition after graduating from the Slade. Whiteread described the process of making Closet as follows: "I simply found a wardrobe that was familiar, somehow rooted in my childhood. I stripped the interior to its bare minimum, turned it on its back, drilled some holes in the doors and filled it with plaster until it overflowed. After the curing process the wooden wardrobe was discarded and I was left with a perfect replica of the inside." In focusing on the negative or unseen space contained within the wardrobe - a familiar domestic object - Whiteread set a pattern for her own work for years to come. Unlike other cast sculpture, her works weren't simply replicas of themselves. And, in a further imaginative twist, they positioned us on the inside looking out.

An elegant, tall, dark monolith, Closet relates in formalist terms to both the serial minimalist sculpture of Donald Judd and the abstract zip paintings of Barnett Newman. As her own description suggests, Whiteread's approach is largely functional and process-driven, although also related to a childhood memory of hiding in a dark cupboard. Unlike some of her YBA contemporaries (whose own debut exhibition also took place in 1988) Whiteread is less interested in telling personal narratives but allows her materials to speak for themselves and by association create a series of emotional and sometimes nostalgic references. Here, the generic nature of the wardrobe chosen and its suffocating black felt cover help conjure up a confined space, recalling scary moments in childhood games of hide and seek.

Plaster and black felt - Tate, London

Untitled (Torso) (1991)

Artwork description & Analysis: Whiteread made this early small-scale, flesh-colored work by casting the inside of a hot water bottle in plaster. Through its title, the piece refers to a torso, a body without limbs or head, which in turn introduces the idea of the way in the body is fragmented in classical sculpture. Yet, Whiteread's sculpture is far moved from classical sculpture. In this context, it is hard not to see Untitled (Torso) as making a knowing reference to Whiteread's own position within the art historical tradition - how even at this early stage her conceptual and process-led approach presents a real challenge to traditional sculpture.

However the overwhelming sense that this fragile, chubby little sculpture (one of many such works) evokes is its connection to a small living thing - a baby lying naked on its back perhaps. The work elicits a bodily and psychological reaction to an object that is at once unremarkable, powerfully intimate, and deeply unsettling. A hot water bottle is a source of warmth and comfort, to be hugged to the body. In Whiteread's formulation, however, it is devoid of warmth and despite its tactile shape it is far from huggable. This points to Whiteread's ability (fundamental to her career and to her contribution to contemporary art) to create a sense of the uncanny and to imbue an ordinary object with emotive power.

Pink Dental Plaster, waxed

Ghost (1990)

Artwork description & Analysis: Ghost was Whiteread's breakthrough, ensuring her reputation as an important contemporary artist. By this point, Whiteread had started to make casts of much larger domestic architectural features such as fireplaces, baths and sinks. Her ambition was to create a negative plaster cast of an entire room in a house and she took the opportunity of a solo show at London's Chisenhale Gallery to realize this monumental idea.

Having located a house, Whiteread began the painstaking process of filling an entire room with plaster. She settled on a Victorian parlor at 486 Archway Road in north London, partly because it offered her the simple, clean lines of a doorway, window and a fireplace. In preparatory drawings, Whiteread used a grid system to divide the walls into sections, using proportions from works by the Italian Renaissance painter Piero della Francesca, heightening the links between her practice and the history of art. Each section of the room was reassembled then facing outwards on a steel frame, creating an exact three-dimensional version of the room, but inside out and produced in pale plaster.

Ghost is tomb-like and spectral - Whiteread herself talks of how she was trying "to mummify the air in the room." The room appears both familiar and unfamiliar, a domestic space deprived of its normal uses and functions. From far away, the work appears almost abstract, but walking around the work makes the domestic proportions obvious to the viewer, and tiny details such as light-switches and keyholes are revealed on closer inspection.

Visually the work connects to Minimalism, making Ghost an important response to works by artists such as Donald Judd and Carl Andre (notably, the Tate had just acquired Andre's firebricks work Equivalent VIII (1966), a move that was highly criticized by the tabloid press). However, Whiteread transforms the visual language of Minimalism by applying domestic proportions and details to the cube.

Plaster on steel frame - National Gallery of Art, Washington, DC
More Rachel Whiteread Artwork and Analysis:
Influences and Connections
Influences on Artist
Artists, Friends, Movements
Influenced by Artist
Artists, Friends, Movements

Interactive chart with Rachel Whiteread's main influences, and the people and ideas that the artist influenced in turn.
View Influences Chart

| | | | | |
| --- | --- | --- | --- | --- |
| Artists | | Personal Contacts | | Movements |

Influences on Artist

Rachel Whiteread
Years Worked: 1988 - present
Influenced by Artist

Artists

| | |
| --- | --- |
| | Angela de la Cruz |
| | Karla Black |

Personal Contacts

Movements
If you see an error or typo, please:
tell us
Cite this page

Content compiled and written by Anna Souter
Edited and revised, with Synopsis and Key Ideas added by Nicky Hodge
" Artist Overview and Analysis". [Internet]. . TheArtStory.org
Content compiled and written by Anna Souter
Edited and revised, with Synopsis and Key Ideas added by Nicky Hodge
Available from:
First published on 18 Feb 2018. Updated and modified regularly.


[Accessed ]