Artists
Chris Ofili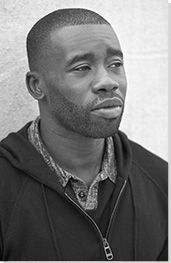 Born: 10 October 1968 - Manchester, England

"The studio is a laboratory, not a factory. An exhibition is the result of your experiments, but the process is never-ending. So an exhibition is not a conclusion."
Summary of Chris Ofili
Chris Ofili is famous for shocking the world by using elephant dung on a painting of the Virgin Mary, however as well as being provocative, his work is embroiled in a nuanced and complex set of religious and socio-political issues.

His paintings include unconventional craft materials such as glitter, map pins, glue and collage, as well as the more controversial elephant dung. His work is often seductively brightly colored, detailed, and heavily layered so that new details and images might appear on each viewing of a painting. Ofili's primary interest is in documenting and celebrating Black experiences and memorializing and challenging instances of racist violence. He also often returns to themes of religion, particularly as displayed throughout art history.
Key Ideas
Hybridity is an idea introduced by postcolonial theorist, Homi Bhaba, to name the way that migration, particularly between places that have been colonized, and those doing the colonizing, produces new complex identities, which are a mix of multiple cultures, rituals, and ideas. Ofili's paintings often mix Western and Nigerian iconography and ideas in one canvas, and also use collage and multimedia techniques to suggest multiplicity and diversity coming together in one space.
Ofili's paintings often appear decorative, that is they are extremely pleasing to look at and use materials, such as glitter and map pins, associated with unserious aesthetic objects. To call a contemporary artist's work 'decorative' is usually an insult, as it suggests there is nothing beyond appearance in the work. Ofili challenges this by making delicate, beautiful images using techniques from traditional African and Aboriginal art, which then draw you into their political complexities.
Almost all of Ofili's work deals with elements of Black experience. The work is explicitly anti-racist and often challenges white supremacy and its real (in the streets) and symbolic (in galleries) violence. Ofili is also one of the few artists to make work about police violence against black people, here using a subdued, dark palette very different to his bright, dynamic paintings.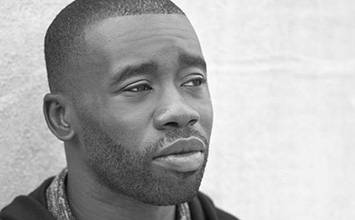 Born in 1968 in Manchester, England, to Nigerian parents, Chris Ofili was the second of four children. His parents had only been in the country for three years when he was born, and they worked hard to give their children a good life. They were both employed in the McVities biscuit factory, but Ofili's father, Michael, left the family when Chris was 11 years old and went back to Nigeria where he had another family.
Important Art by Chris Ofili

The below artworks are the most important by Chris Ofili - that both overview the major creative periods, and highlight the greatest achievements by the artist.


Artwork Images

The Holy Virgin Mary (1996)

Artwork description & Analysis: This life-size painting shows an abstracted black Virgin Mary with a vibrant yellow background. One breast is exposed, as is traditional in classical depictions of the Virgin Mary and, less traditionally, is embellished with elephant dung. All around her flutter butterflies made from buttocks and vaginas cut from pornographic magazines.

The painting is Ofili's attempt to deal with his childhood questions about race and virgin mothers, in particular which women are permitted to be holy, to be pure, and to be considered 'good mothers'. The black Madonna is often seen in Catholic iconography in Africa and the Caribbean, although Ofili's depiction is an intentionally provocative rendering of the subject. He said: "When I go to the National Gallery and see paintings of the Virgin Mary, I see how sexually charged they are. Mine is simply a hip-hop version."

The piece was well received in England, and then in Germany when it was exhibited in Berlin, but caused a public fury when exhibited in New York. Then-mayor Giuliani famously threated to remove funding from the MoCA after losing a lawsuit to shut down the YBA Sensation exhibition where the painting was featured. A 72-year-old pensioner called Dennis Heiner also defaced the painting with white paint because he was offended by its "blasphemy". He pretended to be ill to distract the security guard, and then squirted the paint behind the shield protecting the work.

Combining pornography, elephant dung, and an image central to Catholicism was intended to shock and challenge the gallery-going public, even if Ofili could not have foreseen the violent protest of the work by conservative Christian America. However, the work is also a rigorous investigation into religion, race, representation, and desire: The Holy Virgin Mary speaks to hybrid cultures in Africa and the Caribbean, which mix Catholicism and traditional spirituality; challenges the way that whiteness is associated with purity in art history (the white virgin's breast is never sexual); and situates the Holy Virgin as a real woman with a real and messy body - she rests on elephant dung to bring her closer to earth.

Paper collage, oil paint, glitter, polyester resin, map pins and elephant dung on linen - Museum of Modern Art


Artwork Images

Afrodizzia (1996)

Artwork description & Analysis: Afrodizzia is a colorful abstract composition embellished and propped up with elephant dung reinforced with polyester resin. Multiple heads from Blaxploitation movies are collaged into the vivid colors, glitter, and multi-layered paint effects alongside well-known black figures, which then have Afros comically pasted around their faces. The title is a play on the word 'aphrodisiac', which references a substance ingested to increase the libido, and again complicates relationships between blackness and sexual desire.

Blaxploitation cinema emerged out of Black Power and civil rights movements in the 70s and it remains a controversial genre, which both challenges and reinforces racial stereotypes. Despite its difficulties - in particular treatment of black women, and reinforcing 'gangster' stereotypes - Blaxploitation was an angry celebration of Black America and this complexity is reborn as a contemporary festival of Black cultures in Afrodizzia.

The work honors the renaissance of Black creativity that Ofili said hip-hop helped create. He listed his heroes as Notorious B.I.G., Snoop Dogg, L'il Kim and Wu-Tang Clan. "It was like revisiting the idea of Black power in the seventies, but through a more celebratory lens - not fighting for power but celebrating a newfound power. A lot of Black art that came before was set up to critique the system. I thought that was boring. I wanted to be sincere and outrageous and friendly and rude and experimental and conventional." The work is an original and singular instance of art about Black experience - representational elements are subsumed by joyful abstraction, and African-ness is shown as a euphoric, as opposed to mournful, state of being.

American art critic Jerry Saltz wrote: "A good Ofili brings to mind Funkadelic album covers, William Blake, Zimbabwe rock painting, Sigmar Polke, Brazilian bead work, Op Art, carnival posters, Celestial Seasonings packages, Haitian voodoo figures, Australian Aborigine 'dot paintings,' and Post-Impressionistic Pointillism."

Oil paint, paper collage, glitter, polyester resin, map pins and elephant dung on linen - Saatchi Collection


Artwork Images

No Woman No Cry (1998)

Artwork description & Analysis: In this moving painting, Ofili depicts the weeping profile of Doreen Lawrence, whose son Stephen Lawrence was murdered by a racist gang in London in 1993. There was a massive outcry about the police's failings to properly investigate the case, particularly in black communities in London and the public inquiry that followed found the Metropolitan police force to be institutionally racist. In each of the tears shed by the grieving mother is a collaged image of her son's face, while the words 'R.I.P. Stephen Lawrence' are just discernible beneath the layers of paint.

This narrative work uncompromisingly depicts grief and pain, not only of Doreen and Stephen Lawrence, but all victims of racist violence. Ofili said: "This kid had been killed by white racists. The police had fucked up the investigation, and the image that stuck in my mind was not just his mother but sorrow - deep sorrow for someone who will never come back. I remember finishing the painting and covering it up, because it was just too strong."

Again Ofili references Black music with the title borrowed from a Bob Marley song and the painting provides a powerful example of Ofili's physical and metaphorical layering: he builds up materials on the canvas as he layers meanings.

No Woman No Cry became a rallying point for anti-racist activism, and continues to be exhibited at major UK galleries in the context of remembrance and ongoing social change. It is a vital piece of art in the tapestry of UK political and social history, which often ignores the pain of black people in its memorials.

Oil paint, acrylic paint, graphite, polyester resin, printed paper, glitter, map pins and elephant dung on canvas - Tate Britain
More Chris Ofili Artwork and Analysis:
Influences and Connections
Influences on Artist
Artists, Friends, Movements
Influenced by Artist
Artists, Friends, Movements

Interactive chart with Chris Ofili's main influences, and the people and ideas that the artist influenced in turn.
View Influences Chart


Influences on Artist

Chris Ofili
Years Worked: 1989 - present
Influenced by Artist

| | | | | |
| --- | --- | --- | --- | --- |
| Artists | | Personal Contacts | | Movements |
If you see an error or typo, please:
tell us
Cite this page

Content compiled and written by Sarah Ingram
Edited and published by The Art Story Contributors
" Artist Overview and Analysis". [Internet]. . TheArtStory.org
Content compiled and written by Sarah Ingram
Edited and published by The Art Story Contributors
Available from:
First published on 24 Aug 2018. Updated and modified regularly.


[Accessed ]