Movements, Styles, and Tendencies
School of London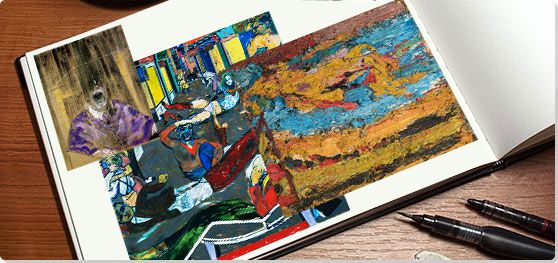 School of London
Started: 1976
Ended: 1990

Summary of School of London
Less a stylistic movement and more a social group of artists who explored similar themes, the School of London revolutionized figurative painting after World War II. Not named such until 1976, a diverse group of artists, including R. B. Kitaj, Lucian Freud, Francis Bacon, Howard Hodgkin, Leon Kossoff, Michael Andrews, and David Hockney, explored the human form and devastated landscapes in the wake of the physical and moral destruction wreaked by war. They wrote no manifestoes or credos and painted in diverse styles, but they mostly probed autobiographical subjects, including portraits and settings of friends and intimates.

Finding commonalities with other artists across Europe and even in the United States who were not committed to pure abstraction, the School of London generated enormous interest in figurative painting among a younger generation of artists, including Jenny Saville, Cecily Brown, and Peter Doig among many, many others.
Key Ideas
Like many artists after World War II, the School of London artists attempted a reckoning of recent history and tried to imagine new ways of seeing oneself and one's fellow human beings. Like contemporary philosophers exploring Existentialism and phenomenology, the artists attempted to break down old habits and modes of seeing in order to recreate new ways of interaction.
Paintings created by School of London artists ranged from pristinely smooth to thickly encrusted surfaces, but in all instances the artists hoped to convey the psychological depths not only of their subjects but their own as well. At times empathetic and other times damning, the artists depicted their subjects through their own personal lenses, creating complex portraits and landscapes that spoke to uneasy times.
The artists combined influences of the Old Masters with popular culture, film, and literature, giving their subjects a seriousness and probity that had not recently been seen in figurative painting but that still felt current and recognizable.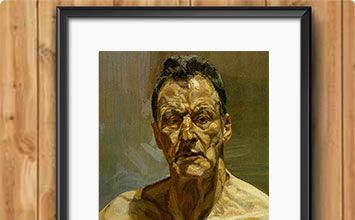 Beginnings:
Many of the School of London painters were already well-established and even famous prior to the naming of the group, and they came from a variety of backgrounds, carried different influences, and painted in a myriad of styles.
Important Art and Artists of School of London

The below artworks are the most important in School of London - that both overview the major ideas of the movement, and highlight the greatest achievements by each artist in School of London. Don't forget to visit the artist overview pages of the artists that interest you.


Artwork Images

Girl with a White Dog (1950-1951)

Artist: Lucian Freud

Artwork description & Analysis: Freud's depiction of Kitty Garman, his first wife, in her early pregnancy, presents an intimate moment of domestic life. She sits on a cushion, wearing a yellow robe that has fallen off her shoulder, exposing one of her breasts. A white dog, one of two bull terriers given to the couple by Garman's father, the famous sculptor Jacob Epstein, snuggles into the crook of her bent leg, resting his head on her knee.

In the 1950s, Freud focused on portraiture, and this important work exemplifies his working method in which he would often clean his sable brush after each brushstroke, insuring a pristine surface. The smoothly finished surface and precisely drawn forms lay bare the influence of Ingres, the French Neoclassical artist. Art critic Herbert Read, acknowledging the debt, described Freud as "the Ingres of Existentialism."

The woman's limbs and exposed breast are more highly colored than the muted tones of the rumpled robe she wears, the striped mattress where she sits, and the softly billowing drape behind her. A feeling of warmth and domesticity is created by the muted colors. At the same time, however, the work conveys a feeling of awkwardness, as Garman's face is somewhat wearied and lined, and her sad gaze staring into space conveys a feeling of loneliness. Even the resting dog conveys a sense of solicitude, as it too seems pensive and subdued. The result is a feeling of ambivalence, a flat calm that is discomfiting. The unflinching quality of Freud's psychological portraits was his distinctive contribution to modern art and to the figuration of the School of London.

Oil paint on canvas - Tate Gallery, London


Artwork Images

Sleeping Figure (1959)

Artist: Francis Bacon

Artwork description & Analysis: This work depicts a nude figure sleeping on a black overstuffed armchair against a varying grey, sterile background. Though asleep, the figure seems distorted and visceral, pulsing with latent energy. Its lower legs and feet melt into appendage-like shapes that dissolve into trails of paint. The skin is highly colored, mottled with splotches of red and black, and the face, viewed in profile, appears scalded, suggesting that the figure is both injured and injurious, embodying some stripped but energetic state of existence.

With works like Sleeping Figure, Bacon became the most famous and successful of the School of London painters, and his work was influenced not only by the Old Masters but also by his studies of photography, particularly the motion studies of Eadweard Muybridge. In Sleeping Figure, the snake-like forms of the figure's lower body suggest a melting effect that might be captured by a series of images that create the effect of movement.

Bacon's figures are inevitably disquieting, as he said, "I would like my pictures to look as if a human being had passed between them, like a snail leaving its trail of the human presence...as a snail leaves its slime." The figure is confined by the black shape of the chair and the void of the interior room. The pictorial space becomes both a place of confinement and of transgression, creating a searing effect that leaves the viewer uncomfortable in her own skin.

Oil on canvas - Royal Academy of Arts, London


Artwork Images

Melanie and Me Swimming (1978-1979)

Artist: Michael Andrews

Artwork description & Analysis: This painting, depicting the inky black depths of a Scottish rock pool, focuses on the figure of the artist holding his eight-year old daughter by her arms as she learns to swim. The two figures have a radiant glow, highlighted by the black empty lake around them and the triangular and curved shapes of the lighter colored mountains and clouds along the horizon in the upper canvas. Andrews' paintings usually evolved from photographs combined with his memories; his daughter later described the setting, "It used to be known as the black pool because the water was so dark you couldn't see anything in it. It was so cold it had the effect of making you feel hot at first." Andrews's treatment of the figures is at once representational - the cold impact of the water seen in the paleness of their skins and the red blush of cold on their arms and faces - and lyrical - evoking the moment of transition from childhood to adulthood. Andrews deployed both a paint spray gun and brushes to achieve the near photographic smooth finish of the surface.

Melanie and Me Swimming has subsequently become one of Andrews' most popular works, in part because of its focus on the familial aspect of social connection. The father's foot, refracted in the black water, becomes a kind of anchor, providing stability to the child's kicking legs and their white froth of motion. As his daughter later said, "Everything about Dad's paintings, whatever their subject matter, was to do with social situations and the way that people integrate and interact," and it was this sense of social interaction, depicted by an elusive observer, that Andrews brought to the School of London.

Acrylic paint on canvas - Tate Gallery, London
More School of London Artwork and Analysis:
If you see an error or typo, please:
tell us
Cite this page

Content compiled and written by Rebecca Seiferle
Edited and published by The Art Story Contributors
" Movement Overview and Analysis". [Internet]. . TheArtStory.org
Content compiled and written by Rebecca Seiferle
Edited and published by The Art Story Contributors
Available from:
First published on 09 Nov 2018. Updated and modified regularly.


[Accessed ]