Artists
R.B. Kitaj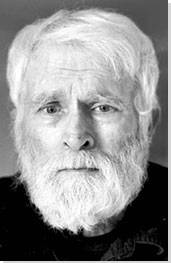 Born: October 29, 1932 - Cleveland, Ohio
Died: October 21, 2007 - Los Angeles, California

"I carry themes in my mind for years before I will try to compose them. I've got themes that will last me now 'til I die."
Summary of R.B. Kitaj
The idea that art and intellectualism should harmonize was, and remains indeed, a contentious issue within the artistic community. As an unapologetic intellectualist, and an artist who in his later career published a two volume manifesto, R. B. Kitaj tended to inflame opinions on that debate. During the 1950s and early 1960s, the period when his analytical figurativism began to coagulate, the fashion (seemingly) was for the anti-intellectual outlooks advocated by the Abstract Expressionists and the Pop artists. Kitaj was however learning his trade in Europe where he was drawn stylistically towards the most eminent figurative artists, namely David Hockney, Lucian Freud, and Francis Bacon.

Later, in the mid-1970s, Kitaj, who had been recognized for his drawing and draughtsmanship, became influenced by decorative art and the works of Edgar Degas which led Kitaj to experiment with oils and pastels. By the early 1980s he was living and working in London, producing his First Diasporist Manifesto - in which he proclaimed that the genesis (and genius) of Jewish culture and creativity is born from the 'diasporist' space the geographically dispersed Jewish people inhabit. During his later period his painting also took on a new mournful dimension as he used his brush to grieve his late wife.
Key Ideas
Despite an early feeling for spontaneity, surrealist automatism and the drip technique as practiced by the New York School, Kitaj was to cultivate a resolute commitment to art and intellectualism. He did not then subscribe to the Greenbergian philosophy of pure abstraction; nor indeed to the purists principle of 'art-for-art's-sake'. Rather, he espoused the idea of a radical social art that would allow for "good pictures" and "great pictures" to enrich "modest lives".
A cornerstone of the
Social Realist
project was its pledge to represent the lives of the ordinary and/or oppressed subjects unambiguously. Kitaj's approach was to make his social commentary both gestural and highly personal. His figurative approach did not respect the normal rules of pictorial verisimilitude while his work's allusions and citations to historical and cultural events typically aligned with his self-referential Jewish identity.
In 1976, Kitaj curated the 'Human Clay' exhibition at London's Hayward Gallery in which he revived interest in figurative art. The exhibition was noteworthy not least for a catalogue that featured an influential essay by Kitaj in which he coined the term 'School of London'. That definition referred to a cadre of London-based artists - amongst them Lucian Freud, Francis Bacon, David Hockey, Frank Auerbach, and Leon Kossoff, and Kitaj himself - who, counter to the fashion amongst avant-gardists for minimalism and conceptualism, helped reinvigorate the critical fortunes of figurativism.
Kitaj's worldview was encapsulated in two volumes: The First Diasporist Manifestos published in 1989 and The Second Diasporist Manifestos, A New Kind of Long Poem in 615 Free Verses published in 2007 (the year of his death). The manifestos, the first of which appropriated the Commandments of Jewish Law, featured illustrations and text that might be best thought of as streams of consciousness through which Kitaj sought to "unpack the cultural secrets" of the Jewish people and to offer his thoughts on "HOW TO DO A JEWISH ART" (sic). He went about this task by producing a series of images and proposals on contemporary art and art criticism and, in the second volume, offered further observations and suggestions for all artists working in exile. For advocates of Kitaj, his manifestos were important because together they presented a blueprint that allowed for, in the artist's own words, "a commonality (for painting) in dispersion which has mainly been seen before only in fixed places''.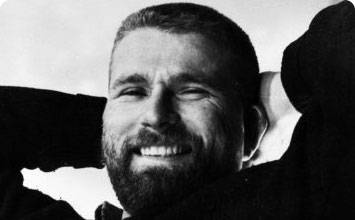 Robert Brooks was born to a Hungarian father and Russian-Jewish mother in Cleveland, Ohio in 1932. Kitaj's biological father, Sigmund Benway, and his mother, Jeanne Brooks, separated shortly after their son's birth. Robert's mother brought her son up on her own during his formative years, earning her living as a steel mill worker and as a teacher, before marrying the Austrian research chemist Walter Kitaj (pronounced "key-tie") - who, like Brooks was an émigré and a secular Jew - in 1941. Kitaj's interest in art was kindled at the Cleveland Museum of Art where he took art classes in addition to his high school education. On leaving high school in 1949, Kitaj 'ran away to sea' joining the crew of the SS Corona, a Norwegian freighter. He worked as a merchant seaman for some five years; his travels taking him as far afield as Cuba, Latin America, and Europe.
Important Art by R.B. Kitaj

The below artworks are the most important by R.B. Kitaj - that both overview the major creative periods, and highlight the greatest achievements by the artist.


Artwork Images

Erasmus Variations (1958)

Artwork description & Analysis: One finds in this early work the features that were to characterize Kitaj's lifelong preoccupation with the human experience and history; what one might be inclined to call a figurative-intellectualism. The title Erasmus Variations (or Desiderius Erasmus) refers by name to the Dutch scholar (Erasmus) whose absent-minded sketches, or doodles, were (re)discovered by Kitaj while visiting Oxford. Kitaj had recognized the sketches as a precursor of the automatic drawing technique that was to become a linchpin of Surrealism and one can easily recognize this automatic technique in this painting. However, Kitaj also pays homage here to another Dutchman, Willem de Kooning, who he grew to admire while staying in New York; as Kitaj put it: "de Kooning's surreal-automatic 'Women' were my favorite action paintings of the School of New York [...] and so I adapted something of that mode here; Double Dutch (Erasmus and De Kooning, both of Rotterdam)". Indeed, though de Kooning is grouped with the leading Abstract Expressionists, his paintings appealed to Kitaj because his work retained a commitment to figuration.

We find the culmination of the 'Dutch effects' in the way that Kitaj's canvas is roughly divided into nine squares in a three-by-three grid. Each grid has the rough outline of a face, save the square at the center with two faces, and the lower left square which features a bouquet of flowers. The gestural spirit of artistic freedom is revealed in the way Kitaj's vibrant color contrasts bleed across the edges of their respective boxes, in the expressive drips and smears of paint, and in the dramatic sweep of Kitaj's brushstrokes.

Oil paint, ink, graphite and paper on canvas - Tate, London, United Kingdom


Artwork Images

The Murder of Rosa Luxemburg (1960)

Artwork description & Analysis: Created while Kitaj was still a student in England, 'The Murder of Rosa Luxemburg' is characteristic of the artist's lifelong concern with the theme of human experience and injustice, typically as it related to Jewish history. Indeed, though he considered the painting to be largely unsuccessful, Kitaj acknowledged in 1980 that "at least some of the terms of its genesis, terms which really interested me" were still in evidence some "20 years later".

As its title suggests, his collage was inspired, in part at least, by the story of Rosa Luxemburg, a Russian-Polish Jew, and founder of the anti-bourgeois Spartacus League, who was assassinated in Germany in 1919 for her revolutionary socialist politics. However, while Kitaj described this "artless painting" - when compared to vigorous color schemes he employed in paintings dating from the same period, one is immediately struck by a toneless desolation perfectly fitting, perhaps, for the grey subject matter - as his "first political picture" that was not because he specifically "identified with [Luxemburg's] revolution (or its failure)". What Kitaj called his "other, oblique reasons" related to the personal narratives of persecution as experienced by his Jewish grandmothers which had effectively brought about their flight from Europe to America. Notwithstanding Kitaj's dour color palette, formally, the image shows elements that would characterize his work throughout his career. We see for instance painted and drawn figures that take their place alongside abstract shapes and found images including the statue in the upper right and the obelisk in the lower left. Meanwhile, the collage's allusions to political history, revealed in written text telling of Luxemburg's fate, is pasted to the top right of the frame.

Oil paint, ink, graphite and paper on canvas - Tate, London, United Kingdom


Artwork Images

Marlborough (Mark Rothko) (c. 1969 - 70)

Artwork description & Analysis: While Kitaj is best known for his paintings, he was also recognized for the breadth and quality of his drawings and prints. The most widely distributed of these was In Our Time: Covers for a Small Library After the Life for the Most Part, a series of 50 prints featuring covers for books selected by Kitaj. For these prints, he chose books that ranged in subject from history, to mythology, to the one pictured above for his friend, Mark Rothko. As a whole, Kitaj's portfolio elucidates the breadth of the artistic interests and motivations. Art critic Catherine Bindman of Art in Print wrote that the prints showed "his predilection...for digressive exegesis, the key to both Kitaj's ambition and the critical rage that greeted it". The screenprints speak to the artist's mastery of the graphic medium, with the covers reproduced through a veracity of both color and texture. This body of work helped consolidate Kitaj's place in art history as a painter and also as a talented draughtsman and printmaker.

Screenprint - Various, including the Museum of Modern Art, New York, and the Tate, London, United Kingdom
More R.B. Kitaj Artwork and Analysis:
Influences and Connections
Influences on Artist
Artists, Friends, Movements
Influenced by Artist
Artists, Friends, Movements

Interactive chart with R.B. Kitaj's main influences, and the people and ideas that the artist influenced in turn.
View Influences Chart

Artists

Personal Contacts

| | |
| --- | --- |
| | Brian Sewell |
| | Andrew Graham-Dixon |
| | Philip Roth |
| | Edgar Wind |

Movements

Influences on Artist

R.B. Kitaj
Years Worked: 1950 - 2007
Influenced by Artist

If you see an error or typo, please:
tell us
Cite this page

Content compiled and written by Ximena Kilroe
Edited and published by The Art Story Contributors
" Artist Overview and Analysis". [Internet]. . TheArtStory.org
Content compiled and written by Ximena Kilroe
Edited and published by The Art Story Contributors
Available from:
First published on 19 Jun 2018. Updated and modified regularly.


[Accessed ]