Artists
David Hockney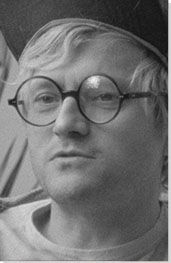 Born: July 9, 1937 - Bradford, UK

"All art is contemporary, if it's alive, and if it's not alive, what's the point of it?"
Summary of David Hockney
David Hockney's bright swimming pools, split-level homes and suburban Californian landscapes are a strange brew of calm and hyperactivity. Shadows appear to have been banished from his acrylic canvases of the 1960s, slick as magazine pages. Flat planes exist side-by-side in a patchwork, muddling our sense of distance. Hockney's unmistakable style incorporates a broad range of sources from Baroque to Cubism and, most recently, computer graphics. An iconoclast obsessed with the Old Masters, this British Pop artist breaks every rule deliberately, delighting in the deconstruction of proportion, linear perspective, and color theory. He shows that orthodoxies are meant to be shattered, and that opposites can coexist, a message of tolerance that transcends art and has profound implications in the political and social realm.
Key Ideas
Like other Pop artists, Hockney revived figurative painting in a style that referenced the visual language of advertising. What separates him from others in the Pop movement is his obsession with Cubism. In the spirit of the Cubists, Hockney combines several scenes to create a composite view, choosing tricky spaces, like split-level homes in California and the Grand Canyon, where depth perception is already a challenge.
Hockney insists on personal subject matter - another thing that separates him from most other Pop artists. He depicts the domestic sphere - scenes from his own life and that of friends. This aligns him with
Alice Neel
,
Alex Katz
, and others who depicted their immediate surroundings in a manner that transcends a particular category or movement.
Hockney was openly gay, and has remained a staunch advocate for gay rights. In the context of a macho art scene that dismissed "pretty color" as effeminate, Hockney's bright greens, purples, pinks, and yellows are declarative statements in support of sexual freedom.
In actively seeking to imitate photographic effects in his work, Hockney is a forerunner of the
Photorealists
. He is also a heretic among purists who feel that painting should rely only on the artist's direct observations from nature. Though not universally accepted, Hockney's research into the history of art has shown that Old Masters, from Vermeer to Canaletto, frequently used the camera obscura (an early form of camera) to enhance their optical effects. If the revered Old Masters could use cameras, he implies, why can't we?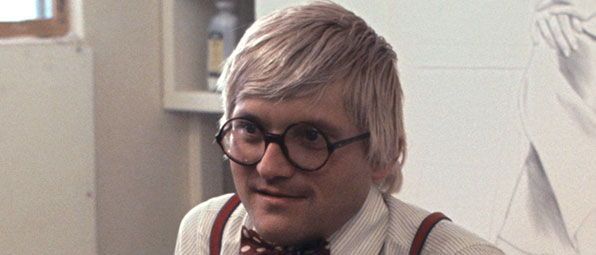 David Hockney at Gemini GEL artist's studio in Los Angeles, California during the making of the film Reaching Out (1973)
Britain's beloved David Hockney has a career of breaking taboos and leading the avant-garde - to the point of being recognized as the most important artist to revitalized painting. And in his eighties, Hockney continues to be active and to make headlines.
Important Art by David Hockney

The below artworks are the most important by David Hockney - that both overview the major creative periods, and highlight the greatest achievements by the artist.


Artwork Images

We Two Boys Together Clinging (1961)

Artwork description & Analysis: This early work by Hockney shows no sign of the slick landscapes or carefully observed characters that he would later develop. It is one of the first, however, to address homoeroticism, an important theme in his work. In a composition that resembles a child's drawing, two figures kiss and embrace. Stylized, blocky forms and scrawled words offer symbols as opposed to descriptions of the encounter. Small horizontal lines of pigment run from one figure to the other, representing the erotic charge between them. A sketchy swathe of blue hints at a sense of place.

Hockney's semi-abstracted figures and muted color palette recall those of Jean Dubuffet, a stylistic preference indicative of the challenge of finding a way to represent forbidden feelings. At a time when homosexual activity was still illegal in both the U.S. and in Britain, the representation of an erotic act between two men was unusual and potentially risky. The title is a direct quote from Walt Whitman, master of homoerotic poetry, and the image was inspired by a report of a climbing accident in a newspaper that read "Two Boys Cling to Cliff All Night." This unintended double meaning delighted Hockney, who had a crush on the British pop singer, Cliff Richard. These sources in popular culture and classic poetry offered the artist a way to address same-sex relationships in a way that didn't resort to caricature.

Oil on board - Southbank Centre, London

A Bigger Splash (1967)

Artwork description & Analysis: Hockney painted this seminal work while at the University of California in Berkeley. A Bigger Splash was created as the final result of two smaller paintings in which he developed his ideas, A Little Splash (1966) and The Splash (1966). A Bigger Splash is a considerably larger work, measuring approximately 94 x 94 inches. Hockney was one of the first artists to make extensive use of acrylic paint, which was then a relatively new artistic medium. He felt that as a fast-drying substance it was more suited to depicting the hot, dry landscapes of California than traditional oil paints. He painted this work by stapling the canvas to his studio wall.

In A Bigger Splash, Hockney explores how to represent the constantly moving surface of the water. The splash was based on a photograph of a swimming pool Hockney had seen in a pool manual. He was intrigued by the idea that a photograph could capture the event of a split second, and sought to recreate this in painting. The buildings are taken from a previous drawing Hockney had done of a Californian home. The dynamism of the splash contrasts strongly with the static and rigid geometry of the house, the pool edge, the palm trees, and the striking yellow diving board, which are all carefully arranged in a grid containing the splash. This gives the painting a disjointed effect that is absolutely intentional, and in fact one of the hallmarks of Hockney's style. The effect is one of stylization and artificiality, drawing on the aesthetic vocabulary of Pop art and fusing it with Cubism.

He said in his autobiography, "I love the idea first of all of painting like Leonardo, all his studies of water, swirling things. And I loved the idea of painting this thing that lasts for two seconds: it takes me two weeks to paint this event that lasts for two seconds."

Acrylic on canvas - Tate Gallery, London


Artwork Images

American Collectors (Fred and Marcia Weisman) (1968)

Artwork description & Analysis: While Hockney paints a broad range of subjects, some of his most masterful compositions are his portraits of the late 1960s. These offer unrivaled, almost cinematic, insights into the mood and culture of this transitional decade in American history. Here are Fred and Marcia Weisman, art collectors and friends of Hockney, who appear outside their residence as if stepping outside to greet a neighbor. Hockney's blinding, saturated palette mimics the light of Southern California. The Weismans are surrounded by their prized art possessions, among them an imposing modernist sculpture in a niche, and a totem pole that looks like it could be a third member of the family.

Dry humor pervades all elements of the composition. The viewer half expects to see the vertical elements - the stiff couple and their belongings - blast off like space ships into the blue sky. The threat of the surreal lurking in this picture underscores the consistent relationship between Pop art and older movements. Also noteworthy is the manner in which the poses transgress traditional gender norms. Marcia, a full-figured matron in a robe held closed with one arm, bares her teeth, and strikes a sensual pose that is both gracious and confrontational. Fred, the man of the house, stands stiffly with his fists clenched, and is literally marginalized as he is pushed to the left-hand side.

Acrylic on Canvas - Art Institute of Chicago
More David Hockney Artwork and Analysis:
Influences and Connections
Influences on Artist
Artists, Friends, Movements
Influenced by Artist
Artists, Friends, Movements

Interactive chart with David Hockney's main influences, and the people and ideas that the artist influenced in turn.
View Influences Chart

| | | | | |
| --- | --- | --- | --- | --- |
| Artists | | Personal Contacts | | Movements |

Influences on Artist

David Hockney
Years Worked: 1960s - current
Influenced by Artist

| | | | | |
| --- | --- | --- | --- | --- |
| Artists | | Personal Contacts | | Movements |
If you see an error or typo, please:
tell us
Cite this page

Content compiled and written by Anne Souter
Edited and revised, with Synopsis and Key Ideas added by Ruth Epstein
" Artist Overview and Analysis". [Internet]. . TheArtStory.org
Content compiled and written by Anne Souter
Edited and revised, with Synopsis and Key Ideas added by Ruth Epstein
Available from:
First published on 18 Feb 2016. Updated and modified regularly.


[Accessed ]