Movements, Styles, and Tendencies
Nouveau Réalisme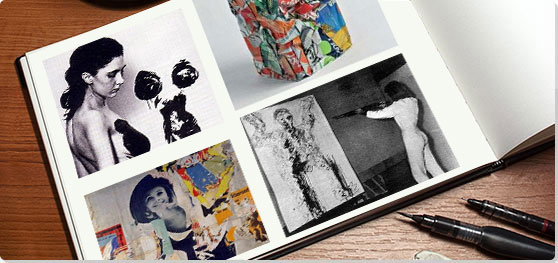 Nouveau Réalisme
Started: 1960
Ended: 1970

Summary of Nouveau Réalisme
A group of French artists in the early 1960s set out to prove the death of art's preciousness by considering reality their primary medium. Through a phenomenological reflection about the world around them, they would create works and happenings under the banner of Nouveau Réalisme, or New Realism. Although it was not the first "realism" movement, it was coined "new" as the third component to the Nouveau Roman (fiction) and New Wave (film) genres that were also progressive arrivals of culture in France at the time. With Nouveau Réalisme, artists questioned the idea that art had to elevate, politicize, or idealize any subject. This questioning led to an intersection between art and life, narrowing the gap between artists and the public, allowing everyone to participate in and easily relate to a rich multiplicity of media, forms, and styles. Although it was relatively short-lived, the movement's influence is still widely seen today, perhaps because it offered such myriad possibilities within the ever-existing fodder of the present environment for any given artist.
Key Ideas
Nouveau Réalisme's presentation of reality was a decidedly new one. Its artists were responding to their environment in post-war Europe amidst a society wetting its teeth on cultural production and consumption. This was articulated through a direct appropriation of, and dialogue with, parts of their world, or as founder Pierre Restany would say, "a poetic recycling of urban, industrial and advertising reality." They advocated this return to reality (the items they saw around themselves) in opposition to the lyricism of abstract painting or the petty bourgeois of figuration.
Through presenting what was real rather than what was appropriated or conjured, the Nouveaux Réalistes stripped art of a dogma that insisted it had to mean something. On the heels of
Dada
, they took the
readymade object
beyond negativity, banality, or polemics to become an active participant in a work of art or performance in its simple, unadorned form. An accumulation of trash became a picture. A crushed car informed a sculpture. A block of color could dwell on a wall, unapologetically itself.
Destruction was a common mode of creation. Some artists destroyed or vandalized objects, transforming their parts into new assemblages. Others used machinery, fire, and even guns to interact with objects and material in compelling new ways. The decollagists pirated. This violence became a metaphor for destroying traditional attitudes on what constituted art in order to aggressively define new ones.
The movement worked to deconstruct the glamorization of artists as solitary people working alone in the studio, producing valuable objects for the privileged confines of the gallery wall or museum space. It became common for artists to collaborate on projects and to create or show their work in public spaces. Oftentimes the audience was invited to participate in the art making, thus stimulating a new level of spectacle and viewer engagement. These activities were seen as both
Institutional Critique
and a liberation of the pigeonholed creative spirit.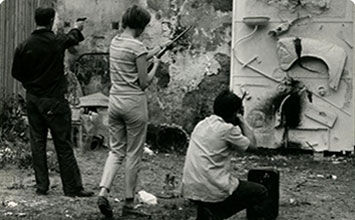 Beginnings:
In 1955, French art critic Pierre Restany met Yves Klein at his first solo show in Paris. At the time Klein had been making a name for himself as an artist whose work challenged the illusions of art. In this exhibition he was showing the first series of what would later become his famous monochrome works - paintings made of simple squares of one uniform color. There was no relation of color to anything but itself, a blasphemous notion at the time. Klein introduced Restany to a large group of artists including Jean Tinguely and Arman whose work, like much of his own, meant to show ordinary reality without idealization. Unlike the European Realists or the Social Realists before them, who were known to present reality through a darker lens, Klein and his peers were simply acting as mirrors to explore their everyday urban, consumer society.
Important Art and Artists of Nouveau Réalisme

The below artworks are the most important in Nouveau Réalisme - that both overview the major ideas of the movement, and highlight the greatest achievements by each artist in Nouveau Réalisme. Don't forget to visit the artist overview pages of the artists that interest you.


Artwork Images

Monochrome Blue (1960)

Artist: Yves Klein

Artwork description & Analysis: Between 1955 and his death in 1962, Yves Klein produced 194 "monochromes," or canvases painted with a single color. The technique of painting the entire canvas with a block of color challenged expectations of what the content of a painting should be. His literal depiction of colors as their real selves with unadorned simplicity, lacking of line, image or intention, was his way of opening art to extended possibilities. It also acted as an antidote to the dominant style of Abstract Expressionism, which championed the lyrical expression of paint as being conjured through an artist's pure emotion. Instead, paint could be used as a tool to invest a space with sensibility, rather than meaning.

In the beginning, Klein's monochromes came in multi-colors, but at one particular show he was disheartened by the audience's propensity to try, and divine relationships between the paintings of different color so he eventually settled on a specific hue of blue to convey his point. He said of his choice of color, "blue has no dimension, it is outside dimension, while the other colors do have one. [...] All the colors bring associations of concrete ideas [...] while blue at the most brings to mind the sea and the sky, already the most abstract things in tangible and visible nature." In order to create this distinctive color, Klein worked with a chemist to create a precise, patented, signature hue; it was named, and is still recognized worldwide today, as International Klein Blue. His blue paintings became invitations to infinity; in fact, he compared one of them to an "open window to freedom."

Dry pigment in synthetic polymer medium on cotton over plywood - Museum of Modern Art, New York


Artwork Images

Shooting Picture (1961)

Artist: Niki de Saint Phalle

Artwork description & Analysis: In 1961, Niki de Saint Phalle (one of the few female artists associated with Nouveau Réalisme) held an exhibition at Galerie J entitled Fire at Will. On show were several of her "Shooting Pictures" from her series Tirs, which means gunshot or fire in French. In these pieces, polythene bags of paint were fixed to a board and covered with thick plaster. Viewers were then invited to shoot a rifle at the surface, popping the bags and causing the paint to run down the textured white surface. This particular work was shot at by a number of people, including American artists Jasper Johns and Robert Rauschenberg.

The process of creating the artwork within the public eye, and asking others to join in, became a collaborative performance, which dissolved traditional stereotypes of the artist as a solitary hermit-like figure and opened up art's reach toward the populous. This mirrored the Nouveau Réaliste mission of staying loyal to reality rather than designating it with construed hierarchical values. It also allowed for the final product to become one of chance, proving that art could be as spontaneous as it can be strategic.

Critic Craig Staff interprets the aggressive nature of these shooting pictures as representing the death of traditional painting as a medium. He claims "it is difficult not to interpret Saint Phalle's 'shooting paintings' iconoclastically and within a set of terms that unequivocally sought to negate, if not entirely bring down, the medium." After a couple of years, Saint Phalle stopped making these works, claiming she had become "addicted to shooting, like one becomes addicted to a drug."

Plaster, paint, string, polythene and wire on wood - Tate, London


Artwork Images

Baluba (1961-2)

Artist: Jean Tinguely

Artwork description & Analysis: Tinguely's Baluba series, executed from 1961-1963, were wildly provocative odes to the detritus of consumer culture. The sculptures were created from a variety of found objects in compositions that radiate disharmony while also promoting the beauty of fragility. Most of the objects are scruffy and old, and are used as a pointed comment on society's promotion of brand new objects. Tinguely considered each piece a living entity and was pleased at his ability to present dark commentary on mass production and the industrialization of society through such humorous means.

This piece exists as a parody of traditional sculpture, composed with an industrial oil drum as a plinth, rising to a collection of objects delicately balanced at the top. This work is also kinetic, following in the tradition of Naum Gabo and Alexander Calder. The viewer can press a pedal beside the work to activate a motor, which causes the sculpture to move and shake. The Centre Georges Pompidou describes the effect: "what seemed incomplete and unsatisfying when motionless, when animated becomes a bizarre enchantment of sorts."

It is interesting to note that the Baluba pieces oftentimes contained colorful feathers, inspired by his relationship with fellow Nouveau Réaliste Niki de Saint Phalle, who he would later marry.

Metal, wire, plastic objects, feather duster, barrel, motor - Centre Georges Pompidou, Paris
More Nouveau Réalisme Artwork and Analysis:
If you see an error or typo, please:
tell us
Cite this page

Content compiled and written by Anna Souter
Edited and revised, with Synopsis and Key Ideas added by Kimberly Nichols
" Movement Overview and Analysis". [Internet]. . TheArtStory.org
Content compiled and written by Anna Souter
Edited and revised, with Synopsis and Key Ideas added by Kimberly Nichols
Available from:
First published on 17 Feb 2017. Updated and modified regularly.


[Accessed ]