Artists
John Chamberlain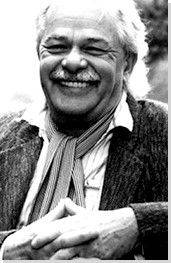 Born: April 16, 1927 - Rochester, Indiana
Died: December 21, 2011 - New York, New York, USA

"My work has nothing to do with car wrecks."

Summary of John Chamberlain
John Chamberlain is known internationally for his long career of making vividly colored and vibrantly dynamic sculptures using discarded automobile parts that he twisted and welded into monumental shapes. He used the early modernist techniques of collage and assemblage at a magnified scale and he emphasized the brilliant colors of automotive paint. Chamberlain's sculptures appeared in New York at the same time as the paintings of the Abstract Expressionists; some were his mentors and they shared a similar critical reception.
Key Ideas
Chamberlain used the jagged edges and curved surfaces of the salvaged auto parts in his spontaneous, instinctual process. In effect, this was similar to Abstract Expressionist painters who used house painters' brushes, mops, brooms, and poured paint to make splashy gestural marks and washes of saturated color.
Scorning the presumptions of critics and intellectuals, Chamberlain was not commenting on the waste and taste of American consumers. He chose materials that were cheap, abundant and easy to work with, plus he enjoyed the process of finding and accumulating them. Their brilliant commercial colors and flashy surfaces inspired his creativity.
Chamberlain's art gave the common materials he used - steel from auto bodies, foam rubber used for cheap furniture, Plexiglas boxes, and paper bags - new meaning in sculpture. His experiments with what he openly called "junk" or "garbage" took place at a monumental scale and, along with their rough facture, revealed a range of new choices for his contemporaries.
Chamberlain achievement was to be able to work at any scale. He said that if you got the scale right, the size never mattered, as long as you understood how the pieces fit together. The fit he discovered and utilized was based on the implied relationship between size and scale.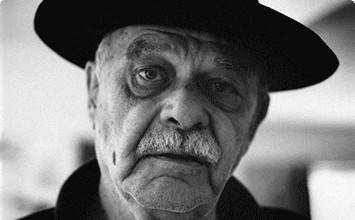 Born April 16, 1927 in Rochester, Indiana, Chamberlain was the son of a fifth-generation saloonkeeper. When he was four his parents divorced and he went to live with his grandmother in Chicago. There he discovered an interest in music but lacked the talent to pursue the training. As a rebellious teenager he and a friend decided to hit the road for California. On their way they were arrested and told to move on: mostly to stay out of trouble Chamberlain lied about his age and joined the Navy at 16 in 1943.
Important Art by John Chamberlain

The below artworks are the most important by John Chamberlain - that both overview the major creative periods, and highlight the greatest achievements by the artist.


Artwork Images

Cord (1957)

Artwork description & Analysis: In his twenties while living in Chicago, Chamberlain discovered the sculpture of David Smith at the Art Institute. About Smith's work he said, "I liked it a lot because it wasn't representing something else...and it was a very strange looking thing...and because I hadn't seen anything like that before." Explaining the making of his early pieces he said, "I found myself working with a certain spontaneity. I was trying to attach the top part of (a sculpture) to the lower half, but when I put it in the right place, it connected up in three different places, so it told me how to put it together."

Chamberlain's first steel sculptures emphasized the linear "drawn in the air" quality of Smith and other 1950s sculptors, but in Cord the steel rods and fittings have been clustered and massed into shapes with physically greater volume. Notice that Cord is a tangle of metal rods and fittings elevated by several short posts and perched over a pedestal base. In his future works Chamberlain eliminated the pedestal and placed his sculptures directly on the floor. Eliminating the pedestal was a goal of the 1960s sculptors, many of whom sought this more emphatic and less precious mode of presentation. When placing work directly on the floor it became incumbent on Chamberlain to make the metal parts fit together so as to be weight bearing. He continued to use spot welding to reinforce the structure as was done in Cord but when his pieces became larger, freestanding, and more complex, an armature within their mass was a necessity. With the contrasts of its sharp-edged vertical and horizontal elements, Cord predicts the look of his art to come.

- Formerly Allan Stone, New York


Artwork Images

Shortstop (1957)

Artwork description & Analysis: Shortstop launched Chamberlain's career as a major artist in the mid-20th century; his subsequent works with car parts stemmed from this initial breakthrough piece. Made entirely from "found" materials - the fenders of an abandoned antique Ford - Shortstop reinvested the French Surrealists' use of "found objects" with American virility.

Chamberlain was building on the the Surrealists' techniques of collage and assemblage that had relied on chance juxtapositions, and which were still in vogue with poets, painters and other sculptors. It was frequently their goal to shock readers and viewers by unlikely combinations of words and images. In addition, Marcel Duchamp - inventor of the "readymades" - was the acknowledged grand master of the visual arts contingent of Surrealists and lived in New York City at this time.

To make Shortstop, Chamberlain altered the fenders he had found by driving over them with a truck and then joined them together by a process of trial and error, accepting cues from the way the pieces themselves suggested their fit. After this piece he went to scrap yards deliberately to search for discarded auto parts suited to his creative inspirations. Recognizing his sources critics were swift to observe that their power as abstract art might come from tragic accidents. Although he would reject their allusions to a car wreck, Chamberlain surely knew that the poetry of his work came from the unexpected vigor of tortured metals contorted visually into the afterimage of a crash.

Painted and chromium-plated steel and iron - Dia Art Foundation, New York, New York


Artwork Images

Zaar (1959)

Artwork description & Analysis: In the post-World War II cultural atmosphere automobiles were an important symbol of American recovery and industrial leadership. Materials for metal sculpture had always been expensive: the fact that Chamberlain discovered a source in discarded metals brought him recognition for his ingenuity. And the colors he found were a bonus, for there were few artists making colorful sculpture at this time. But his forays into junkyards did not focus exclusively on car parts. Zaar was composed chiefly of a steel bench with a red stripe.

Chamberlain's art succeeded on several levels. To some viewers the sculptures made a statement against a progressive consumer culture that embraced the new and rejected the old. In addition, he titled his works with a self-indulgent humor. Since his college years Chamberlain had written poetry and read widely so he wasn't above using sly allusions to popular culture. Zaar was a popular hair treatment used to make permanent waves: Chamberlain must have dealt with it when he worked as a hairdresser in Chicago, before becoming an artist. The curvy outlines of Zaar might have reminded him of that product.

Welded steel, painted - Raymond and Patsy Nasher Collection, Dallas, Texas
More John Chamberlain Artwork and Analysis:
Influences and Connections
Influences on Artist
Artists, Friends, Movements
Influenced by Artist
Artists, Friends, Movements

Interactive chart with John Chamberlain's main influences, and the people and ideas that the artist influenced in turn.
View Influences Chart

Artists

| | |
| --- | --- |
| | David Smith |
| | Julio Gonzalez |
| | Richard Stankiewicz |
| | Vincent van Gogh |

Personal Contacts

| | |
| --- | --- |
| | Willem de Kooning |
| | Donald Judd |
| | Franz Kline |
| | Robert Creeley |
| | Charles Olson |

Movements

Influences on Artist

John Chamberlain
Years Worked: 1957-2011
Influenced by Artist

If you see an error or typo, please:
tell us
Cite this page

Content compiled and written by The Art Story Contributors
Edited and revised, with Synopsis and Key Ideas added by Ruth Epstein
" Artist Overview and Analysis". [Internet]. . TheArtStory.org
Content compiled and written by The Art Story Contributors
Edited and revised, with Synopsis and Key Ideas added by Ruth Epstein
Available from:
First published on 25 Dec 2014. Updated and modified regularly.


[Accessed ]