Artists
Julio González
Born: September 21, 1876 - Barcelona, Spain
Died: March 27, 1942 - Arcueil, Paris, France

"This new art: To draw in space."

Summary of Julio González
Despite Julio González's late start and short creative period of work, marked by poverty and war, he realized key works that capture his radical approach to sculpture. The strong ties to the local craft traditions in Barcelona informed his image of form and his choice of material with the formidable training and his acquired welding skills during WWI allowed him to combine fully contradictory concepts of the modern - from Cubism, Surrealism, Constructivism, to various forms of abstraction - in his sculptures. And especially influential was González's intensive collaboration with Pablo Picasso. Although González never gained broad popularity, he is known as the father of iron sculpture and is consistently included among the famous modern sculptors of the 20th century, such as Brancusi, Giacometti, Laurens, and Picasso.
Key Ideas
González chose iron as his metal of choice, because of his objection to its modern uses for munitions and for society's mechanized, scientific environment. He aimed to transform this metal into evocative forms. The method of collage informs his process of welding together disparate pieces of metal, even found scraps of metal and bars, creating arabesque-like delineations in space to capture the human experience of beauty and defiance.
González, inspired by Rodin, left visible the process of making, such as chasing the subject out of the metal, the marks of beating the metal into shape, or showing the skeletal elements used in welding a piece together. The material's unfinished, rough surface or scrap iron pieces expressed the object's corporeality and lent it an emotive quality, which was intended to shape the viewer's perception of the work. For the first time, González used welded metal as a new medium and technique for sculpture.
Influenced by Picasso's revolutionizing attitude toward the dialogue between painting and sculpture, González began to depict forms in space in his own sculptural work. He therefore understood space as a new material to manipulate and to construct with. This led eventually to González's own invention of drawing in space, which meant using the given lines and surfaces in the material to create open constructions in and with space suggestive of the female figure or human body.
Drawing provided González with the opportunity to try out his ideas and even occupy himself, when sculpting materials were scarce. They reveal his sense of color and the importance of light and shadow in the composition of spatial form.
González's Catalan roots led to his deep connection with the Republican cause in Catalonia and Spain's defiance against the fascist threat. His pessimism toward the Spanish Civil War colored his political sympathies, which can be seen in his drawings and sculptures.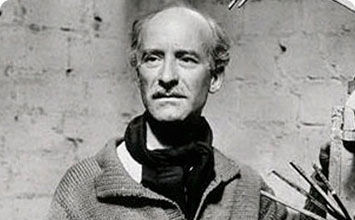 González was born Julio González Pellicer in Barcelona to a family descended from a long line of metal smiths. As a child, he began learning decorative metal working in his father's workshop. His father, Concordio González, was a part-time sculptor, and his mother, Pilar Pellicer Fenés, came from a long line of well-known artists, her father having been an important 19th century Catalan illustrator and designer. As the youngest of four children, González was particularly close to his mother and to his older brother, Joan. As his family loved music, he learned to play the mandolin at an early age to accompany his singing. He attended a Catholic school that followed the educational model of medieval craft guilds, where technical training was highly valued.
Important Art by Julio González

The below artworks are the most important by Julio González - that both overview the major creative periods, and highlight the greatest achievements by the artist.

Leaning Head (c.1908 - 1910)

Artwork description & Analysis: Gonzalez depicts the introspective mood of a young woman through the way her head leans forward, her calm facial expression, and her closed eyes. He draws upon his technical expertise in repoussé in these early small busts. This metalworking technique allowed for greater plasticity, as can be seen in the shape of the woman's head, an enclosed globe, the soft modeling of her face, the texture of her hair. The palpable sense of form not only anticipates his abstract, cubist heads of the 1930s, it also evokes Rodin's emphasis on corporeality. Gonzalez thus took his first step towards dissolving the fully plastic round volume into geometric form. He would rely more and more on the viewer's perception to associate the abstracted forms, a globe (head) and cylinder (neck), surfaces and lines, as referencing the head, face, or figure of a woman. Yet parallel to Rodin, Gonzalez reveals his process of making. He leaves exposed the marks of beating the metal sheets into the shape of the head to capture a simple human moment, a young woman lost in thought.

Beaten copper, wood base - Peter Nahum At The Leicester Galleries, Mayfair, UK

Le Couple (1927-1929)

Artwork description & Analysis: In this small sculpture, only 7 1/2 inches long, a couple reclines, embracing each other. Yet, these figures are essentially abstract forms. It is the sense of interlocking and enclosed spaces rather than volume that contribute a human quality to these forms. The linear and geometric surfaces of the welded unmodified scrap iron pieces make apparent the influence of Cubism; the way scrap iron bars become arms and legs, flat slabs become the torso. The stylized heads reflect Gonzalez's fascination with the Etruscan couple reclining on a sarcophagus that he studied in visits to the Louvre. The influence of Luca Cambiaso, an Italian 16th-century artist who often sketched human figures geometrically, reducing them to cube forms, can also be seen in the work. The spatial construction of line and surfaces create a feeling that these two figures, this couple, are not only welded together physically, but emotionally.

At the time he created The Couple, the artist also made a similar sculpture of a woman alone, a work that was purchased by the American painter and art dealer, John Graham. Graham was a friend of David Smith, the American sculptor whose first works of forged sculpture in 1933 included a figure based upon González's reclining woman.

Forged iron - Private collection

The Woman and the Mirror (1937)

Artwork description & Analysis: From a series of approximately ten drawings, this collage-drawing depicts a female figure with red spiraling curved legs that connect to a penciled skeletal torso supported by a thick inked black line that rises and contracts into a thin line to intersect with a sketched winged right arm. The figure's left arm is delicately hinged and held in place by a line extending out to suggest a shoulder. This same line defines the curve of the neck that ends in a circle for the head with two black dots for eyes. The left arm extends forward in a bold gesture, underscored by its wide, black and green curving shape. At its extremity, a hand seems to curve upward in the gesture of holding something. A white rectangular paper, symbolizing a mirror, hovers near the left hand.

This drawing of a woman and mirror comes closest to the sculpture he welded in iron of the same name. Gonzalez's sketches of a woman and mirror show how the artist continuously drew from his experience of reality, continuously putting his ideas on paper and then, realizing them in abstract sculptural forms.

In contrast to his sculptures, Gonzalez's drawings can be seen as a "visual diary," according to the art historian Valerie Fletcher. The drawings are "the sensitive barometer of Julio Gonzalez's way of thinking," as the art historian Josephine Whiters has commented. Gonzalez precisely dated most of his drawings with day, month, and year, unlike his sculptures that he left undated. In general, these studies in color only present visual exercises that have a tangential relation to the realized sculptures. They serve instead as a laboratory for Gonzalez's creativity, especially during the onset of the second World War when welding became impossible due to the scarcity of materials and supplies.

Collage with pastel, pen and india ink and pencil on paper - Christie's Auction House
More Julio González Artwork and Analysis:
Influences and Connections
Influences on Artist
Artists, Friends, Movements
Influenced by Artist
Artists, Friends, Movements

Interactive chart with Julio González's main influences, and the people and ideas that the artist influenced in turn.
View Influences Chart

| | | | | |
| --- | --- | --- | --- | --- |
| Artists | | Personal Contacts | | Movements |

Influences on Artist

Julio González
Years Worked: 1893 - 1942
Influenced by Artist

| | | | | |
| --- | --- | --- | --- | --- |
| Artists | | Personal Contacts | | Movements |
If you see an error or typo, please:
tell us
Cite this page

Content compiled and written by Rebecca Seiferle
Edited and published by The Art Story Contributors
" Artist Overview and Analysis". [Internet]. . TheArtStory.org
Content compiled and written by Rebecca Seiferle
Edited and published by The Art Story Contributors
Available from:
First published on 21 Aug 2017. Updated and modified regularly.


[Accessed ]