Artists
Alberto Giacometti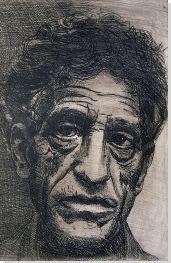 Born: October 10, 1901 - Stampa, Graubunden, Switzerland
Died: January 11, 1966 - Chur, Graubunden, Switzerland

"All the art of the past rises up before me, the art of all ages and all civilizations, everything becomes simultaneous, as if space had replaced time. Memories of works of art blend with affective memories, with my work, with my whole life."

Summary of Alberto Giacometti
Alberto Giacometti's remarkable career traces the shifting enthusiasms of European art before and after the Second World War. As a Surrealist in the 1930s, he devised innovative sculptural forms, sometimes reminiscent of toys and games. And as an Existentialist after the war, he led the way in creating a style that summed up the philosophy's interests in perception, alienation and anxiety. Although his output extends into painting and drawing, the Swiss-born and Paris-based artist is most famous for his sculpture. And he is perhaps best remembered for his figurative work, which helped make the motif of the suffering human figure a popular symbol of post-war trauma.
Key Ideas
Giacometti's work of the 1930s represents probably the most important contribution to Surrealist sculpture. In an effort to explore themes derived from
Freudian
psychoanalysis, like sexuality, obsession and trauma, he developed a variety of different sculptural objects. Some were influenced by
primitive art
, but perhaps most striking were those that resemble games, toys, and architectural models. They almost encourage the viewer to physically interact with them, an idea which was very radical at the time.
In the late 1930s, Giacometti abandoned
abstraction
and
Surrealism
, becoming more interested in how to represent the human figure in a convincing illusion of real space. He wanted to depict figures in such a way as to capture a palpable sense of spatial distance, so that we, as viewers, might share in the artist's own sense of distance from his model, or from the encounter that inspired the work. The solution he arrived at involved whittling the figures down to the slenderest proportions.
Giacometti's post-war achievement - finding a language through which to represent the figure in real space - impressed the many writers of the period who were interested in Phenomenology and
Existentialism
. Both of these philosophies contained ideas about self-consciousness and how we relate to other human beings, and Giacometti's art was thought to powerfully capture the tone of melancholy, alienation and loneliness that these ideas suggested.
Although the 1950s art world of both Europe and the United States was dominated by abstract painting, Giacometti's figurative sculpture came to be a hugely influential model of how the human figure might return to art. His figures represented human beings alone in the world, turned in on themselves and failing to communicate with their fellows, despite their overwhelming desire to reach out.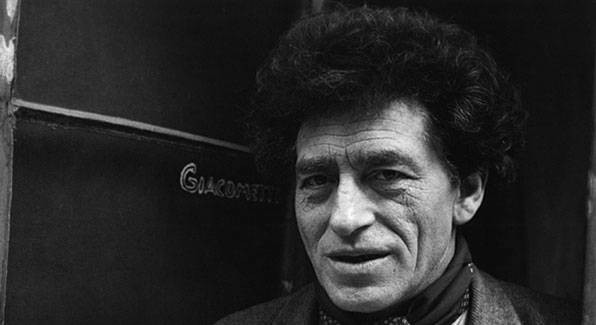 Alberto Giacometti in Paris (April 22, 1952)
Calling it "a complete transformation of reality," Giacometti was struck by a vision after leaving a cinema in Paris. Trembling with fear, he entered a familiar café and was met by a waiter, "his eyes fixed in an absolute immobility." Subsequently, he began sculpting the tall emaciated figures with prominent heads that evoked the existential angst of the post World War II era.
| | | |
| --- | --- | --- |
| Alberto Giacometti's childhood, life, career, and various anecdotes | | Read Alberto Giacometti's Biography |
Important Art by Alberto Giacometti

The below artworks are the most important by Alberto Giacometti - that both overview the major creative periods, and highlight the greatest achievements by the artist.


Artwork Images

Gazing Head (1928)

Artwork description & Analysis: In his early years, Giacometti often experienced difficulty in sculpting from life. In this despair, he began to work from memory. The early plaster bust Gazing Head, arguably the artist's first truly original work, illustrates the culmination of this effort. The flatness of the head and face - Giacometti's economical placement of smooth divots for definition - result in a bust that is at once abstract and figurative. And yet the underlying theme of the work, the act of gazing, invites viewers to ponder whether what they are looking at is in fact a mirror. When Gazing Head was first exhibited in Paris in 1929, it immediately grabbed the attention of the French Surrealists, beginning an association that would cement the early part of Giacometti's career.

Plaster - Alberto Giacometti-Stiftung, Zurich


Artwork Images

Suspended Ball (1930-31)

Artwork description & Analysis: Although works like Gazing Head caught the attention of the Surrealists, it was Suspended Ball, first exhibited at Galerie Pierre in 1930, that prompted André Breton to invite Giacometti to join the group. The sculpture's white globular form - at once floating freely and trapped in a cage - and the enigmatic segment below it, all evinced the dream-like and erotic qualities that the Surrealists adored. In fact, following the 1930 group exhibition, Salvador Dalí contributed an article on Surrealist objects for Breton's periodical, inspired by Suspended Ball. Despite this association with Breton's group, critics have also associated the sculpture with the ideas of Breton's rival, Georges Bataille. It has been argued that the elements in the sculpture are deliberately enigmatic, since while they seem to suggest a sexual act, it is unclear which element is male and which female. This confusion of categories has been said to encapsulate Bataille's notion of informe, or formlessness.

Metal, cord, plaster - Tate Gallery, London


Artwork Images

Hands Holding the Void (Invisible Object) (1934)

Artwork description & Analysis: Hands Holding the Void illustrates how Giacometti started to stray from the Surrealists after his brief association with the group. It was created as a monument to the artist's recently deceased father, embracing what the critic Carl Einstein called a "metaphysical realism." It incorporates certain primitive and Egyptian elements. The void the figure is holding is possibly the soul, or what the Egyptians called kâ. While the Surrealists embraced this work, the figurative elements indicate that the artist was beginning to move beyond them.

Bronze - Museum of Modern Art, New York
More Alberto Giacometti Artwork and Analysis:
Influences and Connections
Influences on Artist
Artists, Friends, Movements
Influenced by Artist
Artists, Friends, Movements

Interactive chart with Alberto Giacometti's main influences, and the people and ideas that the artist influenced in turn.
View Influences Chart

Artists

Personal Contacts

| | |
| --- | --- |
| | André Masson |
| | Louis Aragon |
| | Balthus |
| | Max Ernst |
| | Georges Bataille |

Movements

Influences on Artist

Alberto Giacometti
Years Worked: 1920 - 1966
Influenced by Artist

If you see an error or typo, please:
tell us
Cite this page

Content compiled and written by Justin Wolf
Edited and published by The Art Story Contributors
" Artist Overview and Analysis". [Internet]. . TheArtStory.org
Content compiled and written by Justin Wolf
Edited and published by The Art Story Contributors
Available from:
First published on 01 Jun 2011. Updated and modified regularly.


[Accessed ]