Important Art by Salvador Dalí
Progression of Art
1927
Un Chien Andalou
By the age of 24 Dalí had acquired an art education, been inspired by Picasso to practice his own interpretation of Cubism, and was beginning to utilize Surrealist concepts in his paintings. It was at this point that he joined film director Luis Buñuel to create something truly new - a film that radically veered from narrative tradition with its dream logic, non-sequential scenes, lack of plot and nod to Freudian free association.

Un Chien Andalou recreates an ethereal setting in which images are presented in montaged clips in order to jostle reality and tap the unconscious, shocking the viewer awake. For example, in this clip we find a glaring cow's eye in a woman's eye socket soliciting feelings of discomfort. In the scene that follows, a razor blade slashes said eye in extreme close-up.

The film turned out to be a sensation and gained Dalí entrance to the most creative group of Parisian artists at the time, The Surrealists. In fact, it's become known as the first Surrealist film yet remains paramount in the canon of experimental film to this day.
35mm Film - The Museum of Modern Art, New York
1929
Great Masturbator
Central to the piece is a large distorted human face looking down upon a landscape, a familiar rocky shoreline scene reminiscent of Dalí's home in Catalonia. A nude female figure representing Dalí's new-at-the-time muse Gala rises from the head, symbolic of the type of fantasy a man would conjure while engaged in the practice suggested by the title. Her mouth near a male's crotch suggests impending fellatio while he seems to be literally "cut" at the knees from which he bleeds, a sign of a stifled sexuality. Other motifs in the painting include a grasshopper - a consistent beacon for sexual anxiety in Dalí's work, ants - elusion to decay and death, and an egg - representing fertility.

The painting may represent Dalí's severely conflicted attitudes towards sexual intercourse and his lifelong phobia of female genitalia right at the cross section of meeting and falling in love with Gala. When he was a young boy, Dalí's father exposed him to a book of explicit photos demonstrating the horrific effects of venereal disease, perpetuating traumatic associations of sex with morbidity and rot in his mind. It is said that Dalí was a virgin when he met Gala and that he later encouraged his wife to have affairs to satisfy her sexual desires. Later in life when his paintings turned to religious and philosophical themes, Dalí would tout chastity as a door to spirituality. This piece has been compared to Bosch's The Garden of Earthly Delights.
Oil on canvas - Museo Nacional Centro de Arte Reina Sofía, Madrid, Spain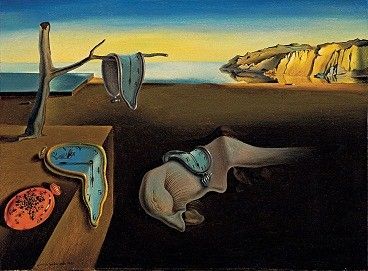 1931
The Persistence of Memory
This iconic and much-reproduced painting depicts the fluidity of time as a series of melting watches, their forms described by Dalí as inspired by a surrealist perception of Camembert cheese melting in the sun. The distinction between hard and soft objects highlights Dalí's desire to flip reality lending to his subjects characteristics opposite their usually inherent properties, an un-reality often found in our dreamscapes. They are surrounded by a swarm of ants hungry for the organic processes of putrefaction and decay with which Dalí held unshakable fascination. Because the melting flesh at the painting's center resembles Dalí, we might see this piece as a reflection on the artist's immortality amongst the rocky cliffs of his Catalonian home.
Oil on canvas - The Museum of Modern Art, New York
1933
Archeological Reminiscence of Millet's 'Angelus'
Dalí often recounted a memory of passing laborious hours at school as a child by focusing on a reproduction of the famous 1859 painting by Jean-François Millet The Angelus. In the classical piece, two farmers are depicted saying a devotional prayer moments after hearing a far-off dinner bell signal the end of their workday. In Dalí's homage, two curvaceous rock figures (another nod to the Catalonian landscape) rise at sunset; the one on the left is a female while the one on the right is male. The woman's form suggests the figure of a praying mantis, a species in which the female cannibalizes the male after copulation.

The praying mantis was a predominant theme in Surrealist works signifying the conflicting feelings of attraction and despair within the realm of desire. As The Dalí Museum describes, "In his analysis of the painting's latent meaning, Dalí felt that the female was not only the dominant partner, but also posed a sexual threat to the male..." It can thus be inferred that Dalí saw the The Angelus painting as symbolic of the repression of the male by the female - an overhanging threat to male existence. In a number of works throughout his career, Dalí reused these two forms.
Oil on panel - The Dalí Museum, St. Petersburg, Florida
1933
The Enigma of William Tell
The renowned legend of William Tell is about a man who is forced to put an apple on top of his son's head and to shoot an arrow through it. The story is a modern retelling of the Biblical sacrifice of Isaac by his father Abraham. Dalí takes this age-old tale further yet with a decidedly Freudian bent. Here, the man is holding a baby, and the baby has a lamb chop on its head. In a twist on the theme of paternal assault, the father figure is about to eat the baby, and the birds in the corner await the leftovers. Dalí had a tumultuous relationship with his family, which is hinted at upon canvas in many of his works. This piece is a fine example of how our dreams continually process such persistent dilemmas in our lives through montages of wild symbolism and subconscious representations.

Dalí used a few other tools from his symbolic toolkit in this painting. The extended buttock has a sexualized/phallic connotation. The fact that it is held up by a crutch shows the father's weakness and need for assistance. At the time Dalí made this painting he was virtually disowned by his father for his relationship with Gala who is supposedly represented by the tiny nut and baby right next to the father's giant foot, in peril of being stomped out.

This artwork also served as a bit of turning point in Dalí's relationship with the Surrealist group. The main Surrealists led by André Breton were leftist supporters of Lenin, while Dalí here gave the evil father figure Lenin's face. The Surrealists were highly upset by such depictions and started proceedings to try to kick Dalí out of their group.
Oil on canvas
1936
Soft Construction with Boiled Beans (Premonition of Civil War)
Dalí painted this work just prior to the start of the Spanish Civil War of 1936-1939 and said it was evidence of the prophetic power of his subconscious mind. He depicts the anxiety of the time, visually predicting the violence, horror, and doom many Spaniards felt during General Franco's later rule. Two grossly elongated and exaggerated figures struggle, locked in a tensely gruesome fight where neither seems to be the victor. To quote Dalí, the painting shows "a vast human body breaking out into monstrous excrescences of arms and legs tearing at one another in a delirium of autostrangulation." The boiled bean referenced in the title most likely refers to the simple stew that was eaten by the poverty-ridden citizens living through this difficult time in Spain.

Dalí's composition manages to express his political outrage. He would later continue to paint about politics and war in a series of works on Hitler and his agreement with Lord Chamberlain of Britain. This image also brings to mind Pablo Picasso's masterwork on a similar topic, Guernica (1937).
Oil on canvas - The Philadelphia Museum of Art
1936
Lobster Telephone
Dalí's Lobster Telephone is one of the most famous Surrealist objects ever created. The juxtaposition of two objects that have little to do with each other is a staple of Dada and Surrealist ideas. Here Dalí combines the telephone, an object meant to be held, intimately next to one's ear, with a large sharp-clawed lobster, its genitalia aligned with the mouthpiece. It presents a literal juxtaposition of a freakish underwater creature with a normal machine of daily life in the way of dream pairings, in which we are disconcertedly jarred from our reality and viscerally unnerved by the presence of things that make no sense on a conscious level.

Dalí collector Edward James commissioned Lobster Telephone and had four made for his own house. James also commissioned Mae West's Lips sofa from Dalí, which is simply a very large pair of lips that serve as a couch. The sexual connotations of sitting down on a set of beautiful lips are easily conjured.
Steel, plaster, rubber, resin and paper - Tate, London
1949
The Mae West Brooch
Dalí's renaissance-man mind was exceptionally creative and prolific and extended into many other fields beyond painting. For example, throughout his career, he designed enough pieces of jewelry to fill a museum. In The Mae West brooch, we find continued Surrealism in the way the teeth are literally pearls, sitting in a slightly plumped leer of a mouth, ever so slightly contorted as to make the viewer uneasy. Most designers in the world of fashion would not get away with such a warped play on perfection. But Dalí claimed that he was inspired by a clichéd phrase: "Poets of the ages, of all lands, write of ruby lips and teeth like pearls," as well as the smile of the brooch's namesake Hollywood star. Interestingly, New York art stars such as Willem de Kooning, Andy Warhol and countless others would go on to create renditions of famous, voluptuous lips in their own work.
Rubys and Pearls in setting - Dalí Jewels Museum, Figueres, Spain
1951
In Voluptas Mors
At first glance at this photograph, the viewer sees a skull, but deeper observation reveals it is actually composed of seven nude female models. Dalí designed the precise sketch for this work and it took the photographer Philippe Halsman over three hours to realize the image. The photograph's title is loosely translated as "Voluptuous Death". Dalí said, "I value death greatly. After eroticism, it's the subject that interests me the most."

The piece is an excellent example of Dalí's many experiments with optical effects and visual perception. Here one can see a skull or the seven nudes, but not both at the same time. The particularities of our individual, visual perception was something Dalí was very interested in because he felt we could find clues about our inner psyches through the different associations artwork evoked. He used these double-image experiments in dozens of works throughout much of his career.

Halsman was an established photographer and photojournalist who holds the record for the largest number of Time magazine covers photographed by any one person. After meeting in 1941, Dalí and Halsman worked together for 37 years, until the end of Halsman's life. Their cooperation also produced the famous photograph Dalí Atomicus (1948), and the book Dalí's Mustache (1954), which featured 28 different photographs of the artist's iconic facial hair.
Gelatin silver print
1954
Young Virgin Auto-Sodomized by the Horns of Her Own Chastity
This painting documents Dalí's interest in exaggerating the representation of the female form and his use of abstracted backgrounds. The main force within the painting is clearly its sexual allusion: the rhinoceros horns, commonly used by Dalí, in this case are overtly phallic, both components of the central buttock and disparate images threatening to penetrate it. The painting's title offers a direct clue about the aggressively sexual tone of the work. Art history professor Elliot King was quoted in Dawn Ades' book Dalí as saying, "as the horns simultaneously comprise and threaten to sodomize the callipygian figure, she is effectively (auto) sodomized by her own constitution." The painting therefore reinforces Dalí's conflicting views toward women as mysterious objects of power, seduction, and fear.

Dalí's preoccupation with the phallus was a central theme throughout his career, though the degrees to which his works were aggressive or passive differed period to period. This work, not so surprisingly, was owned by Hugh Heffner and hung in the entryway to the Playboy Mansion for a number of years before being sold in 2003.
Oil on canvas - Private Collection
1954
Crucifixion (Corpus Hypercubus)
Dalí is said to have been a rather poor student in his early years, especially in mathematics. But as the first nuclear warheads exploded in Japan, Dalí became very passionate about atomic theory and related topics. This new interest coincided with a change in his artistic style, leading him back to the realm of classical techniques. The result were paintings that combined his earlier passions for Catholicism and Catalan culture with his new discoveries in math and science - he called this new art theory in his oeuvre "nuclear mysticism."

Dalí became especially interested in representing the fourth dimension as can be seen in this work. We see the depiction of the familiar Crucifixion, but instead of painting a regular cross, Dalí uses a mathematical shape called the tesseract (also known as a hupercube). This tesseract is a representation of a four-dimensional cube, in a three-dimensional space, a rather advanced spatial concept. In fact, Dalí worked with Professor Thomas Banchoff of Brown University Mathematics for many years later in his career to solidify his knowledge.

Interestingly, Dalí combined his interest in spatial mathematics with a growing personal struggle with religion. In later years, he expressed his feelings about Catholicism in this way: "I believe in God but I have no faith. Mathematics and science have indisputably proved that God must exist, but I don't believe it." With paintings such as Crucifixion, Dalí explores combing these two in one devotional representation. In fact, his painting Christ of Saint John of the Cross (1951) similarly deals with divine mathematics and is considered by many to be the greatest religious painting of the 20th century.
Oil on canvas - The Metropolitan Museum of Art, New York
Similar Art
Influences and Connections
Influences on Artist

Influenced by Artist
Friends & Personal Connections
Friends & Personal Connections
Useful Resources on Salvador Dalí