Movements, Styles, and Tendencies
Biomorphism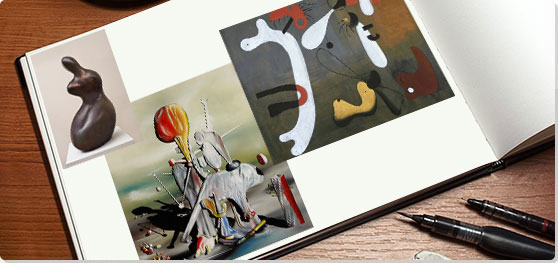 Biomorphism
Started: 1924
Ended: 1955

Summary of Biomorphism
Amidst a societal hangover from World War I, many European artists were going inward to mine what lies beneath. Many took part in the burgeoning interest in psychology and the physical sciences, finding inspiration in both the invisible signs and symbols that bubbled up from the subconscious and the visible internal cellular structures and life forms that make up the body. With roots deeply connected to Dada and Surrealism, an intuitive mode of expression coined "Biomorphism" emerged, in which an artwork's elements became modeled on naturally occurring patterns, biological forms, and shapes. This fluid way of creating art from emotion and its resulting curvilinear aesthetic infiltrated all parts of society from painting and sculpture to decorative arts and interior design.

Uncapitalized, the term "biomorphic" was used to describe earlier treatments in art history, such as Rococo's common decorative motif resembling shells and acanthus leafs or Art Nouveau's serpentine arabesques, as well as in Islamic art's motifs evoking plant forms. It is also applied to organic-like forms used in various subsequent art movements.
Key Ideas
Biomorphism lent itself perfectly to the Surrealist impetus to portray the internal unconscious through automatic, stream-of-consciousness art. Even with sculpture, the practice of direct carving and using the material's grain, texture, and density to energetically shape the artwork, carried the mark of automatism. By allowing the art medium and material to inform an intuitive flow of expression, the artist brought forth a connection between the viewer and his or her own inner spirit - an artistic bridge between the human subconscious and reality.
Many biomorphic forms were seen as abstracted derivations of reality, both slightly recognizable and non-identifiable simultaneously. A common motif emphasizing this relationship between familiarity and ambiguity was in the visual correspondence between the human body and the natural landscape.
To create biomorphic images and textures, artists employed a slew of innovative painting techniques including decalcomania, where a piece of glass or paper was placed over a painted surface then removed; grattage in which an object was placed beneath paper and then painted over; and frottage, laying paper over an object and then rubbing with charcoal to create an imprint.
Many Biomorphic artists believed that the intuitive process of organic abstraction in art was an essential vehicle, via which one could arrive at the great elemental truths of existence, fortify their own spiritual aspirations, and reveal visions and messages about the future.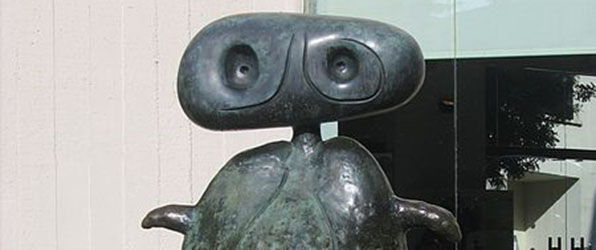 The Surrealist Joan Miró said "I intend to destroy, destroy everything that exists in painting. I have utter contempt for painting." By the 1960s, Miró had indeed transcended the canvas and moved into sculpture, producing strange, comical characters that he called "personages" as he sought through Biomorphism to reflect humanity through his three-dimensional, phantasmagoric worlds.
Important Art and Artists of Biomorphism

The below artworks are the most important in Biomorphism - that both overview the major ideas of the movement, and highlight the greatest achievements by each artist in Biomorphism. Don't forget to visit the artist overview pages of the artists that interest you.

Harlequin's Carnival (1924-1925)

Artist: Joan Miró

Artwork description & Analysis: Every area of this festive pictorial space is inhabited by lively and quixotic biomorphs, some of which are identifiable while simultaneously being non-representational like the small "cat" in the lower right, standing on its hind legs and leaning forward with outstretched "arms." The juxtaposition between true resemblances evoked and those improbably reconfigured creates a sense of an imagined world, itself evoked by the green globe at center right, populated by dream creatures. The title's harlequin stands at central left, identifiable as the stock character in the Italian commedia dell'arte by the black and white checks on his "torso." His body is shaped like a distorted guitar, as, wearing an admiral's hat and sporting a pipe and a long swirling mustache, his whimsical appearance is belied by his sadness. His red and blue face stares out at the viewer, while a hole in his stomach perhaps reflects the artist's own hunger, as he described coming home after a day of no food and creating the painting in a kind of automatic trance.

Pioneering Miró's biomorphic approach, the work was his first truly Surrealist painting. The biomorphic forms invited symbolic meaning, as Miró explained the green sphere represented his obsession with "conquering the world," or that the black triangle symbolized the Eiffel Tower, while the ladder with its ear and eye represented both evasion and elevation. Yet, the forms, merging and melding like teaming protozoa seen by a microscope, overturn the hierarchies of the conscious world, including those of art. The viewer is drawn into the wonderment of the floating hand, the strange squiggly creatures, and the shooting stars. As the artist said, "I'm only interested in anonymous art, the kind that springs from the collective unconscious."

The harlequin, a character known as foolish and always unhappy in love, became a popular stand-in for artists as early as the Rococo period. It was seen in Antoine Watteau's Harlequin, Emperor on the Moon (1707), and was often employed by Picasso as seen in his Harlequin with Glass (1905).

Oil on canvas - Albright-Knox Art Gallery, Buffalo, New York

Mama, Papa is Wounded! (1927)

Artist: Yves Tanguy

Artwork description & Analysis: In a vast landscape, a kind of eerie light illuminates a hairy stalk extending upward on the right toward a dark clotted form. On the upper left, along a dark horizon, a cactus-like form is caught in a kind of cat's cradle of cobwebs that extend into the foreground. Small biomorphic shapes, casting strong shadows, stand on the pallid sand. A mysteriously ominous feeling is created as associations are evoked while escaping identification.

To create the work, the artist painted the background first, before adding his unique creatures, that resemble microscopic animals, bone-like shapes, vegetable forms, and melted stone. Andre Breton dubbed them "subject-objects" as they seem both objects of contemplation but subjects with agency.

As art historian James Thrall Soby wrote, "The picture illustrates with extraordinary acuteness a relative constant of Tanguy's technique: the dual manipulation of perspective, from far to near and from high to low.. perhaps no other modern painter has so insistently dramatized an opposition between these two dimensions. The fascination.. stems in part from its ambiguous placing of forms within vertical space, as if.. gravity had lost its hold and released a chimerical medley above the placid earth."

This work was exhibited in Tanguy's first solo exhibition at the Galerie Surréaliste, where Breton wrote in the catalogue that Tanguy "invited us today to meet him in a place which he truly discovered...There are no landscapes. There is not even a horizon. There is only, from the physical point of view, our immense suspicion which surrounds everything." Breton also described the origins of the title; "I remember spending a whole afternoon with him...leafing through books on psychiatry in the search for statements of patients which could be used as titles for paintings. The picture.. Mama, Papa is Wounded! is one of them." The title only heightens the ambiguity of what art historian Nathalia Brodskaïa described as "The emptiness of the endless plain, the threatening cloud of black smoke moving overhead, the solitary, prickly plant and the forsaken, helpless creature-objects inspire a sensation of acute anxiety."

Tanguy became well known due to such works, and he influenced his contemporaries including Arp, Salvador Dali, and Isamu Noguchi, as well as later Surrealists including Roberto Matta, Esteban Francés, and Wolfgang Paalen. His development of automatic painting also influenced Mark Rothko and Jackson Pollock. Carl Jung, whose psychological theories informed Surrealism, later used one of Tanguy's works to illustrate his concept of the collective unconscious.

Oil on canvas - Museum of Modern Art, New York

Cloud Shepherd (1953)

Artist: Hans Arp

Artwork description & Analysis: The highly polished surface of this bronze work lends an illusion of softness, as if the surface had been eroded by wind or rain. The voluptuous lower forms suggest limbs as they uplift into curvaceous and buoyant shapes. The figure is whimsically anthropomorphic.

Arp is well known for Cloud Shepherd, his first large scale public work which exists in several versions throughout the world, and which also plays with the viewer's perception, as it both evokes clouds and reflects clouds and their shadows on the burnished mirror of its surface. By the 1950s Arp had become famous for his biomorphic sculptures which he pioneered 20 years earlier as he created plaster models and then sanded them in a kind of automatic state, saying, "I work until enough of my life has flowed into its body." He intended to create a correspondence between artistic creativity and nature's creative forces, as he saw both as flowing from an intuitive source.

Originally he made small sculptures and placed them in the woods, near his home in Meudon, France, so they might be randomly discovered by passersby. As art curator Cathy Craft said, "He wanted to give his works more freedom for interpretations, to let in other emotions like humor and not control the viewer's response.. viewers could actually become participants in the composition of the sculpture by moving these objects around. And that kind of freedom in 1930 was very unusual."

Arp's sculpture influenced Barbara Hepworth, Henry Moore, and later artists, including Ken Price and Tony Craig. As art critic Michael Kimmelman wrote, "dozens of painters who nowadays explore biomorphic abstraction depend, more or less knowingly, on Arp. So do many of the Conceptualists, who trace their roots to Dada. And so do many of the abstract painters whose textured, layered surfaces find precedents in some of the painted wood reliefs.. Arp was also among the first to promote collective, anonymous art."

Bronze - Collection of Central University of Venezuela, Caracas
More Biomorphism Artwork and Analysis:
If you see an error or typo, please:
tell us
Cite this page

Content compiled and written by Rebecca Seiferle
Edited and revised, with Synopsis and Key Ideas added by Kimberly Nichols
" Movement Overview and Analysis". [Internet]. . TheArtStory.org
Content compiled and written by Rebecca Seiferle
Edited and revised, with Synopsis and Key Ideas added by Kimberly Nichols
Available from:
First published on 09 Mar 2019. Updated and modified regularly.


[Accessed ]