Artists
Anish Kapoor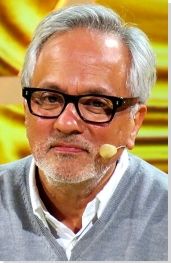 Born: 1954 - Mumbai, India

"The act of making a mark is violent and that's poetic."

Summary of Anish Kapoor
Anish Kapoor transformed the cool, conceptual, and minimal approach to sculpture by adding lyricism, metaphor, and the heat of the primordial. Objects spill out from their own parameters suggesting an excess of emotion, yet they also stand serenely as in meditative focus for ritual. Typically, the sculptures appear abstract, with Kapoor's intention to promote self-reflection made most obvious when using mirrored surfaces. He does not wish to present a prescriptive idea, but instead to create an environment within which people themselves can consider meaning. As the viewer becomes part of the sculpture, each work speaks of the confined individuality of a single body, but also of the expansive inclusiveness of a shared place. At once celestial and earthy, art by Kapoor evokes untouchable far away planets alongside the soft warmth of a close pregnant belly. His sculptures paradoxically entwine esoteric philosophy with sensual everyday experience.
Key Ideas
Like sculptors of the same generation, including
Richard Serra
and
Antony Gormley
, Kapoor asks his audience to consider how they exist in and move through space. His public works are at once graceful and imposing, raising the question of how human presence impacts upon the natural environment as he seeks to create a respectful and interesting relationship between the two.
Kapoor repeatedly returns to the notion of origin. Although not explicit, the beginning of life is constantly referenced. Kapoor makes holes, often vulva-like, and curves to illustrate pregnancy, as the journey towards birth from our mother's womb is highlighted. Red becomes the color of blood, the body, and the initiation of life's journey.
Kapoor's interest in infinity, void, and endlessness is as much an interest in carving out space to consider meaning, as it is a reflection on the state of no-thing-ness, and a clearing of the mind. The color black, like an abyss in the cosmos, signifies an opening for new and unpredictable experiences and presents limitless opportunity for self-development and contemplation.
His is a particularly international body of work, with momentous public sculptures placed as icons all around the globe. Kapoor gives the world a way to speak without words; like the ancient cave painters and the Egyptian's before them, artists recognize that there is a way to communicate in which everyone can understand. Kapoor builds a pictorial language of symbols that translates across cultures and time.
Viewed from above, Kapoor's pigment sculptures become painterly. They transform to recall
Constructivist
and
Suprematist
canvases by
Kazimir Malevich
as well as abstract paintings by
Paul Klee
. In this sense, Kapoor achieves a typical artist's goal, to unite metaphysical dualities including light and dark, earth and sky, mind and body, male and female, and in this case, painting and sculpture.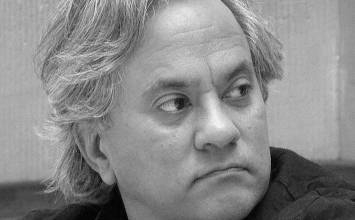 Anish Kapoor was born in 1954 in Mumbai, India. His mother was the Iraqi-Jewish daughter of a rabbi who immigrated to India from Baghdad with her family when she was an infant. His Hindu father was a hydrographer for the Indian Navy, who spent much of Kapoor's childhood on the ocean collecting data and charting marine navigation. Both of his parents were very modern and cosmopolitan, and sent Anish and his younger brother, IIan, to the prestigious Doon School, an all-boys boarding school in Dehra Dun. There the boys learned equally as much European history as they did knowledge about India. Because of this exclusive education, combined with the diversity and forward thinking within his own family, Kapoor spent his childhood feeling like an outsider unsure of his identity within Indian society. In his late teens, his sense of not belonging developed into deep internal turmoil. "I was seriously fucked up, full of inner conflict that I didn't know how to resolve." As result, Kapoor spent the next 15 years in psychoanalytical therapy, acquiring the tools needed to cope with his imbalance.
Important Art by Anish Kapoor

The below artworks are the most important by Anish Kapoor - that both overview the major creative periods, and highlight the greatest achievements by the artist.


Artwork Images

1000 Names (1979-80)

Artwork description & Analysis: Inspired by the rich colors of India and embracing his Eastern heritage, Kapoor used saturated pigment and geometric shapes to create groupings of sculptures that were strikingly simplistic. Kapoor worked on such sculptures throughout the 1980s and decided that as each and every piece was somehow related to the next, he would give them all a generic title of 1000 Names, to suggest infinity. The series consisted of arrangements of monochromatic objects set on the ground or hung from the walls. Inspired by sculptor Anthony Caro's removal of the plinth, Kapoor placed his geometric sculptures directly on the ground, as an integrated part of their surrounding environment. In a performance influenced by his time at art school, Kapoor ritualistically laid loose pigment in red, white, yellow, and blue over the simple forms, with the pigments eventually spilling beyond the objects themselves and onto the floor or wall. As Kapoor explains, "1000 Names implies that the objects are part of a much bigger whole. The objects seem to be coming out of the ground or the wall, the powder defining a surface, implying that there is something below the surface, like an iceberg poking out of the subconscious." These early sculptures are the first works in which Kapoor began to manipulate the viewer's perception of space and form.

Although at this point still relatively small, built to fit the gallery environment, Kapoor's sculptures are architectural. The shapes recall pyramids, temples and skyscrapers, but also paradoxically - incense cones and candles. There is a union of the sacred and the profane, the social and the domestic at work, and also a meeting of the mind and the body. However uplifting spiritually and apparently meditative in tone, other works by the artist confirm that he is as equally concerned with the bodily.

When Kapoor returns 30 years later to pigment work, but on a much larger-scale in Dismemberment of Jeanne d'Arc (2009), connection to flesh is made more obvious through Kapoor's creation of an abstract "dismembered body" of the martyred saint. Staged in a large warehouse-like space during the Brighton Festival in England, the public work consisted of two colossal breasts, two outstretched limbs, and a pit signifying a womb and female genitalia. The mounds and pit were then covered in red powdered pigment to evoke Joan's naked, bloody, and tortured body. Dismemberment of Jeanne d'Arc helps to highlight the fact that however minimal, 1000 Names speaks of a path to enlightenment that marries ethereal musings with the importance of flesh.

Wood, gesso, and pure pigment - Reina Sofia, Madrid, Spain


Artwork Images

Void Field (1989)

Artwork description & Analysis: Having made a name for himself with his pigment pieces, controversy soon followed Kapoor as he was selected to represent Britain at the 1990 Venice Biennale while still officially an Indian citizen. Aware of the cultural and historical clashes between the East and the West, he created Void Field, a work that quite explicitly both highlights and soothes the dichotomy. By combining British stone and Indian pigment, he marries his roots and wings. Consisting of 16 large, roughly cut Northumbrian sandstone blocks, Kapoor carefully carved holes in each one, filling them with a deep powdered black pigment. The result is at once womb-like and celestial, making reference to the space where we all once were, and also to a mystery place where we will never get to go.

The presence of the artist's hand is a subtle intervention engaged with the power of nature felt strongly, aligning Kapoor's piece to works by his contemporary Antony Gormley, and also to the more explicit land artist, Richard Long. Furthermore, the act of bringing the stones into the display pavilion in 1990, which interestingly, had been built in 1887 during British colonial rule of India, was seen as a subversive gesture since the heavy stones were costly to move and required the building's floor to be reinforced. Overall, Kapoor understood that Venice was a fitting site to display this particular work because as Henry Meyric Hughes, art historian and British Commissioner for the Venice Biennale in 1990 explains, "Venice is an interchange of East and West [and reflects] the way Kapoor borrows from both cultures."

To focus too strongly on nationality in exploration of Kapoor's work would be a mistake as he is ultimately interested in the sameness of the human condition irreverent of background. The artist himself says, "I am Indian but to see everything in terms of nationality is limiting. I don't see myself as an Indian artist; neither do I see myself as a British artist. I am an artist who works in Britain. The work has to be looked at from as wide a base as possible." In response to this work, and to his efforts at the Biennale, Kapoor was awarded the Premio Duemila for a Work of a Young Artist under 35.

16 sandstone blocks and pure blue pigment - Venice Biennale, 1990


Artwork Images

When I am Pregnant (1992)

Artwork description & Analysis: Revealing itself only when viewed in profile, When I am Pregnant, consists simply of a white bulge protruding seamlessly from the gallery's white wall. The seamlessness of the sculpture's protrusion allows it to be simultaneously its own entity and part of the entire wall, at once a body and a piece of architecture. Depicting a pregnant belly extending from the fabric of the building, Kapoor reveals once again that however minimalist his sculptures may first appear, that they are in fact always interested in the complex deeper meanings of how and why life is created and born. There is also the sense here that making art is itself an act similar to the experience of pregnancy; the artist conceives an idea and then they live and grow with this idea, until it has become ripe and ready to be born. At this point, the artwork (or the child) is guided into the world, and the creator must let go, which can in both scenarios be an intensely difficult process.

Later, Kapoor would continue to explore the same theme and begin to make works that are the inversion of When I am Pregnant. Yellow (1999) for example, is a large, concave wall piece painted a bright, saturated yellow, creating a sunny, circular void seamlessly within the gallery wall. Pregnancy and womb related images featured in the earlier years also, including the series referring to Mother as Mountain (1985), and later Madonna (1989-90). This is a recurring interest for Kapoor, one shared by other contemporary sculptors, including Juan Munoz and Damien Hirst. It has also been said that When I Am Pregnant is part of a continuing exploration of Kapoor's ideas surrounding what constitutes nothingness and substance. "The idea that if I empty out all the content and just make something that is an empty form, I don't empty out the content at all. The content is there in a way that is more surprising than if I tried to make a content."

Fiberglass and paint - Du Pont Museum of Contemporary Art, Tilburg, Netherlands
More Anish Kapoor Artwork and Analysis:
Influences and Connections
Influences on Artist
Artists, Friends, Movements
Influenced by Artist
Artists, Friends, Movements

Interactive chart with Anish Kapoor's main influences, and the people and ideas that the artist influenced in turn.
View Influences Chart

| | | | | |
| --- | --- | --- | --- | --- |
| Artists | | Personal Contacts | | Movements |

Influences on Artist

Anish Kapoor
Years Worked: 1979 - present
Influenced by Artist

Artists

| | |
| --- | --- |
| | Richard Deacon |
| | Conrad Shawcross |

Personal Contacts

Movements
If you see an error or typo, please:
tell us
Cite this page

Content compiled and written by Katelyn Davis
Edited and revised, with Synopsis and Key Ideas added by Rebecca Baillie
" Artist Overview and Analysis". [Internet]. . TheArtStory.org
Content compiled and written by Katelyn Davis
Edited and revised, with Synopsis and Key Ideas added by Rebecca Baillie
Available from:
First published on 19 Nov 2017. Updated and modified regularly.


[Accessed ]