Artists
Zaha Hadid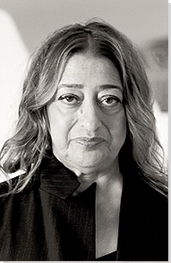 Zaha Hadid
Iraqi-British Architect and Painter
Born: October 31, 1950 - Baghdad, Iraq
Died: March 31, 2016 - Florida, United States

"The idea is not to have any 90-degree angles. In the beginning, there was the diagonal. The diagonal comes from the idea of the explosion, which 're-forms' the space. This was an important discovery."
Summary of Zaha Hadid
First woman to break the glass ceiling of the "Starchitect" universe, dwelling amongst greats such as Frank Lloyd Wright and Le Corbusier, Iraqi-born Zaha Hadid's pioneering vision challenged notions of what could be achieved in building. Coined the "Queen of the Curve," her highly inventive designs liberated architecture from its traditional treatment of concrete and steel and introduced radical new ways to envision spaces in synchronicity with their surroundings. With a foundation in painting and the utilization of progressive digital technologies, Hadid's creativity was unbound by existing typologies and her innovative approach helped shift the geometry of buildings toward a radical new aesthetic.
Key Ideas
Before ever seeing one of her designs realized as a physical building, Hadid's architectural drawings and paintings were gaining her international acclaim. Through wildly imaginative and intricate abstractions, she was already questioning the idea that a building was merely a solid mass, paying attention to the relationships between its individual elements.
Although not aligned with any particular school, much of Hadid's work has been linked to Deconstructivism in its sculptural treatment of architecture as a container for interconnective spaces, dramatic untraditional angles, and volumes bursting with many little pieces. In this way, her realized buildings echoed her earlier paintings.
Her consistency with questioning the status quo led Hadid toward the development of new digital techniques that allowed her to depart from the standard horizontals and verticals and to reimagine the structural engineering of bold new forms. Her firm would coin the term Parametricism to define this signature look and feel.
Hadid's position as a world-renowned architect dedicated to her career above all else was further emphasized by the fact that she was a woman and a Muslim. Bold, unapologetic, and progressive, she helped bash stereotypes while infiltrating a field that had largely held a longstanding reputation as a male-held profession.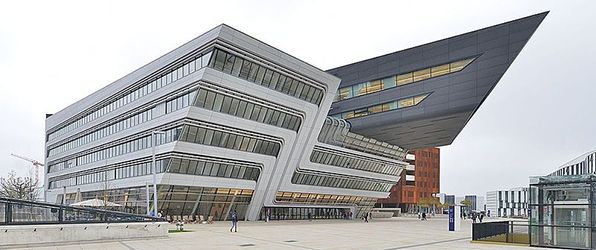 Hadid's futuristic design for The Library and Learning Center on the Campus of the Vienna University of Economics and Business, Austria
When British journalist Simon Hattenstone met Zaha Hadid at her east London home, he compared her to the Queen of Hearts, roaring "off with their heads" at her subordinates. "She is a fantastic monster, uncompromising dictator of her own wonderland, and one of the world's great architects," he wrote.
Important Art by Zaha Hadid

The below artworks are the most important by Zaha Hadid - that both overview the major creative periods, and highlight the greatest achievements by the artist.


Artwork Images

The Peak Blue Slabs (1982-83)

Artwork description & Analysis: This painting was made in the early years of Hadid's career as an architect, before any of her designs had been constructed. It shows her un-built yet competition-winning design for a private leisure club - The Peak - on a mountainside in Hong Kong. The painting emphasizes the sympathetic relationship between the jagged edges of the leisure center and those of the mountain, and positions the building within the topography of the site. The flat surface of the painting acts to remove any boundary between building and landscape - a distinction that Hadid remained interested in blurring throughout her career.

Inspired by the Russian Suprematist painter Kazimir Malevich's abstract geometric paintings, the piece explores Hadid's three-dimensional subject matter in this two-dimensional work, demonstrating her interest in spatial relationships. The architect spoke of how Malevich's paintings helped her to use abstraction as a way of investigating different designs. According to the curator Hans Ulrich Obrist, "Her buildings may be made of metal, glass and concrete, but their building blocks are her sketches, drawings and paintings."

During this period, and throughout her career, Hadid used painting as a method of representing her building designs in the abstract, often showing them as a disassembled collection of parts, which was a signature of Deconstructivism. She described The Peak in this painting as dissolving into a "confetti snowstorm." Her view was radical as it departed from the conception of buildings as solid masses. Rather, the elements of the building are suspended in the landscape as if extending or exploding from it. According to Obrist, the painting has "the idea of zero gravity, a kind of floating - that is the incredible thing she achieves."

The Peak Blue Slabs was on display at the exhibition Zaha Hadid: There Should Be No End to Experimentation in 2017 at the Serpentine Gallery. Here, her drawings and paintings were shown as artworks in their own right.

Acrylic on canvas - collection unknown

Vitra Fire Station (1989-93)

Artwork description & Analysis: The Vitra Fire Station was Hadid's first built work, though she had already made her name as a "paper architect" on account of her creative and ambitious architectural drawings. The client was Rolf Fehlbaum of the Swiss furniture firm Vitra, who would become a member of the jury for the prestigious Pritzker Architecture Prize in 2004 (the year it was won by Hadid). In 1989, Fehlbaum had commissioned Frank Gehry to build a design museum at the Vitra factory in Weil am Rhein, the first of several buildings by notable architects that now make up the Vitra campus. The following year, Hadid won a design competition to create a small fire station for the factory (which had experienced a major fire in 1981).

Hadid's design was entitled "Movement Frozen," which could refer both to its dynamic geometry (some critics have likened its form to a bird in flight) and its being alert to respond to an emergency by bursting into action at any time. It employs glass and concrete block in angled planes that appear stretched, as if in perspective. According to the Architectural Review, these sharp angles and pointed features such as the entrance porch demand our attention and connote a sense of urgency. Cast on site, according to architectural photographer Hélène Binet, it demonstrated new possibilities for working in concrete: "[Hadid] created an incredible signature. Concrete became something else... after her."

The walls and planes are arranged in layers, with the functions of the building dispersed between them. These include areas for fire engines, changing rooms for firemen, a conference room and a kitchenette, all connected by internal streets. There are few pure horizontal or vertical planes, which can disorient those who inhabit the building. This sense is also reinforced by the lack of color. Journalist Harry Mount concurs, "Its shrieking concrete angles and disruptive interiors photographed very well and were dutifully recorded in the magazines, but were not much liked by the firemen. It was decommissioned and is now an exhibition centre."

The latter statement is due to the fact that a new public fire station was opened in the area of Weil am Rhein. Nevertheless, the Vitra Fire Station served its purpose for Hadid of launching her career as an architect of built works. It now functions as an exhibition and event space for the Vitra design museum, while remaining in the care of the Weil am Rhein and the Basel fire services with respect to maintaining the building. It remains a prime example of Hadid's commitment to challenging the status quo, both in presenting a work of unusual complexity to house a familiar public service, but also in her re-envisioning the angular by breaking it out from its typical 45 or 90-degree mold.

- Weil am Rhein, Germany

Lois & Richard Rosenthal Center for Contemporary Art (1997-2003)

Artwork description & Analysis: The Center for Contemporary Art (later the Lois & Richard Rosenthal Center for Contemporary Art), founded in 1939, was one of the first of its kind in the United States. Its initial premises, although central, had little visibility to the street and so a design competition was held in 1997 to create a new presence for the center. Hadid's competition entry proposed several gallery volumes, suspended from a concrete plane. This arrangement would inform both the interior and exterior of the building. The gallery spaces are variously shaped and sized and with different lighting strategies, to accommodate a range of contemporary art pieces. Hadid called the arrangement of galleries the "jigsaw puzzle" to describe how the different volumes slotted together.

The given site for the new building, a busy street corner in downtown Cincinnati, also helped to inspire the design. The facade to the street is translucent, inviting passers to look inside, and breaking down the stereotype of the museum in general as remote and uninviting. One critic commented, "This is a building that does not so much sit on its street corner as continuously arrive there."

In this same vein, Hadid developed the idea of an "urban carpet" to create continuity between the museum and the street, thus driving footfall into the building. By this it is meant that the ground floor of the building functions as a public square, albeit enclosed by glazing. The surface of this floor curves upwards as it meets the wall, as if to invite visitors up into the gallery spaces above. This sense of movement continues throughout the museum, as various lighting conditions in different areas create "channels of light," which draw visitors through the space.

At the building's opening in 2003, it was the first American art museum designed by a woman and it was also Hadid's debut in the United States. "[It is] the most important American building to be completed since the end of the Cold War," said architecture critic Herbert Muschamp. He went on to praise the building's "cosmopolitan values" which he also believed to be embodied by Zaha herself (perhaps on account of her multi-cultural and international upbringing).

- Cincinnati, Ohio, United States
More Zaha Hadid Artwork and Analysis:
Influences and Connections
Influences on Artist
Artists, Friends, Movements
Influenced by Artist
Artists, Friends, Movements

Interactive chart with Zaha Hadid's main influences, and the people and ideas that the artist influenced in turn.
View Influences Chart

Artists

Personal Contacts

| | |
| --- | --- |
| | Rem Koolhaas |
| | Frank Gehry |
| | Robert Stern |
| | Norman Foster |
| | Peter Cook |

Movements

Influences on Artist

Zaha Hadid
Years Worked: 1977 - 2016
Influenced by Artist

Artists

| | |
| --- | --- |
| | Zaha Hadid Architects |
| | Patrik Schumacher |

Personal Contacts

Movements

| | |
| --- | --- |
| | Deconstructivism |
| | Parametricism |
If you see an error or typo, please:
tell us
Cite this page

Content compiled and written by Dawn Kanter
Edited and revised, with Synopsis and Key Ideas added by Kimberly Nichols
" Artist Overview and Analysis". [Internet]. . TheArtStory.org
Content compiled and written by Dawn Kanter
Edited and revised, with Synopsis and Key Ideas added by Kimberly Nichols
Available from:
First published on 08 Jul 2019. Updated and modified regularly.


[Accessed ]