Artists
Le Corbusier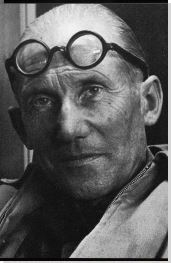 Le Corbusier
Swiss-French Modern Architect, Urban Planner, Designer, Sculptor, Painter, and Writer
Movements and Styles: Modern Architecture, The International Style, Purism, Brutalism
Born: October 6, 1887 - La Chaux-de-Fonds, Switzerland
Died: August 27, 1965 - Roquebrune-Cap-Martin, France

"Space and light and order. Those are things that men need just as much as they need bread or a place to sleep."

Summary of Le Corbusier
Few architects have a schnauzer that they name "Pinceau" ("Paintbrush"). Fewer still use their deceased schnauzer's skin and hair as the binding for a copy of Don Quixote. And there are few architects who can compare with the stature of Le Corbusier. This highly polemical designer hailed from obscurity in the Swiss Jura Mountains to become (arguably) the most influential urban planner and architect of the 20th century. He was one of the key designers who formulated the ideas behind a truly modern, avant-garde architecture during the interwar period. Le Corbusier's ideas about immense, rationalized, zoned, and industrially-constructed cities both shocked and seduced a global audience, and while they never came to fruition as a cohesive vision, his disciples put many of their pieces into place around the world, both during and after his lifetime. Over fifty years after his death, Le Corbusier still manages to exercise influence and arouse hatred for his ideas and buildings. His complex ties to politics and the sociological dimensions of architecture - along with his voluminous records and archives - mean that he will continue to be the subject of debates for decades to come.
Key Ideas
Le Corbusier was and remains a highly polemical figure in the history of modern architecture. Widely praised as a visionary whose imaginative plans for urban agglomerations and spaces dramatically transformed our understanding of what a city should be and could look like, he is equally reviled for the soulless monotony that his strand of modernism encouraged and the wanton destruction of the urban fabric that he both championed and prompted among his followers in urban planning during the latter half of the 20th century.
Le Corbusier is one of the major originators of the
International Style
, along with such contemporaries as
Ludwig Mies van der Rohe
and
Walter Gropius
, with whom he once worked, among many others. His work was featured especially prominently in the landmark exhibition in 1932 at the Museum of Modern Art in New York - and subsequent book - that gave the movement its name.
Le Corbusier's role in the birth of modern architecture is magnified because of his ability to elucidate and disseminate his principles succinctly and forcefully. His Five Points of a New Architecture, which form the backbone of his architectural thought of the 1920s, constitute some of the most direct set of ideas in architectural theory, which he successfully demonstrated in his numerous contemporaneous villas of the interwar period.
Le Corbusier's early writings and buildings glorified
modernism
and modernity as the key to bringing society out of the cataclysm of World War I at the beginning of the 1920s, a time when many others shrank from the embrace of modern life. Indeed, his architecture and faith in technological progress and heavy industry helped create what many architectural historians would later call "the machine age."
Le Corbusier's political and ideological positions remain fraught with complexities and controversy - at times he could be labeled a capitalist, a communist, or a Fascist - and his copious inspirations and voluminous records and archival materials provide critics and scholars with a seemingly endless array of possible interpretations.
Charles Édouard-Jeanneret was born in the fall of 1887 in the small industrial town of La Chaux-de-Fonds, in the section of the Alps called the Jura Mountains, just across the border from France. The city was known for its renowned watchmaking industry. His father was a watch engraver and enameller, and his mother worked as a music teacher. They encouraged their son to study decorative arts in the hope that he would also become an engraver of watchcases. Jeanneret also frequently made trips with his father into the mountains around La-Chaux-de-Fonds, becoming intimately acquainted with nature and the environment.
Important Art by Le Corbusier

The below artworks are the most important by Le Corbusier - that both overview the major creative periods, and highlight the greatest achievements by the artist.


Artwork Images

Nature morte à la pile d'assiettes [Still Life with a Stack of Plates] (1920)

Artwork description & Analysis: After moving to Paris and meeting French painter Amédée Ozenfant, Le Corbusier (then still known as Charles-Édouard Jeanneret) coined the term Purism as the moniker for their new movement in modern painting. Purism intended to represent objects as pure, simple forms stripped of detail and to provide a timeless quality to industrial subject matter, reflecting the embrace of technology.

One of the best examples of Purism, this painting, as Kenneth Frampton has argued, "encapsulates more succinctly the [movement's] iconic ethos" by showing an ideological celebration of industrial civilization and exhibiting the "ready-made" lexicon of everyday life as an aesthetic discourse. Much like Marcel Duchamp, in 1917, had famously signed his "readymades" to raise ordinary objects to the status of high art, so does Le Corbusier here by depicting those same naked forms in paint - historically the format that promised to elevate its subject matter to a new level of respect worthy of discussion.

The pure, unadorned forms here comprise a critique of Cubism and Futurism, both movements that glorified the fragmentation or destruction of objects, the world, and the field of vision, akin to the modern destruction caused by World War I. Jeanneret and Ozenfant's manifesto-book Après le Cubisme (After Cubism), published in 1918, criticized the Cubists' work as ultimately decorative; indeed, their fragmented forms served no positive ideological purpose besides as an attractive arrangement of shapes and color. By contrast, the solidity and wholeness of the objects chosen here, and the combination of them to create new forms, represents Purism's faith in modernity and its commitment to moving civilization forward.

Oil on canvas - Kunstmuseum Basel

Pavillon de L'Esprit Nouveau, Paris (1925)

Artwork description & Analysis: The Esprit Nouveau pavilion functioned as a manifesto of Le Corbusier's ideas on modern architecture at the 1925 Exposition des Arts Décoratifs et Industriels Modernes in Paris. It illustrated his belief that industry, through the standardization required for mass-production, could create the buildings necessary for modern living. He aimed to show "the radical transformations and structural liberties reinforced concrete and steel allow us to envisage in urban housing" as well as to demonstrate that the "comfortable and elegant units of habitation, these practical machines for living in, could be agglomerated in long, lofty blocks of villa-flats." These would form the primary housing units in his urban schemes, including the Contemporary City for Three Million Inhabitants and his Plan Voisin for Paris, underwritten, like the rest of the pavilion, by a prominent French automobile manufacturer.

Both of these urban schemes, built around the culture of automobile transport, were on display in an annex attached to the prototypical unit. For Le Corbusier, the ubiquitous employment of mass-production for both automobiles and houses was the germ of the city of the future; as he had explained in Vers une architecture, they functioned as essential modern tools that were logical extensions of the human form. This stood in stark contrast to the goals of the exposition, which fetishized the objects on display as desirable (and yet disposable) accessories, which functioned merely as ends in themselves. Le Corbusier's insistence on the utility of his model, thereby exposing the crass commercialization of the rest of the fair, no doubt contributed heavily to the exposition's directors' attempts to cordon off his pavilion behind a barrier until an injunction from the Ministry of Culture lifted it.

Concrete, glass, steel

LC4 - Chaise longue (1928)

Artwork description & Analysis: Described by Le Corbusier as a "relaxing machine," this chaise longue embodies his approach of placing the human body in the center of design. Indeed, Le Corbusier reportedly quipped that the design was inspired by images of American cowboys reclining with their feet propped up on a table. The chaise was designed with his longtime collaborators Pierre Jeanneret and Charlotte Perriand, who joined Le Corbusier's studio in 1927 and are responsible for most of the furniture designs that are primarily attributed to Le Corbusier.

The chair combines geometric purity with ergonomic needs, making use of the then innovative tubular steel frame, present in most modern furniture from the 1920s and '30s, most famously Marcel Breuer's Wassily Chair of 1926. The strong H-shaped base and the elegant curvature of the thin tubular frame support the padded surface bent twice in order to better accommodate one's body. A cylindrical cushion is placed on one side serving as a head support. The independence between the base and the tubular steel frame allows for multiple degrees of reclining, emphasizing the chair's multifunctionality and thus its ideal degree of utility. Manufactured by the Thonet Freres in Paris, the chaise became an icon of 20th-century design and remains in production today by the Italian company Cassina.

Chrome-plated steel, fabric, and leather
More Le Corbusier Artwork and Analysis:
Influences and Connections
Influences on Artist
Artists, Friends, Movements
Influenced by Artist
Artists, Friends, Movements

Interactive chart with Le Corbusier's main influences, and the people and ideas that the artist influenced in turn.
View Influences Chart


Influences on Artist

Le Corbusier
Years Worked: 1905 - 1965
Influenced by Artist

Artists

| | |
| --- | --- |
| | Oscar Niemeyer |
| | Berthold Lubetkin |
| | Alison and Peter Smithson |
| | Michael Graves |
| | Tadao Ando |

Personal Contacts

| | |
| --- | --- |
| | Charlotte Perriand |
| | Pierre Jeanneret |
| | Jean Prouve |
| | Lucio Costa |

Movements

| | |
| --- | --- |
| | Modern Architecture |
| | The International Style |
| | Purism |
| | Brutalism |
If you see an error or typo, please:
tell us
Cite this page

Content compiled and written by Catarina Flaksman
Edited and revised, with Synopsis and Key Ideas added by Peter Clericuzio
" Artist Overview and Analysis". [Internet]. . TheArtStory.org
Content compiled and written by Catarina Flaksman
Edited and revised, with Synopsis and Key Ideas added by Peter Clericuzio
Available from:
First published on 17 Apr 2017. Updated and modified regularly.


[Accessed ]