Artists
Leonardo da Vinci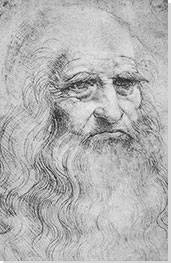 Leonardo da Vinci
Italian Painter, Designer, Sculptor, Inventor, Scientist, Architect, and Engineer
Movement: High Renaissance
Born: April 15, 1452 - Anchiano, Tuscany
Died: May 2, 1519 - Clos Lucé, Amboise (now France)

"I have offended God and mankind because my work did not reach the quality it should have."
Summary of Leonardo da Vinci
During the Italian High Renaissance, the spirit of Humanism abounded, in which artists were deeply entrenched in a study of the humanities to consistently better themselves as people of the world. A person immersed in the comprehension and accomplishment of such varied interests would become later termed a "Renaissance man." Leonardo da Vinci was the first prime exemplar of this term. Although his exhaustive personal interests led to his mastery of multiple fields, he is widely considered one of the greatest painters of all time. His iconic works continue to be studied and revered today.
Key Ideas
Leonardo was a polymath, someone whose level of genius encompassed many fields including invention, painting, sculpture, architecture, science, music, mathematics, engineering, literature, anatomy, geology, astronomy, botany, writing, history, and cartography. He is known to have said, "Learning never exhausts the mind."
Despite his exhaustive explorations into multiple areas of expertise, Leonardo is primarily celebrated as a painter. Some of his works have consistently been regarded with a timeless, universal fame such as his enigmatic portrait The Mona Lisa, his most reproduced religious work of all time, The Last Supper, and his the Vitruvian Man, an early instructive drawing of precise spatial and anatomical symmetry.
Leonardo's contribution to the aesthetic and techniques of High Renaissance art evolved
Early Renaissance
forebears such as linear perspective,
chiaroscuro
, naturalism, and emotional expressionism. Yet he exceeded many prior artists through his particular meticulous precision and the introduction of new methods such as his
sfumato
technique, a new way to blend glazes that resulted in works that appeared so realistic, it was as if his subjects lived and breathed from within the pictorial plane.
Working at full capacity with both left and right sides of his brain, Leonardo's unquenchable curiosity and inventive imagination produced many contributions to society that were ahead of his time. He is credited with making the first drawings that preordained the parachute, helicopter, and military tank. His notebooks are nearly as esteemed as his artworks. Within, they represent a culmination of his life's work and his genius mind, containing drawings, scientific diagrams, and his philosophies on painting. They continue to be studied today by artists, scholars, and scientists worldwide.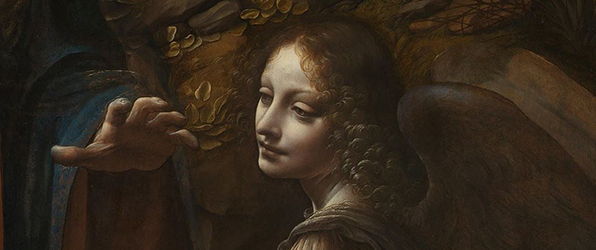 Detail from Leonardo's Virgin on the Rocks (1491-92)
"Painting is poetry that is seen rather than felt," Leonardo da Vinci famously said. He invented sfumato, an application of subtly colored glazes, to convey atmosphere and the subtle shifts of feeling across a human face.
| | | |
| --- | --- | --- |
| Leonardo da Vinci's childhood, life, career, and various anecdotes | | Read Leonardo da Vinci's Biography |
Important Art by Leonardo da Vinci

The below artworks are the most important by Leonardo da Vinci - that both overview the major creative periods, and highlight the greatest achievements by the artist.

Virgin of the Rocks (1483-86)

Artwork description & Analysis: This painting presents the Madonna with infant versions of Christ and John the Baptist, along with the archangel Gabriel. The quartet sits amongst a mystical, imagined landscape that exemplifies Leonardo's acuity with depth of perspective. Juxtaposed with the intimate group in the foreground, the fully imagined environment of desolate rocks and water lends a dreamlike quality both infusing the viewer with the sense of merging with the heavenly as well as witnessing a resonant experience of human-like tenderness. St. John was the patron saint of Florence and his depiction in this piece was important. According to Florentine tradition, he was a playmate of Christ, but he was also aware of Christ's future sacrifice for mankind. Like other artists of the time, Leonardo was interested in presenting known religious narratives in an un-idealized way, thus humanizing the secular.

The picture utilizes a pyramidal arrangement common of High Renaissance artists, although Leonardo's perfection of anatomical movement and fluidity elevates the figures with a sense of realistic motion. Their gestures and glances create a dynamic unity that was innovative for the time. Also, his sfumato style is present in the way colors and outline blend into a soft smokiness, also intensifying the naturalist feel and giving the space three-dimensionality. The painting is an early example of the use of oil pigment, which was relatively new in Italy, and allowed the artist to capture intricate details, also leading to the real life feeling of the piece.

This painting has been widely influential. Author Angela Ottino della Chiesa identified some of the paintings derived to some degree from the work including Holy Family and St. John by Bernardino Luini, the Thuelin Madonna by Marco d'Oggiono, and the Holy Infants Embracing by Joos van Cleve. Flemish artists such as Quentin Matsys have also copied the image.

Oil on wood transferred to canvas - Louvre, Paris, France

Lady with an Ermine (1489-90)

Artwork description & Analysis: The Duke of Milan, Ludovico Sforza, commissioned this portrait. In it, Leonardo depicts Sforza's sixteen-year-old mistress Ceclia Gallerani. She peers to the right, as if her attention has been caught by something happening just outside the painting's frame. She bears a look of poised knowing in direct opposition to her age. The smile, slightly coy, seems to suggest her confidence in her position at the Court, and the knowledge of the power in her beauty. She holds an ermine, bearer of the fur that was used in Sforza's coat of arms, which was added later to the portrait at the subject's request. The paradox of the ermine is that it is also a symbol of purity, embraced by a young woman prey to the sensual needs of an older man in what was a very chauvinistic age. But other interpretations suggest the ermine is representative of Cecilia's fidelity to the Duke.

Leonardo's genius in this work was in capturing a complicated emotionality through a look and a sideways gesture unconventional for portraiture. His study of the human body and its movement allowed for this precise capture of expression that is layered with subtle undertones that intrigue the viewer and invite them into the intimate world of his subject. Its lifelike immediacy captivated audiences. As art critic Sam Leith put it, "Give the painting a really good, close look and you'll see she really does have the very breath of life in her...just distracted by a noise, caught in a living moment..."

Oddly enough, Lady with an Ermine has found an unusual cult following in contemporary society. It was one of the visual inspirations for Phillip Pullman's concept of daemons in the His Dark Materials books (1995-2000). It has also inspired characters in film, science fiction, and video games.

Oil on wood panel - Czartoryski Museum, Krakow, Poland

The Vitruvian Man (c. 1485)

Artwork description & Analysis: Vitruvian Man depicts a man in two superimposed positions. In one position, the man's legs are together with arms outstretched in demonstration of the volume of a square. In the second position, the man's legs stand apart and his arms extend to demonstrate the circumference of a circle. The shading and delicate drawing of elements such as the hair give the drawing a three-dimensional graphic feel.

In the accompanying text to the drawing, Leonardo describes his intention to study the proportions of man as described by the first century BC Roman architect Vitruvius (for whom the drawing was named) in his treatise De Architectura (On Architecture, published as Ten Books on Architecture). Vitruvius used his own studies of well-proportioned man to influence his design of temples, believing that symmetry was crucial to their architecture. Leonardo used Vitruvius as a starting point for inspiration in his own anatomical studies and further perfected his measurements, correcting over half of Vitruvius' original calculations. The idea of relative proportion has influenced western Renaissance architecture and beyond as a concept for creating harmony between the earthly and divine in churches, as well as the temporal in palaces and palatial residences.

Ultimately, The Vitruvian Man is a mathematical study of the human body highlighting the nature of balance which proportion and symmetry lend us, an understanding that would inform all of Leonardo's prolific output, in art, architecture, and beyond. It also nods to Renaissance Humanism, which placed man in relation to nature, and as a link between the earthly (square) and the divine (circle.) It combines the great thinker's comprehension of science with his excellence in draftsmanship.

The image is truly legendary and has shown up referenced in numerous works of other artists from William Blake's Glad Day or The Dance of Albion (c.1794), to today's contemporary art scene as in Nat Krate's Vitruvian Woman.

Pen and ink on paper - Accademia, Venice, Italy
More Leonardo da Vinci Artwork and Analysis:
Influences and Connections
Influences on Artist
Artists, Friends, Movements
Influenced by Artist
Artists, Friends, Movements

Interactive chart with Leonardo da Vinci's main influences, and the people and ideas that the artist influenced in turn.
View Influences Chart

Artists

Personal Contacts

| | |
| --- | --- |
| | Duke of Milan |
| | Ludovico Sforza |
| | Cesare Borgia |
| | Niccolò Machiavelli |

Movements

Influences on Artist

Leonardo da Vinci
Years Worked: 1466 - 1519
Influenced by Artist

If you see an error or typo, please:
tell us
Cite this page

Content compiled and written by Zaid S Sethi
Edited and revised, with Synopsis and Key Ideas added by Kimberly Nichols
" Artist Overview and Analysis". [Internet]. . TheArtStory.org
Content compiled and written by Zaid S Sethi
Edited and revised, with Synopsis and Key Ideas added by Kimberly Nichols
Available from:
First published on 19 Jun 2018. Updated and modified regularly.


[Accessed ]