Artists
Lucian Freud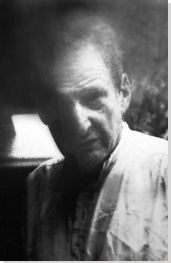 Born: December 8, 1922 - Berlin, Germany
Died: July 20, 2011 - London, England

"A painter must think of everything he sees as being there entirely for his own use and pleasure."

Summary of Lucian Freud
Lucian Freud, renowned for his unflinching observations of anatomy and psychology, made even the beautiful people (including Kate Moss) look ugly. One of the late twentieth-century's most celebrated portraitists, Freud painted only those closest to him: friends and family, wives and mistresses, and, last but not least, himself. His insightful series of self-portraits spanned over six decades. Unusual among artists with such long careers, his style remained remarkably consistent. Perhaps inevitably, the psychic intensity of his portraits, and his notoriously long sessions with sitters have been compared with the psychoanalytic practice of his famous grandfather, Sigmund Freud.
Key Ideas
Unapologetically self-absorbed, Freud embodied a notion that comes to us from the Renaissance, and which has been attributed to Leonardo da Vinci: "Every artist paints himself." Freud remained aloof from his sitters, a rapport that comes through in his work, referring to the work as "purely autobiographical" and the people he painted as merely the vehicle for figurative innovations: "I use the people to invent my pictures with, and I can work more freely when they are there."
Freud was a key member of the so-called
School of London
, a group of artists dedicated to figurative realism, considered somewhat reactionary at the time because it eschewed the presence of avant-garde movements at the time, such as
Minimalism
,
Pop
, and
Conceptual art
. Compared with
David Hockney
, or even
Francis Bacon
, his contemporaries, Freud is stylistically conventional. The subject matter, however, is anything but.
While life drawing classes had long included nude models, the expressive detail with which Freud paints genitals sets him apart from other artists in the history of portraiture. With the analytic scrutiny and detail a botanical illustrator might devote to a rare flower, Freud paints primary and secondary sex characteristics.
Freud was one of the great self-portraitists of the 20th century. He painted himself obsessively. While it may lack the range of Rembrandt, Van Gogh, or Schiele, Freud's self-portraits form one of the most complete visual autobiographies of any painter, yielding insight into the self-absorption and relentless drive that fueled the artist.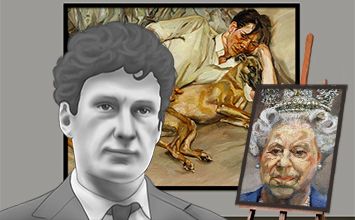 Lucian Freud was born into an artistic middle-class Jewish family. His father Ernst was an architect, his mother Lucie Brasch studied art history, and his grandfather was the paradigm-shifting psychoanalyst Sigmund Freud. In 1933, Freud and his family left Berlin to escape Hitler and settled in London.
Important Art by Lucian Freud

The below artworks are the most important by Lucian Freud - that both overview the major creative periods, and highlight the greatest achievements by the artist.


Artwork Images

Girl with a White Dog (1950-51)

Artwork description & Analysis: Typical of Freud's early period, Girl with a White Dog was created using a sable brush, which he used to apply the paint with linear precision, almost like a drawing. The subtle shading evokes a host of textures exuding softness, warmth, and the absence of immediate tension. The robe has slipped off the sitter's shoulder, exposing her right breast. Coupled with the absent stare of the woman and the dog, the muted colors and faint contours give this composition an overall flatness.

The sitter is Kitty Garman, Freud's first wife, and a noted beauty whose father was artist Jacob Epstein. The dog was one of two bull terriers they were given as a wedding gift.

Freud painted many portraits of Kitty during their brief marriage, which ended in divorce in 1952, due to his chronic infidelities. A weariness in the sitter's expression, the deep hollows under her eyes and the self-supporting gesture of the hand under the left breast hint at her discontent, despite this moment of calm. The analytic distance that came to characterize Freud's brilliance as an observer is reinforced by the absence of a name in the title, despite his intimate connection to the subjects. He was able to see certain things better because he remained aloof.

Oil on canvas - Tate, England


Artwork Images

Hotel Bedroom (1954)

Artwork description & Analysis: Settling in Paris in 1952, Freud painted many portraits, including Hotel Bedroom (1954), which features a woman lying in a bed with white sheets pulled up to her shoulders. Her left hand rests on her cheek, and her gaze is fixed on a faraway place. In sharp contrast, a standing man is standing behind her and staring at her. His dark form looms over her menacingly, silhouetted against the sunlight. Other windows in the building across the street are visible in the background.

The man is Freud himself, and the woman is Lady Caroline Hamilton Temple Blackwood, the Guinness ale heiress with whom he eloped in 1952 after the divorce from his first wife. At the time they were staying at the Hotel La Louisiane, and the work reflects the anxiety and tension in their relationship, which had already begun to unravel. She would soon leave him, and the distraught Freud, while having many more relationships, would never marry again. This painting is among the works that Freud exhibited it at the Venice Biennale when he was invited to serve as the representative of Britain in 1954, a great honor. Like this and other early portraits by the artist, the work has a flat, drawing-like quality. Here, however, the body of the artist is a black hole, threatening to suck the light out of the rest of the picture. The artist's standing pose also seems to predict a turning point in his working method. This is the last portrait he completed while sitting down. From that point on, he chose to stand while painting. One of his more narrative works, it exemplifies the autobiographical self-absorption and detachment associated with his later work.

Oil on canvas - Beaverbrook Art Gallery, Canada


Artwork Images

Red Haired Man on a Chair (1962)

Artwork description & Analysis: This is one of the earliest examples of Freud's mature style. Unconventional poses were one of Freud's specialties. The subject matter is conventional, but the pose is one rarely, if ever, seen in traditional Western portraiture. The subject is Tim Behrens, a friend and student at Slade School of Art, where Freud was a visiting teacher. The work's generic title, giving no hint of the specifics of the sitter or the setting, reflects the consistent, clinical detachment with which Freud approached all subjects, no matter what their relationship to him. Red Haired Man on a Chair (1962) depicts Behrens perched with his knees tucked under him, dressed in a gray suit, and with his brown shoes resting on a chair that appears to tilt toward us. The wooden post and discarded pile of cloths behind him indicate that the environment is the painting studio. At this point in his career, Freud made a transition from sable to hog-hair brushes which allowed both greater control and an ability to apply broad strokes in the heavily impastoed style one sees here.

It is clear that Freud has reached a new level of sophistication. Witness, for example, the linear tension between the figure and the post inches away, giving the appearance that if he leans a little more to the left he might actually touch it. Witness, too, the relationship between the vertical figure and the horizontal line of rags in the background, which forms a cross. Freud was not remotely religious, and certainly not Catholic, so this is a clever reference to the pose his student was holding, which was wildly uncomfortable and underscores his student's position as a martyr for the cause of great art. The observation, more sadistic than empathetic, characterizes Freud's approach to the human form, in particular his ability to suspend empathy with the sitter in order to observe him or her more closely. It is also one of the first examples of the appearance of rags strewn about in loose piles, a common compositional device in Freud's later portraits.

Oil on canvas - Private Collection
More Lucian Freud Artwork and Analysis:
Influences and Connections
Influences on Artist
Artists, Friends, Movements
Influenced by Artist
Artists, Friends, Movements

Interactive chart with Lucian Freud's main influences, and the people and ideas that the artist influenced in turn.
View Influences Chart

| | | | | |
| --- | --- | --- | --- | --- |
| Artists | | Personal Contacts | | Movements |

Influences on Artist

Lucian Freud
Years Worked: 1940 - 2011
Influenced by Artist

| | | | | |
| --- | --- | --- | --- | --- |
| Artists | | Personal Contacts | | Movements |
If you see an error or typo, please:
tell us
Cite this page

Content compiled and written by The Art Story Contributors
Edited and revised, with Synopsis and Key Ideas added by Ruth Epstein
" Artist Overview and Analysis". [Internet]. . TheArtStory.org
Content compiled and written by The Art Story Contributors
Edited and revised, with Synopsis and Key Ideas added by Ruth Epstein
Available from:
First published on 07 May 2016. Updated and modified regularly.


[Accessed ]