Artists
Alice Neel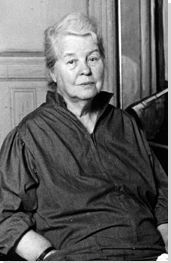 Born: January 28, 1900 - Merion Square, Pennsylvania
Died: October 13, 1984 - New York, NY

"The minute I sat in front of a canvas I was happy. Because it was a world, and I could do what I liked in it. "

Summary of Alice Neel
Alice Neel, an unshakable original, witnessed a parade of avant-garde movements from Abstract Expressionism to Conceptual Art, and refused to follow any of them. Instead, she developed a unique, expressive style of portrait painting that captured the psychology of individuals living in New York, from friends and neighbors in Spanish Harlem to celebrities. Part of what makes Neel one of the greatest American portraitists of the 20th century is her refusal of traditional categories (gender, age race, social status, etc.). She does not presume what she does not know. She observes each subject with a fresh eye. Neel's insights into the human condition never wavered, remaining direct, unflinching, and always empathetic.
Key Ideas
Types are less interesting to Neel than individuals.
Andy Warhol
and her neighbor's children are subjected to the same level of scrutiny, curiosity, and psychic assessment. "If I hadn't been an artist, I could have been a psychiatrist" she once said.
At a time when it was deeply unfashionable, Neel persisted in being a figure painter and a portraitist. While fully engrossed in the New York art scene and connected with its major innovators, she remained steadfast in her choice of style and subject matter, unswayed by an art world that favored abstraction. She persisting in making work that pleased her, regardless of what anyone thought. In this respect, she is very much like another great portraitist:
Vincent van Gogh
.
Neel was virtually unknown and had only a handful of solo shows prior to 1970. In the last two decades of her life, she had sixty. This was not purely due to the strength of her work, but to a seismic shift in the art world, which had begun to acknowledge the achievements of minorities and women.
While prolific, Neel appears to have been relatively uninterested in self-marketing. In this respect, she is different from many other successful artists of her generation, particularly women, who had to work especially hard to get noticed by the critics.
Louise Nevelson
, around the same age, is an especially intriguing study in contrast.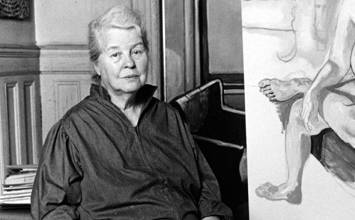 Alice Hartley Neel was born into a colorful American family. Her father, George Washington Neel, was an accountant with the Pennsylvania Railroad, and hailed from a clan of steamship owners and opera singers. Her mother, Alice Concross Hartley, was a descendant of the signatories of the Declaration of Independence. Young Alice was the fourth of five children, with three brothers and a sister. Her oldest brother, Hartley, died of diphtheria shortly after she was born. He was only eight years old. Several months later, Neel's family moved to the small town of Colwyn, a short distance from Philadelphia, where she attended primary school and high school.
Important Art by Alice Neel

The below artworks are the most important by Alice Neel - that both overview the major creative periods, and highlight the greatest achievements by the artist.


Artwork Images

Carlos Enríquez (1926)

Artwork description & Analysis: This early work depicts Neel's husband, the painter Carlos Enríquez, a year after they were married. The portrait displays many of the stylistic and compositional features evident in her mature work. It is clear, however, that Neel was still evolving as an artist. The face, with its distracted features, looks past the edge of the frame, as if focused on a faraway thought. The background here is much darker and the features more idealized than in Neel's later portraits (although, after all, this was her lover). Interest in psychological depth, while evident here, would be fully mastered in her later work.

The pair met in 1924 during a summer painting course in Pennsylvania. He was expelled due to lack of participation; Neel left the program with him. Enríquez returned to Havana in the fall, but the couple carried on their romance through letters. His wealthy family disapproved of Neel and his desire to be an artist (one can only imagine what they thought of her professional ambitions).

Oil on Canvas - Private Collection


Artwork Images

Pat Whalen (1935)

Artwork description & Analysis: Neel's passionate interest in left-wing politics is evident in her portrayal of Communist activist and union organizer Pat Whalen, whom she painted when she was involved with the WPA, part of President Franklin Roosevelt's New Deal. Here, Whalen is portrayed as the archetypal blue-collar worker. He looks up from a copy of the Daily Worker (the official newspaper of the US communist party), his fists clenched in an expression of resolve and determination. Hallmarks of the artist's personal style are abundantly evident here: the use of flat, unmixed color, the expressive brushstroke, and particular care with the features of the sitter's face and hands that convey a deeper psychology. Neel once observed, "people are the greatest and profoundest key to an era." Here, honing in on a single subject, she articulates the intensity of a struggle that affected millions of Americans in the 1930s and beyond: the struggle for worker's rights.

Oil, Ink, and Newspaper on Canvas - Whitney Museum of American Art


Artwork Images

Dominican Boys on 108th Street (1955)

Artwork description & Analysis: Neel moved from Greenwich Village to Spanish Harlem in 1938. The Village, she felt, was too full of pretentious bohemians. She moved in with the Puerto Rican musician Jose Santiago and began to paint many portraits of friends and neighbors. The two boys here are not like the cherubic innocents seen in many traditional portraits of children. They are nattily dressed like men, not boys, and come across as tough and streetwise. While they are Hispanic, Neel neither plays down nor stereotypes this element. Unlike many of Neel's other portraits, in which backgrounds are typically minimal, the details of the urban landscape are clearly rendered here. Neighborhood residents linger and chat on a stoop, advertising posters peel off the wall of a corner shop, and a green graffiti tag reading 'Felipe' is clearly visible. In this respect, many of her paintings from Spanish Harlem recall the aesthetics of American documentary photographers such as Berenice Abbott and Dorothea Lange. While many portraits (including Neel's) have a universal or timeless quality to them, these two boys are distinctly of a specific time and place.

Oil on Canvas - Tate Modern (London, UK)
More Alice Neel Artwork and Analysis:
Influences and Connections
Influences on Artist
Artists, Friends, Movements
Influenced by Artist
Artists, Friends, Movements

Interactive chart with Alice Neel's main influences, and the people and ideas that the artist influenced in turn.
View Influences Chart

Artists

Personal Contacts

| | |
| --- | --- |
| | Joseph Solman |

Movements

Influences on Artist

Alice Neel
Years Worked: 1926 - 1984
Influenced by Artist

Artists

Personal Contacts

| | |
| --- | --- |
| | Robert Storr |
| | Frank O'Hara |

Movements
If you see an error or typo, please:
tell us
Cite this page

Content compiled and written by Jen Glennon
Edited and revised, with Synopsis and Key Ideas added by Ruth Epstein
" Artist Overview and Analysis". [Internet]. . TheArtStory.org
Content compiled and written by Jen Glennon
Edited and revised, with Synopsis and Key Ideas added by Ruth Epstein
Available from:
First published on 06 Feb 2016. Updated and modified regularly.


[Accessed ]