Artists
Jane Freilicher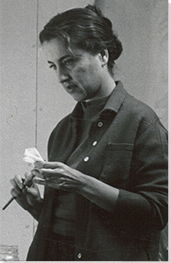 Born: November 29, 1924 - Brooklyn, New York
Died: December 9, 2014 - Manhattan, New York

"[My works] were an emotional reaction to something I find beautiful in the subject, which provides the energy, the impetus to paint."
Summary of Jane Freilicher
Amidst the existential gestures and transcendent color fields of Abstract Expressionism, Jane Freilicher hewed to a quiet realism that won the admiration of her friends, painters and poets alike. Not able to find her voice in abstraction, Freilicher concentrated her sights on the urban landscape outside of her Greenwich Village apartment, still lifes, and later the Long Island landscape around the Hamptons. Though her subjects remained consistent throughout her painting career, each new canvas brought a new mood, association, or perspective on the familiar.

Her commitment to realism bucked critical trends but inspired a host of mid-20th century American realist painters, including Larry Rivers, Fairfield Porter, and Grace Hartigan. She combined the sensibilities of earlier 20th-century painters Pierre Bonnard and Edouard Vuillard with the compositional lessons gleaned from her teacher Hans Hofmann to contribute to the burgeoning scene of Contemporary Realism that resisted the clamor of the growing post-World War II consumer culture and instead insisted on the importance of the everyday and the present.
Key Ideas
Freilicher's realism is rooted in everyday landscapes and objects, and yet her compositions create a dialogue between realism and abstraction. In the juxtaposition of flat planes of color and often-time impressionistic brush strokes, Freilicher's paintings recall the quasi-abstractions of the
Post-Impressionists
and
Cubists
.
Especially in her paintings done in New York City, Freilicher combined outside and interior views, often blurring the boundary between the two. While she did paint portraits of her friends, her still lifes and cityscapes are usually without people and yet still convey the sense of human presence even in its absence.
Freilicher never adopted an Abstract Expressionist style, but such decisions did not keep her out of their social circles. Friends with both first- and second-generation Abstract Expressionists as well as the group of New York School poets, Freilicher was a beloved figure on the post-war New York scene, influencing and influenced by her friends.
Freilicher's embrace of realism was part of a larger trend in the 1950s that saw artists returning to figurative subjects, both earnestly and ironically. Along with artists like Grace Hartigan, Alice Neel, and Larry Rivers, Freilicher made a case that realism - and not just abstraction - was a valid, even necessary, response to Cold War culture.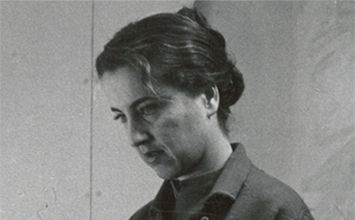 So rooted in the society and architecture of New York City was Jane Freilicher that she once turned down a National Endowment for the Arts–funded trip to go anywhere she wanted to paint. She jokily blamed laziness before adding: "I have to feel comfortable where I am. I have to burrow in and feel at home."
Important Art by Jane Freilicher

The below artworks are the most important by Jane Freilicher - that both overview the major creative periods, and highlight the greatest achievements by the artist.


Artwork Images

Early New York Evening (1954)

Artwork description & Analysis: A green glass vase with thin stems of purple irises sits in the foreground of the painting, perched atop a windowsill. Looking out the window, which is the entire canvas, the viewer can see the close and crowded buildings of New York stretched before them. Lights flicker in windows, smoke billows out of smokestacks, clothes on lines seem to sway, and the sky turns a dusky purple. Freilicher's brushstrokes are loose and casual, which creates an impressionistic sense of the constantly changing and vibrant city, but the tones of the colors are somewhat muted, as if to suggest that at dusk the city becomes quieter and takes on a more meditative mood.

Early New York Evening reveals Freilicher's keen eye for composition; the slender irises in the foreground parallel the Con Edison smokestacks on the horizon, but as art critic Peter Schjeldahl notes, "She values color and tone, over line and shape, as primary sensations of the eye," and thus avoids being overly cerebral. The hazy, diffused colors and lines seem to collapse the boundary between interior and exterior. As much as it seems that Freilicher set up her easel in front of her studio window to paint the scene before her, she admitted, "I'm quite willing to sacrifice fidelity to the subject to the vitality of the image, a sensation of the quick, lively blur of reality as it is apprehended rather than analyzed. I like to work on that borderline - opulent beauty in a homespun environment." Observation and memory blur in her depiction of Greenwich Village.

Oil on linen - Estate of Jane Freilicher and Paul Kasmin Gallery


Artwork Images

Flowers in an Armchair (1956)

Artwork description & Analysis: Freilicher's penchant for painting flowers and intimate interior scenes is apparent in this early work. A large, honey-colored wicker chair fills the picture plane but is slightly off-center; diffused shades of taupes and grays comprise the background. A vibrant shawl in swirling patterns comprised of orange, blue, red, and gold drapes the back of the chair, and sitting atop the chair's seat is a glass vase filled with pink and white chrysanthemums and one single yellow rose.

With the vase of flowers taking the place of a person in the chair, this piece easily demonstrates one of the most salient aspects of Freilicher's oeuvre - that she rarely includes the human figure in her interior scenes. Instead, people are merely hinted at and evoked. Freilicher wants us to imagine the person who arranged the flowers and set them there in the chair and draped the shawl on the back. Art critic Tim Keane notes that "her pictures seem to be oblique self-portraits of the painter blissfully alone in a room of her own." The alluded-to human presence along with the loose, almost frenetic brushstrokes gives the work vitality, which set her apart from some of her more cerebral, analytical aesthetic influences like Giorgio Morandi and Édouard Vouillard. Indeed, art critic Xico Greenwald says of Flowers in an Armchair, "the intimate little scene seems born of a process that flows from seeing to feeling to painting."

Oil on linen - Estate of Jane Freilicher and Paul Kasmin Gallery


Artwork Images

Quality Farm (1963)

Artwork description & Analysis: Freilicher is just as renowned for her pastoral Long Island landscapes as she is for her domestic urban ones. In Quality Farm Freilicher divides the canvas roughly in half between sky and soft grassy fields. The sky is a cloudless gray-blue, suggestive of a slight, misty chill in the air. At the horizon line scattered trees dot the landscape and frame a classic white farmhouse on the right and another roofed structure on the left. The farmhouse appears well-lived in thanks to details such as patches of foliage on the roof and the walls, an old car in the back, and laundry swaying in the breeze. Separating the viewer from the farmhouse is a large expanse of field, bright green in the center and becoming wilder and more variegated in hue closer to the viewer.

Poet John Ashbery once called Freilicher's style "a slightly rumpled realism." The subject matter is banal, and this Long Island farm isn't immune from the passage of time; however, Freilicher's style elevates the quotidian scene and offers innumerable points upon which to meditate and wonder. As Nick Obourn describes, she "borrowed the saturated pigment of the Color Field painters for her treatment of manicured grass as a thick nerve of bright, uniform, snap-pea green... [and] uses distinct, Post-Impressionistic brushstrokes to depict bunch grass and shrubbery." In its focus on a quotidian subject but one elevated by a witty, urbane eye, Quality Farm is an exemplar of Contemporary Realism - expressionistic paint handling combined with a good-natured commitment to reality as perceived by both eye and mind.

Oil on linen - Estate of Jane Freilicher and Paul Kasmin Gallery
More Jane Freilicher Artwork and Analysis:
Influences and Connections
Influences on Artist
Artists, Friends, Movements
Influenced by Artist
Artists, Friends, Movements

Interactive chart with Jane Freilicher's main influences, and the people and ideas that the artist influenced in turn.
View Influences Chart

| | | | | |
| --- | --- | --- | --- | --- |
| Artists | | Personal Contacts | | Movements |

Influences on Artist

Jane Freilicher
Years Worked: 1940 - 2014
Influenced by Artist

If you see an error or typo, please:
tell us
Cite this page

Content compiled and written by Kristen Osborne-Bartucca
Edited and published by The Art Story Contributors
" Artist Overview and Analysis". [Internet]. . TheArtStory.org
Content compiled and written by Kristen Osborne-Bartucca
Edited and published by The Art Story Contributors
Available from:
First published on 08 Apr 2019. Updated and modified regularly.


[Accessed ]