Artists
Fairfield Porter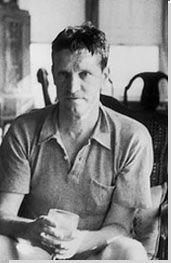 Born: June 10, 1907 - Winnetka, Illinois
Died: September 18, 1975 - Southampton, New York

"Any artist has a style which determines and is the particularity of his communication."

Summary of Fairfield Porter
Fairfield Porter was one of the foremost practitioners of representational painting in the American art world of the mid-20th century. For several decades he created portraits, domestic scenes, and landscapes of the places he lived in, all depicting a relaxed and comfortable world that seemed to mirror his own affluent, well-connected existence. However, his art was often more nuanced than it appears at first glance. The influence of French Nabis painters Pierre Bonnard and Édouard Vuillard is obvious, yet Porter was also fully conversant in contemporary movements such as Abstract Expressionism, and his loose, energetic painting style owed much to his understanding of gestural abstraction. Porter was also a prolific critic whose work was published in several influential art journals; in his writing, as in his friendships and mentorships, he often championed other artists who sustained a commitment to realism and figuration.
Key Ideas
Porter painted in a representational style at the height of Abstract Expressionism's dominance. He insisted on the relevance of authentically lived experience as subject matter, rather than pure ideology as a motivation for making art."The truest order is what you already find there, or that will be given if you don't try for it,"he wrote. "When you arrange, you fail."
Porter was vitally concerned with the close relationship between realism and abstraction: in successful art, he believed, one could not exist without the other. He once wrote: "The realist thinks he knows ahead of time what reality is, and the abstract artist what art is, but it is in its formality that realist art excels, and the best abstract art communicates an overwhelming sense of reality."
As an art critic, Porter also championed the next generation of representational painters working in figurative and realist styles. In this way he provided a link between movements like
Social Realism
of the 1930s and
Neo-Expressionism
of the 1980s.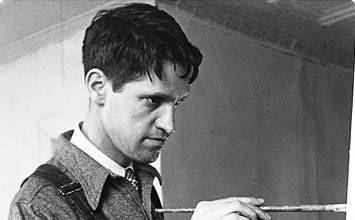 Fairfield Porter was born in Winnetka, Illinois, a suburb of Chicago. He was the fourth of five children of James and Ruth (née Furness) Porter. The Porter family fortune, based in Chicago real estate, was several generations old; both sides of his family also had deep roots in New England.
Important Art by Fairfield Porter

The below artworks are the most important by Fairfield Porter - that both overview the major creative periods, and highlight the greatest achievements by the artist.


Artwork Images

Untitled (First Avenue) (1945)

Artwork description & Analysis: Due to the financial hardships of World War II, Porter and his family rarely traveled outside New York City between 1941 and 1946, forgoing visits to their home on Maine's Great Spruce Head Island. During these years Porter was obliged to adjust his work patterns to city life. This untitled work from 1945 depicts Manhattan's First Avenue, presumably the corner just a half-block from the family home on East 52nd Street. The drab grays and browns of this painting, which are quite different from his vibrant use of color in later works, indicate Porter's somber mood, brought about by family strife and ongoing confinement to the city.

Oil on canvas - The Parrish Art Museum, Southampton, NY


Artwork Images

Katie and Anne (1955)

Artwork description & Analysis: This scene of Porter's daughter Katherine and wife Anne is characteristic of the artist's oeuvre. Its interior setting, its golden light, and its intimate glimpse of family members in a moment of tranquility all show the influence of Édouard Vuillard and Pierre Bonnard on Porter's work. Yet the setting of the Porters' home is distinctly American and mid-20th century, from the rug on the floor to Anne's clothing.

Even while painting a spacious room and the landscape beyond its window, Porter insists on the shallowness of his pictorial space and the flatness of the colors he has placed upon the canvas: certain passages of brushwork, particularly in the curtains and the chair in the background, are nearly abstract. As scholar William Agee has written of this work, "The surface is a single entity, all of it simultaneously present. Porter sought, as did Matisse, to make every corner of the canvas alive."

Oil on canvas - The Hirshhorn Museum and Sculpture Garden, Smithsonian Institution, Washington, D.C.


Artwork Images

The Mirror (1966)

Artwork description & Analysis: Porter painted several self-portraits of himself in the studio, and here he combines a self-portrait with a portrait of his ten-year-old daughter Elizabeth in the family's Southampton house. The Mirror's composition is complex: Elizabeth faces the viewer (and, by implication, the artist), and the mirror acts as a picture-within-a-picture, reflecting Porter as well as the room and the landscape beyond the window. In this single work, Porter pays homage to several of his artistic heroes. One is Édouard Vuillard, of course, but he also refers to Henri Matisse, whose Carmelina (1903) used a similar device of a frontally posed girl and a mirror reflecting the artist, and Diego Velazquez, whose Las Meninas (1656) is the forerunner of all such self-portraits within studio portraits of young women. Leonardo da Vinci is even present, in a detail of the Mona Lisa (1503-17) pinned to the studio wall. Despite these art-historical allusions, however, the specificity of Porter's studio (with its wood-burning stove) and the architecture beyond the window grounds the picture in the reality of the 1960s and coastal Long Island. Porter is both inside and outside the picture, unifying its reality and its reflections, history and the present day, in a skillfully arranged configuration of images within images, while putting us in his place to consider what it means to perceive and represent the world around us.

Oil on canvas - The Nelson-Atkins Museum of Art, Kansas City, Missouri
More Fairfield Porter Artwork and Analysis:
Influences and Connections
Influences on Artist
Artists, Friends, Movements
Influenced by Artist
Artists, Friends, Movements

Interactive chart with Fairfield Porter's main influences, and the people and ideas that the artist influenced in turn.
View Influences Chart


Influences on Artist

Fairfield Porter
Years Worked: 1935 - 1961
Influenced by Artist

If you see an error or typo, please:
tell us
Cite this page

Content compiled and written by The Art Story Contributors
Edited and published by The Art Story Contributors
" Artist Overview and Analysis". [Internet]. . TheArtStory.org
Content compiled and written by The Art Story Contributors
Edited and published by The Art Story Contributors
Available from:
First published on 25 Jan 2009. Updated and modified regularly.


[Accessed ]