Artists
Pierre Bonnard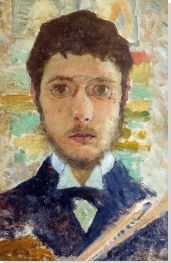 Born: October 3, 1867 - Fontenay-aux-Roses, France
Died: January 23, 1947 - Le Cannet, France

"Art is not nature.. There was a lot more to be got out of color."

Summary of Pierre Bonnard
Pierre Bonnard was a member of the Symbolist group of painters known as Les Nabis ("prophets" or "seers"), and so subscribed to the Nabi doctrine of abandoning three-dimensional modeling in favor of flat color areas. However, although Bonnard was a member of this group, he was not interested in obscure Symbolist subject matter and was not a mystic. Instead, he was satisfied - even fascinated and delighted by - the scenes of simple daily life around him. Because of this, he has been called an "intimist."
Key Ideas
For Bonnard, color was an end in itself - a way of experiencing the world. Color was so important to Bonnard that when he had mixed a color that was particularly to his liking, he would even go back and touch up other paintings with that color. He once persuaded his friend
Édouard Vuillard
to distract one of the guards in a museum while he touched up a work that had been completed years previously.
Bonnard painted many of his scenes from memory, capturing the spirit of the moment rather than the exact person or place. Bonnard did not paint from life but rather drew his subjects - sometimes photographing them as well - and made notes on the colors. He then painted - and especially, colored - the canvas in his studio from his notes.
Bonnard also designed furniture, developed textile patterns, painted screens, created stage sets, made puppets for puppet shows, and illustrated books. Though he is most noted for his paintings, these additional activities also situate him squarely within that part of Nabi art that applied their aesthetic to other art forms; this aspect of his practice reflects both that period's interest in the decorative as a way to unify the environment through largely abstract means and artists' interest in serving the needs of public spaces, including the burgeoning field of advertising.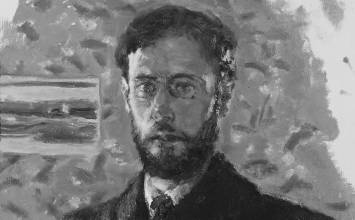 Bonnard was born in Fontenay-aux-Roses, Hauts-de-Seine, on October 3, 1867. He was the son of a prominent official of the French Ministry of War, and upon the insistence of his father, Bonnard studied law at the Sorbonne from 1885 to 1888. He graduated with a Baccalaureate, distinguishing himself in the Classics, and briefly practiced as a barrister in a government office. However, he had also attended art classes at the École des Beaux-Arts, where he failed to win the Prix de Rome (which would have allowed him to study at the French Academy in Rome), and so transferred to the Académie Julian in 1889, where he met Maurice Denis, Paul Sérusier, Ker-Xavier Roussel, Paul Ranson, Félix Vallotton, and Édouard Vuillard. He soon decided to become an artist, and in 1890 shared a studio in Montmartre with Denis and Vuillard. Later they were joined by theatrical producer Aurélian Lugné-Poe with whom Bonnard collaborated on productions for the Théâtre de l'Oeuvre in Paris.
Important Art by Pierre Bonnard

The below artworks are the most important by Pierre Bonnard - that both overview the major creative periods, and highlight the greatest achievements by the artist.

France Champagne (1891)

Artwork description & Analysis: This lithograph launched Bonnard's career from law into art; in 1889, he won a competition to design a poster advertising France Champagne, which led him to create this illustration. A seemingly frivolous female looks over her shoulder, holding a fan in one hand and her magical glass of champagne in the other. There is a witty play on the oneness of the young girl with the bubbles of champagne. Champagne bubbles, expressed through an agitated line that alternates between thick and thin, create both a literal and symbolic feeling of froth. The bubbles engulf the woman and she becomes part of the total pattern. The "C" of the word "Champagne" relates visually to the arc of her arm such that compositional elements reinforce the gaiety of the woman and of champagne itself. The work is characterized by continuous, undulating outlines, flattened form, flat poster color, distorted perspective and proportion, purposeful distortion of perspective and proportion, and the elimination of detail and decoration. The influences of Japanese prints is visible here and, perhaps even more so, that of Jules Cheret's prints. France Champagne, which was to influence Henri de Toulouse-Lautrec, is an early expression of the Art Nouveau aesthetic as well as an early use of the pretty girl to advertise a product.

Lithograph - Bibliothèque Nationale, Paris

Promenade des nourrices, fries des fiacres (Nannies Promenade, Frieze of Carriages) (1897)

Artwork description & Analysis: This four-paneled work is characterized by its understatement, economy of line, and rhythm. Bonnard places his figures asymmetrically and balances them against the empty space. The decorative use of silhouette is influenced by both the Art Nouveau style and of Japanese prints. Bonnard here employs a great economy of means - accomplishing many effects with only a few elements. An example of this would be the way the artist lets white function in multiple ways: it fills in the faces and it is worked into the figures' costumes. The animated linear arabesque of the dog functions in such a way as to suggest volume. Through the distortion of form for decorative effect, Bonnard has created a world of decorative unreality that asserts the two-dimensionality of the wall, thus uniting art and architecture.

Color lithograph - Musée d'Orsay, Paris

Woman Reclining on a Bed (1899)

Artwork description & Analysis: This painting is a good example of Bonnard embedding his figure within an intimate surrounding. The artist employs a corner point of view from which we are allowed to view the figure, whose face is concealed in shadow. The brushwork is similar to that of the Impressionists, but the artist has created more of an intimate, moody atmosphere - almost an erotic one - with the viewer as voyeur. Furthermore, this is not the monumental or idealized nude that one might recognize from a Titian or Rubens: this nude distinguishes itself from other nudes of the time in its natural pose and lack of inhibition. In fact, Bonnard is often credited with the introduction of this "modern" nude.

Oil on canvas - Musée d'Orsay, Paris
More Pierre Bonnard Artwork and Analysis:
Influences and Connections
Influences on Artist
Artists, Friends, Movements
Influenced by Artist
Artists, Friends, Movements
Interactive chart with Pierre Bonnard's main influences, and the people and ideas that the artist influenced in turn.
View Influences Chart

| | | | | |
| --- | --- | --- | --- | --- |
| Artists | | Personal Contacts | | Movements |

Influences on Artist
Pierre Bonnard
Years Worked: 1889 - 1947
Influenced by Artist

Artists

Personal Contacts

| | |
| --- | --- |
| | Felix Feneon |
| | Ambroise Vollard |

Movements
If you see an error or typo, please:
tell us
Cite this page

Content compiled and written by The Art Story Contributors
Edited and published by The Art Story Contributors
" Artist Overview and Analysis". [Internet]. . TheArtStory.org
Content compiled and written by The Art Story Contributors
Edited and published by The Art Story Contributors
Available from:
First published on 05 Dec 2014. Updated and modified regularly.


[Accessed ]