Artists
Henri de Toulouse-Lautrec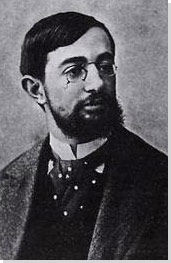 Born: 24 November, 1864 - Albi, France
Died: 9 September, 1901 - Paris, France

"Bonnat tells me, 'Your painting isn't bad, it is chic, but even so it isn't bad, but your drawing is absolutely atrocious.' So I must gather my courage and start once again..."
Summary of Henri de Toulouse-Lautrec
In addition to being the artist who designed the Moulin Rouge's legendary posters, Toulouse-Lautrec was an aristocrat, dwarf, and party animal who invented a cocktail called the Earthquake (half absinthe, half cognac). His favorite pursuits were dressing up (geisha girl and clown get-ups were among his more memorable party outfits) and frequenting Parisian brothels, where he was a V.I.P. Like insects trapped in amber, his paintings, drawings and of course his famous posters preserve the swirl of energy, mix of classes and cultures, and the highs and lows of urban life in 19th-century Paris.
Key Ideas
Toulouse-Lautrec was the first artist to elevate advertising to the status of a fine art. This is an extraordinary shift in the history of art, obliterating the boundaries between high (painting, drawing, sculpture) and low (posters, logos and other forms of visual culture) art. Acknowledging that some of his greatest masterpieces were posters for nightclubs does not in any way diminish their value. On the contrary, it set the gold standard for great commercial artists from
Alphonse Mucha
to
Andy Warhol
.
In contrast to nearly all of the other artists in his circle, Toulouse-Lautrec had no trouble making a living. This is chiefly because Parisian business owners realized they could make money from his unique (modern) vision. In contrast to artists who worked for private collectors, galleries or the government, he worked for the entertainment business, where selling drinks and tickets was the bottom line. Jane Avril, one of his closest friends and one of Montmartre's most beloved cabaret dancers, later wrote: "It is more than certain that I owe him the fame that I enjoyed dating from his first poster of me."
Thanks to his childhood tutor - also an art therapist - who encouraged him to shift his energy from riding to drawing (a safer pursuit for a child struggling with illness), Toulouse-Lautrec's early passion for physical activity was channeled directly into his art. The breathless excitement and athleticism of his sinuous line is like muscle memory - physical energy transposed into art.
By sheer force of will, Toulouse-Lautrec turned his disability into a superpower. At a time when the only acceptable designation for persons with disabilities was freak, Toulouse-Lautrec used his unique appearance to his advantage. It allowed him to disappear into a crowd or the corners of a bedroom, seeing others without being seen.
Toulouse-Lautrec's remarkable observations of people on the margins of society almost certainly stems from his status as an outsider. The crooners, dancers, acrobats and prostitutes with whom he socialized were his adopted family. He identified with them, and there is every indication that he saw them as equals.
More than simply a brilliant advertiser and artist, Toulouse-Lautrec was an important informal visual historian of urban life in Belle Epoque Paris. The film "Moulin Rouge" and other period pieces based on the Belle Epoque, are heavily informed by his posters, prints, and paintings.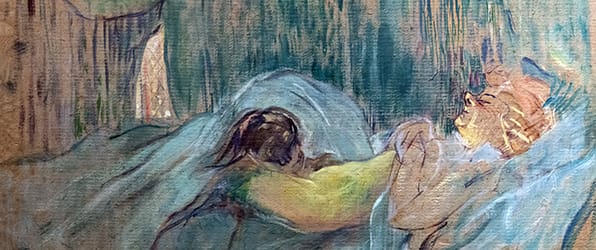 Photograph of Toulouse-Lautrec painting At the Moulin Rouge: The Dance (1890)
Henri Marie Raymond de Toulouse-Lautrec Monfa (the long name reflects his high-class social status) was born into an aristocratic family in the South of France. Raised in an atmosphere of privilege, he loved animals, and owned and rode horses. By age 8, it was clear that he suffered from a congenital illness that weakened his bones. After two serious riding accidents his legs stopped growing. At his full height, Toulouse-Lautrec was 5 feet tall, with the upper body of a man and the legs of a child. He walked with a cane and in considerable pain for the rest of his life.
Important Art by Henri de Toulouse-Lautrec

The below artworks are the most important by Henri de Toulouse-Lautrec - that both overview the major creative periods, and highlight the greatest achievements by the artist.

Self Portrait in Front of a Mirror (1882)

Artwork description & Analysis: This is one of few self-portraits Toulouse-Lautrec painted, as he was incredibly self-conscious about his appearance, and the only one in which the artist is the sole focus. In it, he uses peinture a l'essence (oil paint, thinned with turpentine), applied directly onto cardboard to create a loose, sketchy effect. He would continue to use this technique throughout his career, adapting it to his sensibilities as a mature artist. Here the artist is both literally and figuratively emerging: the looseness of the brushwork makes it evident that he has studied Impressionism, but there is a darkness here, perhaps even a hint of the sinister, and a depth to the composition that departs from the buoyancy of the Impressionist palette and mood.

Oil on cardboard - Musée Toulouse-Toulouse-Lautrec, Albi

The Laundress (1886)

Artwork description & Analysis: One of a series of portraits of Carmen Gaudin done by Toulouse-Lautrec during his Paris years, The Laundress is meant to expose the raw, somber and gritty world of the working-class. Toulouse-Lautrec poses the prostitute - one of his favorite models - as a laundress, taking a break from her physically intensive and exhausting work. And while Toulouse-Lautrec was famous for wanting to expose the hardship of Parisian life, there is a subtle delicacy and warmth to this work that belies his affection for this woman and her toils. This naturalism and painterly style is a cornerstone of Toulouse-Lautrec's earlier works, once again calling forth Degas' influence.

Oil on canvas - Private Collection

The Streetwalker (Le Casque d'Or) (1890)

Artwork description & Analysis: While images of working class people and prostitutes certainly existed before the 19th century, these subjects were almost invariably portrayed as types, not individuals. Though not alone in his quest to make portraits of working-class individuals (his friend Vincent Van Gogh was at this very moment working on a similar project in the South of France), Toulouse-Lautrec's approach to the subject is part of this revolutionary shift in art. At first glance, this is a rather conventional portrait of a woman seated in a garden. In brushy strokes, Toulouse-Lautrec describes the outdoor setting and long-sleeved button-down dress fastened high at the chin. Almost all of his concentration is focused on her distinctive features - the face, with its sharp features, whitened by rice powder, thin red lips, and red gold hair, piled high on top of her head. A slight smile plays at the corners of her eyes and mouth, as if the artist has just made a joke. The only visual hint at a departure from convention is the sitter's fully confrontational pose. She sits right at the edge of the frame, squares her shoulders, and looks out directly, a bit too close for polite comfort. What makes this portrait truly radical is, of course, its subject, a prostitute. Her street name was Le Casque d'Or (the Golden Helmet -a reference to her distinctive hair). Toulouse-Lautrec portrays this would-be scandalous subject, in a matter-of-fact, overall quite dignified manner --truly a radical departure from the norm.

Oil on cardboard - Metropolitan Museum of Art
More Henri de Toulouse-Lautrec Artwork and Analysis:
Influences and Connections
Influences on Artist
Artists, Friends, Movements
Influenced by Artist
Artists, Friends, Movements

Interactive chart with Henri de Toulouse-Lautrec's main influences, and the people and ideas that the artist influenced in turn.
View Influences Chart

| | | | | |
| --- | --- | --- | --- | --- |
| Artists | | Personal Contacts | | Movements |

Influences on Artist

Henri de Toulouse-Lautrec
Years Worked: 1881-1901
Influenced by Artist

| | | | | |
| --- | --- | --- | --- | --- |
| Artists | | Personal Contacts | | Movements |
If you see an error or typo, please:
tell us
Cite this page

Content compiled and written by The Art Story Contributors
Edited and revised, with Synopsis and Key Ideas added by Ruth Epstein
" Artist Overview and Analysis". [Internet]. . TheArtStory.org
Content compiled and written by The Art Story Contributors
Edited and revised, with Synopsis and Key Ideas added by Ruth Epstein
Available from:
First published on 15 Jan 2016. Updated and modified regularly.


[Accessed ]