Artists
Alphonse Mucha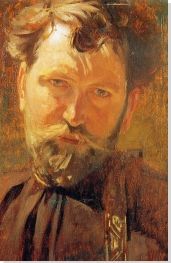 Born: July 24, 1860 - Ivančice, Moravia (Czech Republic)
Died: July 14, 1939 - Prague, Czech Republic

"To talk in my own way to the spirit of the nation, to its eyes which carry thoughts most quickly to the consciousness."
Summary of Alphonse Mucha
Mucha was famous for his commercial posters, which had a wide audience, but he also worked in a variety of other media, including furniture, jewelry, and theatrical sets. He mostly worked in Vienna and Paris, but was also in Chicago, where he taught at the Art Institute, from 1904 to 1910. There, he introduced his interpretation of the "new art" to a United States audience. The densely patterned posters epitomize the Art Nouveau interest in natural forms, decoration, and a rejection of the anonymity of mechanical production.
Key Ideas
Women were a common theme in Mucha's work (and in Art Nouveau art in general). The femme nouvelle or "new woman" type was a favorite subject, since it served both allegorical and decorative purposes. Indeed, Mucha and his peers celebrated femininity as the antidote to an overly-industrialized, impersonal, "masculine" world.
Mucha worked in a variety of media that were accessible to a wide audience, and so the reach of his art extended beyond the borders of "high art." Everything could be a work of art, encompassing a person's daily experience, from wallpaper to furniture to clothing to promotional posters around the city.
Although Mucha is most associated with his Art Nouveau posters, he spent the latter of half of his career focused on projects of a nationalist character. Stirred by a pride in his country and an interest in its artistic traditions, Mucha sought to celebrate the history and mores of Czech culture.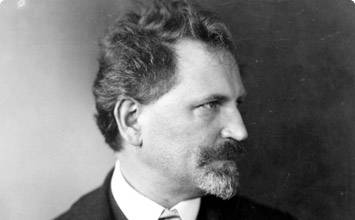 Mucha was raised in the shadow of two powerful cultural forces: The Catholic Church and the Slav's desire for independence from the Austrian Empire. Excited by light and color, Mucha's earliest memory was of Christmas tree lights. A baroque fresco in his local church piqued his interest in art, and he moved to Vienna, where he took an apprenticeship as a stage set painter. Surrounded by the explosion of art in the Austrian capital, he learned of and greatly admired the work of Hans Makart, among others.
Important Art by Alphonse Mucha

The below artworks are the most important by Alphonse Mucha - that both overview the major creative periods, and highlight the greatest achievements by the artist.

Job Cigarette Papers (1896)

Artwork description & Analysis: This striking poster was created as an advertisement for the Job cigarette company. A beautiful woman with a lighted cigarette dominates Mucha's poster, the rising smoke intertwining with her swirling, Pre-Raphaelite hair and the Job logo. The poster's golden zigzag border, inspired by Byzantine mosaics, combines with the twirling smoke and the rich purple background to create a luxurious and sensual mood. The curving lines of the woman's hair and rising smoke stand out against the rhythmic lines of the zigzag frame.The very fact that this woman is smoking - let alone that she is somewhat eroticized - was scandalous, since no respectable woman of the time would smoke in public. Furthermore, her sensual tangle of cascading hair was daring, because respectable women of the era wore their hair tied up.

These significant breaks from tradition suggest that the smoker may be wanton and wild. She is lost in pleasure - quite possibly in the nude, her closed eyes and half smile suggesting ecstasy. Mucha depicts his smoking woman in the manner of a rapturous saint to advertise an everyday product, thereby revealing his great skill at blending art and commerce. He elevates the ordinary to a realm of mysterious beauty.

Color lithograph - Mucha Museum, Prague

The Seasons (1896)

Artwork description & Analysis: The first of Mucha's much-copied pânneaux décoratifs (decorative panels), The Seasons (1896), shows the harmonious cycles of nature. Four seasonal beauties, each set against a distinct natural backdrop, convey the mood of each season. Innocent Spring stands among white blossoms, charming birds; Summer lounges among red poppies; bountiful Autumn rests with chrysanthemums, gathering fruit; and Winter,in a snowy landscape, huddles under a cloak with a small bird. The decorative style of the images illustrates Mucha's artistic influences and interests. This style reflects his debt to Japanese woodcuts, as well as to Hans Makart's The Five Senses (1879), while his association of women with a subtle undercurrent of death and rebirth speaks to his interest in symbolism. The choice of medium reflects his interest in making art available to all, since the panels were created as affordable art for private homes.

Mucha's desire to see mass-produced art reach the widest possible audience was quickly achieved; his pânneaux were so popular that he soon created other, similar works: The Flowers (1898), The Arts (1898), The Times of the Day (1899), The Precious Stones (1900), and The Moon and the Stars (1902).

Color lithograph - Mucha Museum, Prague

Snake Bracelet with Ring (1899)

Artwork description & Analysis: Mucha's interest in expanding the boundaries of art and design led to beautiful collaborations with the Parisian goldsmith Georges Fouquet. The most iconic of these is this sparkling snake bracelet, created for his mentor, the actress Sarah Bernhardt. (Mucha shot to fame when he illustrated Bernhardt's theatre poster Gismonda in 1894.) Thick gold coils twine about the wrist, the tail slithers up the arm, while the winged head and mosaic of opals, rubies and diamonds sits on the hand. Fine gold links and hinges allow movement and connect to a snake-head ring.

Not only is this bracelet an example of Mucha's connection to the world of theater, but it also reveals his interest in bringing together traditions from East and West. The bracelet is also impressively utilitarian: Mucha's son Jiri said that the bracelet was designed to accommodate Bernhardt's arthritic wrist! Mucha and Fouquet worked together for three years, resulting in a treasury of elaborate jewels for Fouquet's display at the 1900 Exposition Universelle.

Gold, enamel, opal, ruby and diamond - Mucha Museum, Prague
More Alphonse Mucha Artwork and Analysis:
Influences and Connections
Influences on Artist
Artists, Friends, Movements
Influenced by Artist
Artists, Friends, Movements

Interactive chart with Alphonse Mucha's main influences, and the people and ideas that the artist influenced in turn.
View Influences Chart


Influences on Artist

Alphonse Mucha
Years Worked: 1879-1939
Influenced by Artist

Artists

| | |
| --- | --- |
| | Bob Masse |
| | Naoko Takeuchi |
| | Paul Harvey |

Personal Contacts

Movements
If you see an error or typo, please:
tell us
Cite this page

Content compiled and written by Jen Farren
Edited and revised, with Synopsis and Key Ideas added by Ellen Hurst
" Artist Overview and Analysis". [Internet]. . TheArtStory.org
Content compiled and written by Jen Farren
Edited and revised, with Synopsis and Key Ideas added by Ellen Hurst
Available from:
First published on 06 Feb 2016. Updated and modified regularly.


[Accessed ]