Artists
Hans Makart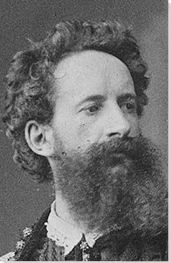 Born: May 28, 1840 - Salzburg, Austria
Died: October 3, 1884 - Vienna, Austria

"It is divinely pleasurable to be able to smear paint around on such a large canvas; I shall abstain in future from painting small pictures"

Summary of Hans Makart
Both celebrated and condemned for his sensual, historical and legacy paintings, Hans Makart produced richly colored and atmospheric works that had an extraordinary impact on late-nineteenth century Viennese culture. Markart was so popular, in fact, that he gave his name to the so-called Makartstil - or Makart-Style - a virtual school of art and design that helped decorate many of the public places in Vienna in the second half of the nineteenth century. Makart's art was condemned however by academics who took exception to the artist's general lack of regard for factual accuracy and for denigrating important historical events by featuring gratuitous female nudity. In the public sphere, meanwhile, he was known as much for the outrageous society parties as for his art. His sumptuously decorated Venetian studio was where royalty, politicians, artists and writers came to mingle and to "be seen". Such was his celebrity in fact that he has be referred to by several commentators as the Andy Warhol of his day.
Key Ideas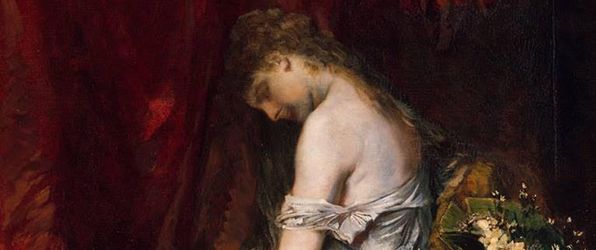 Detail of Makart's The Dream after the Ball (
A master of networking and self-promotion, Hans Makart was better known and more acclaimed in his lifetime than his contemporaries Monet, Manet and Degas. But history has almost forgotten his sensual and sumptuous works, and he is most remembered for being an inspiration to Gustav Klimt.
Important Art by Hans Makart

The below artworks are the most important by Hans Makart - that both overview the major creative periods, and highlight the greatest achievements by the artist.

Moderne Amoretten (Modern Cupids) (1868)

Artwork description & Analysis: The three canvasses that make up this work are here arranged as Makart himself stipulated. All three depict a woodland scene, populated by pale-skinned women. Clutching one another, they are clad in loose, flowing drapery which appears to evoke a scandalously revealing version of contemporary fashions. In the central canvas, a woman crowned with flowers and two others are borne up by four young children, two cupids and two fauns.

By using gold rather than blue sky as the background to this painting, Makart overwhelms the spectator with an opulence that is continued in the tumble of foliage and cascade of sumptuous fabrics. The only respite from this ornamental suffocation is the cool whiteness of the figures' bodies which provide a "breath of fresh air" over any cloying eroticism. Makart's technique is reminiscent of Medieval and early Renaissance painting, a key source of influence for Symbolism and Aestheticism. In the left image, the twisting women linking hands is strongly reminiscent of the archetype of the three graces, a classical trope that is counterbalanced by the modern dress. This dance continues in the canvas to the right, although here it seems to have reached an erotic crescendo, with two of the women kissing passionately in a whirl of limbs and drapery, indistinguishable in their whiteness.

The horizontal side-pieces are contrasted with the vertical central canvas, where the figures are seemingly carried down and out towards the spectator. The cupids and fauns here mark a descent into a deeper, darker eroticism, highlighted by the rabbits, a symbol of unchecked copulation. Covering the figures' groins are pipes, reminiscent of the lusty god Pan, and dead birds, binding up desire with lifelessness. As with the gold background, the composition and symbolism of this work as a whole seem poised above the precipice where decadence becomes frenzy, threatening at any moment to topple downward. Makart's famous triptych featured as the decorative centrepiece of the first exhibition at the Künstlerhaus, home to the Austrian Artists' Society, the oldest surviving artists' collective in Austria and societal forerunner to the Vienna Secession.

Oil on canvas - Belvedere Museum, Vienna

Venice pays tribute to Caterina Cornaro (1872-73)

Artwork description & Analysis: In this vast tableau a large crowd gathers to pay tribute to a seated and richly-robed Queen who sits towards the right of the picture frame. Clothed in the richly-colored style that recalled the Venetian Renaissance, the crowd carry pots, musical instruments and even weapons. Fabrics drape the backdrop on the right-hand side, but to the left, blue sky, classical architecture and the sails of ships can be seen.

Makart's first history painting, Venice pays tribute to Caterina Cornaro was an unprecedented success; people flocked in their thousands to see it in Vienna before it toured throughout Europe. The grandiloquence of the painting seems rather at odds, however, with its subject matter. Caterina, a fifteenth-century Cypriot Queen, was of minor literal or symbolic importance to the contemporary history painter. But the attraction of the work lies not so much in its subject-matter but rather in its variety and vividness. In her book Hans Makart: Painter of the Senses, Stephanie Auer referred to the painting as "a hymn to life and an act of homage to colour" rather than an earnest veneration of the long-dead monarch. According to Auer, indeed, Makart had succeeded in "transporting the viewer into an ideal world, a fairy-tale past that intentionally lies beyond the bounds of historical reality". Whereas historical painting was typically the vehicle for a contextually significant event and/or message, here the opposite is the case. Markart summoned the past to escape, portal-like, into the textural beauty of marble, fabric and flesh. Some sympathetic contemporary critics called Makart the new Paulo Veronese with one declaring: "Nothing more glorious has been created since the glittering golden age of Italian art".

Oil on canvas - Belvedere Museum, Vienna

The Death of Cleopatra (1875-76)

Artwork description & Analysis: In this painting Cleopatra, the legendary queen of Egypt, is shown at the moment just before her suicide. She reclines on a bed of fabrics, semi-nude and wearing jewelry and her crown. To her left, one of her servants weeps, whilst just below the queen another has already passed. A brazier burns on the left-hand side.

Theatrical melodrama pervades Makart's depiction of this famous subject matter; his use of chiaroscuro picks out the stark whiteness of Cleopatra's body, as if she were spot-lit on a stage. In fact, many details seem to have been drawn from Shakespeare's account, such as the presence of the servants, and the detail of the queen's royal attire. The spot-lighting then leaves the other areas of the painting, in which can be found mourning and death, murky and foreboding. In the bottom-left of the frame, meanwhile, the flowers and animal skins seem almost to be rendered in grisaille (flat shades of grey). These great contrasts in lighting culminate in the brazier, whose silhouette is topped by a bright white flame. As a whole, the painting evokes the sense of the queen's preeminence and the moment of her death; a tragic elevation before her fall which seems to engender her far-off, almost longing facial expression.

Another sort of longing is present in the asp, whose thin, black form and tiny wisp of a tongue stand out against her breast; sensitivity, eroticism, and danger combine in the painting which presents, as Shakespeare writes, a death which is "like a lover's pinch, which hurts, and is desired". In the sensuous decadence of Cleopatra's naked, jeweled body Makart seems to echo the Symbolist artist Gustave Moreau, who also painted a version of Cleopatra. However, in comparison to Moreau's implacable, flat figure, Makart bathes his Cleopatra in shadow and in dramatic perspective.

Oil on canvas
More Hans Makart Artwork and Analysis:
Influences and Connections
Influences on Artist
Artists, Friends, Movements
Influenced by Artist
Artists, Friends, Movements

Interactive chart with Hans Makart's main influences, and the people and ideas that the artist influenced in turn.
View Influences Chart

| | | | | |
| --- | --- | --- | --- | --- |
| Artists | | Personal Contacts | | Movements |

Influences on Artist

Hans Makart
Years Worked: 1866 - 1884
Influenced by Artist

| | | | | |
| --- | --- | --- | --- | --- |
| Artists | | Personal Contacts | | Movements |
If you see an error or typo, please:
tell us
Cite this page

Content compiled and written by Loïc Desplanques
Edited and published by The Art Story Contributors
" Artist Overview and Analysis". [Internet]. . TheArtStory.org
Content compiled and written by Loïc Desplanques
Edited and published by The Art Story Contributors
Available from:
First published on 20 Nov 2019. Updated and modified regularly.


[Accessed ]