Artists
Peter Paul Rubens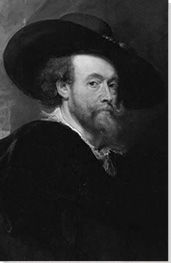 Born: June 28, 1577 - Siegen, Westphalia
Died: May 30, 1640 - Antwerp, Belgium

Summary of Peter Paul Rubens
Peter Paul Rubens epitomized the "gentleman" artist archetype. Productive, professional, and moving with ease amongst both artistic and political circles, he exemplified what it meant to be a proper courtly painter of the 17th century, elevating his own life to the same standards of leisure and excellence afforded his patrons. He famously fused a mastery of Flemish realism with the traditions of the Italian Renaissance to produce a powerful and exuberant style that epitomized the immensely popular Baroque movement, promoted by the Counter Reformation in efforts to re-establish the grandeur of the Catholic Church. This style emphasized movement, color, drama, and sensuality, and reinvigorated painting with a new lust for life after a relatively conservative period for art. Rubens' signature portrayal of the female form was coined "Rubenesque," a term that remains widely recognized today to describe voluptuous nudes.
Key Ideas
Rubens is most known for his highly charged compositions that reference aspects of classical and Christian history. His altarpieces, portraits, and landscapes of mythological and allegorical subjects give a true glimpse of the concerns and climate of the times in which he lived.
Alongside
Raphael
, Rubens was pivotal in establishing the concept of a thriving artist's studio into the art lexicon. His large studio in Antwerp was a production hub for paintings popular with nobility and art collectors throughout Europe. His bustling workshop employed many artists and apprentices who would help accomplish a large and prolific volume of work.
His pleasant, affable demeanor and shrewd business sense enabled Rubens to be a most effective diplomat as well as artist. At a time when paintings were under scrutiny by religious authority to ensure their content properly validated the church's importance above all, these amiable traits allowed him perhaps more poetic license in his output than others less genially inclined.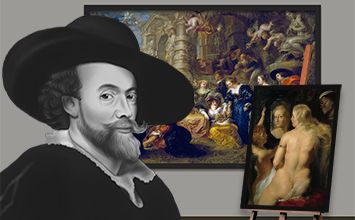 Peter Paul Rubens was one of six children born into a working-class family of tanners, lawyers, and burgesses in Antwerp, the busiest and richest seaport in Europe at the time. His father Jan Rubens, a lawyer and alderman, was involved in politics and other social affairs while his mother Maria Pypelinckx was an heiress and writer from the Southern Netherlands. He was named for the Solemnity of Saints Peter and Paul, the liturgical feast in honor of the ancient martyrdom in Rome, which occurs on June 29.
| | | |
| --- | --- | --- |
| Peter Paul Rubens's childhood, life, career, and various anecdotes | | Read Peter Paul Rubens's Biography |
Important Art by Peter Paul Rubens

The below artworks are the most important by Peter Paul Rubens - that both overview the major creative periods, and highlight the greatest achievements by the artist.

Equestrian Portrait of the Duke of Lerma (1603)

Artwork description & Analysis: In this life-sized painting, Francisco de Sandoval y Rojas, the first minister of Spain, is shown as chief of the Spanish armies riding a white steed. He wears half armor and carries a ruler's staff. The proud Duke, adorned with the scallop of the Knights of Saint James around his neck, and his storybook-like horse are posed in the foreground looking directly at the viewer while the cavalry rides in battle in the far background.

In Rubens' earlier works, the forms were certainly robust but here each position emphasizes the powerful anatomy of the horse or rider, illustrating his knowledge of classical sculptures and their anatomical correctness. Great precision was used to depict the delicateness of the Duke's collar, intricate gleaming armor, jewelry, bejeweled garments, and spurred boots as well as the grandeur of the horse's wavy mane, bridle, intense eyes, and glossy coat. These signature Baroque elements would later make his work immortal and also included the compositional use of diagonals, muscularity (especially in the horse,) foreshortening, and the use of strong lights against darks to bring a stately drama to the scene.

Rubens' composition, which reflects his study of Titian's Portrait of Carlos V in Muhlberg, created a model for equestrian portraits of the future, especially influencing Van Dyke. As stated by Samuel Edwards in his biography, Peter Raul Rubens, the Duke of Lerma was said to be an art expert and was so impressed that "...This equestrian figure, done with great verve and dramatic boldness, was confident and spirited and is generally regarded as the first of Rubens' greatest paintings."

Oil on Canvas - Prado Museum Madrid, Spain

Self-Portrait with Isabella Brandt, his first wife, in the Honeysuckle Bower (1609)

Artwork description & Analysis: In 1609, one year after returning from Italy, Rubens married Isabella Brant. The couple here are in a double self-portrait under a honeysuckle bower. About thirty-two years old, the artist presented himself dressed in chivalric elegance while Isabella, age eighteen, wears a luxurious, richly embroidered dress of heavy wine-colored taffeta silk, an enormous ruff, and a high-crowned hat. They pose here as a respected couple in Flemish middle-class life, perhaps in their inner open air courtyard where Isabella planted gardens of flowers, herbs and vegetables. Rubens designed the stone benches, brought in Classical busts on pedestals, Doric and Corinthian columns, statues, and small fountains. They are sitting in the shade, hand-in-hand, as they lean toward each other but gaze politely toward the viewer. They are surrounded by symbols of love and marriage: the honeysuckle bushes and garden are both traditional symbols of love while the holding of right hands represents union through marriage. The gentle, conservative and loving approach to the painting reflects the intimacy of the occasion.

Rubens' biographer Kristen Lohse Belkin called this piece "...one of his most delightful pictures..." She also noted that this painting is much larger, almost 5 feet by 4.5 feet, than previous portrayals of married couples with the figures shown in half-length poses.

A Baroque attention to detail is evident in the garments, jewelry, and accessories such as the crisp lace, rich glistening fabrics, the glint of the metal of the sword hilt, hatband, and jewels. These features recall the precious, jewel-like panels of earlier Flemish artists, such as Jan van Eyck and Hans Memling.

Rubens depicted himself as calm and patient which is verified by Roger de Piles' account in his book The Life of Rubens; "...he was of tall stature, of stately bearing, with a regularly shaped face, rosy cheeks, light-brown hair, eyes bright but not with restrained expression, a pleasant expression, gentle and courteous..." This same balance of "...bright but with restrained passion..." and "...intense passion moderated by energetic control..." is found in his art.

Oil on canvas on Panel - Alte Pinakothek, Rubens Room

The Elevation of the Cross (1611)

Artwork description & Analysis: Rubens was commissioned to paint his first major altarpiece in 1610 after returning to Antwerp from Italy. The painting, inspired by the biblical story from the Gospel of Matthew, depicts Christ on his Crucifix as it is being raised to the upright position. The central section presents this highly charged emotional moment while the two attached side panels display the dramatic reactions of people grieving and the two thieves who will also be crucified. The composition of the central panel presents the flurry of action and emotion surrounding the body of Christ, shown with diagonal foreshortening, amid a scene of dynamic tension. His dramatically highlighted figure is the focal point, surrounded by heavily muscled men who struggle to lift, push, and pull the heavy burden upward. Their bulging muscles indicate the physical and emotional strain they are experiencing while their expressions and eyes convey fear and disbelief.

The enormous triptych, 15 feet high by 21 feet wide, was placed above the high altar in a vast Gothic church where it would be viewed from below. The triptych format, a central painting with two hinged side panels, or wings, had been used in Northern Europe since the Middle Ages. Typically, the movable wings were painted in a less complex and subdued style illustrating less significant religious scenes or formats. Catholic reform had prompted the Church to embrace visual images for instruction as well as propaganda and no artist was suited to develop a pictorial language that would teach, convert, and arouse religious fervor more than Rubens.

The influence of Italian artists is evident in this work with the richness of the colors and a painterly technique, which recalls that of Titian whom Rubens extensively studied. The dramatic contrasts of light and dark bring Caravaggio to mind while the diagonal composition, foreshortening, muscularity, and physicality recall the work of Michelangelo. As his biographer Samuel Edwards stated: "...the finished work would be hailed as one of the most magnificent ever painted by any artist...in which suffering and fury, horror and pain and passion were expressed with such dynamic force and lyricism..."

Oil on Wood - Cathedral of Our Lady, Antwerp
More Peter Paul Rubens Artwork and Analysis:
Influences and Connections
Influences on Artist
Artists, Friends, Movements
Influenced by Artist
Artists, Friends, Movements

Interactive chart with Peter Paul Rubens's main influences, and the people and ideas that the artist influenced in turn.
View Influences Chart

Artists

Personal Contacts

| | |
| --- | --- |
| | Balthasar Moretus |
| | Nicholas-Claude Fabri de Peresc |
| | Anabale Chieppio |
| | Duke Gonzaga |

Movements

Influences on Artist

Peter Paul Rubens
Years Worked: 1622 - 1640
Influenced by Artist

| | | | | |
| --- | --- | --- | --- | --- |
| Artists | | Personal Contacts | | Movements |
If you see an error or typo, please:
tell us
Cite this page

Content compiled and written by Cheryl VanBuskirk
Edited and revised, with Synopsis and Key Ideas added by Kimberly Nichols
" Artist Overview and Analysis". [Internet]. . TheArtStory.org
Content compiled and written by Cheryl VanBuskirk
Edited and revised, with Synopsis and Key Ideas added by Kimberly Nichols
Available from:
First published on 02 Sep 2018. Updated and modified regularly.


[Accessed ]