Movements, Styles, and Tendencies
Baroque Art and Architecture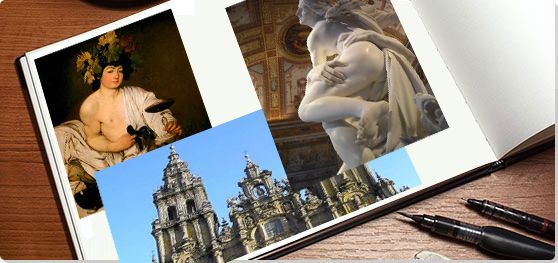 Baroque Art and Architecture
Started: 1584
Ended: 1723

"Those who never dare to break the rules never surpass them."
Summary of Baroque Art and Architecture
In 1527 Europe, religious dominance had the power to direct and inform the content and climate of society's artistic output. At the time, a backlash against the conservative Protestant Reformation was compelled by the Catholic Church to re-establish its importance and grandeur within society. Artists followed suit by reviving Renaissance ideals of beauty, infusing into the era's artwork, music, and architecture a revived nod to classicism further enhanced by a new exuberant extravagance and penchant for the ornate. This highly embellished style was coined Baroque and became marked by its innovative techniques and details, delivering a lush new visual language into what had been a relatively toned down period for art.

Baroque disseminated throughout Europe, primarily led by the Pope in Rome and Catholic rulers in Italy, France, Spain, and Flanders. It was further disseminated by powerful religious orders through their extensive network of monasteries and convents. The style spread rapidly to France, northern Italy, Spain and Portugal, then to Austria and southern Germany.
Key Ideas
Baroque brought images for religious worship back into the public eye after being banned for their glorification of the ethereal and ideal. The movement's leaders professed that art should be easily understood and strongly felt by common people with the effect of encouraging piety and an awe for the church.
Baroque churches became a pivotal example of the invigorated emphasis on the glory of Catholicism with their designs that incorporated a large central space with a dome or cupola high overhead, allowing light to illuminate the space below. The dome was one of the central symbolic features of baroque architecture illustrating the union between the heavens and the earth. Extremely intricate interiors, rife with ornamentation, allowed for a feeling of being fully immersed within an elevated and sacred space.
The defining characteristics of the Baroque style were: real or implied movement, an attempt to represent infinity, an emphasis on light and its effects, and a focus on the theatrical. A number of techniques were introduced, or further developed, by Baroque artists to accomplish these effects including quadro riportato (frescos that incorporated the illusion of being composed of a series of framed paintings), quadrature (ceiling painting), and trompe l'oeil techniques. This allowed for a blurring of the boundaries between painting, sculpture, and architecture that was signature to the movement.
Baroque ushered in a new era for European sculpture, led largely by the work of Gian Lorenzo Bernini, which emphasized sensual richness, dramatic realism, intense emotion, and movement. In Baroque sculpture figures assumed new importance, often spiraling outward from a central vortex, reaching into the surrounding space, meant to be seen in the round from multiple perspectives.
The use of
chiaroscuro
, in which the treatment of light and dark in an artwork helped to create dramatic tension, was a key component in Baroque artwork. It was further evolved by Baroque master
Caravaggio
into
tenebrism
, which used the intensification of contrast within dark atmospheric scenes to spotlight particular elements.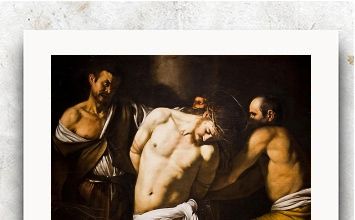 Beginnings:
The origin of the term Baroque is a bit ambiguous. Many scholars think it was derived from the Portuguese barrocco, meaning an imperfect or irregularly shaped pearl. And some, like the philosopher Jean-Jacques Rousseau thought it was derived from the Italian barocco, a term used to describe an obstacle in formal logic in the medieval period. In growing usage the term originally contained negative connotations, the artwork within its cadre viewed as bizarre and sometimes ostentatious. But in 1888 Heinrich Wölfflin's Renaissance und Barock (1888), the term was officially used as a simple descriptive to denote the distinct artistic style.
Important Art and Artists of Baroque Art and Architecture

The below artworks are the most important in Baroque Art and Architecture - that both overview the major ideas of the movement, and highlight the greatest achievements by each artist in Baroque Art and Architecture. Don't forget to visit the artist overview pages of the artists that interest you.

The Calling of St Matthew (1599-1600)

Artist: Caravaggio

Artwork description & Analysis: This work shows a dark tavern where a number of men dressed in contemporary clothing have turned to face Christ, his right arm pointing toward St. Matthew. The light, creating a diagonal that follows Christ's gesture, highlights the expressions and gestures of the men, conveying a sense of the dramatic arrival of the divine. The figures are depicted realistically, their strong muscled calves and thighs in mid-movement. The man at the end of the table is slumped over counting coins.

This work was one of three paintings that the artist created in a commission to depict the signature moments in the life of St. Matthew. Employing chiaroscuro, the intense contrast of light and dark, the work exhibits the direct realism and intense sense of psychological drama that distinguished Caravaggio's work. His technique involved using ordinary people as models and painting them directly, leaving out the drawing stage, and, as a result, as art curator Letizia Treves said, he "made these Biblical stories so vivid, he brought them into his own time - and he involves you, so that you don't just passively watch. Even today, you don't need to know the story...to feel involved in the drama."

In the early 1600s, noted artists including Rubens, Velázquez, Rembrandt, and the Caravaggists throughout Europe were widely influenced by Caravaggio's style. He also influenced lesser-known artists like Dirck van Baburen, Gerrit van Honthorst, and Valentin de Boulogne. By the end of the century, his work fell into obscurity displaced by a rising emphasis on classicism, and wasn't revived until the mid-20th century with a major exhibit in Milan in 1951. His work has again become influential, for example, upon photographer David LaChappelle, the artist Mat Collishaw, and filmmaker Martin Scorsese. Scorsese said of his work, "You come upon the scene midway and you're immersed in it ... It was like modern staging in film: it was so powerful and direct."

Oil on canvas - San Luigi dei Francesi, Rome

Le debarquement de Marie de Médicis au port de Marseille le 3 November (c. 1622-1625)

Artist: Peter Paul Rubens

Artwork description & Analysis: This painting depicts the arrival of The Queen of France Marie de' Medici, dressed in resplendent silver, accompanied by the Grand Duchess of Tuscany and the Duchess of Mantua, as she disembarks on a red parapet. A soldier in a blue cloak patterned with gold fleur-de-lis to signify France, opens his arms to greet her. Above her, a mythological winged figure, representing Fame with two trumpets, heralds her arrival to marry King Henry IV. The diagonal of the red parapet that extends from the gold prow of the ship creates a sense of movement and it also divides the painting into two different worlds; the elegant and refined world of nobility above, and the classical mythological scene below. Three Greek Naiads, goddesses of the sea who ensured safe voyages, fill the lower frame. To their left, Neptune with a gray beard holds out his arm to calm the sea, while next to him, the god Fortune leans against the boat while steering it. These mythological figures lend grandeur and allegorical meaning to the Queen's arrival, but, at the same time, the three nude Naiads overshadow the event with their dynamic sensuality.

Rubens' masterful compositions that combined a wealth of history and allegory with depictions of signature moments in scenes of visual exuberance were much in demand with the nobility. The unabashed sensuality of his full-figured female nudes was also innovative, and so distinctive they are still dubbed as "Rubenesques." As art critic Mark Hudson wrote, "He imported the proto-baroque painting of Titian and Michelangelo and the gritty realism of Caravaggio into Northern Europe, fusing them into a physically gigantic, sensually overloaded, triumphantly Catholic art."

This was one of 24 paintings commissioned by Marie de' Medici in 1621, after the assassination of her husband Henry IV, to create a cycle to immortalize her life. She may also have been motivated to portray her rightful standing, as tensions between the ruling factions in France and a "foreign" queen had led to her banishment from the court in 1617. Rubens, the most famous painter in Northern Europe, was drawn to the commission as it gave him permission to explore a secular subject, and one that he could inform with allegorical and mythological treatments. Art historian Roger Avermaete wrote of the work, "He surrounded her [Marie de' Medici] with such a wealth of appurtenances that at every moment she was very nearly pushed into the background. Consider, for example, the Disembarkation at Marseilles, where everyone has eyes only for the voluptuous Naiads, to the disadvantage of the queen who is being received with open arms by France."

Ruben's work was influential upon artists like Velázquez and informed the Rococo artists that followed including Antoine Watteau and Francois Boucher. He also influenced Eugène Delacroix, Paul Cézanne, and Pablo Picasso. Though less known, his landscapes also influenced J.M.W. Turner, John Constable, and Thomas Gainsborough. As Mark Hudson wrote, "From Rembrandt, Watteau and Delacroix to Cézanne and Picasso, the Rubenesque sensibility runs strong and deep through Western art."

Oil on canvas - Musée du Louvre, Paris, France

Judith and Holofernes (c. 1620-1621)

Artist: Artemisia Gentileschi

Artwork description & Analysis: This dynamic painting depicts the Biblical story of the pious widow Judith and her attendant Abra as they behead the struggling Assyrian general Holofernes. When Holofernes besieged and threatened to destroy her city, Judith adorned herself and went out to meet him on the pretext of offering information. Intending to seduce her, he invited her into his tent for dinner but as the Bible says, "was so enchanted with her that he drank far more wine than he had drunk on any other day in his life." Taking a sword, Judith beheaded him and returned with his head in a basket to the city, where she was acclaimed as a hero. Unlike traditional depictions which emphasized Judith's beauty and delicacy and portrayed Abra as an observing witness, this work innovatively emphasizes the women's strength, their expressions conveying determined resolve, as they work together, sleeves rolled up, to do a difficult but necessary task. The intense physicality and violence of the depiction, as art historian Esperança Camara wrote, "to this day...strikes its viewers with both revulsion and awe at the skill of the artist who so convincingly transformed paint into blood."

This particular subject was popular in Renaissance Florence, as seen in Donatello's statue Judith and Holofernes (1460). In the Baroque period, it became identified with the Church Militant, an expression of the victory of Christianity. But Gentileschi's portrayal took on a unique immediacy as it was informed by a personal traumatic experience. She portrayed herself as Judith and Holofernes resembles the artist Agostino Tassi, her art tutor who raped her. In 1612 he was put on trial (although it was Gentileschi who was tortured to ascertain her truthfulness), found guilty, and spent eight months in prison before being pardoned early into his sentence. Even though he had been convicted of rape previously and suspected of having murdered his wife, Tassi benefited from both the gender privileges of the era and the protection that powerful patrons extended to artists. Pope Innocent X said, "Tassi is the only one of these artists who has never disappointed me," meaning because he never pretended to be a man of honor. As art critic Jonathan Jones wrote, "she communicated a powerful personal vision," that "fought back against the male violence that dominated the world she lived in." Perhaps as a result of that intense personal vision, her work was later hidden away. By the 1700s it was viewed as 'too violent.' In her own time, as Jones wrote, "the visceral power of her paintings made her one of the most famous artists in Europe." Feminist artists, including Judy Chicago and the Guerilla Girls in the 1970s, subsequently rediscovered her work.

Oil on canvas - Uffizi Gallery, Florence, Italy
More Baroque Art and Architecture Artwork and Analysis:
If you see an error or typo, please:
tell us
Cite this page

Content compiled and written by Rebecca Seiferle
Edited and revised, with Synopsis and Key Ideas added by Kimberly Nichols
" Movement Overview and Analysis". [Internet]. . TheArtStory.org
Content compiled and written by Rebecca Seiferle
Edited and revised, with Synopsis and Key Ideas added by Kimberly Nichols
Available from:
First published on 28 Aug 2018. Updated and modified regularly.


[Accessed ]