Artists
Artemisia Gentileschi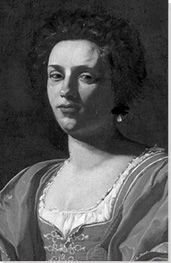 Born: July 8, 1593 - Rome, Italy
Died: c. 1656 - Naples, Italy

"My illustrious lordship, I'll show you what a woman can do."

Summary of Artemisia Gentileschi
Centuries ahead of her time, Artemisia Gentileschi was one of the first and only female artists to achieve success in the seventeenth century. Following in the footsteps of Caravaggio, her Baroque paintings were some of the most dramatic and dynamic of her generation and she became known for her realism, her accomplished use of chiaroscuro, and for placing women and their stories at the center of all her images. Her surviving works present a unique personal perspective on the cultural and social norms of the period, norms which she often intentionally inverted, using her position as an artist to comment on the male-dominated nature of society and to place an alternative focus on female agency.
Key Ideas
Although stylistically Artemisia Gentileschi's work owes a debt to that of Caravaggio and her father Orazio, her paintings place a greater emphasis on realism than her predecessors. Her compositions are also more energetic and during her career she carefully refined the use of texture and color, becoming known for her rich jewel hues and realistic flesh tones.
Gentileschi subverted traditional depictions of the female protagonists of biblical and mythological stories presenting them as self-motivated heroines capable of making their own decisions rather than passive objects of the male gaze. In doing so she presented them in an entirely new way and this allowed them to possess a power that had been denied them by other artists.
The artist's teenage experience of sexual assault affected much of her work and themes of abuse of authority, rape, and violence permeate many of her paintings. It is likely that painting these subjects allowed her to process the trauma of her assault and to seek revenge and redress through her artworks.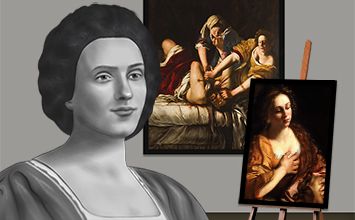 Artemisia Gentileschi was born on July 8, 1593, in Rome to Prudentia Montone (who died when Artemisia was 12), and Orazio Gentileschi, a well-known painter. The eldest of several children, Gentileschi quickly showed an aptitude for art and began to learn from her father. Orazio was a friend of Caravaggio, the provocative painter at the forefront of the art scene in Rome. Together, Orazio and Caravaggio were once charged for writing slanderous graffiti on the streets of Rome about another painter. During the trial, Orazio told an anecdote about Caravaggio visiting his house to borrow some angel wings, indicating that the great artist was intimate with the Gentileschi family and suggesting that the eldest daughter Artemisia would have met him. Regardless, when Artemisia was 13, Caravaggio was implicated in a murder and forced to flee from Rome to Naples. Despite this, Caravaggio's influence can be seen in the work of both Orazio and Artemisia.
Important Art by Artemisia Gentileschi

The below artworks are the most important by Artemisia Gentileschi - that both overview the major creative periods, and highlight the greatest achievements by the artist.

Susanna and the Elders (1610)

Artwork description & Analysis: This accomplished painting is the first work known to be entirely painted by Artemisia Gentileschi, completed when she was 17 years old. The work shows a frequently depicted biblical scene: two voyeuristic elders spy on the virtuous Susanna while she is bathing, then attempt to blackmail her into having sexual relations with them with false accusations of adultery. While many artists have chosen this subject, Susanna is usually presented as unaware of the elders' presence, or even welcoming them in a flirtatious fashion. Gentileschi, on the other hand, shows Susanna's distress at being watched and accosted by the men, presenting the incident as a traumatic event. Although the work shows the clear influence of her father stylistically, the subject matter is more dramatic and expressive than his.

Susanna's response is at the center of the painting, demonstrating Gentileschi's unprecedented psychological realism, particularly in her presentation of women. Feminist art historian Mary Garrard argues that "Artemisia's Susanna presents us with an image rare in art, of a three-dimensional female character who is heroic". She goes on to explain that "the expressive core of Gentileschi's painting is the heroine's plight, not the villains' anticipated pleasure," and this offers an entirely different set of concerns to many of her male counterparts. Gentileschi painted this image prior to her rape by Tassi and the subject matter may reflect sexual harassment that she was receiving at his and other artists' hands once she began training at his studio.

Oil on canvas - Schönborn Collection, Pommersfelden

Danae (1612)

Artwork description & Analysis: The Greek myth of Danae tells the story of a young woman confined to her bedchamber by her father, King Acrisius of Argos. It was a ploy to prevent her getting pregnant as an oracle had predicted that she would bear a son who would cause Argos' death. The King of the Gods, Zeus, transformed himself into a shower of gold and succeeded in impregnating her in this form and it is this moment that Gentileschi depicts here. The son Danae bore was Perseus who later fulfilled the prophecy.

Danae was a traditional subject for paintings and had previously been depicted by artists including Titian and Tintoretto. Representations were either of Danae as pure and chaste or promiscuous and greedy, eagerly accepting the gold. In the work, Gentileschi references some of the these tropes, including the servant in the background catching the gold, but she also subverts them. Gentileschi's Danae is neither sexually aggressive nor innocently unaware, instead she is shown in the process of experiencing the consummation. There is some debate as to the meaning of this and it has been suggested by art historians Keith Christiansen and Judith W. Mann that "the painting depicts the sexually aroused Danae". They go on to argue that "Danae's fist, the coins pushed between the clenched fingers, also becomes a metaphor for sexual embrace" and that she is shown enjoying her sexual union with Zeus. Alternatively, professor Jeanne Morgan Zarucchi has argued that this image shows sexual violence and resistance as Zeus forces himself onto Danae. This is in line with the semi-autobiographical nature of Gentileschi's early works which often reference sexual assault.

This painting was originally attributed to Orazio Gentileschi but this was reconsidered in the late 1990s, predominantly due to the similarities in pose and composition to Artemisia's Cleopatra (1621) painted some ten years later. Artemisia's use of rich colors, subtle flesh tones, and texture are also evident in the work, particularly in the red sheet and the contrast between the metal coins and Danae's bare flesh.

Oil on copper - Saint Louis Art Museum

Judith Slaying Holofernes (c.1620)

Artwork description & Analysis: In this painting, Gentileschi depicts another popular biblical scene (which she herself returned to more than once during her career): the slaying of Holofernes by Judith. Traditionally portrayals had focused on the beauty and courage of Judith rather than the process of the beheading itself. In 1598, however, Caravaggio painted the scene with an unprecedented degree of realism. Gentileschi took this realism (both psychological and physical) a step further, by considering the identities of the women and the significant physical demands of beheading someone. The painting contains an intense energy, from Holofernes' grasping fist and the struggle of the women to complete the task to the spurting blood from the neck wound. This dynamism is further highlighted by the use of bold colors and dramatic chiaroscuro.

In this painting, Gentileschi presents a portrait of women's power, while simultaneously asserting her own power as an artist with the capacity to choose her own subjects and make her own decisions about how to treat them. As The Guardian's senior art critic Jonathan Jones argues, "In most paintings, including Caravaggio's hallucinatory rendering, Judith has a servant who waits to collect the severed head. But Gentileschi makes the servant a strong young woman who actively participates in the killing. This does two things. It adds a savage realism that even Caravaggio never thought of - it would take two women to kill this brute. But it also gives the scene a revolutionary implication. 'What,' wonders Gentileschi, 'if women got together? Could we fight back against a world ruled by men?'" Notably, this is one of several paintings by Gentileschi that depict women taking revenge or punishing men. This can be seen as an expression of her frustration and anger after her rape and trial as a teenager and it has been suggested that Judith is a self-portrait of the artist.

Oil on canvas - Uffizi, Florence
More Artemisia Gentileschi Artwork and Analysis:
Influences and Connections
Influences on Artist
Artists, Friends, Movements
Influenced by Artist
Artists, Friends, Movements

Interactive chart with Artemisia Gentileschi's main influences, and the people and ideas that the artist influenced in turn.
View Influences Chart

| | | | | |
| --- | --- | --- | --- | --- |
| Artists | | Personal Contacts | | Movements |

Influences on Artist

Artemisia Gentileschi
Years Worked: 1610 - 1654
Influenced by Artist

Artists

Personal Contacts

| | |
| --- | --- |
| | Simon Vouet |
| | Massimo Stanzione |

Movements
If you see an error or typo, please:
tell us
Cite this page

Content compiled and written by Anna Souter
Edited and revised, with Synopsis and Key Ideas added by Kate Stephenson
" Artist Overview and Analysis". [Internet]. . TheArtStory.org
Content compiled and written by Anna Souter
Edited and revised, with Synopsis and Key Ideas added by Kate Stephenson
Available from:
First published on 04 Sep 2018. Updated and modified regularly.


[Accessed ]