Artists
Angelica Kauffman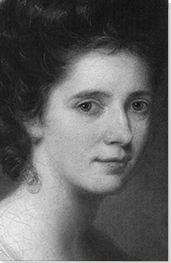 Born: 1741 - Chur, Switzerland
Died: 1807 - Rome, Italy

"my love for my fatherland will not die in my heart"
Summary of Angelica Kauffman
A remarkable pioneer, Angelica Kauffman made art similar to other talented women artists but did so not from the fringes, but from the very center of the recognised British art establishment. She was cultured, widely travelled, and multi-lingual from childhood. As a great friend to both Joshua Reynolds and Johann Wolfgang Goethe she was well connected, highly respected and much loved by some of the most influential artists of her day. As such, she was one of only two women to officially sign the founding document for the establishment of the Royal Academy in London. She managed to wholly avoid destructive ridicule and sexual innuendo that often followed women trying to make their way as artists at this time.

Despite being rebellious and individual by nature, always preferring the imaginative rather than imitative approach to art, Kauffman remained clever and careful to always take convention into consideration as the way to maintain a good reputation and secure the smooth progression of her career. Although predominantly a traditional Neoclassical painter, throughout her career there is a tendency to reflect and to maintain the steady production of self-portraits alongside portraits of notable figures and large historical canvases. She was married to the Venetian artist, Antonio Zucchi, and in death was honored by her friend - the iconic sculptor Antonio Canova - who organised her funeral and carved her tomb.
Key Ideas
Kauffman was a child prodigy. Taught by her artist father from an early age - a great influence throughout her life - she painted a highly accomplished portrait of herself at age thirteen. This was one of the ways that women ensured a good reputation in a male dominated world - by showing that their talent was born early - and some of her notable female portraitist forbears, including
Sofonisba Anguissola
and Anna Waser, did the same.
In both the self-portrait that Kauffman made as a young girl, and in another painting made at age fifty, she reveals that she was a talented musician as well as an artist and felt torn between the two vocations throughout her life. In the childhood portrait she holds up sheet music and in the later allegorical painting positions herself between the figures of art and music. She successfully makes visible a psychological tension and therefore looks forward to the grappling of selfhood through art (a pursuit by many in the 20th century).
In a number of works, Kauffman presented her own self-portrait in many guises, inserted as a character in a history painting and as a working artist. She also shows herself holding her portfolio in relaxed pose traditionally established to show the amateur female artist at work. Most professional painters stirred away from any such association with the amateur as this could devalue their work. Kauffman however, always humble and modest, seems to have the confidence to display her elevated talent whilst maintaining strong identification with the everyday woman.
For history painters - history being the most elite and lucrative category in painting and not common for a woman - it was recognised as tradition that muses and personifications of ideas were often depicted as female. The artists, however, were typically male. As opposed to norms, Kauffman always included the figure welding the brush or pencil to be a woman, thus making the profound early statement that women are not only models for inspiration, but also the makers of art.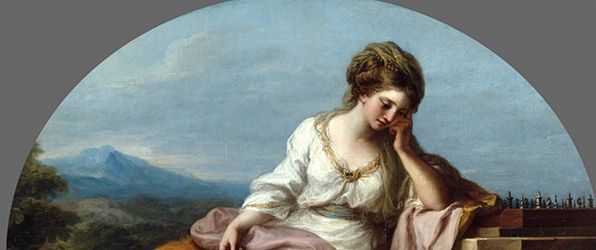 Detail of Composition (1778-80)
As an unrivaled painter and queen of self-promotion, Angelica Kauffman's fame was also her downfall. Although the art-loving public were crazy about her work, rumor and slander dogged her personal life leading her to burn most of her personal papers before her death.
| | | |
| --- | --- | --- |
| Angelica Kauffman's childhood, life, career, and various anecdotes | | Read Angelica Kauffman's Biography |
Important Art by Angelica Kauffman

The below artworks are the most important by Angelica Kauffman - that both overview the major creative periods, and highlight the greatest achievements by the artist.

Self Portrait Aged Thirteen (1753)

Artwork description & Analysis: When she was thirteen, Kauffman painted this exquisite self-portrait to show that she was equally talented in music and painting. In a double message, she proudly showcases her talents as well as revealing from the outset that she is interested in self-investigation and discovery. Her palette of icy pink and pastel blue is very reminiscent of earlier eighteenth century Rococo painting and the likes of Jean-Antoine Watteau. Indeed, Kauffman, by this age was already well versed in art history and had frequented art galleries with her influential artist father.

Interestingly, at age fifty she returned to this very same subject, recalling the episode in her youth (perhaps at age thirteen) when she had asked a priest whether she should follow art or music as her profession. To convey the experience of being psychologically torn by choice, or by the multi-faceted strands of a complex personality is a very modern subject. Amazingly, Kauffman (through self-portraiture) had successfully uncovered the major theme that would become one of the central leitmotifs in twentieth century art.

Oil on Canvas - Tiroler Landesmuseum, Innsbruck, Austria

Sir Joshua Reynolds PRA (1723-1792) (1767)

Artwork description & Analysis: Here is Kauffman's portrait of the influential English painter Joshua Reynolds. He is her friend and accordingly, the tone of this picture is extremely relaxed. Reynolds is surrounded by his books and papers, and there is a bust of Michelangelo to the far left, there to pass inspiration from one artist to another. The rich colors of the scene and the fact that Reynolds wears seventeenth-century clothing recalls the portraits of Flemish artist, Anthony van Dyck. Indeed, when she arrived in London Kauffman was soon hailed to be van Dyck's successor. In contrast to the unwavering formality of van Dyck however, Kauffman skillfully captures a more personal glimpse into the life of her subject; she uncovers a touching sentimentality that would come to be an important defining feature of her portraiture.

Indeed, however notable and considered grandiose to others, Kauffman always rendered her subjects more humble, and so, more human. This was the case for her portrait of the actor David Garrick - which she submitted to the Society of Artists' exhibition whilst still in Rome in 1765 - and also for her Portrait of Winckelmann (1764), her view of the widely acclaimed German archaeologist and antiquarian. Reynolds in particular remained a friend and very important contact for Kauffman throughout her time in England. As well as introducing skill and talent to potential clients, he also helped Kauffman to retain her reputation following the scandal of her first marriage. We see the intimate and trusted friendship that the two artists have through the expression on Reynold's face in this portrait.

Oil on canvas - Saltram, Devon, UK

Self-portrait (c. 1770-1775)

Artwork description & Analysis: Unusually in this painting, and also in a further self-portrait from 1787, Kauffman shows herself with crayon at the ready and her portfolio. This pose was developed during the eighteenth century, notably in England, for portraits of lady amateurs. There was a strong barrier between professional and amateur female artists at this time; amateurs did not have artistic training, they could not sell their work, and largely, their work was not particularly strong. For unknown reasons however, Kauffman associated with the amateur and repeatedly painted herself in the given pose throughout her career.

One can only speculate why the artist did this as there is limited research on the subject, but it seems that Kauffman was interested in the popularisation of her work in many ways. Maintaining a strong connection to everyday life, even when having become famous, it seemed important to Kauffman that her paintings could be widely reproduced as prints. Furthermore, it has been suggested that by painting herself as a lady amateur(albeit an especially talented one) Kauffman retained her ladylike status and kept dangerous gossip and malice at bay. In reality, she was a wealthy, independent, and vigorously talented woman, but she was also clever and understood that society was not yet ready for such a bombastic unstoppable female force. She thus retained in her self-portraits - alongside strength and the will to work - a disarming and sweet feminine charm.

oil on canvas - National Portrait Gallery, London
More Angelica Kauffman Artwork and Analysis:
Influences and Connections
Influences on Artist
Artists, Friends, Movements
Influenced by Artist
Artists, Friends, Movements

Interactive chart with Angelica Kauffman's main influences, and the people and ideas that the artist influenced in turn.
View Influences Chart

| | | | | |
| --- | --- | --- | --- | --- |
| Artists | | Personal Contacts | | Movements |

Influences on Artist

Angelica Kauffman
Years Worked: 1760s - early 1800s
Influenced by Artist

Artists

| | |
| --- | --- |
| | Anne Thackeray Richie |
| | W. W. Ryland |

Personal Contacts

Movements
If you see an error or typo, please:
tell us
Cite this page

Content compiled and written by Mélissa Evans
Edited and revised, with Synopsis and Key Ideas added by Rebecca Baillie
" Artist Overview and Analysis". [Internet]. . TheArtStory.org
Content compiled and written by Mélissa Evans
Edited and revised, with Synopsis and Key Ideas added by Rebecca Baillie
Available from:
First published on 12 Mar 2019. Updated and modified regularly.


[Accessed ]