Artists
Elisabeth Louise Vigée Le Brun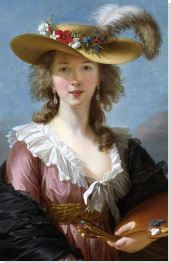 Born: April 16, 1755 - Paris, France
Died: March 30, 1842 - Paris, France

"But I could now paint no longer; my broken spirit, bruised with so many horrors, shut itself entirely to my art."
Élisabeth Louise Vigée Le Brun
Summary of Elisabeth Louise Vigée Le Brun
Grace, elegance and a welcoming manner, these words might as easily describe the personalities portrayed in the portraits by Elisabeth Louise Vigée Le Brun, as the artist herself. Normally a tedious process, Vigée Le Brun's reputation as a lively conversationalist, in addition to her demonstrably expert talent as a painter, were significant to a clientele that often dreaded the notion of having a portrait made. The active engagement between the artist and her subject is evident in the finished portrait, as her sitters appear both relaxed and animated. She quickly won over her most famous and loyal supporter, none other than the controversial Queen of France, Marie Antoinette. In her hands, we see Marie Antoinette take on the roles of queen, equestrian, fashionista, and mother - some portraits are scandalous while others follow royal protocol.

Madame Le Brun, as she was commonly known, was an embodiment of French aristocratic culture, which remained a key trait of her style and success in her period of self-imposed exile during the French Revolution. In all, the prodigious artist produced approximately 800 paintings with a long list of royal patrons actively seeking her flattering portrayals across Europe. Although the portraits of Vigée Le Brun might look traditional to contemporary viewers, she was not shy in breaking established norms in the genre. For example, the welcoming gestures and slightly open-mouthed smile, as if in greeting, found in many of her portraits caused quite a stir when debuted. What first caused scandal, however, soon became style, as the pleasing naturalism and relaxed manner of Vigée Le Brun's portraits became immensely popular among the elite and trademark of the artist's distinctive style.
Key Ideas
The odds facing women artists in the 18th century were nearly insurmountable. The vast majority of women who were able to make a living in the arts learned their trade from their fathers, as did a young Elisabeth Vigée. Her father's early death, however, and the inability for women to receive training as an apprentice or in the academy, meant that the artist was virtually self-taught. From such inauspicious beginnings, Vigée Le Brun developed into one of the leading artists in all of Europe, able to command higher prices for her portraits than any other artist of her time.
Vigée Le Brun's fame was secured in 1778 when she was summoned to paint her first portrait of the young Queen Marie Antoinette. From that point, Vigée Le Brun was the queen's favorite portraitist, creating 30 portraits over the next decade of the ruler who preferred fashion to royal protocol, often causing a scandal in the process. For example, on more than one occasion, the queen preferred a sense of autonomy in her portrayal as opposed to the lavish trappings of the French court, donning the simple attire of a peasant (or the queen's notion of a peasant).
The
Rococo
style was in decline by the time of Elisabeth Vigée Le Brun's introduction to the French royal court. In her able hands, however, she deftly combined the grace and elegance of this earlier style with the composure and decorum of the nascent trend of
Neoclassicism
. Although she would never adopt the hard, linear style associated with the high Neoclassical tradition, most notably in the history paintings of her contemporary,
Jacques-Louis David
, she found ways to integrate notions of the past, such as in adopting the attire of antiquity, into her portraiture.
French culture was widely influential in Europe during the 18th century. Whereas her royalist position would put Vigée Le Brun's life in danger in revolutionary France, it was an asset to the artist abroad. Her highly sought-after style of portraiture represented the height of aristocratic French culture to patrons in Italy, Austria and, perhaps above all, the Russian court of Catharine the Great dramatically increasing the prestige of the artist.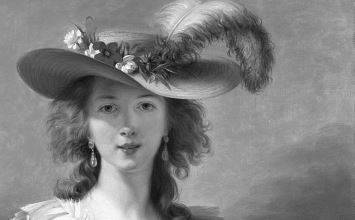 The daughter of a French pastel portraitist, Elisabeth Louise Vigée was born in Paris in 1755. In her published memoirs, titled Souvenirs, she describes how she was attracted to drawing from a very early age, admitting, "I scrawled on everything at all seasons; my copy-books, and even those of my schoolmates had their margins crammed with tiny drawings of heads and profiles." Her doting father, Louis Vigée, enthusiastically encouraged her nascent artistic efforts, allowing her free reign of his studio and materials.
Important Art by Elisabeth Louise Vigée Le Brun

The below artworks are the most important by Elisabeth Louise Vigée Le Brun - that both overview the major creative periods, and highlight the greatest achievements by the artist.

Hubert Robert (1778)

Artwork description & Analysis: Dramatically lit, this Neoclassic portrait of the Landscape painter Hubert Robert does more than present a mere likeness of the sitter. Set in an austere environment, a common trait of Neoclassic portraiture, Robert casually holds his palette and brushes in his left hand, while the right rests on a ledge, creating a sense of fluency and mastery of his trade. Cleverly Vigée Le Brun has utilized the motif common for an artist's self-portrait and used it for the portrait of her colleague; such that the subtext becomes a dialogue between the two painters. It is a conversation interrupted, however, as Robert, momentarily distracted, looks sharply to our right, beyond the view of the canvas. With an almost snapshot like composition, decades before the advent of the camera, she captures in his posture a sense of familiarity, and with his focused gaze, his intellect.

A common misconception of Vigée Le Brun is that she was primarily a portraitist of women. In fact, she painted an almost equal number of men throughout her career. Some of the critique Vigée Le Brun has received by contemporary historians points to an inconsistency between the representation of her male and female sitters; notably that she creates an air of authority in her male portraits, in contrast to the softer style afforded to her woman clientele. As Chadwick notes, "The brusque, taut surfaces and intense gazes of male sitters in Vigée Le Brun's portraits of the painters Joseph Vernet and Hubert Robert are almost entirely missing from her portraits of women. The focused mental energy of these figures (Robert's hair springs from his head as if electrified) are in sharp contrast to the many portraits of women with the softened contours and misted surfaces." Artist biographer Meryle Secrest echoes this sentiment, who notes in contrasting Vigée Le Brun to Gainsborough for ArtNews, "Vigée Le Brun, for instance, was making masterly studies of men, but her women too often conform to the clichés of her age." Whether Vigée Le Brun's portraits of women simply conform to clichés, rather than symbolize their elevated status and social position, remains a source of debate.

Oil on canvas - Musée du Louvre, Paris

Peace Bringing Back Abundance (1780)

Artwork description & Analysis: Peace Bringing Back Abundance, is a departure from the portraiture for which Vigée Le Brun was best known and sought after. Instead, she creates an allegorical scene, a subgenre of history painting, depicting a quiet moment between two symbolic female characters representing Peace and Abundance. Vigée Le Brun submitted this piece for her successful application to the Académie, or the French Royal Academy of Painting and Sculpture, albeit with assistance from the queen. Her admittance to the academy, which allowed only four women at any given time, was a double challenge to the restrictions and prevalent gender stereotypes of her time and her marriage to a commercial art dealer. That she did so with a history painting further conflated the issue. As Mary D. Sheriff describes in her text, "Because history paintings displayed and required imagination and judgment two central components of reason they traditionally belonged on the side of the masculine."

As an allegorical work, Peace Bringing Back Abundance fulfills the requirements of a history painting. In Vigée Le Brun's hands, it also blurs the distinctions between the Rococo and Neoclassical styles. On the right is Peace, identifiable by her olive branch, who is guiding Abundance, with her harvest of fruits and wheat. It is suggested that peacefulness and plentitude go hand-in-hand; two figures are clad in billowing, crisp drapery come together in an undefined, ethereal space. "Although two women are represented," Sheriff argues, "in terms of contemporaneous painting codes they are alternately gendered as "masculine" (Peace) and "feminine" (Abundance)." As Sheriff continues, "Reading the gendered distinction as representing power and dependency, with Peace guiding and controlling the pliant, sensual, and dependent figure of Abundance, signals not only the painting's eroticism, but also the allegory's meaning." Additionally, the soft, powdery glow of Abundance's skin, her bare breast as well as the texture and color of her drapery, align the representation of Abundance with the Rococo style. Conversely, the darker attire and brunette hair of Peace, often allied with masculinity, and her crown of laurels might hint at the Neoclassicism, a trend towards rationalism in art that was beginning to emerge at this time.

Oil on canvas - Musée du Louvre

Self Portrait in a Straw Hat (1782)

Artwork description & Analysis: Vigée Le Brun's Self Portrait in a Straw Hat is both a confident portrait and an ode to the influence of Peter Paul Rubens. Similar to the Flemish painter's earlier portrait of Susanna Lunden, known as The Straw Hat (1622-1625), the artist paints herself in a garlanded and feathered straw hat and swathed in lush fabrics of white, pink, and black. Unlike the sensuality of the earlier painting, as Susanna looks coyly toward the viewer in low-cut bodice, Vigée Le Brun's self-portrait establishes the attractive young woman as a confident artist. She holds her brushes and palette in one hand with the other in a gesture of friendship. The artist directly meets the gaze of the viewer, mouth upturned and slightly opened, as if in mild amusement or about to speak, while positioned in front of a clouded, but otherwise empty sky.

Self-image was vital to Vigée Le Brun's popularity, and here she fashions it with virtuosic skill. As Katharine Baetjer notes, her beauty was very much part of her appeal and selling power, and here she emphasizes her youthful blush, almond eyes, and white breast almost revealed as the left side of her dress drops open somewhat. At the same time, the richness of the clothing not only projects a sense of luxury and wealth, but also extremely skilled painting - something also evident in the texture and shine of the paints on her palette. What is suggested is that a portrait by Vigée Le Brun will not only be flattering and sumptuously detailed, but that even the sitting itself will be improved by the presence of such a beautiful and amiable artist; fine art and advertising become almost one and the same. The widely-acknowledged influence of Rubens also announces Le Brun as a painter who is aware and worthy of the tradition of the Old Masters, as indeed she was.

Oil on canvas - The National Gallery, London
More Elisabeth Louise Vigée Le Brun Artwork and Analysis:
Influences and Connections
Influences on Artist
Artists, Friends, Movements
Influenced by Artist
Artists, Friends, Movements

Interactive chart with Elisabeth Louise Vigée Le Brun's main influences, and the people and ideas that the artist influenced in turn.
View Influences Chart


Influences on Artist

Elisabeth Louise Vigée Le Brun
Years Worked: circa 1770-1824
Influenced by Artist

| | | | | |
| --- | --- | --- | --- | --- |
| Artists | | Personal Contacts | | Movements |
If you see an error or typo, please:
tell us
Cite this page

Content compiled and written by Loïc Desplanques
Edited and revised, with Synopsis and Key Ideas added by Molly Enholm
" Artist Overview and Analysis". [Internet]. . TheArtStory.org
Content compiled and written by Loïc Desplanques
Edited and revised, with Synopsis and Key Ideas added by Molly Enholm
Available from:
First published on 02 Sep 2018. Updated and modified regularly.


[Accessed ]