Artists
Rembrandt van Rijn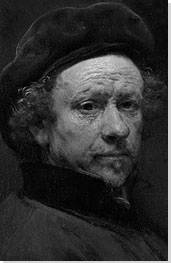 Born: July 15, 1607 - Leiden, the Dutch Republic
Died: October 4, 1669 - Amsterdam

"Try to put well into practice what you already know. In so doing, you will, in good time, discover the hidden things you now inquire about."

Summary of Rembrandt van Rijn
An intense psychological study of people, objects, and their surroundings coupled with an earnest Christian devotion fueled Rembrandt's life and work. Incredibly gifted as an artist from a very young age, he became a master of portraits of all types, historical, biblical, and mythological scenes, as well as simple, charming but dramatic landscapes. He used many types of materials and techniques with unusual sensitivity and spontaneity to develop his message. His approaches to composition, color usage, and shadow were everchanging to produce the most powerfully moving but most natural moments of human existence. His supreme mastery of light and texture to emphasize emotional depth weaved a common theme through all of his creations, cementing his status as one of art's greatest, innovative masters. These qualities are evident from his large, ambitious early history paintings to his more intimate and glowing later style. The iconic genius is generally regarded as the most important artist in Dutch art history as his work epitomized the great period of wealth and cultural achievement known as the Dutch Golden Age.
Key Ideas
Rembrandt was renowned for his outstanding ability to not only depict very natural, realistic human figures but even more importantly, to portray deep human feelings, imperfections and morality. He believed that human emotions were more important than any other aspects of life and his subjects' feelings and experiences are what he wanted to convey even when painting them within the context of history, religion, or society.
One of Rembrandt's biggest contributions was his transformation of the etching process from a relatively new reproductive technique into a true art form. His reputation as the greatest etcher in the history of the medium remains to this day. Although few of his paintings left the Dutch Republic during his lifetime, his prints were widely circulated throughout Europe.
Rembrandt's extensive self-portraits are notable in that they inform a unique visual biography of the artist. Whether painting himself in costume or as an ordinary man, he surveyed himself without vanity and with a vulnerable sincerity.
During the Dutch Golden Age, portraiture rose in popularity. With the new trade routes delivering an awareness of exotic cultures and foreign interests, members of the new merchant class enjoyed commissioning imaginative likenesses of their selves to display in their homes, and companies and other professional organizations would also acquire group portraits. Rembrandt was one of the greatest portraitists of this time, known for his impeccable capturing of his subjects' distinct personalities and emotional idiosyncrasies.
Although illustrated scenes from the Bible and large-scale history paintings were falling out of fashion, Rembrandt remained devoted to the genre compelled by a deep religious devotion and empathy for the human condition. He has been called one of the great prophets of civilization due to his humane rendering of these age-old narratives.
Rembrandt would surpass the inventiveness of
Titian
and
Velazquez
with his progressive handling of paint, making it as much a subject in the composition of a painting as his figures. Variations of brush stroke between loose and rough, or the manipulation of textures through scratching or with a palette knife, would all contribute greatly to a radically new signature style that would influence generations to come.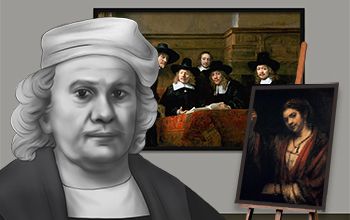 Rembrandt van Rijn was the eighth of nine or more children born to Harmen van Rijn, a corn miller, and Cornelia van Zuijtbrouck, a baker's daughter. The prosperous family lived in Leiden near the Rhine River, originally called the Van Rijn River, and dedicated themselves to religion and education. Cornelia often read the Scriptures to her children, which provided a strong sense of God, man, and nature for the young and profoundly Christian Rembrandt. Rembrandt's parents recognized his talents as a young child so they sent him, from age 7 to 14, to the Latin School in Leiden for a classical education. He received the best education that an academic city in Holland could provide for a child with a deep interest in literature and scripture. He was duly prepared for admission to the University of Leiden, a fine institution. He entered the University as Rembrandus Hermanni Leydenis and signed early paintings as RHL, but after a few months he withdrew to dedicate himself to art.
Important Art by Rembrandt van Rijn

The below artworks are the most important by Rembrandt van Rijn - that both overview the major creative periods, and highlight the greatest achievements by the artist.

The Anatomy Lesson of Dr. Nicholas Tulp (1632)

Artwork description & Analysis: In this pyramid-shaped composition, seven awkwardly posed men with bright white, ruffled collars are intently observing a man named Dr. Tulp who is facilitating an anatomy lesson. He completely commands the right side of the painting, demonstrating on a male cadaver. The unity of the parts is remarkably well planned with the angle and size of the dead man drawing the viewer's eyes into the center.

The work depicts the important annual January anatomy lesson, which was an eagerly anticipated event for all the local senators, burgomasters, and aldermen of the city. The curators and rectors from the university also attended with crowds of professors and students while the general public purchased tickets to sit on benches in the back row. In The Body Emblazoned, Jonathan Sawday noted that, "...anatomization takes place so that, in lieu of a formerly complete 'body,' a new 'body' of knowledge and understanding can be created. As the physical body is fragmented, so the body of understanding is held to be shaped and formed."

This type of group portrait was a purely Dutch institution; a unique and long established tradition that helped document and honor the officers of a guild or other organization. Usually six to twenty individuals shared the cost and composition equally. In this piece, Rembrandt's carefully rendered and illuminated faces stare at the corpse or glance out at the viewer to establish their sense of importance and inclusion. The scene is highly staged and dramatic with the esteemed physician wearing his hat to denote his status for the rapt audience. Rembrandt ensures that the viewer understands the narrative without distraction by limiting the colors to simply dark or brightly lit except for the bloody left forearm being dissected near the center of the composition. The brightest areas: the prone body, the faces, and Dr. Tulp's hands, which are meticulously drawn and subtly rendered, are meant to capture the viewer's attention. Rembrandt earned the highest esteem with this brilliant group portrait and received many similar commissions of this type.

Oil on Canvas - Mauritshuis Art Museum, The Hague, The Netherlands

Man in Oriental Costume (1632)

Artwork description & Analysis: This ambitious painting depicts the Dutch notion of a Near Eastern Potentate, an exotic foreign subject that would appeal to an experienced, knowledgeable collector. A swathed and stately colossal figure stares sternly out, his shoulders and head dramatically illuminated from the front and back. His golden garment gleams beneath a metallic scarf and silver turban while ornaments and jewelry sparkle and glint.

During the 1630s Rembrandt depicted many figures wearing Middle Eastern garments in his paintings, drawings, and etchings. The commercial enterprises of the Dutch Republic had reached the Middle East by the early seventeenth century and Levantines were to be seen in the streets and marketplaces of Amsterdam. Portraits of imaginary Persian, Ottoman, or other "Oriental" princes became popular in the bustling city. But Rembrandt's images are not mere portraits of those people. Rather, they are imaginative representations of a distant culture that feature Dutch models, including Rembrandt himself, dressed in exotic attire.

The piece shows Rembrandt's mastery as a painter of light, as well as figures, which explains his use of a limited, muted palette to create endless depth. He used deep shadows that disappeared into obscurity with uneven golden illumination and highlights brushed in with bold, dashing strokes. Sometimes he used an abundance of paint, sometimes very little and sometimes he scratched the canvas with the handle of his brush; he worked to create the exact effect he desired. Curator Walter Liedtke voiced his opinion: "I think Rembrandt satisfies a need for modern tastes...He's so contemplative...It's also brilliantly preserved...on a polished oak board here with oil paint, and wonderful textures...the linen, rough, you can actually...feel it."

Oil on Canvas - Metropolitan Museum of Art, New York, New York

The Storm on the Sea of Galilee (1633)

Artwork description & Analysis: This painting, Rembrandt's only seascape, depicts the dramatic miracle when Jesus intervened to calm a violent storm on the Sea of Galilee. The biblical story from the New Testament would be familiar to the Dutch people of Rembrandt's time period. The influence of Rubens can be seen in the darkly churning, frothy waves that threaten to overturn the small wind-whipped boat. The mast of the boat creates a diagonal line that divides the composition into two triangles. In the left triangle, extreme danger and intense activity loom but there is a golden light illuminating the edges of the dark clouds, the agitated men and the ripped main sail. In the right triangle, a figure in red is draped over the side of the boat and the helmsman steadies the rudder against the bucking waves. Only one figure, dressed in blue, and holding onto his cap looks directly out at the viewer by steadying himself with a rope; he has Rembrandt's features. The artist often painted himself into his compositions and here he engages the viewer in the turbulent activity. It is a concentrated scene of drama played out within a large, changing fearsome space. The enormous dramatic power of nature is shown testing mankind but the impending miracle is emphasized. To finish the story, the gospels say, once Jesus understood their dire plight, he stood up and pointing towards the storm, said, "Quiet! Be still!" and the vicious storm abated.

The extremely detailed depiction of the scene and story, the figures' varied expressions, the polished brushstrokes, and bright colors characterize Rembrandt's early style. 18th century critics, especially Arnold Houbraken, a biographer of Dutch artists, preferred this style to his later less specifically detailed manner. As in most Baroque art, the viewer is invited to share an emotional experience, to become involved rather than passively observe.

Oil on Canvas - Stolen from Isabella Gardner Museum in 1990
More Rembrandt van Rijn Artwork and Analysis:
Influences and Connections
Influences on Artist
Artists, Friends, Movements
Influenced by Artist
Artists, Friends, Movements

Interactive chart with Rembrandt van Rijn's main influences, and the people and ideas that the artist influenced in turn.
View Influences Chart

Artists

Personal Contacts

| | |
| --- | --- |
| | Jan Six |
| | Jan Lievens |
| | Constantijn Huygens |

Movements

Influences on Artist

Rembrandt van Rijn
Years Worked: 1624 - 1665
Influenced by Artist

If you see an error or typo, please:
tell us
Cite this page

Content compiled and written by Cheryl Van Buskirk
Edited and revised, with Synopsis and Key Ideas added by Kimberly Nichols
" Artist Overview and Analysis". [Internet]. . TheArtStory.org
Content compiled and written by Cheryl Van Buskirk
Edited and revised, with Synopsis and Key Ideas added by Kimberly Nichols
Available from:
First published on 12 Oct 2018. Updated and modified regularly.


[Accessed ]