"To any artist, worthy of the name, all in nature is beautiful, because his eyes, fearlessly accepting all exterior truth, read there, as in an open book, all the inner truth."
"To any artist, worthy of the name, all in nature is beautiful, because his eyes, fearlessly accepting all exterior truth, read there, as in an open book, all the inner truth."
"It is the artist who is truthful and it is photography which lies, for in reality time does not stop, and if the artist succeeds in producing the impression of a movement which takes several moments for accomplishment, his work is certainly much less conventional than the scientific image, where time is abruptly suspended."
"Every part of the human figure is expressive. And is not an artist always isolating, since in Nature nothing is isolated."
"In front of the model, I work with the same desire to copy the truth as if I were making a portrait; I do not correct nature, I incorporate myself into her; she leads me. I can work only from a model. The sight of the human form fortifies and nourishes me."
Summary of Auguste Rodin
François-Auguste-René Rodin's story recalls the archetypal struggle of the modern artist. He was born in obscurity and, despite showing early promise, rejected by the official academies. He spent years laboring as an ornamental sculptor before success and scandal set him on the road to international fame. By the time of his death, he was likened to Michelangelo. His reputation as the father of modern sculpture remains unchanged, and in recent years the wider exhibition of his many drawings has also elevated his reputation as a draughtsman. However, his many intimate - some have suggested exploitative - drawings of his models have altered the nature of the traditional respect paid to this eminent artist.
Accomplishments
Rodin stripped away many of the narative references to classical myth that were still attached to academic sculpture in the late-19th century and placed a new stress on the dignity of simple human moments. The fame of works such as The Kiss (1884), The Thinker (1880), and The Age of Bronze (1876) has transformed such depictions into paragons of high art, yet until Rodin's age, such sculpture's importance and novelty was not appreciated. Instead of representing gods or muses, he sculpted lifelike figures in distinctly modern attitudes of love, thought, and proud physicality.
Rodin's achievement as a sculptor was to find a way to make the brute materiality of sculpture express the fleeting mobility of the modern individual. To achieve this, he abandoned the polished and idealized figures of academic sculpture and produced rougher, more unfinished surfaces, which better expressed restlessness, corporeality, and movement. While this often suggests psychological agitation, it also evokes the constant motion characteristic of life in modern times.
Rodin's work process often encouraged him to reuse compositions in different ways. Most famously, figures that appear in his The Gates of Hell were often rendered at later dates, created separately and at different scales. But Rodin would also represent the same figure multiple times in the same sculpture or fragment figures into individual body parts like hands or arms. All of these processes were encouraged by his very unclassical approach to composition, and they produced strange and jarring effects.
The Life of Auguste Rodin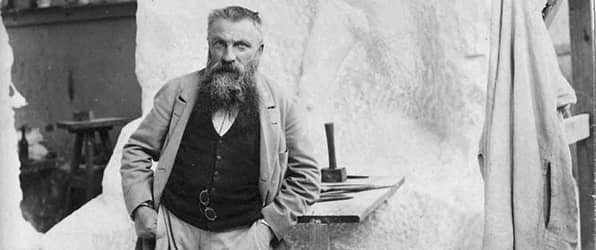 Here we see Rodin as the revered master of sculpture, a standard that all future sculptors measured against.
Important Art by Auguste Rodin
Progression of Art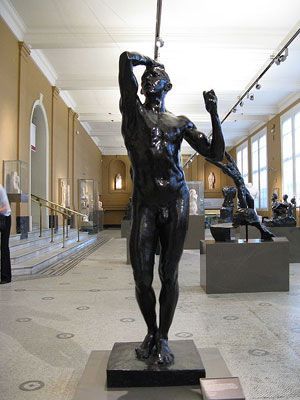 1876
The Age of Bronze
A young officer was the model for this sculpture, which provided the first great succès de scandale, or "success of a scandal," of Rodin's career. The composition and rough surface of the figure were unconventional by academic standards. The subject also remained obscure - the title only vaguely suggesting classical art - and prompted confusion among critics; rather than clothe his image of man in respected symbolism, Rodin had presented a common man, naked. But controversy ultimately centered on allegations that the piece was a direct cast from the body rather than a modeled sculpture. The allegations were a testament to Rodin's technical skills, though the suggestion that he had somehow cheated heartily offended the sculptor, who was able to disprove the claim with photographs of his model.
Bronze - The Metropolitan Museum of Art, New York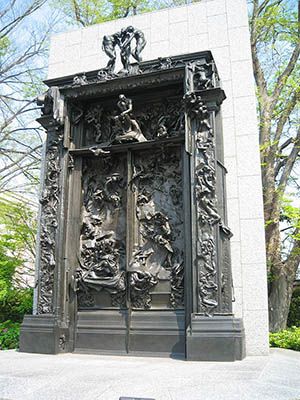 1899
The Gates of Hell
Rodin labored on this mammoth project for over twenty years. It was commissioned in 1880 as a set of doors for the planned Museum of Decorative Arts in Paris, but the museum never came to be, and he never finished the sculpture to his satisfaction. It is believed that Rodin chose to draw on Dante's Inferno for the subject matter. It was a deliberate attempt to rival Lorenzo Ghiberti's famous bronze doors for the Baptistery of Florence Cathedral, the Gates of Paradise (1425-52), the competition for which is often said to have initiated the Renaissance. Rodin initially planned to split the composition into a series of panels, just as Ghiberti had done, but after looking at images of Michelangelo's Last Judgment (1534-41), he opted for a more fluid arrangement of figures. When the plans for the museum were cancelled, Rodin's urge to complete the sculpture waned, and work dragged on. He exhibited a plaster version of the sculpture at an exhibition at the Place de l'Alma in Paris in 1900, but it was not until 1925, eight years after his death, that two bronze casts were created.
Bronze - Rodin Museum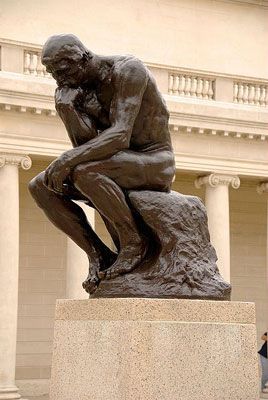 1880
The Thinker
Although The Gates of Hell was never completed to Rodin's satisfaction in his own lifetime, his work on the project did inspire many other finished works, and The Thinker is the most famous example. Deriving from a figure at the top of the sculpture who gazes with melancholy over the hellish scenes below him, he represents Dante, the author of the Divine Comedy that inspired The Gates of Hell (1899). Highly influenced by Michelangelo, the figure also represents modern, secular man - strong in mind and body, but lonely and doubtful in the position he has created for himself as master of his own universe. Although the seated figure is deeply lost in thought, the dynamic pose gives him a sense of movement. At first glance, the pose appears natural, but in fact the man's right arm on his left knee is twisted in an exaggerated fashion. Over fifty casts were made of this sculpture, which are today scattered throughout the world, making it one of Rodin's most famous works. Rodin also chose The Thinker as his tombstone.
Bronze - Musée Rodin, Paris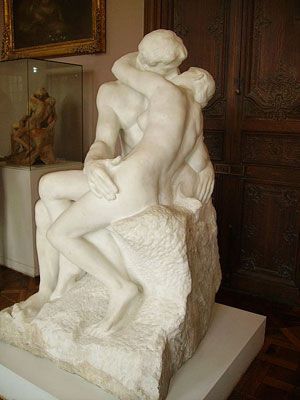 c.1884
The Kiss
Critics gave this sculpture the title The Kiss, but Rodin originally called it Paolo and Francesca, after the story in Dante's Divine Comedy about a young noblewoman who falls in love with her husband's brother. In the story, the couple is killed by the jealous husband, but Rodin focuses instead on their loving embrace. This erotic sculpture was made during the early years of Rodin's relationship with Camille Claudel. It was probably intended to figure in The Gates of Hell. It is not known why these figures were not ultimately included; they do not exhibit the same despair as other figures in the composition, and so Rodin may have concluded that they were ill-suited. Rodin believed in making his work as widely available as possible, and he produced numerous versions of his most popular works, ensuring his fame with future generations. Over 300 bronze copies of The Kiss had been produced by Rodin's death in 1917.
Marble - Victoria & Albert Museum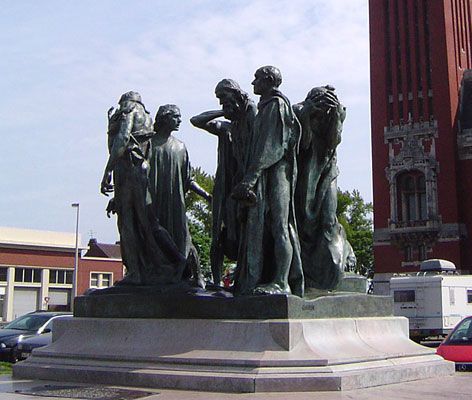 1889
Burghers of Calais
Rodin won a commission from the town of Calais to portray the group of heroic city leaders who sacrificed themselves in 1347 to save the town from a siege by the English King Edward III. Although earlier artists had focused on the oldest man, Rodin included all six of them. The figures are arranged all on one level, rejecting the "pyramid" composition typical of figure groups at the time. The men look downtrodden, but determined. They are dressed in rags, and their hands and feet are expressively enlarged. However, their awkward appearance did not suggest the heroic dimension that the town had envisioned, and the sculpture was accepted with some hesitation and compromise. Today, however, it remains well-loved as an emblem of civic sacrifice, with one version standing outside the Houses of Parliament in London.
Bronze - Installed in the Town of Calais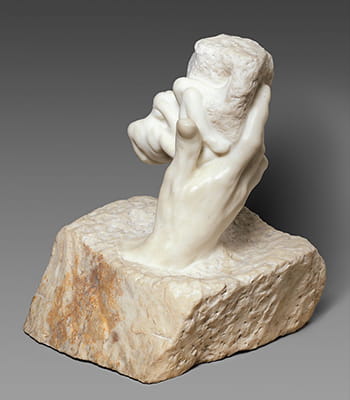 1898
Balzac
Rodin received the commission to memorialize the great French novelist and poet in 1891. However, as with so many of Rodin's commissions, the work dragged on and on while Rodin struggled to settle on a composition. He spent years reading Balzac's poems, finding pictures of him and models who bore a resemblance to the heavy-set man. Finally, he placed the proud head on top of a body swathed in a huge, shapeless robe and made a mound-like protrusion at his crotch as a reference to his virility. Inevitably, the Société des Gens de Lettres, who had commissioned the sculpture, was displeased, and the cast was rejected. Only in 1930 were two bronze copies made of the piece, and in 1939 one was installed in Paris at the intersection of the boulevards Raspail and Montparnasse.
Bronze - The Museum of Modern Art, New York
Biography of Auguste Rodin
Childhood
Rodin was born in a poor area of Paris's fifth arrondissement to Jean-Baptiste Rodin, an office clerk in the local police station, and Marie Cheffer, his second wife. Despite Jean-Baptiste's modest earnings, he and Marie attempted to provide a bourgeois upbringing by sending Rodin to a boarding school in Beauvais. He was not a successful student, perhaps in part because of his shortsightedness. In 1854, aged 13, he decided to pursue a career in the arts, attending the École Spéciale de Dessin et de Mathematiques (or "Petite École," to distinguish it from the Grande École des Beaux-Arts), which trained boys in the decorative arts.
Early Training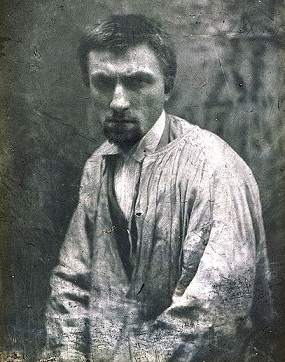 After three years of studying drawing and sculpture, Rodin applied to the Grand École. While he passed the drawing competition, he failed three times in the sculpture competition. Most likely, his pursuit of naturalism did not suit the school's academic style. After the third rejection, Rodin resigned himself, at the age of 19, to taking jobs in plaster workshops to create architectural ornaments. Although he disliked working for others, these workshops provided him with a meager living for the next 20 years. In his own time, he continued to make sculptures, including a portrait bust called The Man with the Broken Nose (1863-64). He considered this the best of his work and submitted it to the Paris Salon in 1864, but it was rejected.
In 1866, Rodin met Rose Beuret, who remained his lifetime companion despite his numerous affairs. The same year, they had a son, Auguste-Eugene Beuret, whom Rodin never recognized legally. Professionally, around this time, Rodin found better fortune-filling commissions in the workshop of Albert-Ernest Carrier-Belleuse, a successful commercial sculptor, but the steady work and increased income was disrupted by the Franco-Prussian War in 1870. Rodin served as an officer until the French surrendered in 1871, and then followed Carrier-Belleuse to Brussels.
Mature Period
In 1875, Rodin returned to Brussels after a trip to Florence to see the work of Michelangelo. He created a life-size sculpture of a young officer, which he called The Age of Bronze (1876), and this proved to be the turning point in his career. The Salon accepted the work in 1877, but doubts were raised about its authenticity, and many accused him of casting directly from the model's body. Though Rodin's protests were not acknowledged by most critics, the work was validated when it was purchased by Edmond Turquet, Under-Secretary of the Ministry of Fine Arts. Turquet would then commission Rodin to create a monumental bronze doorway for a planned museum of the decorative arts. This project went on to be perhaps Rodin's greatest work, though the planned museum was cancelled, and The Gates of Hell, as the doors came to be titled, were not even cast until after the artist's death.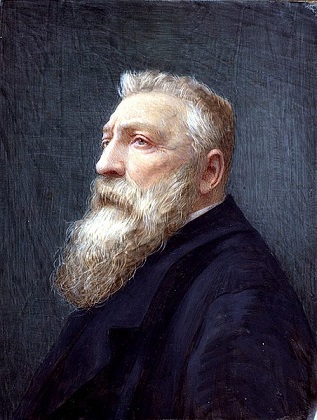 The years during which Rodin worked on The Gates of Hell coincided with his relationship with Camille Claudel. A young sculptor who joined his studio as an assistant in 1884, Claudel had a tumultuous affair with Rodin that lasted until 1892, though they continued to see each other until 1898. During their time together, Rodin made several erotic sculptures of loving couples. Claudel separated from Rodin when it became clear that he would not leave Rose to marry her.
Paris held a centennial celebration of the French Revolution in 1889, called the Exposition Universelle. For the occasion, Rodin showed 36 works together with Claude Monet at the Gallery of Georges Petit. Almost all of these were figures from, or influenced by, The Gates of Hell. Rodin's style changed after this major exhibit, becoming more spontaneous and loose. His drawings of the female form were simplified and abstracted, while sculptures were often left "unfinished," a smooth face or figure emerging from rough stone.
Late Years and Death
By 1899, Rodin had a large studio with several assistants. His work, however, continued to elicit trouble and scandal. The Burghers of Calais (1889) was nearly refused for its depiction of the city's heroes as dejected victims. Similarly, in 1891, Rodin was commissioned by the Society of Men of Letters to create a memorial for the poet Honore Balzac. Instead of taking 18 month to complete the work, Rodin became infatuated with the topic, and completed the commision in 7 years. The commision was ultimately rejected, and after much controversy, Rodin decided to keep the sculpture for himself.
Rodin's pace slowed down after the sculpture of Balzac, but he had achieved financial success. Several exhibitions around the turn of the century brought him worldwide renown. He exhibited in Belgium and Holland in 1899, and was given his first retrospective in Paris in 1900. Subsequent shows took place in Prague, New York, and Germany. In 1908, Rodin moved to the now-famous Hotel Biron, where he rented rooms alongside other famous tenants such as Isadora Duncan, Rainer Maria Rilke, and Henri Matisse. The Hotel became his new studio and the home of his affair with the Marquise (and later, Duchess) Claire de Choiseul. She exercised great control over his life and the sale of his work for seven years, until she was accused of stealing a box of drawings. Because of her scheming and that of other women around Rodin, friends encouraged him to marry Rose Beuret in January 1917. Rose died two weeks after the wedding, and Rodin passed away in November of that same year.
The Legacy of Auguste Rodin
Before Rodin's death, he bequeathed all of his drawings, sculptures, and archives to the state of France to create a museum in the Hotel Biron at Meudon. Yet even without a national museum, his sculptures and drawings would still have had a huge impact on younger artists. Henri Matisse was influenced by the spontaneity of his drawings, while Cubists and Futurists were fascinated by his sense of motion and the fragmentation of his human forms. While Rodin's reputation declined in the decades immediately following his death, his rebellion against academic standards and his vivid expression of the human form planted the seed for a new French sculpture. Today, nearly every large encyclopedic museum owns a casting of one of his sculptures, and exhibitions of his work are held regularly, making Rodin one of the few artists recognizable to the general public.
Influences and Connections
Influences on Artist

Influenced by Artist
Artists
Antoine-Louis Barye
Friends & Personal Connections
Émile Zola

Octave Mirbeau
Artists
Michelangelo Antonioni
Friends & Personal Connections
Rainer Maria Rilke

Loie Fuller

Judith Cladel
Useful Resources on Auguste Rodin
Books
The books and articles below constitute a bibliography of the sources used in the writing of this page. These also suggest some accessible resources for further research, especially ones that can be found and purchased via the internet.
biography
works
Similar Art