Artists
Auguste Rodin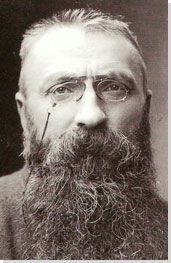 Born: November 12, 1840 - Paris, France
Died: November 10, 1917 - Meudon, France

"To any artist, worthy of the name, all in nature is beautiful, because his eyes, fearlessly accepting all exterior truth, read there, as in an open book, all the inner truth."

Summary of Auguste Rodin
François-Auguste-René Rodin's story recalls the archetypal struggle of the modern artist. He was born in obscurity and, despite showing early promise, rejected by the official academies. He spent years laboring as an ornamental sculptor before success and scandal set him on the road to international fame. By the time of his death, he was likened to Michelangelo. His reputation as the father of modern sculpture remains unchanged, and in recent years the wider exhibition of his many drawings has also elevated his reputation as a draughtsman. However, his many intimate - some have suggested exploitative - drawings of his models have altered the nature of the traditional respect paid to this eminent artist.
Key Ideas
Rodin stripped away many of the narative references to classical myth that were still attached to academic sculpture in the late-19th century and placed a new stress on the dignity of simple human moments. The fame of works such as The Kiss (1884), The Thinker (1880), and The Age of Bronze (1876) has transformed such depictions into paragons of high art, yet until Rodin's age, such sculpture's importance and novelty was not appreciated. Instead of representing gods or muses, he sculpted lifelike figures in distinctly modern attitudes of love, thought, and proud physicality.
Rodin's achievement as a sculptor was to find a way to make the brute materiality of sculpture express the fleeting mobility of the modern individual. To achieve this, he abandoned the polished and idealized figures of academic sculpture and produced rougher, more unfinished surfaces, which better expressed restlessness, corporeality, and movement. While this often suggests psychological agitation, it also evokes the constant motion characteristic of life in modern times.
Rodin's work process often encouraged him to reuse compositions in different ways. Most famously, figures that appear in his The Gates of Hell were often rendered at later dates, created separately and at different scales. But Rodin would also represent the same figure multiple times in the same sculpture or fragment figures into individual body parts like hands or arms. All of these processes were encouraged by his very unclassical approach to composition, and they produced strange and jarring effects.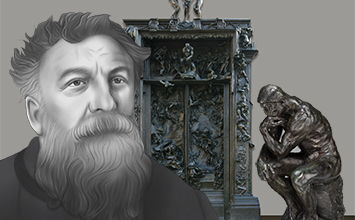 Rodin was born in a poor area of Paris's fifth arrondissement to Jean-Baptiste Rodin, an office clerk in the local police station, and Marie Cheffer, his second wife. Despite Jean-Baptiste's modest earnings, he and Marie attempted to provide a bourgeois upbringing by sending Rodin to a boarding school in Beauvais. He was not a successful student, perhaps in part because of his shortsightedness. In 1854, aged 13, he decided to pursue a career in the arts, attending the École Spéciale de Dessin et de Mathematiques (or "Petite École," to distinguish it from the Grande École des Beaux-Arts), which trained boys in the decorative arts.
Important Art by Auguste Rodin

The below artworks are the most important by Auguste Rodin - that both overview the major creative periods, and highlight the greatest achievements by the artist.

The Age of Bronze (1876 (cast in bronze c.1906))

Artwork description & Analysis: A young officer was the model for this sculpture, which provided the first great succès de scandale, or "success of a scandal," of Rodin's career. The composition and rough surface of the figure were unconventional by academic standards. The subject also remained obscure - the title only vaguely suggesting classical art - and prompted confusion among critics; rather than clothe his image of man in respected symbolism, Rodin had presented a common man, naked. But controversy ultimately centered on allegations that the piece was a direct cast from the body rather than a modeled sculpture. The allegations were a testament to Rodin's technical skills, though the suggestion that he had somehow cheated heartily offended the sculptor, who was able to disprove the claim with photographs of his model.

Bronze - Metropolitan Museum of Art

The Gates of Hell (1899)

Artwork description & Analysis: Rodin labored on this mammoth project for over twenty years. It was commissioned in 1880 as a set of doors for the planned Museum of Decorative Arts in Paris, but the museum never came to be, and he never finished the sculpture to his satisfaction. It is believed that Rodin chose to draw on Dante's Inferno for the subject matter. It was a deliberate attempt to rival Lorenzo Ghiberti's famous bronze doors for the Baptistery of Florence Cathedral, the Gates of Paradise (1425-52), the competition for which is often said to have initiated the Renaissance. Rodin initially planned to split the composition into a series of panels, just as Ghiberti had done, but after looking at images of Michelangelo's Last Judgment (1534-41), he opted for a more fluid arrangement of figures. When the plans for the museum were cancelled, Rodin's urge to complete the sculpture waned, and work dragged on. He exhibited a plaster version of the sculpture at an exhibition at the Place de l'Alma in Paris in 1900, but it was not until 1925, eight years after his death, that two bronze casts were created.

Bronze - Rodin Museum

The Thinker (1880 (bronze cast in 1902))

Artwork description & Analysis: Although The Gates of Hell was never completed to Rodin's satisfaction in his own lifetime, his work on the project did inspire many other finished works, and The Thinker is the most famous example. Deriving from a figure at the top of the sculpture who gazes with melancholy over the hellish scenes below him, he represents Dante, the author of the Divine Comedy that inspired The Gates of Hell (1899). Highly influenced by Michelangelo, the figure also represents modern, secular man - strong in mind and body, but lonely and doubtful in the position he has created for himself as master of his own universe. Although the seated figure is deeply lost in thought, the dynamic pose gives him a sense of movement. At first glance, the pose appears natural, but in fact the man's right arm on his left knee is twisted in an exaggerated fashion. Over fifty casts were made of this sculpture, which are today scattered throughout the world, making it one of Rodin's most famous works. Rodin also chose The Thinker as his tombstone.

Bronze - Musée Rodin, Paris
More Auguste Rodin Artwork and Analysis:
Influences and Connections
Influences on Artist
Artists, Friends, Movements
Influenced by Artist
Artists, Friends, Movements

Interactive chart with Auguste Rodin's main influences, and the people and ideas that the artist influenced in turn.
View Influences Chart


Influences on Artist

Auguste Rodin
Years Worked: 1854 - 1917
Influenced by Artist

If you see an error or typo, please:
tell us
Cite this page

Content compiled and written by Julia Brucker
Edited and published by The Art Story Contributors
" Artist Overview and Analysis". [Internet]. . TheArtStory.org
Content compiled and written by Julia Brucker
Edited and published by The Art Story Contributors
Available from:
First published on 22 Jan 2012. Updated and modified regularly.


[Accessed ]