Artists
Max Liebermann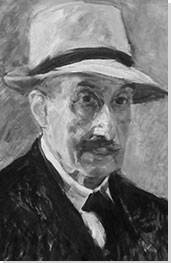 Born: July 20th, 1847 - Berlin, Germany
Died: February 8th, 1935 - Berlin, Germany

"Just as the artist - in Schiller's fine words - receives his rules from the object, meaning from nature, so should an art historian support his claims through the laws of the art work itself."
Summary of Max Liebermann
Liebermann is widely celebrated as both a forerunner of German Impressionism and as the founder of the influential avant-gardist Berlin Secession. Drawing on the techniques of French Impressionism and the Dutch Hague School, his naturalistic painting departed from the traditional methods and genres of academic German art. Galvanized by the paintings Édouard Manet and Edgar Degas, he began to experiment more and more with light and color on canvas. But while his formal approach became secondary to subject matter (as it was for the French masters), Liebermann always remained true to the narrative traditions of German art. Indeed, his art drew upon a wide range of subjects, from the travails of hard manual labor, to the leisure pastimes of bourgeois German society. In the autumn of his career, Liebermann led the Berlin Academy, and was elected its president until the Nazis came to power and forced him to resign his position shortly before his death.
Key Ideas
One of Liebermann's key influences and mentors was
Jean-Francois Millet
, co-founder of the French
Barbizon School
. His adopted thus the painterly codes of
naturalism
which permeate his early paintings of rural peasant life and of the hardships of manual "workhouse" labor. Yet Liebermann was able to transform his material into something more personal without resorting to the glorification of his subjects (as was the charge often levelled at Millet).
Liebermann left behind his early commitment to
Realism
in favor of a more spontaneous, impressionistic approach. He addressed himself to the challenge of representing the themes of the urban leisure and recreational activities of Berlin's bourgeois classes with a new vivacity. In his new commitment to representing what was familiar in a new way, he turned towards a more varied color palette which he applied using less refined brush strokes.
A thematic feature of Liebermann's later period was his liking for open spaces. Liebermann tended to resist painting pure landscapes, however, preferring to punctuate his scenery with spontaneous observational, or "anecdotal", details and movement. This narrative characteristic in Liebermann's work has sometimes seen him associated with the German Realist Adolph Menzel who was known for his keen senses of observation and his skill at capturing the essence of everyday German life.
In addition to his narrative paintings, Liebermann is less well known as a painter of portraits, this despite the fact that he accepted over 200 commissioned portraits of distinguished figures from the fields of commerce, science and politics during his lifetime. His most famous sitters were the world-renowned physicist Albert Einstein, and the second president of the Weimar Republic, Paul Von Hindenburg.

The second child of four, Max Liebermann was born in 1847 in Berlin to Louis Liebermann, a wealthy Jewish manufacturer, banker and councilor, and Philippine Liebermann (née Haller). In 1860, The Liebermann family bought the "Dannenberg'sche Kattun-Fabrik", one of the leading
Important Art by Max Liebermann

The below artworks are the most important by Max Liebermann - that both overview the major creative periods, and highlight the greatest achievements by the artist.

Women Plucking Geese (1871)

Artwork description & Analysis: This work shows a darkened room in which several mature women pluck geese. There are baskets of feathers at their sides. A sense of stoicism permeates the room, which appears quite impoverished and dirty, with hay and feathers lying on the floor. A man is shown bringing more geese to the women and his presence adds the only hint of social interaction to the narrative on working-class rural life.

This work was Liebermann's "breakthrough" painting, though it was widely criticized and earned him the nickname "apostle of ugliness." The painting is indicative of Liebermann's preoccupation with Dutch culture having spent many summers in Holland and it considers the birth of German modernism, which took much of its influence from 16th and 17th century Dutch and Flemish painting. Liebermann's own modernist works were also strongly influenced by Dutch painters Anton Mauve and Jozef Israëls. Liebermann was fascinated with the mundanity and unassuming nature of rural life in Holland, and spent many years trying to capture its essence in his paintings. However, this work does not capture the serenity that Liebermann must have felt in the Dutch countryside. In fact, the work has a certain lackluster quality; the women working appear overworked and tired. Perhaps Liebermann sought to elucidate the cyclical and unforgiving nature of manual labor, which was undertaken out of necessity. His fascination with such a lifestyle displayed his early affection for a socially conscious aesthetic.

Oil on canvas - National Gallery, Berlin

Self-Portrait in Kitchen with Still-Life (1873)

Artwork description & Analysis: This work portrays Liebermann himself (in a chef's cap) smiling over a group of cabbage, cauliflower, mushrooms, carrots, leeks, potatoes and a dead chicken. On the left of the frame sits a large copper pot while the leafy greens are in a large wicker basket covered with a cloth. This work is significantly darker than some of Liebermann's other early paintings given that the background is almost completely black.

There are several symbolic connotations to this work. The vegetables may represent his time spent in rural Holland, and their unorganized arrangement suggest the naïve virtuosity of his early career. The obscured background could also allude to the feeling of uncertainty which he felt at this early point in his career. The work also poses an interesting juxtaposition between his "high art" treatment of "low art" subject matter (namely a kitchen still-life) and his still lifes follow in the proud tradition of Dutch still life painting which hid a symbolic depth behind lavish "banquet scenes" and the more humble "breakfast pieces" to which this image alludes. But the painting may have also represented Liebermann's self-image as a craftsman and a creative artist, in the way that chefs were thought of during the time. The cruder subject of the work may have even sought to elucidate the idea that the craft of painting was of more importance than the subject matter. Additionally, the kitchen setting could be a tribute to his mother, who was known to have loved to cook, with the chef cap acting as a metaphor for his bond with her.

Oil on canvas - Stadtisches Museum, Gelsenkirchen

The Flax Spinners (1887)

Artwork description & Analysis: This work, another of his ruminations on rural labor, depicts a group of orphans working in an unkempt weaving mill. Some are pictured holding out the string whilst others sit in a line, each on their own spindle, weaving flax. The room is bleak, as is the mood of the orphans, who all wear dark, drab clothing and look down towards to floor. Nevertheless, some hope exists in the sunlight that is allowed to enter the composition through the windows.

Liebermann demonstrates the permeation of slow-moving, casual rural life with the ordered, timely, cold and industrial urban world. Every figure within the work is so lost in thought they appear almost robotic, as if cogs in a large machine in fact. They also wear the same clothing emphasizing thus the uniformity and order of factory-like manual labor. The industrialism of the work is exemplified indeed by Liebermann's use of strict horizontals and parallels and the bleak blue and gray tones that are omnipresent in the work. The darkness inside the room, with the only light coming in through the windows shows how warmth and slower pace of rural life has been stripped away, perhaps alluding to the incoming industrial wave.

Oil on canvas - National Gallery, Berlin
More Max Liebermann Artwork and Analysis:
Influences and Connections
Influences on Artist
Artists, Friends, Movements
Influenced by Artist
Artists, Friends, Movements

Interactive chart with Max Liebermann's main influences, and the people and ideas that the artist influenced in turn.
View Influences Chart


Influences on Artist

Max Liebermann
Years Worked: 1873 - 1935
Influenced by Artist

Artists

| | |
| --- | --- |
| | Lovis Corinth |
| | Max Slevogt |
| | Ernst Oppler |

Personal Contacts

| | |
| --- | --- |
| | Fritz von Uhde |
| | Jozef Israëls |

Movements
If you see an error or typo, please:
tell us
Cite this page

Content compiled and written by Charlotte Davis
Edited and published by The Art Story Contributors
" Artist Overview and Analysis". [Internet]. . TheArtStory.org
Content compiled and written by Charlotte Davis
Edited and published by The Art Story Contributors
Available from:
First published on 16 Jul 2019. Updated and modified regularly.


[Accessed ]